Myths of the World: Of Fiends and Fairies
Exclusive
From Eipix, the makers of the successful series Final Cut, Off the Record, and Sea of Lies, comes more Myths of the World.

The rat catcher's after more than rats this time. He's kidnapping fairy folk! Where did these pixies come from, and what do they have to do with your grandfather's fairy tales?

Play both traditional and silhouette hidden-object puzzles in this dark fairy tale game. A unique new Q&A puzzle helps you discover your grandfather's tie to the fairy realm.
Game System Requirements:
OS:

Windows XP/Windows Vista/Windows 7/Windows 8

CPU:

1.6 GHz

RAM:

1024 MB

DirectX:

9.0

Hard Drive:

863 MB
Game Manager System Requirements:
Browser:

Internet Explorer 7 or later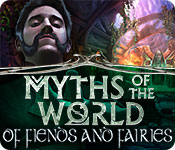 NEW299
The Big Fish Guarantee:
Quality tested and virus free.
No ads, no adware, no spyware.

Reviews at a Glance

Myths of the World: Of Fiends and Fairies
0
out of
5 (
0
Reviews
Review
)
Customer Reviews
Myths of the World: Of Fiends and Fairies
19
19
FANTASTIC GAME!
THIS GAME HAS AMAZING GRAPHICS, HOS ARE INNOVATIVE, STORYLINE IS IMAGINATIVE AND WELL-EXECUTED, SOUND AND MUSIC QUALITY WAS WONDERFUL, AND THE CUT SCENES ARE SPECTACULAR. CONGRATULATIONS TO THE PRODUCTION AND DESIGN TEAM... THIS IS INCREDIBLE WORK!
July 8, 2014
Solid 4 stars
Now this is what gaming is about. Lovely graphics, soft soothing music, jump map, lockable inventory, different iHOS where you have think about the clue to find the HO example 1-12 is a clock, or woman + fish = mermaid. The objects are not cluttered, HO are nicely hidden but not to the point your eyes have to squint. Puzzles on the easy side yet enjoyable and some are new. What an intro it was like watching a movie! I agree this could win one of the best yearly awards. Well done Eipix. I enjoyed the game so much I actually read the credits to the end -which is a first for me. DO take time to read the credits its very funny. It's not just names in there. They describe each other in a way that's related to the game....kudos! Shame the credits went by so fast I could not keep up nor could it be paused. Why not five stars? Some VOs were irritating to listen to, one was pretending to have a child's voice; the other was the forced Irish accents which was so painful to listen to. But problem can be solved - next time I will turn off the sound and just read the lines. Almost five hours gaming time for me - I enjoy the cut scenes and the graphics and not go rushing to the finish line. I really enjoyed this well worth the money. I should've bought the CE.
July 24, 2014
Different, and Kind of Strange
Not a bad game, but not 5 stars for me. I do think EIPIX is coming out with great games and I think I've purchased most of them. A couple of things I liked: 1) the music was very nice, and it changed with each scene. I've been waiting for more developers to do this. 2) The voice overs are the best I've heard. Excellent work on the part of the actors! A couple of things I didn't care for: 1) Some of the uses for inventory items were very strange. I like imagination and improvising but some actions just didn't make sense at all. 2) A little too much dialogue for me. It added to the story but I felt the game was a little short, and I think the developers used the extra dialogue to make the game longer. I like EIPIX games very much and will continue to buy them. I just hope they do a little better on the next game.
July 21, 2014
Lovely game!
I fell in love with this game instantly, yet was not *quite* so in love by the end of the game. We are the granddaughter of The King of Thieves, with whom the Queen of the Faries was in love. The Queen was forced to marry the elven King, yet her loyalties lay with the Thief, our grandfather. There is a witch, who has opened portals between the fae world and ours, endangering both worlds in the process. Since we seemed to have inherited the mantle of greatness, we must save both worlds! Graphics in this game are crisp and clear. Characters lip synch well in cameo windows, while their background characters are static. A novel twist is that we can choose our responses in dialog, which is a bit of fun if we want to deliberately choose wrong responses in order to have a longer convo with the characters. The characters have believable, unique personalities and generally fun to engage with; they are definitely not 'wooden'. It was lovely to have a game world in which we were not trekking along completely alone, as we went about our quest to save the world! The stand-alone puzzles were generally ridiculously easy. The hidden object scenes were delightfully refreshing and different, using a combo of interactive word lists, silhouettes, and interesting picture type clues (which were hard to grasp!) Differences from the CE: Extras included in bonus game, replayable HOS and puzzles, plus an extra game involving finding jewels for the fairy Queen's crown in the starry skies. No morphing objects, but fairy shoes to collect. The main game ended satisfactorily, with the bonus game providing a further bit of story from the perspective of another character. Now, why was I not in love by the end of the game? At the beginning, I was able to progress very nicely by thinking about what reasonable step to take next. The adventure and interaction with characters dominated, but at some point I realized I was no longer able to puzzle out my next steps through intuitive play. The HOP began to pop up with frustrating frequency. And, speaking of HOP, they were beastly difficult! The picture types clues, which I mentioned above, are stylized artists images, and it was frequently impossible to tell what the drawn clues represented. The HOP are *not* represented in the strategy guide/walkthrough, which is terribly frustrating. I had to use hints several times, simply because I had no idea what the hand-drawn clues were, and that rather ruined the fun of the HOS for me. I ultimately found myself running to and fro with no clear idea of what I was looking for, or why. By the end, I simply was bored Overall, I will give this game four stars, as it has so much going for it as regards excellent crisp graphics, delightful characters, relatively interesting storyline, and interesting fashion of story progression. I can't rate it five stars because of the way it all seemed to fall apart in about the last third of the game. Towards the end, I began to forget my mission, as I was doing so much random searching for obtuse things. The bonus game was a nice long extra chapter, although it was packed with HOPs and play was not at all intuitive. I personally would have been quite happy with the SE on this game.
July 6, 2014
Nice game
That is one nice game. I like quality of art and funfactor of this game.
July 13, 2014
could be a three star
I'm on the fence about the 4 star rating.... the puzzles were super easy. I played in custom mode and had nothing but the map to show areas of interest. Not much back and forth, once you are done with a room you move on. Some of the games were different but easy. 2014
August 1, 2014
Such a Witch, She Is!
This is posted after playing the whole game. I played the demo and could not understand all the high ratings, but figured it was going to get better as time went along. It really didn't. Maybe I needed some more fairy dust to get into the game. It wasn't the worse game I've bought, but it sure wasn't the best. I'm in hopes my granddaughter will enjoy it when she comes to visit. Over all, it was not a fun game for me. It's a long game. I played probably 5 hours over two days, but it really didn't get me involved in what was going on. It acted like a child's game yet it was very challenging at the same time. The graphics were really nice and the music and voice overs were well done. It's the pop up voice overs so you have to click continue to see what was being said next. The characters were well drawn and the actions was decent. There are several different hidden object scenes in one. You have some that ask riddles, then you will have to find shapes, use them in the scene and the like. That was a unique touch to this type of game. Mini games, ha, who plays them anyway. Some were pretty tough and I did hit the skip button on a regular basis, but many were interesting. You have an interactive map and a notebook that kept track of your tasks. Didn't use it much. The riddles were really fun and funny. That was probably the most interesting part of the game. The story was okay, a bit hard to follow at times, but it had a beginning and an end, so that's a good thing. Just because I'm not a fairy kind of guy, doesn't mean this isn't a good game. It just didn't get me involved as usual. Play the demo and read the other reviews so you can get a full idea of what others thought.
July 11, 2014
Do NOT buy this hokum
Oh dear - it was a mistake to buy this without a trial, assuming it might be as good as previous games in this series. It wasn't. As soon as I heard the fake-irish accents, I suspected that as little attention was given to the game play as to accuracy. Mixed in with the supposed-irish accents were regional-english ones (guards) and celtic symbols on buildings which seem created by people who had not travelled out of the far east. Good, I suppose, if it were deliberate and there was some narrative tieing in the different cultures, but it just felt shoddy and negligent. The game was short, the hidden-object scenes so boring that I swapped to shoot-the-bubbles instead.
August 9, 2014
A FOR EFFORT, D FOR FUN
This is a gorgeous looking game with great graphics but I started to hate it before very long. The mini-games were poorly thought out and although not easy, they seemed pointless because they weren't fun. The point in playing games is to have FUN, people. Who are these developers? The story was fair although trite and the HOS were painful since you often had to figure out what you were looking for in the form of riddles, and some of these were hopeless (what do a man and a fish have in common?). I did like the little fairies flying around. I hate to be so negative because I think the developers tried to produce a really rewarding game; it's just that I couldn't stand it. Please keep trying.
July 11, 2014
The Apple logo is a trademark of Apple Computer, Inc.