Mysteries and Nightmares: Morgiana
You awoke in an abandoned castle on a cliff, not knowing who or where you are. But is this place really abandoned? Fireplaces are still burning, strange voices echo, and wild magic is seeping through every wall. Step by step you unravel the mysteries of the castle, the art of crafting magical artifacts and even the forgotten secret of traveling to entirely different worlds! As you discover clues and put them together, your memories come back to you and you find out the hidden mystery is much more personal than you thought in Mysteries and Nightmares: Morgiana.
Beautiful vivid environments
Challenging hidden object scenes
Magical items and mind-twisting puzzles
Movie like cinematic scenes
Game System Requirements:
OS:

Windows XP/Windows Vista/Windows 7/Windows 8

CPU:

1.0 GHz

RAM:

1024 MB

DirectX:

9.0

Hard Drive:

354 MB
Game Manager System Requirements:
Browser:

Internet Explorer 7 or later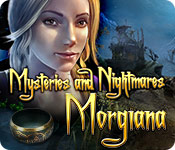 NEW299
The Big Fish Guarantee:
Quality tested and virus free.
No ads, no adware, no spyware.

Reviews at a Glance

Mysteries and Nightmares: Morgiana
0
out of
5 (
0
Reviews
Review
)
Customer Reviews
Mysteries and Nightmares: Morgiana
41
41
A mind twister that was fantastic to play!!!
Mysteries and Nightmares: Morgiana is a hidden object puzzle adventure game where you will have unravel a mystery regarding a member of your family. A tale of two sisters The game doesn't reveal much of its story right from the start. All we know is that a strange glowing sphere roams through the town at night heading for the castle. When everybody is asleep, the sphere enters the castle through an open window and kidnaps Arabella. The young princess wakes up in a strange and abandoned room, at the top floor of a tall stone tower. With no recollection of who she is, the brave princess must use her wits and investigate the castle to find out what's going on. The abandoned castle is filled with magic, but is it really abandoned? Fires burn bright and strange voices can sometimes be heard down the long passageways. While exploring the castle, Arabella learn about her family and that she has a sister: Morgiana. It seems like the older sister has always felt jealous of the smaller sibling and with time, has grown to hate her. The quest for truth Exploring each chamber of the spooky castle means solving lots of brain-bending puzzles, and finding items in dozens of hidden objects scenes. It also means charging and using a lightning staff and talking to the dead. The gameplay is simple, just use the mouse to interact with the environment. Active tasks are show in the upper left corner of the HUD. There are lots of question without answers, but play the game and you will find out what happened between the two sisters, what is going to happen to Arabella and who kidnapped her from the safety of her own home. If you are a beginner than look at the map for subtle sparkles which indicate areas of interest. Thank you Big Fish, I loved it!!!
July 18, 2014
Fun hidden mystery game
For me it was one of the best games I was playing in the last months. It has it all what I love. Good Graphic with the colours I like, a large amount of different riddles, a lot of various places and not to easy. It was a pleasure and exciting for me to play it. I recommand this game.
July 19, 2014
Jack took the game! :D
I am truly loving this game. The VO's are superb, I love the talking mouse Jack, and I feel sorry for the lil' dude. Lost everything just because he got more intelligent and not by his own doing. The one thing though they could of widened the resolution so when on full screen it covers the screen. I tried different monitor resolutions, but it still didn't do nothing for the game. And another thing I love about this team is what they did with the journal. No sparkling journal! Other teams I wish would follow suit on this. Sparkling journals are distracting and annoying. Story: Poor Missy wakes with amnesia in an abandoned castle not knowing what the heck is going on. Early on she is befriended by a little mouse named Jack. He too was was abandoned and rejected by his family because he became too 'smart' and can talk. So together they go and found out the mysteries while Missy works on getting her memory back. But the way the story is going, Missy might get more than she bargained for. Graphics: Beautiful graphics to look at as you journey your way through the castle. Music: Very pleasant to listen too and fits the game perfectly. Mini Games: Fun not frustrating. The ones I played no problem at all. And some original ones we haven't played yet. H0GS: I only played one in the hour and a half I played. But it was interactive and not dull at all. Map: Bottom right corner of the little pictures on the map you will see green sparkles which mean something to do, green ticks mean area cleared, and the red diamond means the area is still active. The map is a jump map. Kudos to this team for another well put together game. In my book it's still a 10/10. Keep up the fantastic work. :D
July 7, 2014
good, solid SE game
As soon as I saw the opening graphics, I knew this would be a good one. Then I began to play and it looked so familiar! I remembered then that I had done the beta of it, and it was one I had been anxious to play for real. This is one of those SE little gems that have been some of my most favorite games. Hidden object scenes are fun, and interactive. Graphics are great. The map shows where you are and which scenes are completed and which have active objectives to do. The hint could be better, but with the map it's fine. The cut scenes are 'slow' I guess, but I like them- fun to watch and part of the overall story. I bought it right away once I started playing and am happy I did! Give it a try!
July 7, 2014
Awesome SE game!
Great graphics, plays very much like a CE, with no extras. :) Interactive map, beautiful graphics, music wasn't annoying, Took me roughly 5 hours to play, and that's with skipping at least 4 or 5 puzzles, definitely worthy of price, although I used a game credit. There were a few glitches, one HOS would not show up until I backed out and restarted and could not get the saw to work on the roots no matter how many times I tried so skipped that one and the game crashed once. Lots of great puzzles,so more adventure type, not as many HOS's. It was hard to know what to do next but the interactive map was excellent help...only 2 points in the game where I didn't know what to do and that was because I had not discovered the next scene yet. Thanks so much Big Fish for a great SE game, it seems like they have become a rarity now. I sure would like to see a new series of SE's out, I can think of a ton that I would love to see a sequel in, but this is not the place. REALLY ENJOYED this game!!!!!! I will definitely play this one a few more times. :)
July 7, 2014
I really liked it!
I like the storyline and the variable locations (the abandoned castle, the beautiful jungle, the frozen underground, the world full of volcanos and lava). Really cute is that little mouse ? Jack. I found interesting using magic and spells to solve the puzzles and mini-games. Map, task list and help are without any problems. This game and especially its graphics really touched me. Something in this game is just a little bit different (in a positive way). I really liked it!
July 7, 2014
Oh wow, great game! Absolutely fabulous!
I just finished playing this game, it took me a good 5-6 hours, great value for money for this faboulous SE!! Lots of beautiful cutscenes, which I loved. They are kind of slow sometimes, but I didn't mind at all, it enhanced the atmosphere of the game! Very good music that fits the game perfectly. The graphics are unbelievable. Enormous attention to detail and extremely mystical and haunting scenes. The storyline is very captivating and you want to know what's going to happen next and how you are going to get there! This game has a fantastic jump-map, and you can hardly play this game without it! The map shows you where there are active tasks, you see little blue sparkles in the right-bottom corner of the pictures of the scenes (some reviewers mentioned there is no indication of actions, but sadly the are wrong, they miss out on a great game). Sometimes it is not easy to figure out where to go next, and this map Always helps you out! I loved the feel of this game, haunting and threatening, but still very beautiful, nothing gray or gory. This game is quite challenging, and I loved that, the 'big' games lately are way, way, way too easy. It's strange that there are no difficulty levels, but I loved it anyway. There are sparkles on the HOS, and an occasional little sparkle in the game, that didn't bother me at all. I really had a ball with this game and hope you will too!
July 11, 2014
Loved it
I really enjoyed this game. It was just the right amount of challenge after a hard day's work. The hints can be frustrating but that is what the forum is for. Just makes one have to think a bit more. I recommend it.
July 8, 2014
Wow! What a surprise!
This game took me by surprise! Lots of twists and turns; Jack was one that I didn't see coming. I only had to ask for help once when I missed finding a path. This game was as long as many CE games, and was intricate enough to keep me forging forward, not wanting to stop. The map was invaluable in keeping it all going. My hat's off to the staff who developed this, it was unlike others. Good and bad, surprises and changes...Don't let this one get by you, I don't think you'll regret it.
July 12, 2014
Great game!
I really loved the game! The visual art is great and the story progress very well. I liked the "sorcery settings" it wasn't too scary, but it was very believable. The movies are great quality but sometimes a bit too long, fortunately they can be skipped. Hidden object scenes are mostly "list" but there is always something you need to do in the scene to get all the objects. And I really loved Jack the Mouse! I bought this game and its very nice surprise, highly recommend it.
July 7, 2014
The Apple logo is a trademark of Apple Computer, Inc.