Ominous Objects: Family Portrait Collector's Edition
Exclusive
From Daily Magic, creators of the acclaimed Dark Dimensions series, comes an intriguing new series!

You arrive home from a long business trip to discover your new home in disarray! Your wife tells you paintings throughout the house have been coming to life, and now your children are missing. Only little Leia remains, but she refuses to unlock her door. Who or what frightened her so badly… and where are your other children? As you seek them out, you realize your new home hides many dark secrets. You must uncover them before your family is cursed to remain there forever in this chilling Hidden Object Puzzle Adventure game.

This is a special Collector's Edition release full of exclusive extras you won't find in the standard version. As a bonus, Collector's Edition purchases count toward three stamps on your Monthly Game Club Punch Card!

The Collector's Edition includes:
An intriguing bonus game
A charming Kitty Playroom for your feline ally
Bonus Match-3 games, wallpapers, music, and more!
An available Strategy Guide
Game System Requirements:
OS:

Windows XP/Windows Vista/Windows 7/Windows 8

CPU:

2.5 GHz

RAM:

1024 MB

DirectX:

9.0

Hard Drive:

1496 MB
Game Manager System Requirements:
Browser:

Internet Explorer 7 or later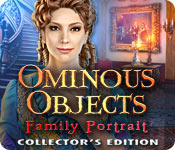 The Big Fish Guarantee:
Quality tested and virus free.
No ads, no adware, no spyware.

Reviews at a Glance

Ominous Objects: Family Portrait Collector's Edition
0
out of
5 (
0
Reviews
Review
)
Customer Reviews
Ominous Objects: Family Portrait Collector's Edition
63
63
Review of a finished game....
Great fun, colorful, and just an overall, well put together game. Every picture tells a story rings so true in this CE version of Ominous objects: Collect gold coins along the way, to purchase items for your cat, Mr.Jenkins. Who helps you, to rid the world of evil once again. All the extras you would expect from a CE version. You will not be disappointed.
November 20, 2014
Loved the cat and all the puzzles
Loved that there were a lot of puzzles, some the kind I love. I loved the interactive puzzle hogs. The cat was adorable and funny. It was a fun game. Good length too.
October 9, 2014
original puzzles + varied HO scenes = excellent gameplay
Ominous Objects: Family Portrait CE Review based on completed game, bonus adventure, and extras PREFACE? I honestly didn't expect to like this game. After reading the synopsis, I figured it would be just another tired version of a story that had been done to the death. That, and the words "charming Kitty Playroom" chilled me to the bone. I was more than pleasantly surprised to discover innovative gameplay, a fresh twist on an old story, glorious graphics, and an animal helper I didn't instantly want to annihilate. ONCE UPON A TIME... While away on business, your family moved into your new home. You arrive home to discover that the paintings in the castle have come to life! The animals and people in them are actually coming out of the paintings?and they're hostile. Worse, a mysterious man with glowing red eyes has taken your children. Only your youngest, Leia, is left, and she's locked herself in her room. As you explore your new home searching for your family, you begin to realize that the previous owner had some dark secrets, and that it's up to you to break the curse he's placed on your family, lest they're lost forever. PLAY THE GAME... Wow, there's a lot to do! If you like HO scenes, you're in luck. If you don't, you won't get bored. They're all interactive and there's a wide variety. There are word lists, silhouettes, and pictures. Some are progressive use of objects, and some contain puzzles and mini-games. In some, each item you find reveals a piece of the final objects?kind of a FROG within a HOG. And there are mini-HO scenes as well. Mini-games and puzzles run the gamut from familiar and simple?those darned "rotate the ring" jigsaws?to original and difficult. Most are original or new approaches to familiar puzzles. You won't get bored here either. Even the usually simple task of finding objects in adventure mode becomes a puzzle in this game, as you're generally required to assemble the object or find a part of it somewhere else. SIGHTSEEING? The graphics are realistic yet artistic, with the realms of the "bad guys" portrayed more in cool colors, and the family's rooms more in warm colors?a nice touch. The drawing has a lot of detail in it, but it's not overly ornate, just realistic. Characters are quite lifelike, with the exception that they do not lip synch. I don't know why the devs didn't take the time to do this; clearly they have the ability as there is a mask-like gatekeeper in the game who does lip synch. One star off Visual/Sound Quality for that. Other than that, animation is very good. SOUND WAVES? The music varies from a haunting theme for strings to a poignant music box song to an epic adventure number complete with timpani. Voiceovers are done extremely well, as are environmental sounds which include animal noises, crashes and splinters, wind and fire. TOOLBOX? Innovation: your tools are contained within one icon. Hover over it and up pop icons for the map, goals list, achievements, and dreaded kitty room. The map indicates where your goals are and transports. Additionally, you have Mr. Jenkins the cat to reach things you can't. Hence the (No! OMG, please make it stop!) kitty room. EXTRA, EXTRA? Rescue Mr. Jenkins in the lengthy bonus adventure. Collect coins throughout the main and bonus games to decorate his room. Download four music tracks and load up some wallpapers. Check out your performance achievements and peruse the development diary. Of course, there's the SG. And be sure to watch the humorous credits after the bonus game, in which you'll get to see the game's characters acting out-of-character. THE LAST WORD? Despite the "charming Kitty Playroom," I recommend this game for it's complex and original gameplay, lovely graphics, and well-told story. Other games of note by this dev include the Sable Maze and Dark Dimensions series. Happy gaming!
July 21, 2014
I ENJOYED IT!
based on entire game and bonus game ... very good quality all the way thru, both technically and editorially ... loved the mini games and HOs even though they were not TOO challenging ... i especially LOVED THE ARTWORK throughout this game ... it just gets better and better! ... the storyline was good and kept my attention ... i love having the "helpers" that are part of the storyline .... i ESPECIALLY liked the CREDIT video at the end!!! ... i love seeing the developers and their work! ...
July 22, 2014
Imaginative and easy to enjoy
The graphics are very well done with richly colored, eye-catching artwork that is very clear on the screen. The music and environmental sounds are also well done and are a good match with the themel. The voiceovers are mostly decent and don't become annoying, The story is a "family's children stolen by magic evil-doer" ones but instead of the usual mom saves the day routine our character is the children's father. Although this story is very common in the HOPA genre there are enough imaginative details here to make the game stand out from others, provide interest, and keep you wondering what is going to happen next. Your character enlists the family cat as his helper which may annoy those who aren't fond of animal helpers. This cat though, unlike many kitty helpers, is cute and behaves like a cat should...he doesn't talk and he doesn't wear human clothes. He proves his worth in a variety of situations you encounter. You can collect coins as you play the game and use them to fill a room with things you buy for him also. I thought he made a good addition to the game. The HOS are interactive and of several types. None of them were very challenging but they are pretty to look at and fun to do. The puzzles were, in general, nicely integrated into the game. They rarely approached even moderate difficulty but they were fun to complete. I personally prefer a game with more HOS, a little bit more challenge in the HOS, and with at least a few that are standard as opposed to interactive but the lack of these features here didn't really detract from the fun of playing this game. The adventure component generally flowed well. There was little backtracking and the actions of the character usually made sense. There were times when odd things flew into my inventory and it wasn't clear from the story exactly why my character wanted them but usually things made sense. Objectives are clear and the tasks you need to perform to accomplish the objective are relatively straightforward. Overall, the game is well crafted and easy to enjoy. The fun factor relies heavily on the interesting storyline twists that motivate your character's actions and make this game better than the average HOPA. These imaginative story events invite your suspension of disbelief and draw you into the game. If you're looking for a real brain teaser this isn't it but if you're looking for a fun relaxing game that pulls you into the story this one might fit the bill.
July 17, 2014
great game!
A witch has trapped your family members in paintings and you must release them. Really beautiful graphics in this one. Locations were plentiful and really lovely. Lots of detail and lots of color. Very nice. I really liked that the main character actually spoke throughout the game. You never forgot why you were there or what your goals were. There were lots of achievements and collectible coins that you could use to decorate a room for your helper.. a cat. But the two things I liked best were the wide assortment of mini games.. everything from the old slider blocks to a paint the dragon with numbered pencils that was tricky and the progressive HO scenes where you had to find one object and then open a box with it to find another for example. The bonus chapter was quite good and the game was a pretty good length which in my book at least is pretty important. My only critique and I have said this before is, when playing in advanced.. I do not want to be outright told when to use my helper. Note to the devs.. stop doing that. Leave that for the casual player please. But overall I really enjoyed this one. Beautiful, long with lots of puzzles and HO scenes. Not too easy, good VO's and a decent storyline. Well done game package.
July 31, 2014
Isaacat
This is a good game with quite an imaginative storyline. Graphi8cs are good. HOS are different from most HO games which is a nice change. Games are quite simple. I am not a fan of the games so I try to get thru them quickly, or better yet, skip them when I can. Voiceovers are not very well done. We're supposed to be in England only no one has an English accent. Mmmmmm. Also mouths don't move to go with the words. Overall, however, I am enjoying the game and you may too. Play the demo and see what you think.
July 22, 2014
Good game
Great mini games that are challenging but not so hard you skip them, and the HOP are the interactive type instead of just find and click. Overall a fun game with a good storyline - CE is worth it as you get to find out the 'real' ending to the story.
August 30, 2014
Solid entertainment, lovely artwork
This game has a lot of good features (and just a few annoying ones). The storyline was okay - an evil character preying on family for a reason that's revealed as the story unfolds. For a game with an art theme, it would have been nice to have more artsy mini games. The Pros: *Beautiful artwork *Pleasant, unobtrusive music *Good variety of mini games *HO scenes that required some thought (also a Con) *The "helper" cat seems to have been animated by someone who actually likes cats *Ability to "buy" items for the cat with found coins (some of them make him purr) *Good length of game play (both regular and bonus) *Interactive map with preview (also a Con) *The video of the developers at work was cute, and it's always nice to see the faces of those who work hard and bring us a lot enjoyment. The Cons: *Because the map offered a preview of each location on rollover, sometimes the area trying to be reached was obscured by another image. *Some of the HO scenes were really frustrating - the interaction required wasn't clear (and I like a challenge but some were just head-scratchers). *Most of the mini games were fairly easy but again, a few (even a few that were similar to a known style) were, again, head-scratchers. *This last is just a pet peeve of mine: it bugs me when you've "cleared" a scene or a close-up and it still opens when clicked. This happened throughout the game in areas where information about the story unfolded - usually in the form of a scroll or image. It always makes me think I'm missing something that needs to be done in that area. My preference is that once the info is gleaned, it be stored in a notebook or journal, and that once everything that can be done is an area is completed, that area can no longer be zoomed or accessed. Overall, really well done, and a good value (i.e., quality and length of game play).
July 20, 2014
Beautifully rendered graphics.....but the story was tepid.
I actually did enjoy playing this game, as it's been better than most of the CE's coming out lately. But it really was ridiculously easy to play....and like some other reviewers I prefer more well thought out HOPA's and less puzzles, or an even mix. The characters were really caricatures I almost burst out laughing when I saw them running as they were stiff and awkward more like paper puppets used in the old cardboard theaters for kids "back in the day". And if I ever hear the phrases "Oh, give me a new clue" or "I don't think it is a good idea", I think I might stab myself in the eye, just to stop it from twitching. For a CE, it had all the bells and whistles I won't mention as so many others have laid out the game quite clearly. I'm getting the impression that these are being pumped out as fast as possible to keep those insatiable gamers happy, but cutting corners all over the place. Not just this one but all CE's as well. That will only suffice for so long I think.....as I am seeing less and less positive reviews and more expectations for what I used to think were high end, exceptional gaming experiences. When you ply people with one exceptional game and then throw in several hundred mundane and sloppy games, I think interest will soon evaporate. Really beginning to feel like a sap being sucked in to what I keep hoping will be another diamond from the rough. Sigh.....perhaps someone will come up with holographic gaming, I keep hoping.... It is a decent game but nothing special other than the graphics. I will recommend but not at CE price.
July 18, 2014
The Apple logo is a trademark of Apple Computer, Inc.