Ominous Objects: Family Portrait Collector's Edition
Exclusive
From Daily Magic, creators of the acclaimed Dark Dimensions series, comes an intriguing new series!

You arrive home from a long business trip to discover your new home in disarray! Your wife tells you paintings throughout the house have been coming to life, and now your children are missing. Only little Leia remains, but she refuses to unlock her door. Who or what frightened her so badly… and where are your other children? As you seek them out, you realize your new home hides many dark secrets. You must uncover them before your family is cursed to remain there forever in this chilling Hidden Object Puzzle Adventure game.

This is a special Collector's Edition release full of exclusive extras you won't find in the standard version. As a bonus, Collector's Edition purchases count toward three stamps on your Monthly Game Club Punch Card!

The Collector's Edition includes:
An intriguing bonus game
A charming Kitty Playroom for your feline ally
Bonus Match-3 games, wallpapers, music, and more!
An available Strategy Guide
Game System Requirements:
OS:

Windows XP/Windows Vista/Windows 7/Windows 8

CPU:

2.5 GHz

RAM:

1024 MB

DirectX:

9.0

Hard Drive:

1496 MB
Game Manager System Requirements:
Browser:

Internet Explorer 7 or later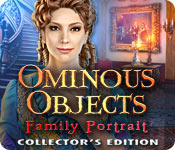 The Big Fish Guarantee:
Quality tested and virus free.
No ads, no adware, no spyware.

Reviews at a Glance

Ominous Objects: Family Portrait Collector's Edition
0
out of
5 (
0
Reviews
Review
)
Customer Reviews
Ominous Objects: Family Portrait Collector's Edition
63
63
I'm Glad That I'm NOT In This Family!
Just a usual game as in the usual story & graphics. Characters have some body movement, more of a writhing, but no mouth moment. VO are ok but, as others have noted, border on the melodramatic. HOS/Mini-games are quite interactive & a notch above the usual!! Some reviewers have complained about the "cutesy" cat but I LOVE Mr. Jenkins & think he is realistically drawn. Not a challenging or intellect stimulating game but fun to play nevertheless. Give the demo a whirl & see if you agree.
July 17, 2014
Definite 4.5 stars!
Hi all. Well, we have a new and challenging game today. I have the two that are listed with the "special," but there are more in those two series, all of which were very nice games. Graphics are well done and game play was excellent. Colors were bright, but again, a lot of blue. Tiring on the eyes. There is a jump map that is well identified and quite helpful, showing you where there is something that needs to be done. From looking at the map, this looks like a fairly lengthy game. Music is interesting and adjusts according to what is happening in the scene at the time. Voice overs are okay, but few and far between and some dialog is quite silly. Dialog does not flow, you have to click your way through it to hear and/or read it all. There is no journal to follow or keep notes in, so you better have a good memory. Haven't seen this in a very long time. HOPs are very interesting and fun, with a puzzle within a HOP. They are fairly clean, but there is a lot of work to get the item you are there for...quite challenging. So are the puzzles. Some aren't too difficult, but do take some time and thought and a lot of patience. Different and enjoyable. Fortunately, you can skip the puzzles in and out of the HOPs, which I had to do once. Hint system is quite helpful but fills very slowly, and does have a transport feature to get you where you need to be quickly. The one thing I didn't care for was that when you click on an item to try and use it in a scene, if it is not the correct item, the voices states "oh, give me a new clue." See what I mean about silly? You have a very helpful cat that can get into high, low, or small spaces and comes in quite handy on other occasions as well. The only collectibles I found are coins that you use to buy items for the very pampered cat. Either these coins are very few and far between, or are very hard to find. I haven't found many at all and I look every where. I found this game to be challenging and quite fun and really got into the story line and game play. Yes, I will purchase yet another CE for my collection. I believe this one will appeal to all levels of players. This game will not get 5 stars from me, only because of the somewhat silly dialog and the lack of a journal, but otherwise an excellent game. As always, try it for yourself and see what you think. We all have different tastes in games and you may not care for this one at all. Thanks for the reviews.
July 17, 2014
Great Game
Enjoyed most of this game. Excellent HO's and beautiful scenes. Good story line. The main character voice was cool except for when showing displeasure when I made wrong choices. The wording itself was a little irritating. Rather silence instead of contact reproof. Other then that the story was very good and a close runner up for best game. I enjoyed the use of the family pet. Likable and not to cutesy or annoying. Game had a nice map with good indicators and jump ability. Lots of activity.
July 17, 2014
Good game
I liked it.would have loved it if my ho's haven't turned into mini games.really do not like mini games.otherwise try it and have fun
July 17, 2014
Is Something Missing Here?
The game seemed to have possibilities. After all, a creepy mansion, living portraits, vanished children, what more could one want? Well....For me the answer is excitement, emotion, that haunted mysterious feeling one gets from this type of game. I just couldn't find it there. The graphics are good, the sounds are appropriate but I kept having the feeling I'd played this before. No, not a flashback memory or anything, but nothing to make it stand out from the many similar games out there. I've nearly finished the demo and so far there are no collectables, no morphing stuff, and the setting (1700's) just didn't draw me in. These are not negatives as you may find this game very appealing, but try it first to avoid disappointment. It's good, solid, playable, but where's the thrill?
July 17, 2014
Family Portrait is Actually Paint By Numbers
You return home to your castle to find that your children have been taken by some sinister red-eyed being who uses paintings to release his minions of gargoyles, bats, vicious dogs and fill in the blank. It all began when one of your children pulled a book off the shelf and opened a secret room and unleashed this monster. The story certainly makes use of the usual inhabitants of these games - missing children, scary animals, swirling black clouds, mysterious books, and things popping out of paintings. Problem is, it's all been done over and over ad nauseum. I can't see how anyone could describe this as imaginative - for one, this is the second game this week with a growling gargoyle. The voice acting is stiff and atrocious, with no apparent thought to the context of what is being said. The characters are not very compelling, you don't know anything about them except they live in a castle. The drawing and cut scenes are fine, but we've seen similar quality dozens of times before. Similarly, the game play introduces nothing new, its just derivative of what's already been done. If you have played 10 games in the last year, then you surely have played this one a few times. I could accept it if they had at least come up with something original in the story but alas, no. I was hoping Family Portrait would be an original but, unfortunately, its a copy.
July 18, 2014
Ominous?
Where's the storyline? Mostly MIA. (Please remember I'm all about the storyline.), This game is similar to a LOT of other games. It has good graphics, some HOS, lots of mini-games, background sounds, poor VOs, three levels of play, and not enough storyline to pull you in. Note to developers: With so many games out there, there has to be a reason I pick your game to play. Lots of games have your features. What sets you apart will be the storyline, character development, and atmosphere you inject into your game. The atmosphere with the swirling, charging smoke held promise, which you lost with the barely concerned parents and rather calm child. (Wasn't she supposed to be terrified a few minutes earlier?) Add to that a glaring lack of logic in the story's progression - Dad comes home and finds a picture painted presumably by one of the missing kids featuring the "ghost," who also appears as a figurine in the little girl's dollhouse. As the kids have not been seen since they found the ghost's painting, how would these items have gotten there? How does he know how to combat the haunted paintings? Mom gets up from a dead faint caused by a devil dog jumping out of a painting. She's as calm as a still pond. Child relates siblings' disappearing in an equally calm manner. I just did not care enough about these characters to want to slog through the game. I refuse to even comment on another cute animal room to decorate. How about good collectibles or some morphing objects instead? Sorry, guys, I can't recommend a game I won't be buying at CE prices. Once again so much promise and no delivery!
July 18, 2014
So so game
Not challenging enough and lacks depth
August 10, 2014
Not bad?but not great
Ok, I finished the main part of the game so far. The HO areas were rather boring. It was more of a find one item to use to get another. I would have preferred an opt out of this - match3 perhaps. The puzzles were decent. HOWEVER several took up pretty much my entire screen so when I chose (in one puzzle) a certain 'button'?I hit the hint instead! It wasn't like I TRIED to hit it?but it was exactly next to the hint which made it next to impossible NOT to! Anyway, moving on... I usually don't care about the voice overs but in THIS case if your character didn't shut up I swear I almost stopped playing. Every time I clicked somewhere to try to use an object, there is this over-acted voice saying one of three or four sayings. It got obnoxious. I'm also getting pretty bored with the whole pet thing - helps you reach high up, go under beds, etc. Many game developers try to make it 'cutsie'?I'm getting bored with it! Based on what I wrote- I'd say that I would recommend this game ONLY if you like the specific type of HO area I described and enjoy puzzles. To be honest, I'm contemplating NOT playing the extra gameplay. But we'll see! I hope you enjoy it more than I did as I feel it was just 'ok'.
July 30, 2014
Ominously, not that foreboding after all
Played demo in hard mode Review more for expert players Ok, I always am a bit leery of a game when I finish the demo before the hour is up. This usually points to a very short game. This demo I finished in 35 minutes. If you are an expert player too, I think you will breeze right through as well. The graphic's here are really quite lovely and the music is well chosen and accents the game. The voice overs are pro (YEAH!# and pleasing. For a change you play a male character! It puts a different feeling in the game that I found a plus. All that aside..... the game was very easy. I flew through the puzzles and the hidden object scenes. No challenge at all. The HOS are interactive, clear and colorful. I did not find any misspelled words or mislabeled objects #but remember I only played the demo#. You again are looking for lost children - Ho-Hum, and you get the fuzzy animal helper again. #Sheeze those things are like a fungus that won't die) Why can't I get a really scary skeleton helper with glowing red eyes for a change. With a name like Ominous Objects I was expecting something with more of an edge to the game. But no, it had it's fill of cutesy moments. Like when a baby gargoyle blocked my way. I didn't know if I should kill it or change it's diapers. . I just was not pulled into the game. I did not find it compelling, fun or challenging. The storyline did not interest me. To sum up Graphics - very nice Voice overs - Pro and pleasing Puzzles - elementary Music - accents the game Not very compelling Good for Novices players Ran fine on my PC, no glitches in demo Expert players - No hard riddles or difficult puzzles to work out. I think you may find it boring, but if you want some pretty eye candy and a relaxing game give it a go.
July 30, 2014
The Apple logo is a trademark of Apple Computer, Inc.