Ominous Objects: Family Portrait Collector's Edition
Exclusive
From Daily Magic, creators of the acclaimed Dark Dimensions series, comes an intriguing new series!

You arrive home from a long business trip to discover your new home in disarray! Your wife tells you paintings throughout the house have been coming to life, and now your children are missing. Only little Leia remains, but she refuses to unlock her door. Who or what frightened her so badly… and where are your other children? As you seek them out, you realize your new home hides many dark secrets. You must uncover them before your family is cursed to remain there forever in this chilling Hidden Object Puzzle Adventure game.

This is a special Collector's Edition release full of exclusive extras you won't find in the standard version. As a bonus, Collector's Edition purchases count toward three stamps on your Monthly Game Club Punch Card!

The Collector's Edition includes:
An intriguing bonus game
A charming Kitty Playroom for your feline ally
Bonus Match-3 games, wallpapers, music, and more!
An available Strategy Guide
Game System Requirements:
OS:

Windows XP/Windows Vista/Windows 7/Windows 8

CPU:

2.5 GHz

RAM:

1024 MB

DirectX:

9.0

Hard Drive:

1496 MB
Game Manager System Requirements:
Browser:

Internet Explorer 7 or later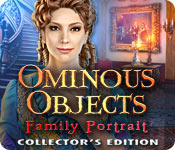 The Big Fish Guarantee:
Quality tested and virus free.
No ads, no adware, no spyware.

Reviews at a Glance

Ominous Objects: Family Portrait Collector's Edition
0
out of
5 (
0
Reviews
Review
)
Customer Reviews
Ominous Objects: Family Portrait Collector's Edition
63
63
It was alright
A game by Daily Magic Productions ---------------------------------------------- Played the demo for 75 minutes. There are 3 levels of difficulties. It started off pretty nice, although there is not much background story, we are like being thrown there without any reason. The graphic is nice and the VO is OK, but I dislike grown up voicing children, sometimes it has not much expression. HO scenes are diverse and not the usual finding objects in list. Puzzles are not the most original, you have seen that before and warning: there are times where puzzles after puzzles are thrown together. Inventory items are usually used almost immediately so I didn't use the SG except to check my progress in the game. Map is very basic, can transport but there are not much help as to where an action is available. Background music does not really engaging me to a fantasy adventure game. They are pretty silent so I was yawning the whole time, waiting for the demo to end. Bonus contents are diverse, too, and the Developer's Diary caught my attention more, but there are 19 videos and I just had no time to see all. I guess 1 itself is enough. In the end, A for efforts for the game developer, this is much better than their other series, hopefully it will get better if there's another game in the series.
July 18, 2014
Trial Review
Gave the trial a go but this one will not be a buy for me. The premise of the story was kind of interesting which you can read about in other reviews. The artwork is well done and if you're into that era and the castle stuff, that part will appeal to you. There was just too much I didn't care for to consider purchasing this one. The puzzles I ran into in the trial are all the kind I dislike - sliders and the move things around until you want to scream type... The father's voice and intonation was incredibly awful. It was so bad it made me laugh. It appeared that they copied another developer and included a "story telling" puzzle that you completed and got another segment of the history. I hope the other developer drops that as it's getting tiresome. Was bored seeing that here. From what I played, the game is simply way too easy. It does not require a "thinking cap" ... at all. Ominous Objects: Family Portrait isn't hideous. This game might be just the thing for someone who is just starting out with these kinds of games and especially someone who loves the romantic castle setting and that whole era with all the clothes and flowers and all that kind of thing. So, I would recommend it - but only to a select audience. This isn't a game for me.
July 21, 2014
Repetitive, Just a fair game
The game got boring because it became repetitive so that you ended up basically doing the same thing over and over. At first, it was fun and interesting. But, as you progress, the scenes change but what your objectives stay the same while the man rescues HIS family. A big annoyance: the wife is treated as just a pretty, ornamental objective with no intelligence or competence.
July 20, 2014
Glad I read the reviews.
When I saw not many HO'S I gasped for such a long game as well. I did not finish the trial it was late. I just now read the reviews. I bought games before seeing HO'S and then so far and few between. CE are not cheap either. It seem easier to not take the time to do them. Little objects not even labeled. More expensive for us members and little effort on the HO'S.
July 17, 2014
A SERIOUS FLAW
The game is great in all respects except one. Great visuals and sound and animation and hidden object scenes. Great map tools and awards and a cute avatar helper in the form of a cat. But, toward the end of the game there is a room with a piano that is missing three keys. The first two are easy enough to locate and collect, but one of the keys is sitting on the table in a "coloring book" scene where you have to complete the coloring of a dragon by using some colored pencils. You can complete the coloring of the dragon, and then the dragon becomes a tile that you can pick up and use in another slot elsewhere in the game, but... there is a piano key sitting on the table with the dragon and if you don't happen to notice it... and you exit the screen where you completed coloring in the dragon, you are stuck and it is impossible to finish the game. There is no possible way of getting back to that table with piano key on it and that, really, is a terrible omission, a failure in play-testing the game and really is a sincere disappointment. You would have start over from the beginning and go all over everything again and this time to try remember to take the key. It's a major pain. For this flaw, alone, I do not recommend the game.
August 9, 2014
Yawn
Ho hum, missing chidren. Eek, dark cloud and morphing portraits. Only the cat is lifelike. HO's are minigames. Ugh. Double Ugh. Minigames can usually be skipped, but not these. As HO's they are not challenging. What IS challenging is figuring out what the developer wants me to do with the objects. I don't like it.
July 19, 2014
Not particularly ominous
Based on playing part of the demo: Storyline familiar - disappearing children; distraught parents; sinister villain in gothic castle. Perfectly acceptable. Graphics - not my taste but again nothing wrong with them. Voices - exceptionally annoying! Just turned on the mute. Puzzles - O.K. Reasonably challenging. Liked mini games in HO scenes. Ominous factor - low. It probably didn't help that it's set in 18th century Blatshire. Blatshire? Must have seemed like an ideal name at the time. This game is alright - just didn't excite me enough to play to the end of the demo. Friendly cat cute - always like feline company but not a patch on Isis - Madam Fate, I think?
July 18, 2014
What a boring game
I am sorry that i bought the CE. There is no storyline at all - the children are saved in a minute and from then on you don't know, why you are doing all this stuff. There are so plenty of rooms that they don't feel connected at all. The voice of the hero is really unpleasant and also is his "give me a new clue" if you do something wrong. Yes, the graphics are nice, but that there is no story, no tension, no nothing at all that wants you to keep going. I uninstalled it, without playing it to the end. What i also did not like at all, was the "interactivity" of the HO-scenes, at it was in every HO and there are quite plenty of HO-scenes in this game. I know, it is fashion right now to do so, but it also is boring. I do play late at night, after a long day of work... i would love to have some gentle friendly entertainment - instead of solving riddles, which don't explain themselves... you never know, why which tool is ordered to help another one, it is just guessing. Instead i installed an "oldfashioned" game with a real story, with tension, with HO-scenes which are not overloaded with interactivity but just use them sometimes... works much beter for me. Tja, too sad, i spent 2 game credits on this game.
August 11, 2014
Can't see what others have said
I had such great expectations for this game as the reviews, all but 1, were excellent. but I'm sorely disappointed. The only great thing I can say about this game is "The graphics are stunning", but it takes more than pictures to make a great game. My first dislike was the voice of the Father; should have been the villain's voice and I got so tired of the voice telling me to find another clue...how irritating. I love the HOs in these games but this one had not so fun ones and gave no initial instructions so you had to ask for a hint to see how it worked. But, my biggest complaint were all the many, many, puzzles; every time I moved, there was another one and I so dislike puzzles and prefer games with more HOs and few puzzles. The story, what can I say? It was not interesting, enjoyable, or anything else. I can honestly say, in my opinion, this is one of the worse games I've demoed in some time. Oh, to be so beautiful but so boring.
July 17, 2014
My 9-year-old would be bored with this
ONLY PLAYED DEMO This game is ridiculously easy. The HOAs are a little interesting but the mini-games took me about 3 seconds each. Many items you need always seem to appear just before you need them. There is no character or story development and the dad's voice is irritating. Big waste of time.
July 17, 2014
The Apple logo is a trademark of Apple Computer, Inc.