Ominous Objects: Family Portrait Collector's Edition
Exclusive
From Daily Magic, creators of the acclaimed Dark Dimensions series, comes an intriguing new series!

You arrive home from a long business trip to discover your new home in disarray! Your wife tells you paintings throughout the house have been coming to life, and now your children are missing. Only little Leia remains, but she refuses to unlock her door. Who or what frightened her so badly… and where are your other children? As you seek them out, you realize your new home hides many dark secrets. You must uncover them before your family is cursed to remain there forever in this chilling Hidden Object Puzzle Adventure game.

This is a special Collector's Edition release full of exclusive extras you won't find in the standard version. As a bonus, Collector's Edition purchases count toward three stamps on your Monthly Game Club Punch Card!

The Collector's Edition includes:
An intriguing bonus game
A charming Kitty Playroom for your feline ally
Bonus Match-3 games, wallpapers, music, and more!
An available Strategy Guide
Game System Requirements:
OS:

Windows XP/Windows Vista/Windows 7/Windows 8

CPU:

2.5 GHz

RAM:

1024 MB

DirectX:

9.0

Hard Drive:

1496 MB
Game Manager System Requirements:
Browser:

Internet Explorer 7 or later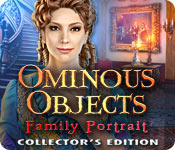 The Big Fish Guarantee:
Quality tested and virus free.
No ads, no adware, no spyware.

Reviews at a Glance

Ominous Objects: Family Portrait Collector's Edition
0
out of
5 (
0
Reviews
Review
)
Customer Reviews
Ominous Objects: Family Portrait Collector's Edition
62
62
Ominously, not that foreboding after all
Played demo in hard mode Review more for expert players Ok, I always am a bit leery of a game when I finish the demo before the hour is up. This usually points to a very short game. This demo I finished in 35 minutes. If you are an expert player too, I think you will breeze right through as well. The graphic's here are really quite lovely and the music is well chosen and accents the game. The voice overs are pro (YEAH!# and pleasing. For a change you play a male character! It puts a different feeling in the game that I found a plus. All that aside..... the game was very easy. I flew through the puzzles and the hidden object scenes. No challenge at all. The HOS are interactive, clear and colorful. I did not find any misspelled words or mislabeled objects #but remember I only played the demo#. You again are looking for lost children - Ho-Hum, and you get the fuzzy animal helper again. #Sheeze those things are like a fungus that won't die) Why can't I get a really scary skeleton helper with glowing red eyes for a change. With a name like Ominous Objects I was expecting something with more of an edge to the game. But no, it had it's fill of cutesy moments. Like when a baby gargoyle blocked my way. I didn't know if I should kill it or change it's diapers. . I just was not pulled into the game. I did not find it compelling, fun or challenging. The storyline did not interest me. To sum up Graphics - very nice Voice overs - Pro and pleasing Puzzles - elementary Music - accents the game Not very compelling Good for Novices players Ran fine on my PC, no glitches in demo Expert players - No hard riddles or difficult puzzles to work out. I think you may find it boring, but if you want some pretty eye candy and a relaxing game give it a go.
July 30, 2014
Repetitive, Just a fair game
The game got boring because it became repetitive so that you ended up basically doing the same thing over and over. At first, it was fun and interesting. But, as you progress, the scenes change but what your objectives stay the same while the man rescues HIS family. A big annoyance: the wife is treated as just a pretty, ornamental objective with no intelligence or competence.
July 20, 2014
Glad I read the reviews.
When I saw not many HO'S I gasped for such a long game as well. I did not finish the trial it was late. I just now read the reviews. I bought games before seeing HO'S and then so far and few between. CE are not cheap either. It seem easier to not take the time to do them. Little objects not even labeled. More expensive for us members and little effort on the HO'S.
July 17, 2014
A SERIOUS FLAW
The game is great in all respects except one. Great visuals and sound and animation and hidden object scenes. Great map tools and awards and a cute avatar helper in the form of a cat. But, toward the end of the game there is a room with a piano that is missing three keys. The first two are easy enough to locate and collect, but one of the keys is sitting on the table in a "coloring book" scene where you have to complete the coloring of a dragon by using some colored pencils. You can complete the coloring of the dragon, and then the dragon becomes a tile that you can pick up and use in another slot elsewhere in the game, but... there is a piano key sitting on the table with the dragon and if you don't happen to notice it... and you exit the screen where you completed coloring in the dragon, you are stuck and it is impossible to finish the game. There is no possible way of getting back to that table with piano key on it and that, really, is a terrible omission, a failure in play-testing the game and really is a sincere disappointment. You would have start over from the beginning and go all over everything again and this time to try remember to take the key. It's a major pain. For this flaw, alone, I do not recommend the game.
August 9, 2014
Yawn
Ho hum, missing chidren. Eek, dark cloud and morphing portraits. Only the cat is lifelike. HO's are minigames. Ugh. Double Ugh. Minigames can usually be skipped, but not these. As HO's they are not challenging. What IS challenging is figuring out what the developer wants me to do with the objects. I don't like it.
July 19, 2014
Not particularly ominous
Based on playing part of the demo: Storyline familiar - disappearing children; distraught parents; sinister villain in gothic castle. Perfectly acceptable. Graphics - not my taste but again nothing wrong with them. Voices - exceptionally annoying! Just turned on the mute. Puzzles - O.K. Reasonably challenging. Liked mini games in HO scenes. Ominous factor - low. It probably didn't help that it's set in 18th century Blatshire. Blatshire? Must have seemed like an ideal name at the time. This game is alright - just didn't excite me enough to play to the end of the demo. Friendly cat cute - always like feline company but not a patch on Isis - Madam Fate, I think?
July 18, 2014
What a boring game
I am sorry that i bought the CE. There is no storyline at all - the children are saved in a minute and from then on you don't know, why you are doing all this stuff. There are so plenty of rooms that they don't feel connected at all. The voice of the hero is really unpleasant and also is his "give me a new clue" if you do something wrong. Yes, the graphics are nice, but that there is no story, no tension, no nothing at all that wants you to keep going. I uninstalled it, without playing it to the end. What i also did not like at all, was the "interactivity" of the HO-scenes, at it was in every HO and there are quite plenty of HO-scenes in this game. I know, it is fashion right now to do so, but it also is boring. I do play late at night, after a long day of work... i would love to have some gentle friendly entertainment - instead of solving riddles, which don't explain themselves... you never know, why which tool is ordered to help another one, it is just guessing. Instead i installed an "oldfashioned" game with a real story, with tension, with HO-scenes which are not overloaded with interactivity but just use them sometimes... works much beter for me. Tja, too sad, i spent 2 game credits on this game.
August 11, 2014
Can't see what others have said
I had such great expectations for this game as the reviews, all but 1, were excellent. but I'm sorely disappointed. The only great thing I can say about this game is "The graphics are stunning", but it takes more than pictures to make a great game. My first dislike was the voice of the Father; should have been the villain's voice and I got so tired of the voice telling me to find another clue...how irritating. I love the HOs in these games but this one had not so fun ones and gave no initial instructions so you had to ask for a hint to see how it worked. But, my biggest complaint were all the many, many, puzzles; every time I moved, there was another one and I so dislike puzzles and prefer games with more HOs and few puzzles. The story, what can I say? It was not interesting, enjoyable, or anything else. I can honestly say, in my opinion, this is one of the worse games I've demoed in some time. Oh, to be so beautiful but so boring.
July 17, 2014
My 9-year-old would be bored with this
ONLY PLAYED DEMO This game is ridiculously easy. The HOAs are a little interesting but the mini-games took me about 3 seconds each. Many items you need always seem to appear just before you need them. There is no character or story development and the dad's voice is irritating. Big waste of time.
July 17, 2014
Just Who Is Your Target Audience Here? Based On Demo
Well lets see here. The description of this game says it's suppose to be a "chilling" HOPA (hidden object puzzle adventure) but then I read further and it says A charming Kitty Playroom for your feline ally. REALLY Daily Magic??? As my title says: Just Who Is Your Target Audience Here? Sorry but "chilling" and "charming Kitty Playroom = Don't Go Together. Oh yes shortly into the game you get a "cutesy" cat Mr. Jenkins that stays with you. A little further into the demo I came across a beaver that helped out but then left. Now whether or not there are any more "cutesy" animal helpers well sorry but I'm not playing any further to find out. VISUAL/SOUND QUALITY: Sorry but I didn't much care for the graphics. They were just OK. Nothing to write home about. I usually prefer and enjoy most voices to games but sorry to report I found these downright annoying. Actually made me cringe. I felt no sense of urgency to find the missing children especially from the lead female character. They also appeared very stiff with no mouth movement. LEVEL OF CHALLENGE: I'll keep this short and to the point. 3 play modes. I hope to see a CUSTOM MODE from the Daily Magic their next game offering. While I had no sparkles on middle of the road mode but still had an overload of black bar tips for most things. I didn't play the hardest mode because I like for hint/skip to be available just in case needed. Oh there is also a map which I didn't use. The hint is either directional or a box comes up to transport you to area you need to be in. STORY LINE: Yet another rehashed one having to do with portraits and missing children. I could of overlooked this and still been into it if it was indeed "chilling" and if wasn't for the characters. Just dreadful. No sense of urgency. Story all over the place for me not making much sense and then the "cutesy" animals thrown in well I couldn't stay focused on this. FUN FACTOR: The only two things I enjoyed about this game were the HOS. Lots of interaction here with some "mini games" thrown into them. I'm not really one much for puzzles/mini games but I did find a few of these while on the easy side interesting but there are some of the usual run of the mill as well. Sorry Big Fish and Daily Magic but I'm truly disappointed. I sure enjoyed the Sable Maze games along with a few others. Sorry but 1 star is the best I can do for this. I do however look forward to Daily Magic's next game offering. I truly hope I can rate higher next time. I sure hope you aren't jumping on the bandwagon with the other developers with these "cutesy" or otherwise animal helpers. If so well I'll have to add you to the no demo/no buy list. As always give it a whirl and decide for yourself. This may be just right up your alley and what you are looking for especially if you don't mind or like "cutesy" animal helpers. As for me a definite no go here for the CE and the SE when that is released. CE Extras: Bonus Chapter Strategy Guide shows 1st 3 chapters during the demo Bonus Match 3 - 8 levels Developer Diary 16 Concept Art Kitty Play Room (you also find coins for this) Achievements NO collectibles 6 Wall Papers
July 17, 2014
The Apple logo is a trademark of Apple Computer, Inc.