Nevertales: Shattered Image Collector's Edition
Exclusive
From the innovative minds at Mad Head Games, creators of Nevertales: The Beauty Within and the Rite of Passage series.

Your daughter, Alice, has grown up to be a talented young girl – unlike other Travelers, she has a rare gift that allows her to open portals using reflective surfaces, not just books. But when a mysterious mirror-hopping monster suddenly appears through one of the portals and kidnaps Alice, the entire world starts splitting apart at the seams. Strange quakes rock the earth, and huge chasms appear out of nowhere. Now you must use your own powers to travel into Book-worlds and find the source of the trouble. Can you rescue Alice and save Taleworld before it falls apart? Find out in this thrilling Hidden Object Puzzle Adventure game!

This is a special Collector's Edition release full of exclusive extras you won't find in the standard version. As a bonus, Collector's Edition purchases count toward three stamps on your Monthly Game Club Punch Card!

The Collector's Edition includes:
A bonus game that takes you to Pierre's past…
Unlock bonus puzzles and mini-games
A gallery of music, art, and hidden-object scenes
An available Strategy Guide
Game System Requirements:
OS:

Windows XP/Windows Vista/Windows 7/Windows 8

CPU:

2.0 GHz

RAM:

1024 MB

DirectX:

9.0

Hard Drive:

1044 MB
Game Manager System Requirements:
Browser:

Internet Explorer 7 or later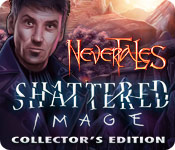 The Big Fish Guarantee:
Quality tested and virus free.
No ads, no adware, no spyware.

Reviews at a Glance

Nevertales: Shattered Image Collector's Edition
0
out of
5 (
0
Reviews
Review
)
Customer Reviews
Nevertales: Shattered Image Collector's Edition
76
76
GORGEOUS, AS ALWAYS, BUT COULD BE MORE CHALLENGING
Review of completed game, bonus and extras. Hi fishies. Here is a bit about the game. You have: * Casual, Bookworm, Scholar and Choose Your Own Mode; * Voiceovers; * Journal; * Interactive map; * Achievements Boards - 3 of them; * Find 48 collectibles - then complete the puzzle; * Complete missing rooms from Alice's Dollhouse; and * Three stories - main, bonus and hidden chapters. The graphics are superb and quite beautiful. Sound is very good. I've always loved Mad Head Game's graphics. The music is gorgeous - just plays quietly in the background but I always turn the music up loud with this developer. The interactive hidden object games were very easy. Keep an eye out for the one morphing object in each HOS because they are easy to forget about and you can't go back. The morphing objects were quite elusive in some cases and I had to stare at the screen for a while before I grabbed them. The mini-games were once again very easy but a lot of fun. I enjoyed these, especially the one where you to place the guns in the right position to get rid of the octopus. Took me a while that one. The main game was mainly about Belle and her daughter Alice and the bonus game was about Pierre (Alice's father). The hidden chapters were helping characters from the main game. There are 3 books and you go through each one to help Captain Nemo, etc. You can play again all the HOS and mini-games if you want. I played the octopus game again a couple of times. The game, bonus and extra hidden chapters took me about 9 hours all up to play - good value for money. So overall, a great game. However, not very challenging, but fun. I didn't need to refer to the Strategy Guide or interactive map. Hopefully the developer will take into consideration that expert players need more of a challenge or we become bored.
July 26, 2014
Better Story, Worse Gameplay.
BASED ON DEMO In my opinion, the first Nevertales game was, hands down, the most over-rated game in HOPA history. So I wasn't really expecting much from its sequel. I have to admit this game was definitely better than the first, but it was not good enough to make me buy. The first Nevertales had a story that was incredibly boring, but this one was much better. I was actually interested in the story from the beginning until the end. There weren't many twists in the demo, and this story has been done millions of times, but the game had an exciting concept and it was executed quite well. Despite the lack of twists, I was still quite excited by the story. I was intrigued by the character of Mallek (forgive me if I spelled that wrong), who is, presumably, our villain in this game. The developers have done a great job of creating suspense. I am eager to learn more about him and why he turned to the bad side. This was one of the highlights of the story for me. However, I do have one small issue related to the story. Once again, our protagonist is female. Every game from this developer has featured a female protagonist, and I believe it is time for a change. Come on, developers! It's time to give the males a go! I really liked the HOS. Simillar to the HOS in previous games from this developer, they were all just that tiny bit different from the norm, which made them a little bit more fun. They were basically just slightly altered versions of silhouette and/or junkpile. The HOS were spaced out well. From memory, I think I found 3 in the demo. However, me being me, I did pick out one small issue with the HOS. In the first silhouette scene, the silhouette was of a cupcake, and I needed to find two. I found the first cupcake, spent forever looking for the second one, couldn't find it and used a hint. It turned out to be a GINGERBREAD MAN? How in any way is a gingerbread man a cupcake? That was really confusing and just plain annoying. The developer needs to make things clearer. The puzzles were a bit of a mixed bag for me. Some of them were very new, quite interesting and just that little bit challenging. But others were either way too easy or too confusing. Seriously, sometimes I would have absolutely no idea what to do until I clicked on the instructions, which is very odd for me. To their credit, the developers did have very detailed instructions for their puzzles, which immediately cleared things up. Like the HOS, the puzzles were evenly spaced out and there were a few of them (about 3, I think). Once pioneers for new HOPA gameplay, MadHead seem to be dropping the ball a bit. Yes, there are some nice new features, but there's not really that many. I'd say, when it comes to gameplay, this is a big step back from the first Nevertales. One new feature we have is a brand new feature; the Dollhouse, which we have to assemble. Every time we find a room and place it in the dollhouse, we get an item from Alice which will aid us in our quest. This was a great feature and goes to show that the developers are thinking outside the square. Another new feature is the ability to switch characters (if only for a moment). No, I'm not talking about playing entire chapters from one person's POV. This actually makes sense. In the one encounter I had, Pierre was about to fall and we tossed him a rope. Then we switched to Pierre to haul ourselves up. This is another example of thinking outside the square. Most other developers probably would have had a boring cutscene, so great job to MadHead here. And that's pretty much it when it comes to new gameplay features. The only other feature we have apart from the basics is + objects, which are becoming more and more standard these days. The + objects are items you need to interact with to complete, and are indicated by a small + sign, hence the name. The + sign will change colour when the object can be interacted with. This was a good feature, and there were quite a few objects to be toyed with. I will give credit to MadHead for doing an excellent job with the basic stuff. We've got 4 modes of difficulty, a working hint, a journal (finally, someone who realises the importance of the journal!) and a map that is incredibly helpful. One thing I absolutely hate is getting basic features that are useless, but MadHead have done a great job of making sure that doesn't happen. Overall, I was impressed with the gameplay, but I felt a bit more new stuff could have been added. That new ?shine? that once attracted me to MadHead games is officially gone. The graphics are the usual top-class stuff. Everything is crystal clear and drawn with so much detail, I almost felt like I was inside the game. Character designs are incredibly life like too. Voice-overs are standard. I have no problem. FEATURES 4 modes of difficulty: Casual, Advanced, Hard and Custom. Differences are standard. Custom lets you set the game your way. I played Casual. Hint/Skip- both recharge at a decent speed for the difficulty I selected, so there is not too much hand holding, and I don't feel like I've accidentally selected advanced mode. Hint is useful outside HOS. Journal- great for keeping track of events if you tend to forget early parts of the story (like me). Map- I loved the map in this game. It is interactive and very helpful. Not only does it tell you where you have stuff to do, but it also tells you when a location is complete. + objects- These are objects you need to interact with to complete. They are indicated by + signs, which change colour when ready to be used. This was a great feature. Dollhouse- This is a brand new feature that I absolutely loved. You find an empty dollhouse at the beginning of the game that must be assembled. With every room you find, you earn a new item from Alice. Switch Characters- Occasionally in the game, you switch characters to someone else in order to complete the adventure. This was a fantastic feature and I hope it will come back in future games. CE EXCLUSIVES Bonus Chapter- I can almost guarantee you won't need it. Secret Chapter- unlocked after completing ?treasure hunt? Built-in Strategy Guide- Gives step by step instructions for puzzles, but does not show screenshots of HOS. Will show locations of collectibles. Achievements- there are lots Collectibles (44)- One in every scene. There is an indicator in the corner that tells you if you have collected the item from that scene yet. This was fantastic, as I sometimes forget whether or not I have collected it. Travelers- unlocked upon completion of Bonus Chapter. I have no idea what it is. Toy Defense game Wallpapers Replay Puzzles & HOS Concept Art Music WHICH IS THE BETTER BUY? The CE has quite a few extras in it, so I'd say the CE is good value this time. There are a lot of extras that you wouldn't find in many other CE's. Overall, this was not fantastic, but it was decent. I enjoyed it a lot more than the previous Nevertales. I gave the last game in this series a three, so I will give this one a four. It was fun to play for the demo, but that's as far as I'm going to go.
July 23, 2014
Well done!
Hi all. Well, I beta tested this one and really enjoyed it, even with the somewhat cartoon like graphics. Other than that, the graphics were quite good. Bright colors, but still a lot of pinks. Game play was very good, no problems and filled my large screen without black bars. The only real complaint I had about this game is that everything is so incredibly close to the hint button, so watch where you click. Nice voice overs, appropriate for person and time. Really liked the music. Usually soothing, but moved with the game play and what was happening at the time. Very nice sound FX. Jump map is quite helpful, with areas of interest marked and identified with name and picture, in case your memory isn't working today. HOPs are silhouettes and finding parts to complete a task. These are not difficult but take some time and are fun. Puzzles are not difficult either, nothing new or too challenging. SG is helpful if you need it, but the hint system is even more helpful and faster to use. Between that and the jump map, you really don't need to use the SG. You do travel through portals, so if you have a problem with bright lights, close them before you click...these are very bright. There are some things you do that you have to switch characters in order to complete a task. This was fun and different. Along the way, you find parts of a dollhouse and when you place the part, you receive a needed item for your inventory. The only collectibles I found were a picture of a book. These are not what you expect and blend into the background and scenery, but are not that difficult to see. You just have to remember to look for them. I like that there are extra things to do, even after you finish the bonus game. These little extras make a game more fun, interesting and worth the price. This game is well done and fun. It is not extremely challenging, but enough to keep you interested and moving. The story line quickly drew me into the game. I have the first in this series ( Nevertales: The Beauty Within CE) and this one is equally as good. I think this will appeal to all levels of players and yes, I am going to get it for my collection. As always, try it for yourself and see what you think. We all have different tastes in games and you may not care for this one at all. Thanks for the reviews.
July 19, 2014
Fun but too easy, found the extras to be more entertaining than main game.
Very good game, but not worthy of 5 stars. The first Nevertales was better. Pros: -Interactive map -Excellent graphics -Loads of extras that seemed more entertaining than the main game -Not too many HOS like other games Cons: -Puzzles seemed too easy. Hardly any challenge with them. Was able to complete all puzzles without skipping and under 1-2 minutes. -Storyline seemed thin. Not the greatest storyline I have played. -Main game too short. I finished main game in under 3 hours. ***The biggest plus in the game is the extras found in main game, bonus game, hidden chapters, etc. You have the main game with the main storyline. The bonus chapter follows a slightly different storyline from Pierre's past where he met Belle (Alice's mother). Then you have 3 Hidden chapters can only be opened once you complete main game, bonus, and the puzzle where you find pieces throughout the main game and bonus. If you miss any of the pieces to this puzzle, after completion of main and bonus, you can click on the puzzle piece you need and it will take you to the location to find it. There is also treasure hunt that also has to be completed before the hidden chapters open. When you click on the treasure hunt in the extras, it takes you through every single scene you have so encountered in main and bonus in which you have to find a specific item shown in lower left (cupcakes, jewelery, etc). There are also many wallpapers you can use for desktop screen if you wish along with the music and concept art. The extras made the game worth the price (I paid $7.99 with the summer deal) of $19.99.
August 10, 2014
QUALITY IS THERE BUT CHALLENGE ISN'T
Hi Gamers, This game was OK but I liked the first one much better "Nevertales" The Beauty Within" CE. The quality as far as visual, sound and voice overs are good which is why I rated "liked it" instead of OK. The level of challenge is, well, not much of a challenge. I played on the most difficult level and all of the mini games were easy. i didn't look at the Strategy Guide or map once, which to me says a lot. I'm sure there are gamers who will love it, so give it a chance. A Silly Afterthought.-- I don't know if any of you are Game of Thrones fans. The main character looks like Jaime Lanisters' twin. :)
July 22, 2014
This goes to all the recent games in the last 2 to 3 months
I love the graphics in this game and going into books was awesome. My complaint to all the recent games, they are too short.......look at Mystery Trackers, just as an example and their games are long and more complex. They are only 1 example of several others out there as well and I only mentioned them because It was the first one that came to mind. I feel the puzzles are getting weaker, so to speak. I also like when they offer the bubble games and there is a new version in one of the games I really liked or even mahjong. It's just nice for them to offer a different alternative then just doing the hidden objects, although this had what some of the others have had, where instead of finding the objects you have to interact a lot with other things; that sort of tell a story in a way, of finding what you are ultimately going to receive. That's cool and then they mix it with the standard HO. Thanks for all your work though, love the music, graphics, lighting is awesome in all the games recently - the coloring just superb!!!! And I do appreciate all that you guys/gals do. So THANK YOU again.
July 21, 2014
Mirror Mirror on the Wall...
Seasoned Developers for Rite of Passage and Nevertales games have vastly improved in terms of graphics, artwork, sound, music, puzzles and hidden objects! Collectibles are puzzles pieces of a larger picture which I personally like. Certainly didn't have games like this when growing up. Would definitely recommend for the younger generation if gamers don't mind magic and witch craft. Review based solely on demo. Music is rich and playing the game is like interacting with a movie. Question is--does the full-length game plot deepen with intrigue? Enjoy! -Mama Mia-
July 19, 2014
A good Sequel
Have played the other games in the series and would say that this one is on a par. Interesting puzzles and HOs and an engaging storyline. Only reason I am giving 4 stars is that the bonus chapter was extremely short and not quite sure of the relevance to be honest.
July 26, 2014
Beware the transitional scenes
Fun game, however, if you have epilepsy or migraines which are triggered by flashing lights, close your eyes for the transitional scenes (where the characters moves between realities) which are reminiscent of Dr. Who....Otherwise, a fun way to spend the afternoon.
July 19, 2014
A Very Nice Sequel
Your daughter Alice can open portals using any mirror. Her powers are much stronger than you and your husband's. She unfortunately has opened the wrong portal and a monster has kidnapped her. You must enter different portals to receive crystals to defeat the evil that has kidnapped Alice. Visually it is beautiful but not as crisp and clear as other recently. The sound effects and music are game appropriate and not overly annoying. There are four levels of difficulty which includes the custom setting. There are achievements, collectibles, the normal extras. All of the hos have some form of interaction, the hint button tells you that you need to look someplace else and the mini games are appropriate for where the are located. I enjoyed the storyline and will purchase as soon as I get the chance.
July 24, 2014
The Apple logo is a trademark of Apple Computer, Inc.