Sable Maze: Forbidden Garden Collector's Edition
Exclusive
From Daily Magic, creators of the acclaimed Dark Dimensions and Sable Maze series!

Your parents always told you to stay away from the mysterious hedge maze behind their house… and you're about to find out why. On the eve of your wedding, your fiancé, Ryan, is kidnapped by a mysterious force and dragged straight to the heart of the maze - or so it seems. As you follow his trail, you discover that the labyrinth contains a door to another world… and whoever is on the other side has a vendetta against your entire family. Can you uncover the roots of their hatred and bring Ryan back before all is lost? Find out in this gorgeous Hidden Object Adventure game!

This is a special Collector's Edition release full of exclusive extras you won't find in the standard version. As a bonus, Collector's Edition purchases count toward three stamps on your Monthly Game Club Punch Card!

The Collector's Edition includes:
A bonus game with Wisteria's continuing adventures
Jewelry collections reveal extra information
Trophies, art, a developer's diary, and more!
An available Strategy Guide
Game System Requirements:
OS:

Windows XP/Windows Vista/Windows 7/Windows 8

CPU:

2.5 GHz

RAM:

1024 MB

DirectX:

9.0

Hard Drive:

1617 MB
Game Manager System Requirements:
Browser:

Internet Explorer 7 or later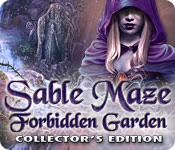 The Big Fish Guarantee:
Quality tested and virus free.
No ads, no adware, no spyware.

Reviews at a Glance

Sable Maze: Forbidden Garden Collector's Edition
0
out of
5 (
0
Reviews
Review
)
Customer Reviews
Sable Maze: Forbidden Garden Collector's Edition
54
54
Enough!
In all fairness I didn't even get through the Demo. I think I might be done with BF for awhile. At least until the pink & purple, critter helping preschool games run their course, and DEV's start getting back to the Cadenza/New York Mysteries-SotM type games. I appreciate the talents of these creators, but PLEASE start realizing that most of your loyal gamers are adults.
July 25, 2014
Now I Know Why I Hate Fantasy Games
BASED ON DEMO Daily Magic are such a great developer, but there was always one story genre they hadn't tried... fantasy. Well, they've tried it now and it was hands down their worst game ever. This is the third game in an already bad series, but the complete change of story genre was an awful idea. If you liked the first two Sable Maze games because of their story, then you're going to hate this one. Instead of dark and creepy, this story is now cute, boring and the same-old stuff we see time and time again. The plot of the story (you know, lover scorned, two worlds, etc...) has been done over and over again. When you do a story like that, it's got to be fantastic, and this one really wasn't. I was bored from the moment it started, but I hoped it would get better. Alas, it did not. Nothing excited me at all, not even the cutscene at the end of the demo, which is supposed to leave you wanting more. In addition, I found some elements of the story to be stupid, especially the little scene explaining the backstory. It did not make me want to continue my quest at all, and it made me dislike the father. If you do that to someone you're engaged to, of course she's going to hate you! So don't come crawling to me to solve a problem you created. I also felt that some parts of the story were unexplained. For example, why was the mother turned in to an ermine and not knocked out like the father was? It was just confusing to me, and should have been explained somehow. Overall, the story was a total shambles and just a boring waste of time. The saving grace for this game, and the only thing stopping me from giving it one star, is the gameplay. I really enjoyed the HOS. I thought they were fun, just that little bit different, and slightly challenging. The HOS are basically those find and use somewhere else type junkpiles, with the exception of one, which was a fragmented object/junkpile scene. Both types were very enjoyable, and I loved whenever I got to play one. The HOS were spaced out fairly evenly; I played 3 in the demo. This gives me the impression that there would have been quite a few in the entire game. The puzzles were also quite good. I was able to solve the majority of them, but did have to skip a couple of those story-puzzles because I couldn't find some of the pieces. This annoyed me quite a lot. I propose that maybe we should have had hints during these puzzles. It would have made them a lot more fun. Daily Magic has added some additional gameplay features; one I liked, one I did not. The one I liked was the animal helper. The animal helper in this game was an ermine, who was actually our mother. Animal helpers do not appear often these days, so I love when I get to use them. The animal helper was used quite a lot during the demo, which was really nice. However, I didn't like the + objects. It seems Daily Magic has finally caught up to the rest of the developers by adding these in their games, but they've done it incorrectly. There are items indicated by + signs, but the + signs do not change colour when the items are ready to be interacted with, which made it really confusing to tell what could be used and what couldn't. This ultimately lead me to get stuck multiple times and I was forced to use the Strategy Guide. The level of challenge is also way out of whack. I got stuck multiple times for two reasons: 1) There was no indicator as to whether the + objects could be interacted with yet. The + signs did not change colour like in every other game. 2) There was no indicator of whether your animal helper could be used. Instead, text appeared like it normally would for using an inventory item. So, I was left wandering aimlessly, looking for stuff in my inventory that could be used on the scene. I only ended up passing these points out of sheer luck, when I just decided to use the animal helper. Something really needs to be done for the next game, I'm afraid. I just got too lost and confused. For starters, there need to be indicators for when something can be used so I don't have to use the hint all the time. Using the hint a lot just makes me feel dumb and takes away all the enjoyment of the game. Upon looking at the basics, I was also very disappointed to realise there was no diary. I've been saying this a lot lately, and I'll keep saying until the developers listen: DIARIES. ARE. IMPORTANT. They help me remember important details from early on in the story, and I like reading the notes. Developers, please take note: bring back the diary! Other than that, the basic stuff has been done well. We have a useful hint and the map is very helpful and interactive. The graphics are good, but they were very bright. I know this is a fantasy game, but there was a bright colour overload here. That being said, I thought the scenes were still drawn with some good detail and the character designs were wonderful. Every scene was clear, even if a little bright. The voice-overs are standard. I have no issue here. FEATURES 3 modes of difficulty: Casual, Advanced and Hard. Differences are the usual. I played Casual. Hint/Skip- recharged at a decent speed for the difficulty I selected, so it wasn't too long, but there was no hand holding. Map- The map was interactive and quite helpful. It let you know where there were tasks to complete. Animal Helper- this came in the form of a ermine, who was used quite frequently. This was a great feature. However, there was no indicator of when the helper could be used, which was confusing. + Objects- this was executed so poorly. Usually, the + signs change colour when the object can be used, but this did not happen here. Bestiary- This kept hold of all the animal pages you found. It was useless to the game, but quite enjoyable, in my opinion. CE EXCLUSIVES Bonus Chapter- I doubt it will be needed.. Strategy Guide- The SG is absolutely USELESS! It doesn't mention when you have to zoom in on objects and doesn't show HOS solutions. This led to me being unable to solve the story-puzzles, because the game counted them as HOS. Collectible jewelery (18)- Six sets of three. Not in every scene, I don't think. Developer Diary- 31 photos of the development team. Match 3 levels Wallpapers (5) Concept Art (16) Music Achievements WHICH IS THE BETTER BUY? I will never, ever buy this game, but I would definitely say the SE is of better value. The bonus content is really poor here. There are next to no CE Extras. Very disappointing effort. Overall this definitely goes in to contention for the Worst HOPA of 2014 award. This is the worst CE released this year, and were it not for the half-decent gameplay, it would have been an instant one star rating. I can't believe the developers changed the series completely. I would not buy this game if someone paid me to do it, and would quite frankly rather watch paint dry. It would be more interesting. As the old saying goes, ?if it's not broken, don't fix it.?
July 26, 2014
Not fun
I couldn't even finish the free play because this game is so cluttered with cutesy, fancy things with colors that go from bright to brighter. It's dizzying. I loved the first maze games because they were more real but this fantasy world is just boring to me.
July 25, 2014
pink paradise for 8 year olds
What happened to the wonderful sable maze series? This is yet another pink fantasy land, with portals, cute helpers and candy colours!! SIGH SIGH. Although I am sure there are children who play these games, I am also sure that the majority of people who play are probably middle-aged and some of the developers are not quite sure who is their core market. Can we please just have a good story, like the wonderful Sullivan River and no more monsters and portals?? Sadly, I played only 10-15 mins of the demo and could go no further. With silly names like Wisteria and a young father with long grey hair and a mother who is suddenly an animal I could not believe in any of it. Disappointed that such a great series should have morphed into candy land.
July 26, 2014
Still looking for my next game...
My review is based on the trial. This is not a buy for me. It seems that with Sable Maze: Forbidden Garden, the developers jumped on the fanciful/fantasy bandwagon - but despite what felt like a copy-cat edition, it was not done nearly as well as some of the others we've seen recently. And we certainly have seen a LOT of this style lately. The game play was way too easy and simplistic. The puzzles were simply "activities". I'm looking for something a lot more challenging than this.
July 26, 2014
Purple Haze
I for one don't dislike "cutsie" animal helpers, so that didn't put me off. It's the strange, washed out purple or lavender color over everything, and a slight jerky motion in the game play. Since I prefer mind crunching adventure games to get my brain cells going, the easiness of this game doesn't bother me either. I play difficult brain teasers to take care of that! So it boils down to a combination of color, sticky game play, and a well hashed story line. Just couldn't get interested during the trial period!
July 25, 2014
Will Pass on this Game
My review is based solely on the demo. The scenery/graphics are really nice. And some of the puzzles are fun. For me, it's the storyline that drives a game.This storyline is based on betrayal and revenge. But, it's lacking something; a kind of finesse one usually find in better written story-games. I rarely cheer for the villain but I find myself cheering for Queen Mab in this game. She is the underdog. She has been cruelly hurt. Not only has she been dumped by her fiancee but he has stolen an object of power from her and escaped into the human world. Using this object, he has sealed them in their world forever. Every magical being in the realm and beyond should be trying to find him. I'd like to see this villianess win in the end.
July 25, 2014
just didn't do it for me
was really surprised when I saw all the great reviews then felt better when I saw one that was not good. it started okay but then just fell flat for me. could not get into it for some reason. maybe when comes out as regular not collectors I'll give it another try but not a buy for me at this point. I don't use sound so cant rate that.
July 25, 2014
Blerg...
If you like a combination of crass fright and romantic sickly in a story, this is for you. The acting is truly dreadful too, which doesn't help. The art is nice if you like your fairies coarsely sexy. The puzzles and hidden object scenes are average in challenge level. But, I wish I hadn't bought it. I prefer games with a bit more intelligence and subtlety than this commoner had to offer.
September 7, 2014
Not for me!
Hmmm, just not much fun. Didn't care for the storyline, pretty predictable.
July 24, 2014
The Apple logo is a trademark of Apple Computer, Inc.