Sable Maze: Forbidden Garden Collector's Edition
Exclusive
From Daily Magic, creators of the acclaimed Dark Dimensions and Sable Maze series!

Your parents always told you to stay away from the mysterious hedge maze behind their house… and you're about to find out why. On the eve of your wedding, your fiancé, Ryan, is kidnapped by a mysterious force and dragged straight to the heart of the maze - or so it seems. As you follow his trail, you discover that the labyrinth contains a door to another world… and whoever is on the other side has a vendetta against your entire family. Can you uncover the roots of their hatred and bring Ryan back before all is lost? Find out in this gorgeous Hidden Object Adventure game!

This is a special Collector's Edition release full of exclusive extras you won't find in the standard version. As a bonus, Collector's Edition purchases count toward three stamps on your Monthly Game Club Punch Card!

The Collector's Edition includes:
A bonus game with Wisteria's continuing adventures
Jewelry collections reveal extra information
Trophies, art, a developer's diary, and more!
An available Strategy Guide
Game System Requirements:
OS:

Windows XP/Windows Vista/Windows 7/Windows 8

CPU:

2.5 GHz

RAM:

1024 MB

DirectX:

9.0

Hard Drive:

1617 MB
Game Manager System Requirements:
Browser:

Internet Explorer 7 or later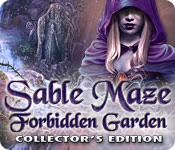 The Big Fish Guarantee:
Quality tested and virus free.
No ads, no adware, no spyware.

Reviews at a Glance

Sable Maze: Forbidden Garden Collector's Edition
0
out of
5 (
0
Reviews
Review
)
Customer Reviews
Sable Maze: Forbidden Garden Collector's Edition
52
52
Not fun
I couldn't even finish the free play because this game is so cluttered with cutesy, fancy things with colors that go from bright to brighter. It's dizzying. I loved the first maze games because they were more real but this fantasy world is just boring to me.
July 25, 2014
pink paradise for 8 year olds
What happened to the wonderful sable maze series? This is yet another pink fantasy land, with portals, cute helpers and candy colours!! SIGH SIGH. Although I am sure there are children who play these games, I am also sure that the majority of people who play are probably middle-aged and some of the developers are not quite sure who is their core market. Can we please just have a good story, like the wonderful Sullivan River and no more monsters and portals?? Sadly, I played only 10-15 mins of the demo and could go no further. With silly names like Wisteria and a young father with long grey hair and a mother who is suddenly an animal I could not believe in any of it. Disappointed that such a great series should have morphed into candy land.
July 26, 2014
Still looking for my next game...
My review is based on the trial. This is not a buy for me. It seems that with Sable Maze: Forbidden Garden, the developers jumped on the fanciful/fantasy bandwagon - but despite what felt like a copy-cat edition, it was not done nearly as well as some of the others we've seen recently. And we certainly have seen a LOT of this style lately. The game play was way too easy and simplistic. The puzzles were simply "activities". I'm looking for something a lot more challenging than this.
July 26, 2014
Purple Haze
I for one don't dislike "cutsie" animal helpers, so that didn't put me off. It's the strange, washed out purple or lavender color over everything, and a slight jerky motion in the game play. Since I prefer mind crunching adventure games to get my brain cells going, the easiness of this game doesn't bother me either. I play difficult brain teasers to take care of that! So it boils down to a combination of color, sticky game play, and a well hashed story line. Just couldn't get interested during the trial period!
July 25, 2014
Will Pass on this Game
My review is based solely on the demo. The scenery/graphics are really nice. And some of the puzzles are fun. For me, it's the storyline that drives a game.This storyline is based on betrayal and revenge. But, it's lacking something; a kind of finesse one usually find in better written story-games. I rarely cheer for the villain but I find myself cheering for Queen Mab in this game. She is the underdog. She has been cruelly hurt. Not only has she been dumped by her fiancee but he has stolen an object of power from her and escaped into the human world. Using this object, he has sealed them in their world forever. Every magical being in the realm and beyond should be trying to find him. I'd like to see this villianess win in the end.
July 25, 2014
just didn't do it for me
was really surprised when I saw all the great reviews then felt better when I saw one that was not good. it started okay but then just fell flat for me. could not get into it for some reason. maybe when comes out as regular not collectors I'll give it another try but not a buy for me at this point. I don't use sound so cant rate that.
July 25, 2014
Blerg...
If you like a combination of crass fright and romantic sickly in a story, this is for you. The acting is truly dreadful too, which doesn't help. The art is nice if you like your fairies coarsely sexy. The puzzles and hidden object scenes are average in challenge level. But, I wish I hadn't bought it. I prefer games with a bit more intelligence and subtlety than this commoner had to offer.
September 7, 2014
Not for me!
Hmmm, just not much fun. Didn't care for the storyline, pretty predictable.
July 24, 2014
Yet Another Series Ruined With Cutesy Animal Helpers
This is the 3rd game in the series. The first is Sable Maze: Sullivan River. The second is Sable Maze Norwich Caves. This Forbidden Garden game here definitely stands alone. This is NOTHING like the first two games in this series so if you haven't played the first two games it is not necessary before playing this game here. Game Features: 3 play modes: Casual, Advanced, Hard (hint/skip disabled) and can be changed during game play. I played Advanced because I like to have hint/skip available just in case needed. I didn't use them in this game. No sparkles however still had black bar tips stating what needed to be done. Shortly into the game you get a cutesy animal helper that stays with you. You will also encounter more animals but only one stays with you at least during the demo anyway. HOS: I only came across 3 scenes in the demo. Highly interactive. I enjoyed these. I had no problem here. If you don't feel like doing the HOS you can play match 3. INVENTORY: I had quite a few that had a plus sign by them. These require more action to them to use them. MINI GAMES: What I came across during the demo I wouldn't call them puzzles. I'd call them mini games. I didn't find these challenging at all. I played Advanced mode and was shown where to put the pieces. MAP: I didn't use it but checked it out. This is transporter and shows where you are and if there are any task. Also shows your trophies, notes and goals, collections, achievements, and Bestiary which shows all the animals you come in contact with. Gives info on them. Their likes/dislikes Replay of cut-scenes. VISUAL/SOUND QUALITY: Sorry but I don't care for these kind of graphics. I'm not into fantasy with the pink and purple. These are also very cloudy/foggy looking. I also didn't care for the characters or voices at all. LEVEL OF CHALLENGE: I'll keep this short and to the point: What challenge? I had black bar tips stating what needed to be done. Please do a CUSTOM MODE for your next game offering. STORY LINE: You are a soon-to-be bride who comes home to marry your fiance. He is suddenly taken hostage by a mysterious woman who takes him into a portal within a hedge maze you were warned by your parents so of course you and your "cutesy" animal helper have to save him. Well sorry but I couldn't get into this at all with the silliness Yet another game you will have to excuse me while I YAWN here. FUN FACTOR: This game is very busy with a lot to do but just way too simple and cutesy for me I didn't have much fun at all with this game. NOTHING like the first two games. Sullivan River is my favorite of the series. I rated both of those 5 stars. Sorry Daily Magic and Big Fish but 1 star is the best I can do for this game and I could care less about this mysterious maze. I won't be finding this missing fiance and rescuing him. This series is now ruined with the release of this Forbidden Garden game for me. The first two games didn't have this silliness.. Very disappointed. Definitely not CE worthy or even SE worthy for me when that is released. I do however look forward to your next game offering. Hopefully it won't be ruined with cutesy animal helpers. CE EXTRAS: Bonus Chapter Strategy Guide shows the first 3 chapters 18 Achievements Jewelry Collection - (3) Peacock Collection, (3) Mystical Orchid Collection, (3) Sapphire Flower Collection, (3) Red Drops Collection, (3) Emerald Lady Collection, and (3) Mabs Magenta Collection. Match 3- 8 Levels (5) Wall Paper (16) Concept Art (31) Developer Diary As always, give it a whirl and decide for yourself.
July 24, 2014
Give me a break
Oh no, not another fairy tale with a cute critter to help you! And this one is really about fairies, although they cackle like an evil witch. The artwork, production (good VOs) and game play are OK, but the story is so lame and overused that I was glad when the demo was over. Spoiled my appetite, and it's dinner time, too.
July 24, 2014
The Apple logo is a trademark of Apple Computer, Inc.