Sable Maze: Forbidden Garden Collector's Edition
Exclusive
From Daily Magic, creators of the acclaimed Dark Dimensions and Sable Maze series!

Your parents always told you to stay away from the mysterious hedge maze behind their house… and you're about to find out why. On the eve of your wedding, your fiancé, Ryan, is kidnapped by a mysterious force and dragged straight to the heart of the maze - or so it seems. As you follow his trail, you discover that the labyrinth contains a door to another world… and whoever is on the other side has a vendetta against your entire family. Can you uncover the roots of their hatred and bring Ryan back before all is lost? Find out in this gorgeous Hidden Object Adventure game!

This is a special Collector's Edition release full of exclusive extras you won't find in the standard version. As a bonus, Collector's Edition purchases count toward three stamps on your Monthly Game Club Punch Card!

The Collector's Edition includes:
A bonus game with Wisteria's continuing adventures
Jewelry collections reveal extra information
Trophies, art, a developer's diary, and more!
An available Strategy Guide
Game System Requirements:
OS:

Windows XP/Windows Vista/Windows 7/Windows 8

CPU:

2.5 GHz

RAM:

1024 MB

DirectX:

9.0

Hard Drive:

1617 MB
Game Manager System Requirements:
Browser:

Internet Explorer 7 or later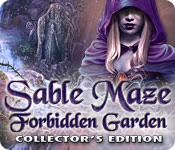 The Big Fish Guarantee:
Quality tested and virus free.
No ads, no adware, no spyware.

Reviews at a Glance

Sable Maze: Forbidden Garden Collector's Edition
0
out of
5 (
0
Reviews
Review
)
Customer Reviews
Sable Maze: Forbidden Garden Collector's Edition
54
54
Absolutely Stunning!
I don't know whether it's the fact that I'm getting older and my attention span is waning but this is the first game I've played in a long time that held my attention from beginning to end. The artwork is absolutely breathtaking - there are a lot of purples and blues but it's reminiscent of Nightmare Realm. Beautiful gardens, trees all with a soft romantic coating! Game was about 5 hours for me with the bonus game an extra 2 hours approximately - to be honest I'm not sure of the time I took to play, I was mesmerised! The story was pretty awesome too, the characters really pulled you in. There were voiceovers but no lip sync. If I had any complaints at all it would be that both the ending of the main game and the bonus game were a little abrupt. Well worth a collectors edition in my humble opinion, I do find myself buying a lot of these due to the wonderful quality. There are morphing objects (jewellery) and achievements, mostly the usual - not using hints, not skipping mini games etc. The mini games are absolutely stellar! Heaps I've never seen before and all to my taste, lots of jigsaw puzzle types and moving circles to the right location etc. Many different types of games - there are quite a few. Not that many hidden objects (which is great for me because I detest them, I just like the adventure part) and if you're like me, you can play match 3 games instead. Contrary to other game developers who use match 3 as to just make matches until the hidden objects are gone, in these ones you have to break frozen tiles so it does give you a sense of accomplishment! I honestly didn't think I was going to like this game due to the fact that I played a few minutes of the second sable maze and almost lost the will to live, this game was just stunning, no other word for it. Enjoy!
July 27, 2014
Gorgeous game
I played the trial on this one because I have enjoyed the other Sable Maze games. I was truthfully not going to bother since after reviewing the video it seemed a bit 'fairy-land' like. These are the types of games I usually do not enjoy playing. But the beautiful graphics caught me enough to play the trial. Wow, was I blown away! This is the most absolutely stunning game artistically. I demo and purchase ALOT of games and this one is THE best I have seen to date in regard to the astounding and magical graphics. In addition I found the story line very interesting. I never even bother to review games so this says alot. This game will be an extra bonus for those who like these 'fairy'-type games. I would have rated 5 stars on all categories except for the fact that this is not my favorite game genre. I highly recommend this game.
July 24, 2014
Some of us like Cute animal helpers
I really enjoyed this game. And I would like to say I am not some kid, I'm 53 years old and I love having animal helpers. If it's not your thing fine, there's plenty of dark, uncute games out there, I'd say more than the cute type. But please don't tell developers not to make this type of game as some of us love them. Maybe it seems to some people that there are more cute games lately because they are finally making up for the overwhelming amount of dark games. It's not that I don't enjoy those too, but I find it refreshing to have a fun, cute game.
July 30, 2014
A Different Sable Maze! Give it a Chance - it Gets Better.
My first though when I saw Forbidden garden was good grief, what has happened to Sable Maze? The Forbidden Garden appears to have taken a 360 degree turn from the first two games in the series and is now presented as a fairy tale, fantasy type game. Unfortunately the early part of the game seems more like ?Dream Day Wedding? than an intriguing Sable Maze game. Oh well ? on with the story. You will play the game as Wisteria who has returned to the family estate for your marriage to your sweetheart Ryan but, alas, poor Ryan manages to get himself captured and dragged through a mysterious portal in the family garden and, yes, you must save him. You soon learn that there is more to the mystery in the garden than the mere kidnapping of Ryan, for it seems that someone has a vendetta against your dad who has been hiding a family secret for years. Yes again in another game from this developer, we have all those pink and purple tones that normally appeal to eight-year old girls. The graphics are excellent but just a bit over the top for my liking ? at least in the early part of the game. That being said, the graphics are excellent and really beautiful, which will appeal to those of us who like ?pretty? games. The voiceovers are okay but the dialog seems a bit corny. Overall the sound package is very good and even has lip-synced voiceovers. We have the standard tools including a little ?spinner? on the lower left that contains our notes, trophies, collections and other bits of information. We can also gain separate access to the map by clicking on the map icon below the spinner. Fortunately the map is the interactive transporter type that will show us areas where we have tasks to complete, which I always find helpful when I am at a loss for what to do next. Okay, early in the game we do acquire a pet helper who is really mom, who has been changed into an ermine. At least we can use ?mom? to help us in certain situations. There are the various types of interactive HOPs that we have come to expect in games from this developer, and most of the HOPs involve completing one or more puzzles to finish the scene. There are quite a few puzzles in the game with some being more difficult than others. As we move through the game we will find various bewitched jewels that are morphing objects. There are several different collections consisting of several jewels in each so there are quite a few morphing or bewitched objects to find. We also find a blank book that is completed as we encounter various animals or creatures on our journey. Most of the other extras are fairly standard fare but I do happen to like the inclusion of the Developer?s Diary where we can see the team at Daily Magic at work and play. If you like fairytale, fantasy type games then you will most likely find Sable Maze Forbidden Garden to be an interesting and entertaining game. The game is a gorgeous game with excellent graphics that many of you will immediately love but for others, if you can get past the pink and purple flowery, over the top, early part of the game, the story develops and becomes far more interesting. Because I love some of the other excellent games from this developer, I know that I am in for a treat and decided to purchase the game. As always, I recommend that you at least try the demo to see if this is a game you will.
July 24, 2014
Daily Magic makes this edition of Sable Maze different!!!
Your heroine Wisteria Fay desperately needs your help in Sable Maze 3: Forbidden Garden game! She arrived home, where her parents and her future husband were waiting for her already ? it was eve of her wedding ceremony. But just after Wisteria saw her beloved Ryan Wedgwood, he was lured to the forbidden part of the family garden, to the place, which Wisteria never visited before! Wisteria followed Ryan and witnessed how he was dragged by some strange force through the portal to other place! You'll need to prepare yourself for the confrontation with Queen Mab! Save your love in this dramatic Hidden Object Adventure, based on Solveg's Song by Edvard Grieg! I recommend this one for everyone, beginners and experts.
July 26, 2014
Love the Cute Animal Helpers
I was (and still am) puzzled about the 1 and 2 star ratings for this game. I enjoyed playing the demo and will buy the SE when it is available. I liked the story line, the graphics and of course the cute little animals who help you through the game. Yes, the storyline is much the same as others, but the presentation of the story really held my attention. I recommend this game.
August 12, 2014
Great for me- fellow fishies that review games please be fair
For me, my kind of game. 51 year old working woman who enjoys many games, yet my favs are games that I can start and finish after work. I don't mind paying for short games if the fun and quality is there. I LOVE games that many of you call easy. Free flowing where I don't need the walkthrough or skip or spend 10 minutes or longer trying to solve a puzzle to move on. If the developer puts their heart and soul in a game and the graphics are good and the scenery is detailed, I appreciate that and I also love the the CUTSIE ANIMAL HELPERS. Not in every game, but some. For weekends I can appreciate the longer more complicated games. I used to HIGHLY depend on others reviews of games before I downloaded the trial. If the topic of the game doesn't look like it was my thing, I simply do not download or rate as I do not think it is fair for me to rate a game I clearly will not enjoy for myself and a game would have to be horrid on many levels for me to consider rating a 1 or 2 star! If you look at the screenshots of this game and you play the video, you see a cutsie animal. Therefore, I would think for those of you that despise this feature, that you would just pass on the trial and wait for another game. I also buy games for my daughter and many players have grandkids that play. Do any of you that rate 1 or 2's for games that are not your "thing" really think that is fair to the Developers or the other players that do not share your love of your genre to not only rate so low but to bash the entire game? I think Big Fish does a very good job of putting out variety for all players. Clearly, the easy cutsie games must be selling well or they wouldn't keep putting them out and there are plenty of mind bending hair pulling non cutsie games that can take 2 days to play for those of you that enjoy that. I know this should just be a game review for this game and this is not a forum for rants, I just ask as a fellow gamer, for those of you that rate this way to take the lead from the many great top reviewers that you include the details of the game itself and if it isn't your cup of tea then state that but the total trashing and low stars for something you shouldn't have even downloaded is just uncalled for and seriously alters the accuracy of the rating system. Thank you to the top reviewers who do continue to be helpful to me and other members by giving details of a game and being fair when rating even if it isn't a game you will purchase for whatever the reasons. You provide wonderful information and that is so helpful to many I am sure when deciding on whether to play the trial or not. Happy gaming to all , whatever your genre! Now back to Sable Maze to see if I can save Ryan!
July 25, 2014
Mama, my little helper
I beta tested this game and saved the shortcut app because I was really impressed by the thought and work that went into this game. The storyline is not my normal type, but as long as there is a mystery I'm all over it. Nice flow, Wonderful graphics. A definite buy!
July 24, 2014
Lovely game
I really enjoyed this game. There is so much to do, so many interesting and not too hard puzzles. Pretty graphics. And unlike some, I really like the cute animal helpers. :) I am not crazy about grim games, though I play them.
August 11, 2014
forbidden garden
i first saw this game today , oh no i thought just when you think you have the best this game is great and if you like the company of little cute critters this has it dame it i will have to have this one
July 24, 2014
The Apple logo is a trademark of Apple Computer, Inc.