Lost Legends: The Weeping Woman Collector's Edition
From Gunnar Games, creators of the Small Town Terrors series, comes a new mystery from south of the border!

As an investigative reporter, you travel around the globe to uncover the truth behind local legends. Next stop: Mexico!

Every year, the town of San Cristobal holds a huge festival to soften the heart of the Weeping Woman – a bitter spirit who kidnapped children long ago. For many years, the children of San Cristobal slept peacefully. However, three years ago, a child went missing during the festival for real, with another child vanishing each year since! Now another child has been taken – right before your eyes! Has the Weeping Woman truly returned to take revenge? Find out in this thrilling mystery adventure!

This is a special Collector's Edition release full of exclusive extras you won't find in the standard version. As a bonus, Collector's Edition purchases count toward three stamps on your Monthly Game Club Punch Card!

The Collector's Edition includes:
The 'Tale of El Sombrerón' bonus chapter
Achievements and morphing collectibles
Wallpapers and concept art
Integrated strategy guide
Game System Requirements:
OS:

Windows XP/Windows Vista/Windows 7/Windows 8

CPU:

1.2 GHz

RAM:

256 MB

DirectX:

9.0

Hard Drive:

739 MB
Game Manager System Requirements:
Browser:

Internet Explorer 7 or later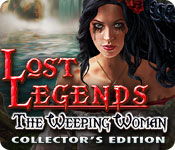 The Big Fish Guarantee:
Quality tested and virus free.
No ads, no adware, no spyware.

Reviews at a Glance

Lost Legends: The Weeping Woman Collector's Edition
0
out of
5 (
0
Reviews
Review
)
Customer Reviews
Lost Legends: The Weeping Woman Collector's Edition
60
60
Great Visual's!
I really enjoyed this game! Visual's are wonderful, great storyline and fun to play. One of my favorites so far!
August 10, 2014
hidden object
Very good but,not long enough.. the story was wonderful easy to follow..would like to do another game like this one
August 9, 2014
fun
very fun! great story line. recommeneded
August 11, 2014
Something a little different
The graphics are a nice change from the overwhelming pink and purple present in so many HOPA games currently. They appear sharp on the screen and are done in a palette appropriate to the San Cristobal setting of the story. The voice overs are well done and don't become annoying. The story is a little different from the usual in that our reporter character is investigating an ongoing mystery involving missing children in a fairly normal setting rather than visiting some completely made up fantasy realm. While there is some element of the supernatural/fantasy to the story there are no outlandish and overused magic portals or elements of that type. Your character investigates a small town rather than a creepy mansion. It was a refreshing, if not dramatic, deviation from the norm. There is no magic animal helper. Let me repeat that...there is no magic animal helper. There is no fairy helper either. In fact, there is no helper at all. Finally, a game without some cute little character wiggling around in my Hint Box area. This alone sets this game above many others. There aren't many HOS so people who don't like them will be happy about that. I would prefer to have more but that's a personal preference that doesn't detract from the game. I also found the HOS very easy. There are a few more puzzles than HOS and they were, on the whole creative, fun, and fairly easy. The adventure component does involve some back and forth action to fulfill a task with an inventory item picked up in another area. Most of the time though you know why you're picking up a given item or at least have some hint that it's needed further along. I rarely felt that I didn't know what I should do next. Overall, this is a pretty fun game that has creative puzzles, pretty HOS scenes, a nice graphic appearance, good voice overs, and a storyline that differs from the typical. Oh, and it has no animal helper.
July 26, 2014
Weeping Tears of Joy
As the story goes, after marriage and two children Maria's husband leaves her for another woman and takes the children with him. Heartbroken, Maria drowns herself. Supposedly her spirit kidnaps wayward children to get revenge, so the town holds a yearly festival to "appease" her. You arrive in town to solve this mystery. The first thing to notice is that the designers have *at last* re-discovered that there are colors other than pink and purple. This is a very colorful game, but in keeping with the culture in which it is set. Hard to believe, but you will actually see browns, greens and reds. All combines to nicely portray a small town in Mexico. The decision to use voices with a Mexican accent I believe was a good one. It helps with the storytelling and the actors do a good job, in my opinion, without it becoming a caricature. Sounds and music were also good - noticeable and appropriate, adding to the atmosphere without being a distraction. Game play is also refreshing. The hidden object scenes are standard list types, with some interaction. However the puzzles actually require some thinking. You also really need to use your powers of observation. I liked all the puzzles during the trial except the painted skull (no 2 colors can touch) but I simply do not care for that type puzzle, just my personal preference. This being a CE there are morphing objects (flowers) and hidden objects (skulls). The skulls require an action to reveal. And also the usual pseudos. This is a good, solid game which shines a little brighter because so many recent games have been hard to distinguish from each other. Weeping Woman gets four tears.
July 26, 2014
Wish we had half stars...4.5!
Hi all. Don't know this legend, so had to look it up. Beautiful graphics with very clear and sharp colors (yay!). Game play was very good, no problems at all, very smooth. Animation and voice overs were done very well, with voices/accents, dress and scenery appropriate for the story. Music was quite nice as well and moved with whatever was happening at the time, so it does sort of draw you into the game. Jump map is quite helpful, with areas well marked with name and picture of location, as well as identified if there is anything that can be done there. SG is the standard, but is very clear, short and to the point without being cluttered with a lot of unnecessary wording. A major plus is that it actually stays on the last page visited when you leave the game and come back. Something a lot of games haven't been doing...very frustrating. The only minus is that the SG is much too close to the hint/skip button, so pay attention to where you are clicking or you use a hint when you don't want it. Hint system is also very helpful. It not only points you in the right direction, it keeps pointing until you actually arrive where you need to be, so a lot less "clicking" to move back somewhere. Hint recovery is not "fast," but not too bad. HOPs are interactive, clean and not cluttered with junk. Items are not difficult to see, but you do have to move, open and look around things to find some of them. Puzzles are not difficult or challenging so far and I have not found anything new yet. The only collectibles I have found are the morphing flowers. Some of which are pretty easy to spot, but others are not, so keep your eye out for them. The other collectible is a golden skull, which is hidden pretty well. You need to really look in and under things to find them. Some locations had both, but others did not, so check before you move on. This game is not extremely challenging, but enough to keep you interested and on the move. I found the story line to not be a new one, but was interesting and intriguing. The demo went by too quickly, and yes, I found the need to buy it and play it out. I think this one will appeal to all levels of players. As always, try it for yourself and see what you think. We all have different tastes in games and you may not care for this one at all. Thanks for the review.
July 26, 2014
GREAT NEW GAME
I played the whole game plus the bonus chapter on a custom difficulty level that was only one level up from the casual mode. I used the custom mode so that I wouldn?t get sparkle hints when I was in a hidden object scene. That drives me crazy. I also did not play with sound; I never do, as the repetitiveness of the music annoys me. However, this game allowed me to hear the voiceovers even with the sound turned off. I think this is one of the best things games can make available to us players. I love listening to voiceovers and this game, set in Mexico, had excellent voiceovers. All the accents were right on. The graphics were awesome; clear and bright, even though the storyline is another dark subject; a woman who committed suicide because she lost her children to her ex-husband and his new lover, then comes back from the grave and steals children. The characters looked very life-like and the mouth movements fit the voiceovers extremely well. The game had achievements to win and morphing flowers and golden skulls to collect. I was able to find only 21 of the 25 flowers/skulls, so I?m guessing I missed them in the same 4 scenes. They might have been in the very first scenes, before the tutorial pointed them out. I missed those 2 achievements, as well as the achievement for winning all the achievements. I can live with missing only 3 out of 16 achievements. The achievements were attainable, unlike a lot of games I?ve played. There was only one achievement based on speed (finish a hidden object scene in 1 minute) and I was finally able to do this in the bonus chapter. The hidden object scenes in the main game were interactive, with puzzles and other actions needed in order to find some objects, so I think it would be very hard for anyone to finish those kinds of scenes in under a minute. The hidden object scenes and puzzles were good. The hidden objects weren?t too small and the scenes weren?t dark. Some of the puzzles were difficult enough that I had to refer to the strategy guide in order to solve them. (Built-in strategy guide, another big plus for the game.) I didn?t want to miss an achievement by skipping them. The information on how to play the puzzles was also very good. The map during the main game was interactive and, in casual mode, showed where actions needed to be taken. There was no map for the bonus chapter, which resulted in a lot of back and forth, but not an excessive amount. The hint button worked as a navigational tool, so that helped. The bonus chapter was fairly long. It was not an extension of the main game, but was set in the same location, just with a different subject. I kind of expected to pick up the 4 missing flowers/skulls during the bonus play, but that did not happen; there were no flowers/skulls in the bonus chapter. I?ve always wondered why the hint button doesn?t work when you are in a puzzle. It would seem to me that just a little help to get you started on a puzzle would be a good thing, instead of an all or nothing strategy; either you solve the puzzle or you have to skip it. I think this is a great game and a great effort on BF?s part. Keep them coming.
July 27, 2014
Lively & Fun
BASED ON DEMO FIRST IMPRESSIONS Very ?Calavera? & ?Mexicana?, this game is Mexican in flavour, so lots of bold bright colours, Latino accents, mixed legends and religions, and don?t forget the painted skulls. This one is set 2 weeks before Halloween and the Day of the Dead, but has the same carnivale atmosphere. SIGHTS & SOUNDS Loud! (The graphics that is, lol). The background noises and music are much less obtrusive. Accents vary from what feels to me like a parody of Mexican accent (but I honestly wouldn?t have a clue so don?t take my word for it), to almost Accentless to this Australian pair of ears. Lip synced. Music nicely varied. WHAT?S HAPPENING? Legend has it the Weeping Woman in the river steals a child every year on 17th Oct. It is a revenge thing for her children were stolen from her by a cheating husband. The town tries to appease the Woman by holding a festival that looks suspiciously like the Day of the Dead to me, but again, what do I know? You are a reporter, and you are here to investigate the true facts of the very real children who are disappearing each year. But you are not into any of that silly legend stuff. The people in the town fall into two categories, those who believe in the festival and those who don?t. GAMEPLAY Mostly easy, but fun. And a couple of unique ways of presenting familiar ones. Well integrated into the story. HOPs are interactive list, with more interaction than I normally see. More of them than is usual in these days, too. Adventure gameplay is easy, very logical, but not linear. There is an interactive jump map (that gets you to the general location ? these are locations that include 2 or 3 others), and a directional hint. Journal with basic information. 4 levels of difficulty, including custom. Inventory lock. CE BLING! I like the collectibles. There are morphing flowers (25), which are lovely, and hidden golden skulls (25), where you actually have to move something in the location to see them. One each in each location. There is a separate achievements area in the Main Menu, also available from the journal. Achievements are painted skulls, and have both performance and story. Morphing flowers have own area too. Concept art (9) looks like the finished product to me, and there are also 6 wallpapers. COMBINED IMPACT I really enjoyed it. I was just going to glance in at it to see what it was like, and I got caught up in it. It may be a bit on the short side, that was my feeling, but I am hoping someone will correct me on that. I think it borders on being less than adequate as a CE, but it does have that fun feeling and I can see getting to the end of it and wanting more. So,
July 26, 2014
Not a game for seasoned players
but a very good game for people who are just beginning to play Hidden Objects. It's not too hard and the hint button gives you more than just one hint, it will take you to the next item to be dealt with. The scenes are pleasant and the voices easy to listen to. Everyone's nice except for the villains and they are not that bad :) I would suggest that for seasoned players it's just a nice way to pass a relaxing wet day.
July 28, 2014
VERY NICELY DONE
I bought this as one of my 'two for the price of one' deal. While I truly enjoyed the game and the graphics were beautiful, I was disappointed in the length of the game. It was about the same length of a SE game, even with the bonus chapter. The voiceovers were nicely done and the music was pleasant but I wish the game was longer and more in depth. If I had known the game was going to be so short I would have waited until the SE came out and have bought it then as in my opinion this would not be worth paying the extra money for. It is a lovely game and I am sure anyone who plays it will enjoy it as well. I am giving it 4 stars for the short length.
July 26, 2014
The Apple logo is a trademark of Apple Computer, Inc.