Lost Legends: The Weeping Woman Collector's Edition
From Gunnar Games, creators of the Small Town Terrors series, comes a new mystery from south of the border!

As an investigative reporter, you travel around the globe to uncover the truth behind local legends. Next stop: Mexico!

Every year, the town of San Cristobal holds a huge festival to soften the heart of the Weeping Woman – a bitter spirit who kidnapped children long ago. For many years, the children of San Cristobal slept peacefully. However, three years ago, a child went missing during the festival for real, with another child vanishing each year since! Now another child has been taken – right before your eyes! Has the Weeping Woman truly returned to take revenge? Find out in this thrilling mystery adventure!

This is a special Collector's Edition release full of exclusive extras you won't find in the standard version. As a bonus, Collector's Edition purchases count toward three stamps on your Monthly Game Club Punch Card!

The Collector's Edition includes:
The 'Tale of El Sombrerón' bonus chapter
Achievements and morphing collectibles
Wallpapers and concept art
Integrated strategy guide
Game System Requirements:
OS:

Windows XP/Windows Vista/Windows 7/Windows 8

CPU:

1.2 GHz

RAM:

256 MB

DirectX:

9.0

Hard Drive:

739 MB
Game Manager System Requirements:
Browser:

Internet Explorer 7 or later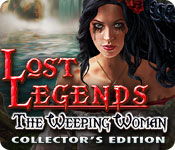 The Big Fish Guarantee:
Quality tested and virus free.
No ads, no adware, no spyware.

Reviews at a Glance

Lost Legends: The Weeping Woman Collector's Edition
0
out of
5 (
0
Reviews
Review
)
Customer Reviews
Lost Legends: The Weeping Woman Collector's Edition
61
61
GAME OF THE YEAR... for 2012.
BASED ON DEMO I have had a strong dislike for all other games by this developer, so I really wasn't expecting much from this one and was considering not playing it at all. However, it seemed to get decent reviews, so I went ahead and trialled it. I have to say, I'm glad I did! My opinion of this developer has changed quite considerably. This was an engrossing demo period, and I will be sure to pruchase the SE. This game is all about the story. The concept was brilliant and executed quite well. Not only that- it made sense! Over and over again, I've seen spirit-type games that have the most illogical things happen, but everything about this game was logical! I did not once have to question why everything was happening. The developers have nailed the technical side of things. Content wise, I loved everything about this story. It started wonderfully. I was really intrigued with the background story. It made me want to know more immediately. From there, everything went up. The first major plot twist was great, and the rest of the story followed suit. There was a really great spooky element to this story while still maintaining some form of realism. The demo ended wonderfully. It made me want to buy the game immediately. Overall, I haven't got one bad thing to say about this story. It was pretty close to perfect. Even though the story is fantastic, some parts of the gameplay were average. I'll start with the positives: I thoroughly enjoyed the HOS. They were basically the extra-step junkpile type, which we don't see enough of these days. What added to my enjoyment was that the HOS had lots of extra-step items. It wasn't just one or two, it was three, four, maybe even five. In addition to this, the HOS are mixed up every time you play them. I played one HOS and my game didn't save, so I had to play it again, and the objects were completely different! This is a great gameplay move by the developers as it makes things more interesting. Another good thing is that they appear frequently, but are spaced out. There were 5 all up in the demo, which gives me the impression that The puzzles were decent too. Anyone that knows me will know that I am not a puzzle person, so that's saying something. I enjoyed attempting them and was able to solve quite a few. I liked their uniqueness, and how one puzzle tied in with the story. However, I found they were quite simple, so expert players will probably be frustrated. There was something puzzle-related that just drove me nuts. I finished one puzzle, only to place the item I gained and go straight in to another one! Back-to-back puzzles just infuriates me and caused the fun factor of this game to decrease slightly. The developers should work on not letting this happen again. The sad thing is, when it comes to gameplay, that's basically it. The one big let down for me was that there was no additional gameplay features of any kind, be it something as simple as + objects or animal helpers, or something completely new. There are so many games with fantastic gameplay out lately that this one seems to fall down a little in comparison. The developer seriously needs to work on adding additional gameplay for their next game, because otherwise they're just going to get further and further behind. It's time to ?get with it?, as they say, and make the gameplay more fun. The graphics were pretty good here. They were clear and had a fair bit of detail, but I especially enjoyed the character designs. They looked incredibly realistic, almost like real people, and were drawn well. The colours are great, a nice change from the usual bright coloured stuff we've been seeing lately. The developer's choice of colours was quite good as it was realistic and made me feel like I was in a real place. The voice-overs have Mexican accents, which fits the theme of the game well, but are otherwise just standard. I have no problem with them. FEATURES 4 modes of difficulty: Casual, Advanced, Hard and Custom. The differences are standard. I played Casual. Hint/Skip- Both charged at a decent speed for the difficulty I selected. However, I disliked the hint system. The Casual hint system included a lot of hand holding, making it extremely obvious what to do next. I like to play Casual to relax, not because I find the games hard. Developers need to work on this. Diary- The diary was good for keeping track of events. It was a nice read. Map- Regretfully, I didn't find the map very helpful at all. It was interactive, but it did not display all the unlocked locations, only a few, which really irritated me. CE EXCLUSIVES Bonus Chapter- Unsure if needed. Built-in Strategy Guide- Shows locations of collectibles. Achievements Concept Art Wallpapers Collectible golden skulls (25)- These are hidden quite well, and you have to click on a certain area in the scene to find them. Collectible morphing flowers WHICH IS THE BETTER BUY? The CE Bonus Content is incredibly weak. There's absolutely nothing in there that makes me even consider the CE. For the best value for money, I highly advise you wait for the SE. This game was very enjoyable. I haven't enjoyed a game this much for a while. Everything about this game is fantastic, except for the gameplay. Unfortunately, due to the lack of extra gameplay features, I must give a four star rating to what otherwise would have been a five star game. If I was playing this game in 2012 or early 2013, I wouldn't have hesitated to give this five stars. But in 2014, the bar has been raised, and the developer needs to acknowledge that. All that aside, this is one great game that you should thoroughly enjoy.
August 1, 2014
An Enjoyable Game ...
Good Graphics & Sounds ... But Not Much Wow Factor ... Enjoyable Game, Plenty To Do With Usual CE Collectibles ... Bonus Chapter Isn't Necessary To Complete The Tale And Isn't Worth The Full Asking Price For The Privilege ... I Got Mine For Half Price, So I'm Pretty Happy With That ...
July 27, 2014
Weeping Womens Revenge
This game was so fun. I am going to buy it. Colorful, Nice cut Scenes, Good HO's, Mysterious, and I forgot to see what the map looked like and if it had any jump ability or indicators I was so caught up in the moment. Has morphing objects and hidden skulls. Just wonderful game with nice game flow.
July 26, 2014
Good enough story but too short!!!
Everything was pretty decent with this game. My only two issues were that the story was kind of weak. Good idea but not really fleshed out. The other was that it was too short. The bonus game was a totally different story line and so it could have easily just been a regular game without the bonus.
July 29, 2014
Great but too short
I played the demo version of this game and really enjoyed it. The storyline is interesting, the graphics and voice acting were great. I was surprised however how short it was. Not worth the collector's edition price, I wish I waited for the standard edition.
July 26, 2014
GOOD GAME WITH A NEW STORYLINE
i liked this game a lot. The storyline was imaginative and new. Visuals great with lots of vibrant color and the sound is good as well. The only thing that I see as a negative is the bonus game. It makes no sense and is very unnecessary. So my suggestion is wait until the reg game comes out. I do think this is worth the price of a regular game. And as always, if unsure play the free hour first. Happy Gaming :)
August 10, 2014
Trial Review - On my Buy List!
What a nice change of pace! Colorful, interesting scenery. Well drawn characters and pleasant voices. The music is nice and the sound effects are cool. The puzzles were somewhat simple but also sort of interesting. While the story isn't a new one - I found myself wanting to know more and solve the mystery. I enjoyed the trial and look forward to purchasing this one.
July 27, 2014
good
I will wait for the SE definitely graphic ,storyline ok ,im not sure if will be a long game sometimes it ended very silly
August 10, 2014
Parade of the Dead Mexican style
This game has a heavy Mexican 'parade of the dead' feel to it. If you are not 'offended' by this type of thing then this is a good game, with a strong storyline. As is standard with there was a VO which was the standard affair in that there was not much synching but in this instance it didn't really matter as the storyline was strong. The graphics were very much in keeping with the theme and seemed to evoke a bygone era (though couldn't quite place when the era was, possibly the 1930's but I could be way out with that one. The mini-games, were varied and strong and some nice twists on old and a smattering of new (for me anyway). There were collectables and the usual 'morph' finds to be had, I am not usually bothered about these as I usually find all but one and can't be bothered to go back all through the game to find one object, that may get me an extra wallpaper, or part of a bonus chapter. The theme is probably best for older players. perhaps 14 upwards (IMHO) as the festival is for the 'dead' and the themes of skulls etc probably is unsuitable for younger players. With the storyline being so realistic as well and not 'fantasy death' like some of the games on BF then this is also another reason why I would suggest the above age range. I highly recommend this game, especially if you can get it on offer, I would normally recommend the SE as I don't normally as I say care for the extras, but as this is on offer today, thus bringing the price right down, I would 'stretch' to buy it straight away. The free trial was once again 90 minutes, usually I can complete the trial version in this time, but in this case I couldn't thus I think this must be a longish game and probably well worth the money. If the themes of the game do not upset you and you lik a strong 'fairly realistic' storyline then I would highly recommend purchasing, certainly trialing the game, as this is one of the better games of recent times. Highly recommended due to storyline, visuals and quality of mini games and HO scenes.
August 6, 2014
Promising game
A game by Gunnar Games --------------------------------- There are 4 levels of difficulties. The story is not difficult to understand. I love Latin American setting and this is one of the best Latin American setting game out there. The graphic is pretty nice, lots of colors. The HO and mini games are pretty easy, which I like. The map is quite useful, it tells you which place needs action, but there are some areas not mentioned in the map, so it can be rather confusing. The VO is okay, but at times it looks.. fake and forced. I don't think the bonus content is worth the extra price. There's basically nothing special there. You can try the demo to see what is available. I think I will wait until the SE comes out, as the main game is all that matters.
August 2, 2014
The Apple logo is a trademark of Apple Computer, Inc.