Lost Legends: The Weeping Woman Collector's Edition
From Gunnar Games, creators of the Small Town Terrors series, comes a new mystery from south of the border!

As an investigative reporter, you travel around the globe to uncover the truth behind local legends. Next stop: Mexico!

Every year, the town of San Cristobal holds a huge festival to soften the heart of the Weeping Woman – a bitter spirit who kidnapped children long ago. For many years, the children of San Cristobal slept peacefully. However, three years ago, a child went missing during the festival for real, with another child vanishing each year since! Now another child has been taken – right before your eyes! Has the Weeping Woman truly returned to take revenge? Find out in this thrilling mystery adventure!

This is a special Collector's Edition release full of exclusive extras you won't find in the standard version. As a bonus, Collector's Edition purchases count toward three stamps on your Monthly Game Club Punch Card!

The Collector's Edition includes:
The 'Tale of El Sombrerón' bonus chapter
Achievements and morphing collectibles
Wallpapers and concept art
Integrated strategy guide
Game System Requirements:
OS:

Windows XP/Windows Vista/Windows 7/Windows 8

CPU:

1.2 GHz

RAM:

256 MB

DirectX:

9.0

Hard Drive:

739 MB
Game Manager System Requirements:
Browser:

Internet Explorer 7 or later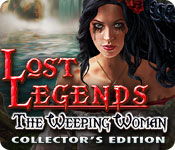 The Big Fish Guarantee:
Quality tested and virus free.
No ads, no adware, no spyware.

Reviews at a Glance

Lost Legends: The Weeping Woman Collector's Edition
0
out of
5 (
0
Reviews
Review
)
Customer Reviews
Lost Legends: The Weeping Woman Collector's Edition
61
61
another promising game down the tubes
From the outset I thought Lost Legends could be a fine game. Alas, I was wrong. The story line holds promise in that the Weeping Woman stealing children has a bit of originality due to her losing hers to a philandering husband. The detective is tasked to rescue the kids and find out why the abductions. Unfortunately then the game starts. Are a lot of us getting tired and bored with the same game design. In this case it's another door with the handle missing. Why cannot the door just open for once. Why is it that with a Mexican setting all the characters speak English and very well to boot. Would it not be great if we were given a game with subtitles ? I also thought it was silly that after the player completes a puzzle, said player is given a peso to access a newspaper kiosk. However the newspaper is in English in the same Mexican town. Give me a break!! Technically the game is quite grainy and has a bit too cartoonish a look for a subject matter that is so serious. The hidden object scenes are done well with some interactivity involved. The puzzles in the demo were either too easy or somewhat confusing such as aligning a bunch of skulls in a set pattern. The directions could have been clearer. We get to find morphing flowers and finding concealed golden skulls. I do not know if doing so adds to solving the game. I am also concerned as to the length of the game given that I completed the demo in 39 minutes. It is only my thought but there has not been a truly fine or original game in at least a couple months. This one might have been a keeper but the developer cuts too many corners and just rehashes what we have seen countless times within game play itself. Other than the story line, I have nothing to recommend as favorable.
July 26, 2014
Didn't Grab Me
My review is based on the demo. This just didn't grab me. It was one of the few times I was glad the demo was over. I can't think of anything I didn't like, it just wasn't my cup of tea. I recommend you try the demo before buying.
August 4, 2014
Looked promising but .........
Tried the trial for this game but only for about 20 minutes. As I liked the mini games I encountered in that time I thought that I would probably like main game once I got into it. Well, I didn't really! Graphics are good as are the mini games but the main event just didn't seem to have any real appeal about it ..... maybe it's just me but I felt quite glad when it was finished!!
August 3, 2014
Very vivid colors. !!!!!
Waiting for an awesome game still not sure. Game looks kind of short. Its very bright not sure I like it. Story is kind of different but not really. HO'S much to my liking not sure if it's a game for me. I will see keep working on that game you hate when it ends.
July 26, 2014
Nothing special in this game
usual game only. Nothing special hidden object or puzzle game available
July 26, 2014
super easy
I thought I would like this game, but then I played the first "puzzle." Super lame, hunt and peck. It was so simple, I quit playing. I liked the fact that it was set in Mexico and the visuals were entertaining. I'll give it another try later, maybe after updates. I don't recommend it right now.
July 29, 2014
The Weeping Woman left me in tears - of boredom
Just finished the sample and have to say that the game just didn?t hold my interest. The La Llorona legend I have heard is that Maria is very conceited but manages to get a wealthy rancher to marry her after playing coy. She then gets jealous of her children when their father still gives them attention after leaving her for another woman closer to his social status. She becomes so angry that she tosses the children in the river then she dies on the riverbank and is buried there. Wearing her funeral dress Maria walks the riverbank on dark nights, crying for the children she murdered. Parents use the legend to terrify their children into being afraid of the dark. This rendition of the story is a bit different, at least in the sample part of the game. But that difference didn?t do anything to make the game more appealing to me than the legend. The color scheme is bright and the graphics are, while nothing to cheer about, clear and fit in with the story being set Mexico. Some of the characters use Latino accents, which is a nice touch, but other than that this is pretty much the same old same old of reporter trying to find out if it really is a ghost stealing children once a year and how to stop the culprit whether they be dead or alive. I really like morphing objects and this game has morphing flowers. I felt they were every easy to find. There are also ?hidden? gold skulls. To find these all you need to do is move your mouse over a scene and wait for the cursor to turn into a hand. While playing I got distracted by one of my cats and the place where the skull was hidden started to kind of flash so if you can?t find a skull by looking for the change in the cursor just wait a minute and it will reveal itself. I turned the music off as I found it annoying after about two minutes. The mini-games were OK and I had no tech issues in the sample. This is a no buy for me, but I hope that everyone that does purchase it enjoys it from start to finish. Keep your dorsal fin up, Tauret
July 26, 2014
Major disappointment
This game took longer to download than the demo took for me to play. I play with music very low, voices a whisper, ambient low-mid. I actually lowered everything again a few minutes into the 11 minute demo. I actually started to find the voices offensive. Really offensive. Something was off-putting about the phony-ness of the accents, maybe its because I grew up with Latinos... The colors were great! The mini games were confusing and actually very cool- I still don't know how they know what colors I decided to paint my sugar skull when lining them up. The mini games were logic based. Sortof. In theory they were based on logic, but I think when it came down to it the games were all chance. I did appreciate them. I play with as little help as possible. I used the skip button more than I want to admit and it was not necessarily because the games were difficult- more so just to get through it all. There were a lot of back and forth locations. I did not use a map- not even sure if there was one. The characters did nothing to make me care. I feel that they just kind of ended the demo- not at a memorable place like normally- just kind of ... stopped ... recommend? no. oh I always deselect the custom cursor. Generally they are so big and bulky that it is distracting. But I noticed the non-custom cursor- was akward. whether it was because it did not turn into direction arrow or into grabbing hand- I don't know- it was just clumsy to use. I switched back to game cursor for a millisecond but it was so big I couldn't deal. just not worth it for me.
August 7, 2014
King solomon mine
started great but too many chat on the screen I would not recommend it
July 27, 2014
NO WAY, JOSE' !!!
While I get it that the theme is based on an old tale told to youngsters, for whatever reason other than to scare them senseless; this was not the most glaring reason for disliking the game. And although pleased to see a refreshing new backdrop, that was the end of any positive expectations. Game was choppy and all over the place. Storyline was unpleasant at best and presented without much thought to flow smoothly and fit all the pieces together. Almost afraid to read the reviews, I was sure the game would be a bomb. However, true to form, five star reviews led the way. Thankfully, demos are available and gamers won't need 90 minutes or 90 seconds to feel the pain. Why so harsh? Because, the usual bright, colorful scenes with all the bells and whistles of a Collector Edition, one important factor was forgotten--the game. Rather than a good game, we are handed pretty colors on a silver platter with psychological shock treatments in exchange for quality gaming. I've never developed a game and very much appreciate all the hard work, dedication and sacrifice. With that said as well as all the great artwork, music, planning and producing, maybe devs can set a new standard to create a more positive and effective gaming experience. Enjoy! -Mama Mia-
July 27, 2014
The Apple logo is a trademark of Apple Computer, Inc.