Lost Legends: The Weeping Woman Collector's Edition
From Gunnar Games, creators of the Small Town Terrors series, comes a new mystery from south of the border!

As an investigative reporter, you travel around the globe to uncover the truth behind local legends. Next stop: Mexico!

Every year, the town of San Cristobal holds a huge festival to soften the heart of the Weeping Woman – a bitter spirit who kidnapped children long ago. For many years, the children of San Cristobal slept peacefully. However, three years ago, a child went missing during the festival for real, with another child vanishing each year since! Now another child has been taken – right before your eyes! Has the Weeping Woman truly returned to take revenge? Find out in this thrilling mystery adventure!

This is a special Collector's Edition release full of exclusive extras you won't find in the standard version. As a bonus, Collector's Edition purchases count toward three stamps on your Monthly Game Club Punch Card!

The Collector's Edition includes:
The 'Tale of El Sombrerón' bonus chapter
Achievements and morphing collectibles
Wallpapers and concept art
Integrated strategy guide
Game System Requirements:
OS:

Windows XP/Windows Vista/Windows 7/Windows 8

CPU:

1.2 GHz

RAM:

256 MB

DirectX:

9.0

Hard Drive:

739 MB
Game Manager System Requirements:
Browser:

Internet Explorer 7 or later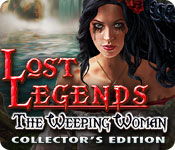 The Big Fish Guarantee:
Quality tested and virus free.
No ads, no adware, no spyware.

Reviews at a Glance

Lost Legends: The Weeping Woman Collector's Edition
0
out of
5 (
0
Reviews
Review
)
Customer Reviews
Lost Legends: The Weeping Woman Collector's Edition
60
60
Weeping Tears Of Joy - FINALLY- A GREAT SOLID GAME - REVIEW OF COMPLETED GAME
GAME FEATURES: Game opened in widescreen for me Inventory locks Choice of cursors Transporter map that you get a little into the game. Journal: Has your tasks and notes to help you along. 4 modes of play including Custom which I found to be a little different here though. You get .the choice of how your Hint works. You can have it tell you exactly what to do or just give you a nudge along. No sparkles. Modes of play can be changed during play as well as Custom choices. 6 Chapters. CE extras listed at the end. HOS; Interactive word list with some puzzles thrown in. Graphics nicely done here. I enjoyed these. I had no difficulty finding/doing anything. PUZZLES/MINI GAMES: I'm not a fan. Less the better. Has nothing to do with being too hard or too easy I'm just not a puzzle/mini game person for the most part. Having said this: These varied in challenge for me. I did skip a few of these. Some the usual run of the mill with a different twist on them to fit the theme of the game (Mexican festival) and a few I haven't seen before. There's also an info button and some have a reset button on them. The skip is very quick on charge up in custom mode. VISUAL/SOUND QUALITY: I really LOVED the graphics. Vibrant, colorful. The Mexican festival theme. These displayed just stunning, crisp and clear on my computer screen. They fit the game here right along with the characters/voices that are very well done - Latino accents. LEVEL OF CHALLENGE: I played the custom mode and loved it. Game play for me was pretty easy for the most part right along with the "adventure" side though not always linear. The skulls while I located them all I didn't think they were always easy to locate. The morphing flowers I didn't have any trouble locating these STORY LINE: I was so engrossed in this game. I was hooked to this from the get go and held my interest to the end. Some twist and turns to the story. This was also well integrated into the game play. The main game also came to a conclusion for me. I didn't feel the bonus chapter was needed. Bonus chapter is a new story. All new locations. None are from the main game. I enjoyed this as well and was surprised by the ending though it does come to conclusion. MY PLAY TIME: Main game 3 hours. Bonus Chapter 1 hour and 15 minutes. May be more or less for you of course. I didn't use any hints, map or strategy guide but I did skip some of the puzzles as I said. Game length was just fine and right for me. I don't need for a game to go on for many hours. FUN FACTOR:.While this game was pretty easy for the most part this was a breath of fresh air for me and fun compared to what Big Fish has been releasing lately. A HUGE KUDOS to you here Gunnar Games: While I encountered a few animals very briefly but NONE of them became my helpers for the game along with NO fairies, NO purple and pink hazy/foggy graphics. I also had no tech issues.Overall 5 stars from me. Thanks Gunnar Games and Big Fish for a great game.. As always, give it a whirl and decide for yourself. CE EXTRAS: Bonus Chapter Strategy Guide 16 Achievements 25 Skulls 25 Morphing Flowers 6 Wall Papers 9 Concept Art
July 27, 2014
Now, that's more like it!
Based on 62/90 minutes of completed demo I do enjoy this type of game and have been somewhat dismayed recently by the lack of challenge and same old themes. Before you yell at me, yes it is the 'disappearing children' genre but is set in a real place, not some fantasy otherworld. There's not a portal in sight, not a whiff of black smoke and no cutesy animals! And, the journalist you play has a very neutral voice, so I can't tell whether it is male or female. As ever, I will not spoil the story for you, suffice to say, you have to solve the mystery and all is not what it immediately seems. Lots of CE bling including morphing flowers and hidden skulls. Puzzles could be more challenging and HOS more interactive, but they are all well done and colourful. I didn't really notice the music, so it couldn't have been too intrusive. All in all, I enjoyed the demo with no tech issues at all and will be taking advantage of the lovely weekend sale.
July 26, 2014
Jackpot!
OK, I can see the eye rolling even as I type! How can I be so enthusiastic over another "save the child" story? Because it is and it isn't - or is it? True to CE tradition, there are collectibles, both hidden and morphing, along with the usual expected bling. There is music, color, interactive HOS's, fair mini-games, and good animation and VOs. But it's all about the story here. You arrive to report breaking news on a local festival with a tragic twist. The festival was started to appease a spirit that snatched children in revenge for a past injustice. For years the spirit appeared to be at peace, but now has returned with a vengeance. As you have witnessed the latest kidnapping, you are more than a disinterested observer. Are you being followed? Is it a spirit or an all too real villain? Please try this one for yourself. I can guarantee no cute animal helpers and a really good story!
July 26, 2014
Nothing new but entertained me.
This game created by Gunnar Games - Small Town Terror series and Hidden Mysteries series. Storyline ; Spoiler Alert ! This game start with a couple Maria married with Domingo , The womanizer. After that They had 2 children and Domingo find another girl , he take all his children and left Maria . After that Maria suicide at San Cristobal Lake. Couple of years later , children when missing when Flores De Los Muertos festival was held and they said it's The Weeping Women Curse. Now it's your duty to find children and discover the truth about The Weeping Women in San Cristobal , Mexico. Gameplay : There are 4 game modes - casual , experts , advance and customs. The game has only one type of HOS and they are entertaining because it has puzzle in it and interactions. The puzzles are nothing new but they just blend together with the story and situation. Plus , There are easy. There are your journal , Interactive map , inventory locks , hint and guide button [ 6 chapters + bonus + collectibles ] There are several characters to meet but the lip syncing is not smoothly done and full voice over with Mexico accent [ I like it ]. There are 25 morphing flowers and 25 Hidden Golden Skull to find in the main games only just to get Achievements. The Achievements based on performance and story [ 17 approximately]. Option Menu : you can always adjust music , environment , sound fx , and VO volumes.you can also change difficulty , fullscreens and custom cursor. Bonus Contents : The games include SG , Wallpapers , Concept Arts , Achievements , Collectibles , and Bonus Gameplay. Overall the game is super short for me end in 2 hours and a half because of its puzzles and HOS . The Story is very interesting to follow and I really like Mexican Theme . From The game title , I thought this is a supernatural game and yes it is but only few of them. I recommended this game to all Beginners . P/S : Try the game first and then you'll know.
July 27, 2014
Weeping
Loved this game, enjoyed the storyline, the visuals were gorgeous and I do enjoy being a dectective !! Challenges were not hard at all but still made a nice play and HO's were plentiful, all in all I purchased this game and will play over and over again.
July 26, 2014
Bought It, Played It, Loved It!
Based on completion of the CE in Casual mode. I bought this game first thing this morning and finished it this afternoon. I really enjoyed playing this game. You're a newspaper reporter sent to San Cristobal to look into the disappearance of several children who have disappeared over the past 3 years and always the night before a huge festival which is held to soften the heart of the Weeping Women -- a bitter spirit. Just as you arrive at a hotel, you see the owners daughter get snatched by the spirit -- or is it? This game has it all. Four modes of game play, the 4th being custom with no time charge for the hint or skip button; collectibles; and morphing objects. I didn't find all the collectibles or morphing objects, but the ones I did find were very easy. There are good voice overs and the music isn't bad. The HOS are all lists and are very easy. I didn't use the hint once. The puzzles are nothing new and very easy. I didn't skip any. The hint button works outside the HOS by pointing into the direction you need to go all the way to the object! There is a map which shows where there is something to do and transports you to the scene. There is a bonus chapter that has nothing to do with the main story. I really enjoyed this game and think any one from a beginner to an expert would also like it. It may not be suitable for young people. Play the demo and read some reviews to make up your on mind.
July 26, 2014
Great game
This is a well produced game with very fitting artwork and good VOs. The story is interesting and is well told. Game play is the usual. The HOS are IA with some puzzles in them, and the regular puzzles are good. There are hidden collectibles as well as morphing objects. One thing I really liked was the customizable difficulty level. One can choose to be led directly to the needed action or to be just pointed in the right direction. Or, no hints at all. The informative map, again an option, is a jump map. And most importantly, there aren't any cute critters to help you and it isn't a fairy tale! This is a very enjoyable game - good story, good setting, good game play and innovative difficulty settings.
July 26, 2014
Poor Maria goes to desperate lengths!
REVIEW OF MAIN GAME AND BONUS For someone like me who loves to learn about different countries' folklore, myths and legends it was a real pleasure to learn (albeit with some artistic licence by the devs) about the legends of La Llorona in the main game and El Sombreron in the bonus. The colours are bright and vibrant throughout, voiceovers are plenty with lip synch and very realistically done. The Mexican accents are quite well done also without being over the top. The 16 achievements are mostly performance related and not too difficult to achieve. As collectibles you have 25 golden skulls that are hidden behind walls and other items and 25 morphing flowers which are quite easy to find. You can also collect all notes, letters and lore items throughout for another achievement. There is a very nice teleport map, though this is no longer available in the bonus game. All collectibles end with the main game. The Weeping Woman story ends satisfactorily and completely. The bonus story of El Sombreron stands on its own and has totally different characters to the main game. This is not a very long game. I found only 15 HOS in the main game and 5 in the bonus. I counted 21 Puzzles in the main game and 6 in the bonus. All in, the whole experience lasted only just over 4 hours for me and I did not skip anything. Puzzles and HOS were mainly easy, with a few puzzles that took a bit of thinking. For a CE it's perhaps a little short, but it's a lot of fun with interesting stories and great animation. I had a great time with this game and recommend it highly.
July 28, 2014
Just Beautiful
I bought this game after playing demo for 10 minutes. I was taken away by all the beautiful colors. A nice change from all the dark and dreary games that are the norm here. This is a good one.
July 26, 2014
A Vibrant, Colorful Game
In Lost Legends: The Weeping Woman we have a tale of loss and revenge. The legend tells the story of Maria who, after the heartbreaking loss of her children, takes her own life in the river near her village, and now her spirit claims the lives of young children who are careless enough to wander too close to her watery grave. In order to placate the Weeping Woman?s spirit, the villagers have created a special day to commemorate her death, Flores de los Muertos, and for many years all was well but now the disappearances have started again. As a reporter you are here to investigate the disappearances as well as to delve into the legend of The Weeping Woman. The graphics are excellent and crisp with wonderful use of vibrant color. The artists have created characters that are very realistic and with the addition of the lip-synced voiceovers they come to life on the screen. The rest of the sound package is exactly what I like in a game with music and ambient effects that create just the right touch of excitement and mystery. It is so refreshing to have a game with vibrant, bright color in comparison to recent games that have been all pink and purple ? please devs give us more games like this! There is a diary that contains your objectives as well as your notes to help you as you travel through your adventure. The interactive transporter map indicates where you have tasks to accomplish. There are various types of interactive HOPs, some are the standard list type and others are silhouette type. The puzzles in the game are nothing new but I still find them entertaining. Even though we see many of these puzzles in our HOPA games, each dev puts their own spin on these familiar puzzles so it still makes them fun and sometimes even challenging to complete. In the CE version of the game there are collectible golden skulls to find, and you will need to keep your eyes open because some of them are extremely well hidden. The game also has morphing flowers so be on the lookout for these as well. The rest of the CE extras are standard fare. Since I was fortunate enough to play the beta for The Weeping Woman, I have anxiously been waiting for its release so it was an instant buy for me but as always, I recommend that you at least try the demo to see if this is a game you will like.
July 26, 2014
The Apple logo is a trademark of Apple Computer, Inc.