Amaranthine Voyage: The Shadow of Torment Collector's Edition
Exclusive
From Eipix, the studio who brought you Hidden Expedition: Smithsonian Hope Diamond, presents another Amaranthine Voyage!

Long ago, Anther was a realm of beauty and magic, but the appearance of a being named Torment drained their magic and forced the survivors to flee to a world called Earth. Years later, one of their artifacts has been uncovered, reopening the way between both worlds. You must enter the portal and stop Torment before it turns its sights toward Earth. An ancient prophecy declares that you will be the one to save both worlds, but will it come true? Find out in this breathtaking Hidden Object Puzzle Adventure game!

This is a special Collector's Edition release full of exclusive extras you won't find in the standard version. As a bonus, Collector's Edition purchases count toward three stamps on your Monthly Game Club Punch Card!

The Collector's Edition includes:
A thrilling bonus adventure with Professor Burns' protégé!
Unlock mini-games to extend the challenge
Music, wallpapers, concept art, and more!
An available Strategy Guide
Game System Requirements:
OS:

Windows XP/Windows Vista/Windows 7/Windows 8

CPU:

1.6 GHz

RAM:

1024 MB

DirectX:

9.0

Hard Drive:

1185 MB
Game Manager System Requirements:
Browser:

Internet Explorer 7 or later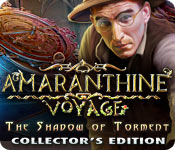 The Big Fish Guarantee:
Quality tested and virus free.
No ads, no adware, no spyware.

Reviews at a Glance

Amaranthine Voyage: The Shadow of Torment Collector's Edition
0
out of
5 (
0
Reviews
Review
)
Customer Reviews
Amaranthine Voyage: The Shadow of Torment Collector's Edition
45
45
Professor Burns is back!
Based on the completed demo 69/90 minutes. I thoroughly enjoyed Tree of Life and Living Mountain and here is #3! What a treat! Sadly the portals and black smoke are back, but that was always going to be the case in an Amaranthine Voyage and they are interwoven into the story well. As with episodes 1 and 2, the doughty professor is drawn into a world under threat and must save the day but this time needs an 'innocent' to help her; enter Victoria the rather dim but terribly enthusiastic student. Visual/sound quality was brilliant as ever from this (seemingly very busy at the moment) developer. The occasional purplish scene, which no doubt some will moan about but mainly bright and colourful. Music was appropriate to the scene. Challenge was a good mix with some very straightforward puzzles and others (including HOSs) really very challenging. I encountered 3 HOSs during the demo. All had morphing objects within (and an indicator to remind you). The first was a 3 stage silhouette puzzle and the other two were lists with a couple of interactive elements, one of them over three stages. All three finished with a riddle to find the desired object, which were quite tricky. There is a bubble popper alternative. Massive CE bling: * Bonus chapter * Flower collection (41 flowers of remembrance to find with a helpful indicator to remind you) * Souvenir Room * Lore Book * Find Objects (replay HOSs) * Puzzle (replay puzzles) * 3 HOSs from other games to play (you find them in the game to activate) * 18 achievements some with 3 levels * Making of *Movies/Music/Pictures * 4 gameplay levels; Casual/Expert/Insane/Custom All in all, a thoroughly enjoyable game and, as I cannot resist this developer, it will be a buy for me come the weekend. Oh, and BTW, no issues or glitches for me. Fast download and smooth play. Windows 7 Highly recommended for a trial!
July 31, 2014
at long last...a fine game
I have the other Amaranthine entries and had high hopes for the Shadow of Torment when the demo was introduced. However there have been some new games recently that have been fair to middling or downright awful. In fact, Eipix who usually create really good offerings, has laid a couple of rotten eggs in the last 2 months. With the demo of this Amaranthine I can pronounce this game a winner. This series certainly provides the player with top notch fantasy without resorting to cute creatures and goblins, trolls, etc. The story line is far out but in a more believable type of atmosphere. The player finds him or herself tasked with saving an alternate world called Anther by facing and ultimately defeating the evil Torment. As with past entries, our hero (ine ) immediately meets someone who was perceived initially as an ally but turns out to be a henchman of the Torment. We enter the Anther world and this is where the fun starts. As with previous Amaranthines, the graphics are stellar. There are combinations of hidden object segments such as finding a named item or seeking somewhat silhouetted objects. I always enjoy having the variety. The puzzles in the demo are rather straightforward and posed no difficulty. I hope they get more challenging as the game continues. As I mentioned earlier, after a large amount of dud games ( IMO ) Amaranthine gives the player something to marvel at and set one's teeth into. For those uninitiated in the series, it is not necessary to have played the prior games as they all stand alone. It's a buy for me and I at least hope gamers give this solid entry a whirl.
July 31, 2014
Save Anther from the Torment!
Another lovely graphic feast from this developer. It seems to have nothing to do with the previous Amaranthine games, although you still play Professor Burns. Your team finds an artifact, which eventually allows you to uncover the Vault Seal and enter Anther, a gorgeous world of flowers except for the dark smoke circling around! The voice-overs are spot on. The HOPs are multi-faceted with silhouettes and lists and riddles, or byou can play a Bubble Popper instead. The CE bling is outstanding -- 17 morphing objects inside the HOPs, 41 flowers of remembrance to find, with a Bonus game, the Flower Collection, the Souvenir Room, the Making of video, plus 3 HOPs from previous games to win access to. A thoroughly enjoyable game!
July 31, 2014
Oh yes, gotta have it!
Hi all. Well, here is the second in the Amaranthine series. The first was an excellent game and this one is even better. The graphics, animation and voice overs are extremely well done. Voices actually had some emotion and didn't sound like someone was just reading a script. Game play was excellent, no problems and filled my large screen completely. The colors were wonderful. Some were a bit muted, but it depends on where you are in the scenery and how the sunlight, or even just the light, would bounce off of something. Very well done and very realistic. Music was quite nice and moved with what was happening at the time. To be quite honest with you, I got so engrossed in the game, and found that it flowed so well, that I didn't even open the map or the SG. That is a major plus for me. The hint system was quite helpful and teleported you if you had a long distance to travel to the hint location, rather than just keep telling you to go back. Big time saver, so you have more time for the game. The hint recharged fairly quickly. HOPs were very clean and clear, no junk piles. Items were not difficult to find. Some were the standard word HOP and others were silhouettes. These were done a bit differently, in that you had "sections" to do and did not have everything listed at once, so you were searching different areas for items. You also have 17 morphing objects to find in the HOPs. They aren't really difficult to see, you just have to remember to look for them. Puzzles were not difficult, but some were different and a little challenging. The only collectibles I found were the 41 flowers of remembrance, which were not too difficult to find. Some are tucked away, so you have to look for them. You had to find jewel shards for a "tool" you use during the game, which give you another item to use within the game. You find other parts and pieces in the game that provide you with pieces of the story as you go along. There are numerous achievements as well. No, the story isn't new, but I found this game to be extremely well done, fun and interesting. I believe this one will appeal to all levels of players. I do not give 5 stars easily, but this one has it all, with enough challenge to keep you moving and wanting more. Yes, I am definitely going to purchase this game to add to my collection. As always, try it for yourself and see what you think. We all have different tastes in games and you may not care for this one at all. Thanks for the reviews.
July 31, 2014
Can You Help Save the World of Anther?
Clearly, another Amaranthine blockbuster game. Storyline: You are acting as Professor Burns, who happened upon an archeological dig just as an "accident" occurs. An artifact has been found. Professor Burns hollers at the 2 girls (one an historian and one a student) not to touch it .. but, of course, they do. A flash! They are enveloped in a globe of power. He tries to throw another found artifact into it but it just gets stuck. You arrive in time to save the day. There is a prophecy that says YOU/Professor Burns will save the world of Anther. It turns out that Amelia (the historian) is actually from Anther. But, guess what? So is Professor Burns. Is anyone from Planet Earth anymore? Graphics and Sound: Amazing, amazing and amazing. Graphics are stunning. Most times I just wanted to stop and look around at everything. Music must not have been annoying as I didn't feel the need to turn it down. HOGs and Mini Games: The HOGs were mostly 3-part silhouettes or an itemized list with the final item being found by a riddle you need to solve. Cool. I did not find anything difficult to find. You could opt to play a bubble popper game. There is a morphing object in each HOG scene (17) The mini games were new, fresh, innovative and, while not terribly difficult, did require some thought. There are 4 modes of difficulty: Casual/Expert/Insane and Custom. You find a journal but don't use it as normal fare. There is a transportable map which shows where you are, where an objective is and where you can go look. It also has a tab with the most detailed task list I've ever seen. Your inventory also holds Plus Items. CE Bling: Customary fare such as .... Strategy Guide, Bonus Game, Pictures (12), Wallpaper (8), Achievements (18 x 3 each), Replay Puzzles, Making Of, Music (14 tracks), Movies (27) As well as: Collect 41 Flowers of Remembrance (1 in each area) 17 Morphing Objects - one in each HOG Lore Book, Souvenir Room HOP from Myths around the World HOP from Armaranthine Voyage: The Living Mountain HOP from Sea of Lies: Mutiny of the Heart So, all in all, LOTS of CE Bling. There hasn't been much worth purchasing lately (CE OR SE) which has been very disappointing. So, imagine my excitement when I was hooked within the first 15 minutes of game play. Not only is this game a definite CE purchase for me, but I encourage everyone to try the demo. It's free and an amazing 90 minutes long. You don't need to have played the 2 previous games in this series to enjoy this one. Happy Gaming!
July 31, 2014
Totally Awesome
I just started the game and I am enthralled. I played the previous Amaranthine Voyage games but this excels beyond anything I played before. Craft -man - ship of this game is unbelievable. One must congratulate Eirix - they have lived up to their name - and created another world. Love it!
July 31, 2014
Fly Away in a Great New Amaranthine Voyage
Dr. Burns is back and in this Amaranthine Voyage she is with an archaeological group that gets into trouble at an excavation site. You play the game as Dr. Burns who opens a portal to Anther, a world that has been plagued by a mysterious force called Torment. Anther is an idyllic world where everyone lived in harmony until Torment unleashed a devastating blight upon the world. You soon learn of the prophecy that the brave one and someone of pure heart will come to save Anther ? perhaps the brave one is you! The opening cinematic for the game is wonderful and gives us a hint of what is to come. The graphics are excellent and colorful, although in some scenes they appear muted and not as vibrant as I like. The sound package for Amaranthine Voyage is probably one of the best I?ve heard in recent games, of course with this developer; most of their sound packages are top-notch. I found the voiceovers to be very realistic and they enhanced the visual characters which were extremely well depicted. Early in the game we will find a map that is set up a bit differently than those normally found. There is a pocket on the right side of the map with pull out cards that contain information on the current objective. The map itself is the interactive transporter type that I like since it is often one of my most helpful tools. Although there isn?t a journal, I don?t think one is necessary since the objective cards in the map?s pocket seem to provide most of the information needed. Another tool that we acquire early in the game is an orb that requires shards to activate it. As a shard is inserted into the orb there is a mini-puzzle to complete to activate it. The hint is helpful in that it will transport us to the area where something is to be done. The HOPs are interactive and multi-level, which is standard for EIPIX. For the most part the items are not too difficult to find but sometimes the riddle at the end made no sense and I admit to using the hint. If you would rather not complete the HO scenes, you have the option of switching to a bubble-shooter game but once the items are found you still must answer the riddle to progress. The puzzles are interesting and I even encountered one that was different from what we normally find. Although most of the puzzles were fairly easy which is becoming typical in most games now, I still enjoyed them and even a few were a bit challenging. During the game you will collect 41 Flowers of Remembrance to find. Of course there are achievements that can be earned that are mostly gameplay-based. Along with collectibles and achievements we have a bonus chapter, the SG and various other frills to entice us to purchase the CE. Amaranthine Voyage the Shadow of Torment is, IMHO, better that the others in the series and promises to be a bit more exciting in the long run. When the demo ended I was left wanting more and couldn?t wait to hit that buy button. As always, I recommend that you at least try the demo to see if this is a game you will like.
July 31, 2014
AMAZING!
WHERE DO I START??? Just when I was bored with bf and more than ready to cancel this gem popped up.It's great has collectables and morph's in hos.And they stepped up the hos made them bigger and better and different.and only one clock to set.and only a few keys to find.overall just a fun and great game.only con was it's short.about 3 to 4 hrs.about to start the bonus.give it a try.you will not be sorry
July 31, 2014
A Lovely Game
This developer knows how to create a lovely, entertaining, and cinematic game. Good visuals, nice puzzles, the ability to combine items in inventory, interesting HOP scenes. This game will provide me several hours of fun and relaxation, I feel sure. I also find that after a few months have elapsed, I can replay a game like this and it's almost like a new experience, so very good value for money. Happy gaming! :-)
July 31, 2014
If you don't like fantasy JUST DON'T BUY IT,DON'T TRASH IT!
THIS IS A WONDERFUL MAGICAL GAME! I never give 5's but this deserves it. The extra Bling is awesome. 41 Flowers to collect. Access to 3 other HOPs as you collect paintings: Chinese Healer, AV Living Mountain and Sea of Lies: Mutiny... I played day early 74 minutes, entire demo. This is a must buy for me. Didn't see any morphs but I was so woo'ed by the visuals I might have missed any. Really FUN puzzles. Give it a go - it's worth your time.
August 1, 2014
The Apple logo is a trademark of Apple Computer, Inc.