Rise of Dynasty
Rise of Dynasty is a Match Three game set in ancient China, taking place at the beginning of the Tang Dynasty. Play fun and challenging match three levels and collect money to help rebuild the empire, from building farms to the Great Wall! Help Emperor Li Yuan rebuild the newly founded Tang Dynasty
60 fun and challenging levels!
Asian-styled hand painted art and music
Unique and challenging match-3 adventure
Game System Requirements:
OS:

Windows XP/Windows Vista/Windows 7/Windows 8

CPU:

1.0 GHz

RAM:

1024 MB

DirectX:

9.0

Hard Drive:

233 MB
Game Manager System Requirements:
Browser:

Internet Explorer 7 or later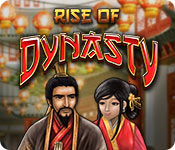 NEW299
The Big Fish Guarantee:
Quality tested and virus free.
No ads, no adware, no spyware.

Reviews at a Glance

Rise of Dynasty
0
out of
5 (
0
Reviews
Review
)
Customer Reviews
Relaxing Match 3 game
I liked this game as it was very relaxing!!
July 9, 2014
Rise of Dynasty
I like playing Oriental matching games because they are different to other games with functions
January 25, 2015
Get's A Little Monotonous
After years of being ruled by a Tyrant who oppressed and enslaved his own people, the people rose up against their leader to dethrone him and start anew. Years of civil war and tyranny have left the farmers with improper equipment to farm with and the new leader has vowed to help his people help themselves in the rise of this new Dynasty! You can play this Match 3 game in Timed or Relaxed modes, each level requires you to clear all blue tiles first, as you progress you will be required to clear red tiles as well. Once these tiles have been cleared, you will need to collect a special item or items by making matches below the items until they fall off of the board. Creating matches of 4 or 5 tiles will fill the amulet located at the bottom of the board, when the amulet is fully charged you can click on it to release a powerful lightning storm which will clear several random tiles on the board. You want to use the amulet whenever you can because each level starts with an empty amulet. Power-ups can be earned by making matches as well, and there may be several available because you can carry over power-ups to the next levels. some of the power-ups clear a 3x3 area and can be placed anywhere on the board, the fire power-up clears an entire row, each new power-up destroys tiles in a specific way either random or in a cross shape etc. The coins that you earn will be used to rebuild the farms, buy cottages and houses. You will also buy sawmills, lumber mills and even grain mills. You purchase these buildings one at a time in a specific order, you cannot choose which buildings to buy. In my opinion this Match 3 game didn't have any wow factors to keep my interest, game after game, it was just more of the same goals as the level before. The tiles had lions, bowls, bottles coins and flowers, nothing special, no eye candy. Some of the tiles are "tangled" and you have to make matches of that tangled tile to release the immovable tile. This is a good Match 3 game, but can become repetitive as you progress, enjoy!
July 9, 2014
Rebuild The Tang Dynasty
This is your typical match 3 game. Match 4 or more to get bonuses. After clearing the board of blue tiles, match more to drop the "special item" off the bottom of the board. There are hindrances as well - iced items, etc. The music was incredibly relaxing and soothing. The background picture never changed which was unfortunate because I think the game could have offered more in that way. The story is basically the one told on the game description page and does not continue. Earn coins by passing levels and use them to build various houses and other buildings. While relaxing and addicting (to a point), something about this game just didn't "wow" me so it's not a purchase for me, but I strongly encourage everyone to give the hour-long free demo a try. Happy Gaming!
July 9, 2014
It's ok
This game to me is just ok. The graphics are good and the levels are somewhat of a challenge but I have 2 gripes about the game. The music as you are playing a level sounds more like if you were playing a game with an Irish theme to it. What I guess I am trying to say is that the music should have more of an Asian sound to it. The other gripe is when you build something it has a set place to go and I think it would be more fun to be able to place things any where you like. Other than my 2 gripes I think this game is an ok game and I would recommend the game for anyone.
July 9, 2014
Just average
This match 3 game is very ordinary and quite repetitive. What is the difference between getting a stone to the bottom vs getting a treasure to the bottom? Not much. Also the sound effects are average, The machine gun noise is incredibly loud and loathsome. BFG, there are a lot better match 3 games than this one.
July 11, 2014
A Mediocre Match 3
Nothing special here. Perhaps it could be best described as almost an OK Match 3 game. This game appears to be from a Japanese developer and it doesn't help that the attempt at the spoken English introduction is less than convincing...sounds like the narrator is still learning the English language. There are 60 levels to conquer in either Timed or Untimed mode. You are tasked to rebuild a village from a previous dynasty. You gain coins from playing to pay for the resources. Nothing new there. The graphics are Good, but not excellent, with the symbols being rather too indistinct from each other. My biggest gripe however, is that the game board is too small, making the symbols harder to see. All the usual power ups are available, but their associated sound effects are somewhat lacking in power. Ambient music, whilst pleasant enough, quickly gets a bit annoying, and I had to almost turn it off to feel comfortable. One positive aspect is that matches can be made whilst tiles are still falling. Overall, I thought this Match 3 game was of a technical standard of about 3 years ago. It just does not measure up to what is expected by today's players, and so is not a buy for me.
July 9, 2014
A Rather Ho-Hum Match 3
Rise of Dynasty is a Match 3 game with a slight builder component. We play round after round of Match 3 boards to earn coins which allow us to rebuild the new dynasty, the previous one being destroyed after years of war and rebellion. The game starts out okay but after about ten minutes of play I thought it became quite ho-hum and boring. The graphics seem to be sub-par and low budget - perhaps due to the coloring of the tokens, which is drab rather than deep, and after playing a few rounds of the game they all seemed to look quite the same. If the coloring was more intense and items were clearly distinguishable, it would have improved the artwork of the game. I definitely did not like the waves light that periodically moved across the board, which I personally found distracting and annoying. Perhaps later in the game, the tokens will change but I didn?t hang around long enough to find out. Not only were the graphics not to my liking, the repetitious flute music drove me nuts and I had to turn it off. The tempo was a bit too fast and had it been slower and more relaxing it would have been far more appealing. It would also have been nice if the developer had provided an option to select alternate soundtracks. Speaking of alternatives or choices, there are very few options in the game, although there is a relaxed mode if you don?t want to play ?beat the clock.? The gameplay is straightforward. We play board after board of matches to earn coins, which are then spent to rebuild China?s new dynasty. As we play each board power-ups are earned by making longer or more complex matches. The power-ups can be very helpful in some sticky situations, particularly as we move to higher levels in the game. Once we remove the colored tiles on the board there is a special item that must be dropped to the bottom in order to complete the level. As far as the builder component of the game, it is rather automatic and, IMHO, a huge opportunity was missed by not giving the player a selection of items to purchase. If the player could actually choose what to purchase it would have added another level of challenge to the game and qualified as a true builder game. Basically, just earning coins to purchase the item available is rather boring in the end. What could have been a promising and good Match 3/Builder game is nowhere near the quality and fun of other games in this genre such as Mystika. Some of you might like the game but I couldn?t wait to uninstall it. As always, I recommend that you try the demo to see if this is a game you might like.
July 9, 2014
not enough
you can do it better. You didn't put some real work into the game, the drawing is very bad and simple, the color look like, sunburn. the story line well, its oki, but, I will safe my money for a real 3 match.
July 13, 2014