Rite of Passage: Hide and Seek
Exclusive
From Mad Head Games, creators of the acclaimed Cadenza: Music, Betrayal and Death and Nevertales: The Beauty Within, comes another thrilling tale in their Rite of Passage series.

Twenty years ago, a group of children in the town of Greystone were taken by a mysterious fog while playing hide and seek, including your brother. Only you escaped… Your father went looking for your brother and never returned. Now you've found evidence that your father has been alive this entire time, still searching for the missing children. But why would he remain silent for so long? And why was he so determined to keep you away from Greystone? You immediately head out to find answers. But are you prepared for what awaits you in the mysterious fog? Find out in this creepy Hidden Object Puzzle Adventure game!
Game System Requirements:
OS:

10.9/10.8/10.7/10.6

CPU:

2.0 GHz (INTEL ONLY)

RAM:

1024 MB

Hard Drive:

498 MB
Game Manager System Requirements:
Browser:

Safari 4.0 or later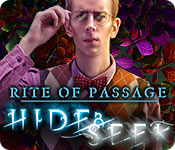 NEW299
The Big Fish Guarantee:
Quality tested and virus free.
No ads, no adware, no spyware.

Reviews at a Glance

Rite of Passage: Hide and Seek
0
out of
5 (
0
Reviews
Review
)
Customer Reviews
Rite of Passage: Hide and Seek
25
25
Welcome Home
You and your mother moved from Greystone, your brother went missing and your father never came home after he went searching for him, or so you were told! After mother's death you find letters from your father, all current, still searching for your missing brother after all these years. Of course you leave immediately for Graystone, surrounded by a dense fog, and the scar on your hand begins to react, Welcome Home! Memories of that fateful day begin to come flooding back, a strange orphan child appeared one day while you were playing Hide and Seek. She wanted to play as well but asked you to read a poem instead of counting: I count one two three, better hide while I can't see. Four and five and then comes six, my friend has a lot of tricks. After seven, eight then nine, hide or run you'll be mine. A fog falls as I count ten, you can't ever leave again! Just like that poof, everyone is gone except for you! The people you meet will have a dialog option for your answers, one kind and polite, the other sarcastic and to the point. Choose your words wisely there is a Karma meter that changes depending on your answer that will ultimately affect the outcome of the game. (looks like you'll have to play this game twice) You will also discover new powers that your scar can activate such as translating ancient text or melting the weird ice that the fog creates. The Hidden Object Scenes are cleverly called Hide and Seek games, they are interactive list finds but when you find the item listed the item will move out of the way to expose a keypad number for instance that will be used for the final items quest. There are a lot of mini games some simply puzzle pieces like torn pages to reconstruct others are more complex such as adjusting several colored balls on rods until all lights on the rods turn green but when you move one ball others move as well. The Collectors Edition has 43 collectible handprints which will be assembled on a Hide and Seek model and 43 alchemical ingredients that will be used to mix a magic potion. There are soundtracks, imaginings, backgrounds, reels, storybook, cast, achievements, unlimited Hide and Seek games, a built in strategy guide and of course a bonus chapter available as well. Either edition is a sure bet because this is an excellent game that has lot's of entertainment value, enjoy!
July 11, 2014
an enjoyable game with a good storyline
this game has a diary and interactive map. it also has a "custom" level where you can make decisions of how you want to play the game. i really like this feature that is being used more often. you can set the length of the hints and skips. the game is about lost people that go into a "fog" and never come out. you are trying to find out what happened to them. you have a scar on your hand that reacts every time you get around the fog. the inventory box is hard to see items in for some reason. at least i had items i needed but they were there and i didn't see them. they blended in with the background.
September 12, 2014
A Well Thought Out Adventure Game
I usually don't care for adventure games-I dislike all the running around, back & forth, same ol' same ol' & sometimes the "tools" you need for tasks just don't make sense. This one was great: logical, witty, clever as were mini games/puzzles. Not too hard but not too easy: you have to think. Hidden object games were also different & clever. Great graphics, sound, movement. I don't buy many of these but I bought this one & enjoy it a lot.
September 10, 2014
Don't Hide From This Game!
Finished the Standard Edition and, of course, should have purchased the CE. Either way, the game will not disappoint gamers of all ages! Many years ago you and your friends played a game of hide and seek but something went very wrong. A young girl approached you and asked you to read a strange chant out loud! Years later, you venture back to the same town. Storyline unfolds and extends a variety of puzzles, hidden object scenes and other creative puzzles to gamers. Certainly not the most challenging game, however, was quite enjoyable for the child in me who was always a bit leery of hide-a-seek. Enjoy! -Mama Mia
September 5, 2014
Totally Freaking Love this game!!!
This game grips you from the start. The plot line is new - while you might think you've seen it/heard it before, you are shortly disabused of the notion. Obviously it does have HOS,but these are not just the same old list of things... there are many different variations, keeping the game fresh. As the game is long (yay!) it is very important to keep things fresh. I am into my 6th hour and this is high on my list of favorite games. I have yet to try to rush through it, using hint excessively. (On games I do not like, I will do this to see the ending.) I am playing for one ending... I just might play the game again to see the other one. I cannot recommend it enough!
September 4, 2014
Best Ever!
I bought this game after only playing 10 minutes! This is a one of a kind. I won't tell you to spoil the fun, but it's the most fun I've had in a long time with hidden objects. So ingenious! Love it. I have tons of games and this is my new favorite :) I didn't purchase the collector's edition and do regret that. But this is still fabulous!
August 26, 2014
Great game!
There are already tons of reviews on here, outlining all the important factors of the game, but I will say if you haven't tried it..do it! I found it quite fun & interesting and the HOG scenes & mini games had a nice twist to them which was great! :)
August 24, 2014
Elegant and polished!
Not just the usual seek-and-find game. I've always found the morphing objects in some games a lot of fun ; this game goes one better. They were very clever - artfully done. Gorgeous graphics throughout, and I thought the story had a nice twist. Excellent all the way round. Play and enjoy -- I don't think you'll feel let down.
August 17, 2014
Loved it
Liked the way the different HOS' were presented - not just the same-o same-o. The story line was very nice, and using logical thinking I could figure out - for the most part - the various challenges. I'm not real good at some puzzles, these were enjoyable. Only thing - my wolf cub needed a different ending in the story. I kept him very busy during gameplay. Will look for more from these game designers.
August 14, 2014
Glad I'm Too Old for Hide and Seek!
This is posted after completing the entire game. Over all this was a decent game. I found the various games within a game quite entertaining. I played about 4 hours total over two days and that's pretty decent. The graphics were very good. Pretty when called for and eerie when needed. The music was decent and went along with the action. About the only things in this category I didn't care for were the voice overs. Just wasn't natural in the presentation in most cases. The challenge is there. With several different types of hidden object games in the same scene and those being varied from scene to scene made it very interesting. I found the mini games a bit too difficult for my taste and to be quite honest I couldn't figure out what I had to do most of the time. However, that is why they put that skip button on there and I used it frequently. You have a journal, which I didn't use very often and a map on which I lived. It's a good helper. There is a dog you get to use to help you in dark places and digging out for you and along the way you will pick up some powers that will assist you in your quest. The hint and skip buttons recharge rather quickly. I like that in a game. Big Fish does a great job telling you what the story is about, so I'll just give you my impressions.The story is good and easy to follow, with a few exceptions the ending being one of those exceptions. It left me wondering what had happened to all those people. I do believe you will enjoy this game. I did. Try the demo, which really doesn't do the game justice and make up your own mind.
July 14, 2014
The Apple logo is a trademark of Apple Computer, Inc.
The Windows logo is a trademark of Microsoft, Inc.