Dreampath: The Two Kingdoms
Exclusive
A thrilling new fantasy series from Boolat Games, makers of Timeless: The Forgotten Town and Dark Cases: The Blood Ruby.

The doctors have failed. Now your sister, the Queen, lies on her deathbed - you are her last hope! Rumor has it that a mystical cure exists in the faraway kingdom of Goldthorne... but no one dares to go there since the last king mysteriously vanished. Do you have the courage to face the unknown and save your sister? Find out as you soar high into a world of floating islands, talking cats, and magical dragons. But beware - sinister forces are watching you from the shadows in this exciting Hidden Object Adventure game.
Game System Requirements:
OS:

Windows XP/Windows Vista/Windows 7/Windows 8

CPU:

1.6 GHz

RAM:

1024 MB

DirectX:

9.0

Hard Drive:

748 MB
Game Manager System Requirements:
Browser:

Internet Explorer 7 or later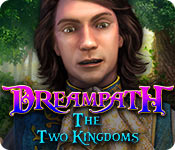 NEW299
The Big Fish Guarantee:
Quality tested and virus free.
No ads, no adware, no spyware.

Reviews at a Glance

Dreampath: The Two Kingdoms
0
out of
5 (
0
Reviews
Review
)
Customer Reviews
Dreampath: The Two Kingdoms
20
20
Such Pleasant "DREAM"s... developer on the right "-PATH"
Well, it's been quite some time since I've purchased a CE or written a review on a new game; mainly because, well.... I just haven't felt one to be worthy of either UNTIL Dreampath: The Two Kingdoms. The developers showed that one can take the creative process, true talent, and weave a magical, whimsical and enchanting story in the midst of a tried and true genre of PC games; one that will be remembered and possibly played more than once. It's not a far stretch to suggest it truly should be used as the gold standard for casual gaming [in it's category, of course]. Dreampath: The Two Kingdoms has an original and extremely imaginative plot with a simple beauty in terms of graphics & tale and a soundtrack that is understated yet at the same time gorgeous, relaxing, theme appropriate, and pleasant to listen to. The only slightly downside for me was when I noticed the animated "helper"... Personally I am one of the first to thumbs down most any "animal helper", yet this game is truly a fairytale and just as PussN Boots was appropriate for it's tale, so is our feline friend in this PC fairytale. So I truly don't see him as a negative at all in this case. SO.... PLEASE do give this one a try and don't be put off by the negative reviews.... it is appropriate, engrossingly engaging for young and old alike IMHO and SO worth the CE price. Thank you developers & BFG;I loved this one and hope we'll see more!! Enjoy & happy gaming! : )
July 14, 2014
Awesome to play with Dragon!
This was an awesome game! I loved the talking dragon and the cat too! Great graphics! Amazing!!
July 13, 2014
Really enjoyed it
The game was enjoyable and had a good length. HOS were not the dark, dank, decaying variety (yay!). Some folks don't like the cat but he didn't bother me. My one criticism is that sometimes the location of the next needed object made no sense. You just had to use the map and "go with it". I think the game could have linked them in better with just a bit more thought.
August 13, 2014
Great game & storlyine was perfect
I have to say that this game was a delight to play. The storyline went very well with this game. I look forward to seeing another follow up to this one. The graphics was nicely done and the game play was worth my purchasing the game.
July 15, 2014
Fun
Fun & challenging. Great storyline, loved the characters especially Muir.
July 17, 2014
Wonderful Game
I just finished playing the SE version of this game and loved every minute of it. From start to finish it is one of the best games I have played. Kudos to the creators. Definitely recommend buying this game.
July 20, 2014
Thought I was going to hate it. What a surprise!
A really hopeful game with excellent characters and a great story! It never let me down. All in all, it's probably the best game I've bought in months.
July 19, 2014
A Princess, a golden dragon and a kingdom in despair.
Based on both the CE and SE versions of the game. Can the kingdom of Silverstar be saved? Storyline: The King had an amulet and wondered what he was to do with it. He was told to put the amulet it in the altar and all the riches of the temple would be his. Greedily, the King did as he was told, never questioning who said it or why. Suddenly, the king was overcome by evil magic - his crown tumbled to the ground - he fell to the floor, now a dragon. The cloaked demon tells him he didn't deserve the crown and the kingdom was no longer in his control. Meanwhile, your sister, Queen Mellisandra, is dying and Lucius, the Castle physician, cannot save her. The only thing that can help her is far, far away and to get there, you must go and speak to the Golden Dragon who knows where the Elixir of Life is kept hidden. So, as you look into the mirror, Lucius transports you through the portal into another strange world. Graphics: Amazing HD quality. Bright, excellent viewing. Even in the HOGs. I almost wanted to stop and just look around for a moment. It was truly a beautiful place you/Prncess were transported to. Sound: Voices were very clear and understandable. Background music didn't drive me crazy. Sound effects were great. You are advised at the beginning of the game that it is best played with the sound on. I agree. The music is stunningly beautiful. Game Play: You, the Princess, have now entered into a strange, new, beautiful world to search for the Golden Dragon and hope he will help you find the Elixir of Life for your sister. It's all up to you to save not only your sister, but the entire Kingdom of Silverstar. Are you up to the task? You are not alone, as you have rescued a talking cat named Muir, who not only gets into tight spaces you can't, but also recounts the tale of the missing King. HOGs: Many and quite easy to find the items. I had no problems. Mini Games: Unfortunately, the instructions given in the mini games are vague and you have to figure out what to do and how to do it. For instance: untangle the knots to let the cat out. Sounds easy, but do you remove the knots from the topmost down? Do you swap knots? Do they all get removed or just moved out of the way? Otherwise, a majority of the mini games I played bordered on relatively easy to mediocre. There are 3 levels of difficulty - casual, normal and expert. You are armed with the customary journal which keeps excellent notes and clues, a transportable map (which I used and which was more handy than the hint button), a hint button that recharges fairly quickly and a tutorial you can turn off if you choose. The transportable map shows where you are, where an active quest is still open (and it will show several so keep your wits about you) and where an area has been completed. This Glam-ma found the game to be intriguing and mysterious. After finally finding the Golden Dragon, the demo came to an end and I was horrified - "NO!" So, obviously, I immediately purchased the CE version of the game so I could continue on. You ARE the game. You WANT to save your sister and find the Elixir of Life. I thoroughly enjoyed this game and can't wait to get back to it. I highly recommend this game for everyone. Please try it - I am sure you will love it at least half as much as I do. You get an amazing 90 minutes of demo time and it's all free (the demo is). Happy Gaming!
July 13, 2014
Dreampath is a dream game!
Loved this game. Wish I had bought the CE, this ended and I still wanted more, which isn't usually the case. Great attention to details, made me smile many times while playing. Hope to see more like this one. Something going on all the time. Exceptional.
July 14, 2014
Silver And Gold
Once upon a time there were two dragons who lived peacefully together in a world that only knew harmony and happiness because the dragons knew the secret of the Elixir of Life. Out of the abyss of darkness, the Onyx dragon arose to spread darkness, pain and suffering upon the people, unable to create, only destroy. The Gold and Silver dragons rose to defeat the Onyx dragon, he was far too powerful to destroy so the Gold and Silver dragons built a prison to contain the evil dragon in chains for eternity. Unfortunately the two dragon's life force was nearly depleted during this epic battle, not even the Elixir of Life could restore their immortality. The Silver and Gold dragons transformed themselves into humans and created two Dynasty's, The Golden King of Goldthorn, and the Silver Queen of of Silverstar, each would hold a key to the Onyx dragons chains. This responsibility would forever be passed down from your ancestors, generation after generation, to protect the keys and contain the evil dragon for eternity! Now you must travel to Goldthorn in search of the Elixir to save your dying sister, the Silver Queen. This is a very beautiful fantasy themed game with a creative storyline, detailed graphics and challenging tasks available. Shortly after arriving at Goldthorn, you realize you aren't a welcomed guest, a sinister cloaked figure has been trying to sabotage your every move. You will rescue the tower servant, an intelligent well spoken cat named Muir who will assist you in this quest to rescue your sister anyway he can. Muir happens to be an excellent storyteller and begins to educate you with this elaborate story of how the two Dynasties came to be, and hopefully you can find out what happened to the last Gold King who mysteriously vanished without a trace! The Hidden Object Scenes are beautifully drawn, and a mixture of interactive list finds, finding items that match the silhouetted shapes and even finding multiples of, such as finding 15 insects, and some of those insects need caught, some need to be uncovered etc. The mini games are really fun, some are puzzles that I haven't seen before! There are simple games such as guiding a golden ball through a labyrinth using directional arrows to turn the entire board either left or right as you guide the ball through the maze to the opening slot at the end. Other games were more complex, two of my personal favorites were placing circle tokens, some small some large, some have straight line "arms" with the goal of placing them correctly so that all circles are filled and the indentions on the circles fit snuggly into the arms making a complete honeycomb pattern. The puzzle I thought was the most entertaining was using a dragon claw to grab horizontal and vertical pillars, using directional arrows to guide the claw to be able to grab and remove only the necessary pillars to expose the crown at the bottom. You only get 15 moves, therefore you can't remove all of the pillars, just the ones blocking the crown and it is necessary to remove the pillars that are blocking the claw from reaching the pillar below the top one. The Collectors Edition has 30 silver and 30 gold coins hidden throughout the game, which will be used to equip Muir's cat room with luxury items. There are also many achievements to earn, concept art, videos, music, posters, replayable mini games, a built in strategy guide, a bonus chapter and a media room which actually has several categories within that section. Either edition is an excellent choice, nothing seems off with the absence of the extras and the game is fairly logical therefore you will be able to figure out most of the game and puzzles without referring to the SG. In any case the hint system is excellent and will show you the picture of the location with an active area and ask if you want to teleport, enjoy!
July 13, 2014
The Apple logo is a trademark of Apple Computer, Inc.