The House on Usher
The quirky Angie Dee, a rookie real estate agent, has been sent to sell her first home. The property is a split level home on Usher Street. Unfortunately, the property was abandoned by its owners in the 1970s and the agent must find out why before a contract can be signed. Help Angie explore the house, solve puzzles, and clean up bugs and cobwebs to discover the mysterious secret about the property. Inspired by Edgar Allan Poe, The House on Usher is a light-hearted hidden object adventure that will keep you giggling all the way to the climatic ending.
Learn about the characters and culture of 1970s suburbia
Change difficulty modes to suit your play style
Find out what's haunting this suburban ranch house
Game System Requirements:
OS:

Windows XP/Windows Vista/Windows 7/Windows 8

CPU:

1.6 GHz

RAM:

2048 MB

DirectX:

9.0

Hard Drive:

232 MB
Game Manager System Requirements:
Browser:

Internet Explorer 7 or later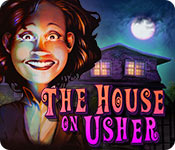 NEW299
The Big Fish Guarantee:
Quality tested and virus free.
No ads, no adware, no spyware.

Reviews at a Glance

The House on Usher
0
out of
5 (
0
Reviews
Review
)
Customer Reviews
Nice game
Rare time that I disagree with the majority. I like this game and find it a nice change from the dark games usually offered. The items are small, but so far I've found everything but one cleaning item on the garage tool board. I've been through the downstairs and the upstairs bedroom and bathroom and haven't had any glitches or problems figuring out what to do.
July 15, 2014
Creative first effort.
Swimming against the tide here I suppose. I found this game quite a refreshing change from the mind numbingly simple H0S that the genre has devolved into. The clues were imaginative and humorous. The story line was light and off center with clues subtly given. I do agree that some lighter scenes were needed a few times. And being able to move directionally would have been preferable to clicking an arrow. Some of the insects were beyond me to find but that is part of what made this enjoyable to me...the challenge. Something that doesn't occur with much frequency anymore. The game was short and I did find the ending a tad abrupt. But that being said... Kudos to the devs for attempting something fresh. Good first try!! I look forward to the next offering. Try before you buy.
July 17, 2014
From buggy and cobweb-ed to very playable
This review is for the new Updated version that is much more playable. Reviewers were correct. When I first bought this game it was full of bugs and spiderwebs (for game play too). Items were near impossible to find and it was creepy dark. The game got a small makeover and is quite fun to play now. You play a realtor touring a home for evaluation, getting it ready for selling. Rather than your standard dilapidated house that gets repairs in order to get it sold, you only need to clean it from bugs and webs etc. This is only a minor part in the game. The real task is to find/earn objects by various means, for which to use in your moving along, advancing to other sections of the home. Too, you must uncover the underlying reason for strange eerie things happening throughout the residence. Pretty straightforward. The game is just a tad short, but first time through you will need to find out what each collected item is used for. I will play it again.
August 13, 2014
Not the Usual !
Breath of fresh air ... a little bit of everything and good enough to keep my interest for more than a few minutes!!!
July 14, 2014
Don't Give Up On This Game Too Soon
I barely made it through the first tutorial (still got a tutorial in hard mode) on the first scene. How dreadful and archaic is this game? But I kept playing, just to be fair, getting to know the mechanics of the game. What I discovered was a game with a bit of a challenge and some interesting concepts, so don't give up on the game too quickly, you may be surprised as well. You play the newest realtor, Angie Dee, and your boss, Homer Echers, has given you a practically condemned house to sell. You must rid the house of bugs and cobwebs as you search the house for useful items. Each scene will have an icon with a duster at the top of your screen which indicates the number of cobwebs and spiders that need removed. There are items to clean in the Hidden Object Scenes as well. Each item you clean, makes the value of the house rise as shown on the top right of the screen. There are inventory items to pick up and when you come to an area that requires the use of that inventory item, you need to click and drag the item to the scene rather than the normal click on inventory item click on correct scene. When you come across mirrors, you need to assess your feelings and give yourself a pep talk, and clean away bugs and cobwebs. I will admit that I cannot find the last item to clean on the mirror to save my life. The Hidden Object Scenes aren't very well done, some of the items are very difficult to find, the scenes tend to be blurry and many items are difficult to recognize. There are more than one item of what you are looking for, such as a glass of warm milk, even though a glass of milk is clearly sitting in the middle of the scene, it is actually the one on the window sill you need. I considered these HOS as a challenge, also items you find will first turn yellow and won't disappear until the next item is found. There are mini games as well such as trying to figure out the answer to a question given. There are blank boxes that require you to drag available letters from a box, onto the blank spaces, if the letter turns red, it's correct. I'm sure you won't be thrilled with the graphics, the story is cute and the game does have entertainment value. I have to wonder why this game wasn't released as a Halloween game, which would have been a perfect fit. It starts out very weak, but it's not meant to rub elbows with the big boys. Give this game a chance and challenge yourself to find those eency weency spiders and webs, enjoy!
July 14, 2014
Quirky Fun ...
Graphics & Sounds Are From The 80/90's ... With Cheesy Voice Bits ... Lots To Do, But Messy Game Play ... You Need A Really Big Screen To See Many Of The Items You Need To Find ... One Or Two Nice Ideas, So Worth A Voucher For A Bit Of Fun ...
August 3, 2014
For Sale: House on Usher - Price: Your Eyesight
I felt compelled to review this game because I have been disappointed with the level of challenge lately provided by the average game. To be sure, this game provides a challenge - unfortunately it is to your eyes, not your brain. There is some thought required to decipher the names of some of the objects, but mostly it is reminiscent of artwork of five years ago - drab, blurry and flat. Too bad, because the game itself was interesting and kind of fun once you get into the spirit of it. I could do without the pink and flowery cell phone, but the concept of fixing up a dilapidated house, ceilings collapsing around you, finding unexpected things everywhere, with a demanding boss constantly hassling you and expecting miracles was fairly amusing. With some determination, I managed to find all the cobwebs and bugs in all but one scene during the trial time (yes, I played to the end - do I get a prize for that? ). All the while I felt I was playing something someone found in an old house on Usher and decided to release. Send this one back to the development team to fix up. I'll pass on the House, and keep my eyesight.
July 14, 2014
House on Usher Is Stuck In A Time Warp
The House on Usher could have been a fantastic game. Its seriously quirky. You play a real estate agent trying to sell a house that is stuck in 70's decor. You have to clean the property up by finding bugs and cobwebs interspersed with hidden object hunts. Whether it was intentional or not, the game irritated me from the get-go. It only has two game level choices, easy or hard. I played on the hard level and it only made me wonder what the easy level was like, as a kid could play the hard level. It forces a tutorial on you that keeps popping up as well as "phone calls" from your broker. You earn extra money if you find all the bugs and cobwebs in scenes, but it gets confusing as they are also in with the hidden objects. There is a counter in the upper left telling you how many items are. A lot of the bugs and webs are very very light colored and very tiny. Also, you have to drag whatever item you want to use, you can't just click on it. You have to manually click on the inventory tab as well. I expect more out of a game than old school at this point in time and this one is lacking.
July 14, 2014
I am officially stuck!
Everything that every other gamer says about this game is entirely true! I am continuing play because I HAVE to see how it ends. The game itself is hard, the objects, bugs, cobwebs are hard to see at times. Also, the hint button really isn't much help either. I am at the point of a maze and I have no clue at all, what I am supposed to do. I will look for some type of help online but, you really shouldn't have to do that. If you're up for something time consuming and frustrating, this is the game for you!
July 15, 2014
TOO HARD!
BASED ON DEMO At first, the game gives a good impression. It?s basic, but the graphics are dark but good. The sound effects and music are appropriate. The dialogue is amusing and easily understood (also skippable). But this iHOG, and it really is about the Hidden Object scenes, I never even found a puzzle before I had to give up playing, is just a bit too weird. Pity, it has some nifty ideas. I really like the story for instance. As a new real estate agent, you are given the most tedious assignment! Spruce up this suburban deserted house and find out what drove the previous inhabitants to leave so abruptly that most of their stuff is still here, lying in HOP junk piles *giggle*. And I love the 60s feel of the place (or is it 70s?). I don?t like that we have to drag the inventory item to where it must be used, and that the inventory bar is not lockable. However, I also like finding cobwebs and bugs in every location. We are here, after all, to clean up a deserted house for property inspections! So, in each location, close up shot and window, there is an indication of how many of these creepies there are and how many you?ve found. Although you know how many there are in a location, there is no hint for this element of the game. But even after completing a HOP, you can return to it to find remaining bugs. This is a fun idea. But having to exit using the back arrow, which is in the top left, from everything, HOP scene, locations, everything. That is not a fun idea. It?s just irritating. About the HOPs. They are not only TOO HARD!!!, but weird as well. The graphics are quite dark, and seeing items is difficult. But worse, they are often very small, and very well integrated into the scene. The scenes are ?busy?, and a small pink gun-like silhouette gets pretty much rendered invisible in a splotch of pink paint. As well, when you find an item, the word on the list is heightened with yellow, until the next item you find, when it will become shaded. Why this is so totally escapes me. I can see no point to it whatsoever. I never did get to a puzzle. Or very far into the game, in the 30 minutes I gave it a shot. It is too hard for me, I admit it. For HOPA (as opposed to iHOG) fans, this game does not have much to offer. It is almost exclusively very hard HOP scenes, and not much of anything else. But it is quirky, and cheeky, and if you are really, really good at HOPs, you might find this an interesting challenge.
July 14, 2014