The Other Side: Tower of Souls
A little sibling rivalry can be healthy - except when the fate of the world hangs in the balance!

Beatrice and Lily might look like any other pair of sisters, but they have a dark secret. Hidden from human eyes is a magic tower that contains a portal to the Other Side. One sister wants to open the gateway to gain knowledge and power, regardless of the consequences; the other sister wants to stop her. But which one is good and which one is evil?

Step into the shoes of a detective who must decide which sister will win in the end. Can you resolve a family squabble before the gates to the realm of the dead swing open and horrors beyond imagination pour into this world?
Captivating story of magic and suspense
Stunning artwork, story scenes, and music
Simple and fun puzzles and mini-games
Clever and original hidden object hunts
A learn-as-you-play tutorial
Game System Requirements:
OS:

Windows XP/Windows Vista/Windows 7/Windows 8

CPU:

1.6 GHz

RAM:

1024 MB

DirectX:

9.0

Hard Drive:

746 MB
Game Manager System Requirements:
Browser:

Internet Explorer 7 or later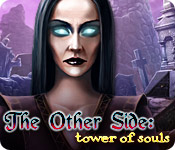 NEW299
The Big Fish Guarantee:
Quality tested and virus free.
No ads, no adware, no spyware.

Reviews at a Glance

The Other Side: Tower of Souls
0
out of
5 (
0
Reviews
Review
)
Customer Reviews
The Other Side: Tower of Souls
45
45
So. Much. Fun.
If you enjoy parody and satire (and a little bit of snark), you will love this game. It pokes fun at not only other games of the same genre, but also at itself. For instance, when you find an axe head stuck in a log, your helpful guide, Boris the cat, tells you that's just how things always go in these situations; you can't use the axe until you find a handle. Others have described the plot very well, so I won't go into that, but I really enjoyed the quirky mini games, the interactive HOG scenes and that things you need can be found and used fairly quickly; there isn't a lot of backtracking (and in some cases, you can't go back in any event). This game is just plain FUN. I love the many humorous touches throughout; such as the homage to Grumpy Cat (which made me laugh out loud) and the fact that Lily the ghost/witch looks exactly like Mila Kunis (who is known for playing a witch herself)! Those who gave up early because of the "hand-holding" cat should give this game another chance. He's only annoying for the first few minutes; after that, he only shows up if you keep clicking on an area or object you're not sure what to do with. Highly, highly recommend. This SE game is head and shoulders above most of the CE games I've played in the past few weeks and I look forward to more from these developers.
July 24, 2014
REVIEW OF COMPLETED GAME
The game of the year hands down! I have not had this much fun in yonks. The graphics are out of this world. The game play is flawless. The atmosphere is intriguing and the quirkiness of the whole thing is a delight. Boris is a hoot - funny, sarcastic and adorable. Even the music is great. The iHOS are the best ever - everyone of them a pleasure to do and never once spotted one with a feeling of dread, just eager anticipation. The puzzles are lucid and completely doable and if one has patience, they can all be completed by everyone. The cut scenes are perfectly synchronized, short and able to be clicked through at any speed. Apparently, there is a map somewhere, probably in the journal, but I had no need of it. The navigation is such a perfect example of how games should flow from location to location, seamlessly, so backtracking and revisiting are a doddle. Wide screen. Achievements. Collectibles. A shop to spend coins in. Did it at an average speed and it took me 4.5 hrs. Not sure which of the 2 devs gets the credit for this excellent work, so just saying congrats to both, on an amazingly creative, original and innovative game. I would have been more than happy to have this as a CE. In my opinion, it is far and away better than CE quality. Not just because the CEs lately have been under par, but more because it's quality on all levels is so high. I did not even buy Thursday's CE, it was so bad, and I never pass them up. And all this ladies and gents for SE price, plus 65% off. Outstanding!!!
July 16, 2014
Excellent game
I found the HOGs a challenge, missed about twenty cat's paws. gonna go back again and get them all! Plus I'll choose the alternate end. Really liked this one, enough to play again.
July 24, 2014
Very enjoyable, funny and different!
BASED ON THE DEMO This one starts out like a lot of other HOPA game storylines, but just wait, it gets really different really quickly. I won't spoil, but just give it a chance to get going and you'll be hooked. The game doesn't take itself very seriously and is full of humour, from item descriptions to the dialogues. There is a Cheshire-cat style cat to help you, and he is very amusing and will actually be useful. The HO scenes are interactive lists, and the interactions are very innovative and fun to play. There are fewer puzzles than HO scenes, but they are also entertaining, if a bit easy. The only downsides I could find are the fact that you can only choose between two difficulty levels and that the gameplay is pretty easy (you will use items almost as soon as you find them). The great thing about this game is that it's an SE, but it has collectibles and the overall quality (the graphics, voice-overs and story) is on the CE level. I didn't think about a for a second, I bought it at once. You should certainly try the demo and decide for yourselves, because an innovative and entertaining game like this deserves your attention :).
July 21, 2014
FABULOUS GAME - YOU GOTTA PLAY THIS
Wow, I just loved this game. You have: * Voiceovers; * Easy and Challenge modes of play; * Journal; * Achievements Board (32 of them) * Upgrade Shop for Borus the cat; and * Find 100 cat paws. The graphics are very colourful and bright - sort of cartoony, but I loved them. I had no trouble at all finding clues and items. Sound is very good and the music played quietly in the background - wasn't loud or overpowering. There were many interactive hidden object games to play. These were easy to medium and I really enjoyed playing them. The mini-games were also a lot of fun. They were harder than I originally thought and some took me a while to do. I know you will really enjoy these. Make sure you collect all the 'paws' for Borus and then go to the shop and buy him items. The game has a quirky funny side. I burst out laughing when I saw this dark, threatening, spooky tower at the beginning, with a 'welcome mat' at the front door! I knew then that I was going to have a good time. The game took me a long time to play. I played all the HOS and mini-games without skipping, so all up about 6 hours. I managed to get most of the achievements, which made me feel good and not completely useless. So overall, a great game and definitely worth playing. You will enjoy it. There is no hand holding in the Challenge mode, so all you experts out there will be able to use your brain and not get bored. Have fun playing.
August 1, 2014
Quirky FUN !
Sometimes you just want to have FUN and Tiki's Lab delivers in the bucketful with this one. Cartoonish to the MAX with hours of wonderful inventive problem solving to get to the top of the tower. HOs are creative and the creepy stuff in them are so fun to look at it's almost hard to look at the list (interactive a lot!) The most out of the box game I've played in it seems like forever. Snarky cat makes humorous remarks.. don't miss that.. you want to read stuff cause it's fun. As others have said you get to decide who's telling the truth... now I've got to go replay it with a different ending. 5 PLUS stars from me!
July 29, 2014
Fun game from start to finish!
What a silly, goofy game - and just a lot of fun! The Other Side: Tower of Souls is full of little details and sarcastic bits that really made me slow down and just take it all in. I suggest making mistakes on purpose so you'll get yelled at and do allow the music to cause an earworm...hilarious. Others have described the game in detail and the most commonly used word has been "quirky". Yes. It is indeed "quirky" and well worth taking a slow, relaxed ride through it. I'm just about to head in and have another go-round to catch some of the details I might have missed and to see what will happen if I make different choices. Have fun with this one!
August 8, 2014
Unique
This game was fun! Some out-of-box thinking was put into the making of this game. I found The Other Side refreshingly different because I get tired of the same old mechanics. There were ho's within ho's within portraits on the walls, there were creepy and twisted things to do and figure out. There were cat paw prints to find to purchase hint recharges. My only gripe was the ambiguity within the store. Can you re-use the upgrades you purchase? Use only one at a time? But, great game! Thank you!
July 23, 2014
wonderful!!!
I feel bad for the person who quit after 10 minutes. This was hands down one of the best games I've played. It was so much fun, I liked the cat, everything was different and quirky, and I never knew what to expect next. No, it wasn't perfect, but considering all the +++++ we get, this was wonderful!
July 22, 2014
Very good game!
I really enjoy this game. Funny, ludic, original. A lot of HOG for those who like this and even if it is usely not my case, I really have fun all the way. Very good lenght and not easy.
July 22, 2014