Sea of Lies: Nemesis
Exclusive
Another intriguing whodunit brought to you by Eipix, the makers of Hidden Expedition: Smithsonian® Hope Diamond, and the successful Final Cut series...

Authorities are baffled by the death of a prominent citizen, and the Governor himself has asked you to investigate. Can you find out how these men died, how they're all connected, and most importantly, who killed them? This murderer's calling card is your nemesis in this exciting continuation of the Sea of Lies series.

In this exciting Hidden Object Puzzle Adventure game, you'll use a forensics kit to examine murder scenes and look for clues.
Game System Requirements:
OS:

Windows XP/Windows Vista/Windows 7/Windows 8

CPU:

1.6 GHz

RAM:

1024 MB

DirectX:

9.0

Hard Drive:

640 MB
Game Manager System Requirements:
Browser:

Internet Explorer 7 or later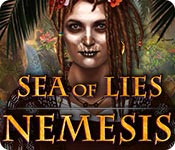 NEW299
The Big Fish Guarantee:
Quality tested and virus free.
No ads, no adware, no spyware.

Reviews at a Glance

Sea of Lies: Nemesis
0
out of
5 (
0
Reviews
Review
)
Customer Reviews
FRESH GAMEPLAY TAKEN TO THE NEXT LEVEL
SUMMARY: Fresh and unique HOS and mini-games with fantastic color palettes and artistry in the graphics. HOS are done in sections and mini-games have a new approach. Graphics are gorgeous and cutscenes are terrific. VERY VERY CREATIVE. Takes it to a new level. So wonderful to look at. OUTSTANDING: 1. Very long HOS, with a mini-HOS (silhouette) within a HOS (list-based, interactive) and move over next to the scenes for additional close-ups of HOS. Artistically created HOS so things are easy to see (but not necessarily to find). 2. Grabbing cutscenes, and not just the opening scenes. Much thought went into doing these. 3. Even puzzles have sound effects. 4. Sometimes need to open an inventory item to get new inventory items (such as open a coin purse to get the pipe ends for a mini-games). GOOD: 1. Use of animation and special effects. 2. Music is apropros for the scenes. Very lively. 3. Sound effects. 4. Four difficulties, including custom. 5. Beautiful graphics and use of color palettes. 6. Voice overs (with lip sync for those who insist on it). 7. Good ratio of mini-games and HOS. 8. Play match-3 instead of HOS.
July 18, 2014
Muder most foul - or not?
This is the second in the 'Sea of Lies' series and I think this is better than the first one. The graphics are beautiful, the voiceovers clear and natural sounding, and the HOS - again - unique. I just started the game and as a lady detective am trying to enter through the backdoor to the scene of investigation. The Nemesis has to be discovered [or uncovered] - cant wait.
July 18, 2014
Still Not Sure I Want to Sail on This Sea of Lies
You play the game again as Senorita Adams a renowned detective who has been personally selected by the governor to handle a curious murder case. The governor definitely suspects foul play but he requests your utmost discretion in dealing with the case since he doesn?t want to cause a panic in his town. Upon further investigation it seems that the governor is correct and it?s not too long before your simple case becomes much more mysterious and dangerous. I need to make a comment here about something I noticed right off the bat. I begin the game with a bit of confusion as to my marital status since Governor Vega refers to me as both senorita and madam. This is not a big deal but it indicates the lack of editing in the dialog. The graphics are okay but overall a huge disappointment for a game from this developer, and although there are lip-synced voice overs, I don?t care for the voices or the contrived accents. OMG, the overly dramatic young woman in one scene was almost too much. The fact that I had to listen to her sob in the background as I searched the area was a bit overwhelming to say the least. Wow, this may be one of my first disappointments in a game from EIPIX. In Sea of Lies Nemesis, we find that standard tools that are in every HOPA game. There is a journal that keeps track of the story and also contains our objectives. We also have an interactive, transporter type map that indicates where we have tasks to accomplish. Another tool is our evidence dusting case. As we move through the game we will come across items that need to be ?dusted? and this is where our trusty evidence kit comes in handy. There seems to be far higher ratio of HOPs to puzzles in this game than I like. That being said, the HOPs are very interactive and almost mini-puzzles in themselves. However, one of the things that I did not like about the HOPs is that some items were very difficult to find since I couldn?t determine what they should be to begin with, particularly in the HOP where items to find were displayed on gold coins. If you don?t want to or can?t locate items, you have the option switch to a colorful match 3 game. Although I didn?t encounter that many puzzles to solve in the demo, the puzzles were actually quite good and some of them a little tricky, so that is a mark on the plus side for the game. Although in the end I was left feeling that the game was a bit tedious for me, I am still giving the game a fairly high-star rating since there is quite a bit of variety in the game that many of you will find to be quite enticing given the multi-level HOPs but I found it a bit too monotonous and mechanical to be truly enjoyable. As always, I recommend that you at least try the demo to see if this is a game you will like.
July 18, 2014
Story was captivating, but game was very easy
Love this developer. Loved this game. HOS are unique and have a great variety of things to do. Puzzles are done with great artistry and even have sound effects. The story held my interest for the entire game, which is rare. Graphics were top notch. You do get to customize mode of play. You can switch to match 3 instead of the HOS scenes. The artwork was beautiful and the music was upbeat and apropos to the story. My one complaint would be that the game could have been a little more difficult. Other than that, I recommend this game without reservation. The CE DID have many extras, but the bonus chapter was not needed to have a conclusive ending. Either the CE or SE is a winner IMO
July 19, 2014
Interesting.
I might buy it at a later time. There are other games in which I'm currently interested.
July 26, 2014
Lies!
This is a fantastic game, but in my opinion, this Standard Edition fell a bit flat without all the extras available in the Collectors Edition. I really liked plundering the pirate booty! There's been a murder! The Governor has asked for your discretion investigating the murder of a prominent citizen and his personal friend, Senorita Adams, are you willing to investigate cloak and dagger style? You have a fingerprint kit available to allow you to collect prints for evidence, basically just click and dust a small area. The Governor will leave you with his assistant Sergio, but so far the only thing he does is accompany you to and fro. There several modes of difficulty to choose from and even a customizable setting. Some of the items have a plus sign indicator (unless you opted no on the settings) and those items either need other parts, or need to be combined with other inventory items. The Hidden Object Scenes are well done but almost too easy. The scenes are a mixture of interactive list finds and finding items that match a picture or silhouetted shape, and the camera usually pans over a small section at a time. There are zoomed in areas within the HOS which has more silhouetted items to find such as 4 forks, 4 spoons and 4 spatulas. There is an optional Match 3 game to choose if you don't like HOS. The mini games were pretty good, I really liked the flexible pipe game where you allowed the water to flow from the left side to the upper right side by using flexible tubes in their color and shaped matching slots. The Collectors Edition has all the bells and whistles you could ask for, collectible pirate chests full of booty, achievements, making of, pictures, movies, music, souvenir room (buy souvenirs with plundered booty) chest room (store ye plundered booty here) HO's, Match 3, puzzles, a built in strategy guide and of course a Bonus Chapter
July 18, 2014
I'll play this one again!
Decent animation, and a good story. I really liked the semi-classical music. Like others, I question the possibility of a female detective in the obviously historical setting. But most of these games are fairy tales of one sort or the other, played by women like me who like a bit of non-reality. So this sort of slippage is ok. There was not much that was wildly anachronistic enough to cause attention bobbles. And you didn?t collect objects too far in advance. The main puzzles were simple and not too many in number. There were HOS all over the place that were interactive to the extreme! I didn?t have to deal with eggs and nesting dolls, for a change. There was at least one mini-puzzle in each HOS. Silhouettes, take and use and little instruction, which worked for this game. The walkthroughs are no longer providing the circled screenshots they used to. I?m not fond of HOS, but in this game I got tired enough to play the Match 3 game only a few times. That was a good Match 3. I?d play that again! Most HOS were bright and not too cluttered. None were repeated. I?ll play this game again!
September 9, 2014
Sea of Lies Is Very E-Sea
The story, investigating the murders of several people who were first sent a Nemesis statuette, is the one thing about the game that can hold someone's interest. Each murder is accomplished by different means, and some are quite creative. The drawing style is a bit grainy looking. I can't decide whether it is a stylistic choice or just not top quality. Music...was there any? I did not notice it. Same for sound effects. Voices were inconsistent, average at best. There are several objects that are used ....um,....let's say in unusual ways. The hidden object scenes have mostly large objects, mostly easy to find, and objects are few in number. To add a tiny bit of complexity, some inventory items require additional steps before using. There is a mixture of hidden object scene types, otherwise the play would be intolerably boring. Mini-games are simple, and have very simple solutions as well. There is a Match 3 option, but your humble reviewer is not a fan of match 3. This is not a game that requires a lot of skill to play. In the CE, there are 40 collectible treasure chests, but otherwise the game does not project anything "pirate-y" - at least during the demo. In my opinion, this is a game best suited for beginner or intermediate players, or if you just love the story.
July 18, 2014
It's Old.!!!
I did review the collectors edition but that was a long time ago. I just hate the way they are doing ho's these days. I wish they would stop it. There are ho's they haven't even touch on yet. Give me the old with a touch of flare but not this way.
July 18, 2014
The Apple logo is a trademark of Apple Computer, Inc.