Witch Hunters: Full Moon Ceremony Collector's Edition
Exclusive
An old mirror reveals a terrible secret when a strange creature suddenly emerges and begins terrorizing your home. But you soon learn he's just a lackey for an even bigger threat - a group of evil witches who want to take over the world! Stopping them won't be easy, though. Your whole house has been enchanted with a series of deadly tricks and traps. A trip down the hallway is now a dangerous battle of will and wits. Can you overcome the obstacles and send the witches packing before the night is over? Find out in this thrilling Hidden Object Adventure game!

This is a special Collector's Edition release full of exclusive extras you won't find in the standard version. As a bonus, Collector's Edition purchases count toward three stamps on your Monthly Game Club Punch Card!

The Collector's Edition includes:
A bonus game from your sister's point of view
Replayable mini-games
Morphing object collectibles
Achievements
Wallpaper, soundtracks, and concept art
Game System Requirements:
OS:

Windows XP/Windows Vista/Windows 7/Windows 8

CPU:

1.4 GHz

RAM:

1024 MB

DirectX:

8.1

Hard Drive:

1375 MB
Game Manager System Requirements:
Browser:

Internet Explorer 7 or later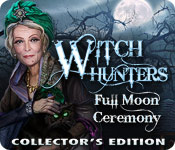 The Big Fish Guarantee:
Quality tested and virus free.
No ads, no adware, no spyware.

Reviews at a Glance

Witch Hunters: Full Moon Ceremony Collector's Edition
0
out of
5 (
0
Reviews
Review
)
Customer Reviews
Witch Hunters: Full Moon Ceremony Collector's Edition
46
46
A great way to spend a few hours
Maybe I am too new at playing these types of games, or maybe it's just because my favorite part is looking at pretty games, but I disagree with the negative reviewers. I found this game to be quite enjoyable after I decided to ignore the mini-movies. Hidden object puzzles were not too annoying and many minipuzzles were excellent. I particularly liked playing pool, Being able to just go back and play the minipuzzles is a real bonus when I like them. The artwork was beautiful. I am torn about giving this four or five stars, but to offset some of the bad reviews, I will give it five. It was not as immersive as a true 5 star game where you get sucked in and suddenly it is three in the morning, but it kept my interest. It seems that the negative reviews mostly complain of the story. Yes, the story is pretty stupid. For one thing, the beginning leads you to believe that the game will require great actions on a large scale because the heroine has to "save the world" (as is usual in these games). But actually, the game is somewhat claustrophobic--you never leave the heroine's house and yard. (How scary can these witches be if they are only hanging around one house?) And the little troll guy. I hated the little troll guy, too, just like many of the reviewers. But I am not really so much about the storyline, so I ignored him and skipped his little movies. I actually laughed when there was a Tic Tac Toe game. I ignored the morphing objects because I am more of an adventure gamer than a HOS fan. Other cons -- 1) The music was over-dramatic and too orchestral for the theme. Wooden flutes playing spooky minor scales would have been more appropriate (and probably cheaper) 2) I hated the upstairs hall. You couldn't go straight forward--you had to move the cursor to the right or the left side all the time. Annoying. 3) As usual with these types of games, sometimes you have an object that should work to do something but it doesn't, or you just had an object that would work to do something, but it disappeared, or there was something in an HOS that would have worked, but it's not in inventory. These are pet peeves of mine, though, and it's not just this game. I totally forgot there was a bonus chapter until I started writing this review. I just ran the intro and it looks beautiful, so I am going to go play it right now.
August 9, 2014
A Very Enjoyable Game ...
Great Graphics, Sound, Voice & Video Bits ... The Animation & Special Effects For The "Dream Eater" Were Very Well Done, But Other Characters Were Very Basic By Comparison ... A Very Enjoyable Game With A Good Bonus Chapter ... Great Value On Special ...
August 8, 2014
OUTSTANDING!!!!!!!!!
I've been waiting a VERY long time for a great game like this one. I love morphing objects. This game offers a level of challenge that has me biting my nails trying to figure out where to go and what to do next. The best thing is that is has NO FAIRIES....
August 5, 2014
Witches, Evil Minions, and a Ton of Fun. A Must Have Game!
In the opening cutscene of the game you receive a delivery of an antique dressing table and mirror. Unfortunately, it seems that the mirror comes with an unwelcome guest or two, one being a nasty little dwarf, who is the servant of some evil witches. Needless to say the witches? nasty little minion soon wreaks havoc upon your home and it appears that you are up to your eyebrows in a heap of trouble. It isn?t long before you learn the root of the trouble and you are off on your adventure. The graphics are actually very good but in some instances I felt they could have been sharper. One of the things I really enjoyed is the beginning cutscene that is very well done and quite entertaining. Although our witches? minion is a nasty little creature he is quite hilarious to watch. NOW, AS A WARNING FOR THOSE OF YOU WHO FEAR SNAKES, BEWARE - THERE IS A HUGE, IN YOUR FACE SNAKE EARLY IN THE GAME. The only thing that I dislike about this game is the lack of options for customizing gameplay and sound. We have only three basic modes of gameplay and two controls for sound and that?s it. Oh, there are a few controls for video as well. I guess I am spoiled because I really like the custom mode of gameplay that we see in almost all games that are released now. Another thing that threw me off was that the game opened with black bars on the side and I had to remove the check next to widescreen to actually have a full widescreen picture. I find it odd that a game doesn?t automatically open in widescreen since that is what most gamers want. As I mentioned earlier there are only two sound settings and I found myself constantly fiddling with the volume for either the music or overall sound. The game does come with the standard tools found in almost all HOPA games. The diary is located on the lower left of the screen and it contains tabs for notes, tasks and the SG. Your interactive, transporter type map is located in the same area on your screen and is accessed by clicking on the compass. The HOPs are mostly the basic list type with some minor interaction required to find some items, and unfortunately many of them are small making them difficult to find. The puzzles from this developer are always very good and are quite fun very challenging. There are 35 morphing objects to be found throughout the game and the assorted gameplay achievements to be earned. For those of you who like collectibles, sadly there are none in Full Moon Ceremony. The other extras in the CE are the standard bonus chapter, strategy guide, wallpapers, music tracks, concept art and replay of puzzles. I happen to purchase CEs because I like the in-game strategy guide that is always at-hand if it should be needed. Since I love other games by this developer, with one of them being a favorite of mine, Witch Hunters Full Moon Ceremony was an instant purchase. I have been eagerly awaiting the game?s release since playing the beta and I was so happy to find out that it was being released this week. Although I like the game it may not be your cup of tea so, as always, I recommend that you at least try the demo to see if this is a game you will like.
August 2, 2014
awesome
i played the demo in less than 20 min. but it was awesome so i will probably buy it. you have to defeat all these different witches and help the person inside a mirror. the game is awesome so you should play it.
August 17, 2014
Deserves my stars for the length and fun
Bought 2 witch games, thinking this would be my least favorite of the two this past weekend only to discover it was my favorite. After playing the demo I thought I wouldn't like this game but got it as a bogo and to my delight it was the far better game as to the length and challenge of having to figure out what to do and where to go. I am a player who prefers to not use the map unless absolutely necessary because walking thru different locations reminds me of what needs to be done there.. but in this game you don't find something and immediately use it in the next location and there were so many locations that at times I had forgotten there even WAS that location waiting for me so the map was very helpful. Standard HOs which could have been improved upon and mixed up but the gameplay after I got past the demo was excellent. Bring on more witch hunters... bring your family back together.. Great game
August 19, 2014
Witch Hunters... Love It!
This will be my next purchase! Not sure why it has low reviews. I enjoyed the demo very much. Really nice graphics, great sound effects. Those things really matter to me.
September 24, 2014
A New Moon Queen Is About To Be Chosen!
Every century a ceremony is held during a full moon (half moons are worthless) to choose the new Moon Queen. The Moon Queen brings hope and light to the world, but that wouldn't be a very interesting story, so if the ceremony doesn't take place, despair and darkness will rule the world, now that's a story! A group of evil witches will do anything to stop this ceremony and are wreaking havoc in your house. The evil witches have sent an annoying little goblin to your house to destroy your Aunt Isabella's antique mirror, he seems to be having a goblin of a time breaking things, freezing entire rooms, turning sticks into giant snakes and has used the power of the moon to cause thorny roots to bust through your house, he's just not a nice goblin. Turns out that you have a pure heart (what's considered an unpure heart btw?) and the worlds counting on you to defeat the evil witches and save the world! There are 35 MORPHING OBJECTS which just so happens to be my favorite feature in a game, in fact I rarely purchase a game that doesn't have morphs. The morphs are done well, they really did a nice job making the morphs discrete not obvious and some are very small such as a beetle! SPARKLES, I was a wee bit disappointed that in the advanced mode, there were still sparkles or glints, not as often but still annoyingly there all the same. There are a lot of ACHIEVEMENTS, there may even be an achievement for writing a review lol. The MUSIC was appropriate for the genre of game, but I had to turn the music down twice because it started to get overbearing and was making it hard to concentrate, but in all fairness it could have been just one particular track. The GRAPHICS are very well done, in fact some of the animation was incredible, water forms on the ceiling and becomes an upside down puddle which then forms a giant droplet that falls, splatters and out pops the evil goblin, nicely done! The HIDDEN OBJECT SCENES are well blended piles of random items, they all seem to be interactive list finds, at least in the 90 minute demo. A couple of the items were small and unrecognizable, particularly the mouse in the first HOS, and one of the scenes had a gladstone bag listed which I personally have never heard of so I just clicked on anything that was a bag until I found it. The MINI GAMES are simple puzzles, nothing too elaborate, rotating discs to complete a picture or choosing which triangular piece to click that would light up the symbols on all three sides of the main triangle that matches the three symbols shown to the left. This Collectors Edition has WALLPAPERS, CONCEPT ART, MUSIC, PUZZLES, a STRATEGY GUIDE, and of course a BONUS CHAPTER which shows your sisters perspective. This isn't really a scary game, even the main character (aka you) isn't afraid of the witches or the goblin, and at times I found the game comical, I just wanted to hug that little ole gremlin and give him a cookie. It really is an entertaining game with lot's of inventory items to find and use, there are very appealing scenes, indoor and outdoor, modern to medieval which kept up my interest and probably yours as well, enjoy!
August 2, 2014
good game .....could be a great one if only..............
The developer is a new one for me and I enjoy finding new sources for my gaming pleasure. We find ourselves in a situation wherein the player must defeat a coven of witches in order to save the world. Nothing new here. Frequently we face a gremlin like creature who does nothing but confound and change the scenery in and around the house since it is obviously a minion of the witches. I really like this little dude as he is among the better bad guy assistants in quite a while. From the getgo there is much travelling to and fro both inside the building and on the grounds. There is a map available to the player but for some reason I elected not to use it during the demo. Graphically the scenery is top notch and the cut scenes are very well done. The hidden object segments are better than in lots of games in that some of the items to be found are cleverly hidden " in plain sight " . Unfortunately there are lots of things to be critical of in the demo. One of the first thing we need to do is unlock a door by using a newspaper under said door and pushing the key out with an item. How many times must games employ this trite and hackneyed ploy? There is a dresser in the bedroom and one drawer is boarded up. We do obtain in inventory a crowbar however we must get a bottle of termites instead to remove the obstacle. Am I nitpicking? Probably but these types of maneuvers are a bit insulting to one's intelligence. At another point a lion head lock of some sort needs to be realigned. We have seen these circle puzzles many times. What I didn't like in this one was having the solution to each segment outlined once the circle was properly rotated. Don't make it child's play when the game is not geared to a younger set. I don't know how many witches need to be defeated and the demo ends when one with Medusa snake hair is dispatched. Overall I like the feel of the game and will more than likely add it to my collection. I found nothing in it to warrant the higher cost CE version. I am encouraged in the fact a new developer has issued an apparently solid game. I hope the game maker refines its act in the future and avoid the old hat techniques we see over and over again. This is a solid game, much better than most in recent months but it could have been terrific if only........................
August 2, 2014
A GOOD GAME
this is a good game with great artwork and editorial concept ... i wasn't crazy about the HOs where many of the items were so disproportionately small they were hard to find, and not interactive ... also, some of the continuity in game play was a little frustrating ... finding the tools you need to move on was really back and forth, i mean into the future of the game and then back to the beginning ... could've been better ... lots of locations, but not a lot of travelling, which i prefer ... but still it's a good game ...
August 2, 2014
The Apple logo is a trademark of Apple Computer, Inc.