Mayan Prophecies: Blood Moon Collector's Edition
Exclusive
From EleFun Games, creators of the Fear for Sale and Witches' Legacy series, comes a brand-new Mayan prophecy to uncover!

Wild jaguars are running loose down the streets of a coastal South American town, but this is no act of nature - a hooded man is transforming people into jaguars and controlling them! U.S. Coast Guard Officers Alexis and Gregory are on the case, but they're up against a mighty foe. A young Mayan priestess claims that the Jaguar God is behind the attacks, continuing a war with the Moon Goddess that has raged for centuries. You'll need all your skills to save the world from erupting into chaos in this thrilling Hidden Object Puzzle Adventure game.

This is a special Collector's Edition release full of exclusive extras you won't find in the standard version. As a bonus, Collector's Edition purchases count toward three stamps on your Monthly Game Club Punch Card!

The Collector's Edition includes:
Explore a world of forgotten gods in the bonus game!
Horoscopes from the ancient Mayans
Hidden birds and morphing objects to find
An available Strategy Guide
Game System Requirements:
OS:

Windows XP/Windows Vista/Windows 7/Windows 8

CPU:

1.6 GHz

RAM:

1024 MB

DirectX:

8.0

Hard Drive:

1414 MB
Game Manager System Requirements:
Browser:

Internet Explorer 7 or later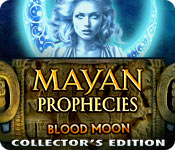 The Big Fish Guarantee:
Quality tested and virus free.
No ads, no adware, no spyware.

Reviews at a Glance

Mayan Prophecies: Blood Moon Collector's Edition
0
out of
5 (
0
Reviews
Review
)
Customer Reviews
Mayan Prophecies: Blood Moon Collector's Edition
48
48
Jaguars, jaguars, everywhere!
I was really starting to enjoy this game when the demo ended after 60 minutes. Now that there are 90 minute demos, it was a bit disappointing not to see more of the game. This is the third in the Mayan series, which is summarized in the beginning. Three characters are carry-overs. You play Alexis Dean, partnered with Gregory, still after Fernando Gomez who has escaped twice already from your custody. Anyway, Gomez has the blade that captured Xalan, the God of the Jaguars. He has been turning humans into jaguars with a potion, which he does to poor Gregory. Gregory now becomes your animal helper to get into high places and dig or whatever. The HOS are a bit hard, but you can play Mahjong instead. They are lists or silhouettes, but as you find each item you uncover a piece to a lock or a box that holds your final item. The mini-games are fairly easy, as they are not unique. The graphics are nice and bright, the voice-overs good. One of my favorite scenes is that of a manatee caught in a net -- quite a realistic occurrence down here in Florida! You have 36 morphing objects to find, plus 25 totems that turn into birds when you click on them. The jump map is a good one, with activities marked in casual mode. There are four modes, including custom. While it doesn't have all the CE bling other developers provide, this is a good story that is easy to follow. Try it and see.
August 7, 2014
Who was that Jaguar?
I love this game...you and your co-coast guard officer Gregory are trying to stop the Jaguar God from taking over the world with their evil plan. Even though a hooded figure turns Gregory into a jaguar, he continues to help you throughout the game. There is a jump map which helps with the foot work, It also tells you where your next action is, but it doesn't tell you whether you found the morphs and totems or not, so I do wish they had included that. There are a variety of things to do in this game. so you never get sick of any one action. Hidden object scenes even have a variety in them such as putting objects in the correct location, list search, silhouette search, or you can switch to a game of mahjong. There is also a variety of puzzle games like using a lock pick, a checkers type game, placing tiles into the correct order. There are morphing objects to find and totems which once found gives you a bird. The collectors edition has 9 wallpapers, 9 concept art, 3 screensavers, a mayan horoscope (which I have no idea what it does), a bonus chapter, and of course the strategy guide. The only annoying thing I found was in the beginning of the game there is a man knocking on the door continually while your trying to figure what to do next, but other than that all was very nice. Most the music is quiet noises and music, there were a couple that were kind of loud, but I didn't find them annoying at all. Visuals and sound were great! It's a buy for me! Good job Elfin Games!!!
August 7, 2014
Who's the One? Ele-Fun! Five Plus Stars!
Five plus stars for the 3rd and even more exciting Mayan Prophecies sequel. All the beautifully rendered, crisp scenes and adventure of an Indiana Jones movie. Achievements, morphing objects, all the right stuff in a top quality game and since I love mahjong, having the option to switch from a hidden object is all the more reason I will make this purchase. Great job, Ele-Fun and thank you for an awesome game! BTW, thanks also to BFG. I was getting a bit skeptical that all the so-called free to play games would push out these truly exquisite games such as Mayan Prophecies of which I so look forward to playing! Enjoy! -Mama Mia-
August 7, 2014
Mayan Prophecies is Back and Better Than Ever!!
In Mayan Prophecies Blood Moon Alexis and her partner Gregory are back and once again in a cat (although it is a big one this time) and mouse chase with their nemesis Gomez. At the end of the last game they had re-captured Gomez but the tricky devil managed to slip away. Now, two years later, Gomez is back and up to his old tricks, this time with the aid of a powerful Mayan artifact ? a sacred dagger. What will it take for you and Gregory to finally put a stop to Gomez?s reign of terror? We are in for a great ride and lots of adventure in Mayan Prophecies Blood Moon as we try to put a stop to Gomez?s evil antics. The graphics are good and reminiscent of the graphics in the first Mayan Prophecies game but, unfortunately, the overuse of a worn out color palette in fantasy type games is becoming a bit tiresome. Aside from all the pink, purple, and blue (again) over wash in many scenes the graphics in general are very good but it is my humble opinion that they could have been a bit sharper. I don?t have a lot to say about the sound package except to note that the voice overs were very good. We have the standard HOPA tools a diary and a map that is the interactive transporter type that indicates areas of interest and objectives. Early in the game you will acquire a special amulet that will allow you to make use of a unique helper. The HOPs in Mayan Prophecies are usually the interactive list type with a twist in some of the puzzles but during the demo of this game I found one where we locate objects by their silhouette. Because of the way some of the HOPs in the Mayan Prophecies games are done I really like them. If you, however, do not want to search for items in the scenes, you have the option to play a mahjong game instead. I will comment that I chose the mahjong game frequently because the HOPs seemed very crowded with just way too many items to sort through to find what I needed. The puzzles are really good and one of them in the demo had me ready to pull my hair out because I couldn?t get that dang-nabbit gem in the right place. I love the types of puzzles that this developer includes in its games because they are usually a bit more difficult than the norm. Some of you might find them easy but I found at least a bit more challenge than usual. Elefun has become one of my top favorite game developers and we can almost always count on a first-rate game from them. Back again are the little collectible hummingbirds that can be found hidden in each scene of the game. Sometimes the petite little birds are obvious to find but keep your eyes open because you never know where they might pop up. Along with the collectible hummingbirds we also have 36 morphing objects as well as 19 horoscope pieces to find. The remainder of the CE content is the standard fare with the inclusion of wallpapers, concept art, screensavers and music tracks. Of course, don?t forget the strategy guide and bonus game that round out the CE extras. When the first Mayan Prophecies Ship of Spirits was released I thought it was one of the best games of the year. I wasn?t blown away by the second game and felt that the developer missed the mark but with Blood Moon the series is back on track. Elefun is one of my favorite game developers and when they release a game, I know that I am sure to have hours of challenging fun ahead. Although Mayan Prophecies, Blood Moon was an instant purchase for me and I highly recommend the game, please at least give the demo a try to see if this is a game you will like.
August 7, 2014
And 'Off' to The Jungle We Go!
First of all this review is based on playing the 'demo' only. I knew right away that it was going to be a 'purchase' for me. Because it DIDN'T have what I have come to think of as the 'dreaded 'three P's'.....'Portals', 'Pink & Purple' scenes throughout & 'Pets'! Yes....you do acquire a leopard 'helper' but without giving the storyline away it fits right in with the game and I don't see where I have to dress him up. In fact, he comes in quite handy and really adds to the overall gameplay. The graphics, so far, are bright and seem to be very in keeping with the Mayan period. I really like the interactive HO scenes.....rather than just the 'same old' lists and you do have the option of playing Mahjong instead if you wish. The puzzles are fun...not too easy, not too hard and also fit in with the storyline. We have our 'morphing' objects and Totem poles that turn into little birds when you touch them with your cursor. But and this is a BIG BUT for me....we seem to have a good story going here, inventory that is 'quickly' used, and a 'developer' that maybe listened to some of us customers! Thanks for bringing us this one BFG and Elefun.......much appreciated!
August 7, 2014
A savage game !
I really enjoyed playing this game,although I had not played the previous ones... the storyline is very interesting, the jaguars figures are excellent and I loved having one of them helping me... It is also interesting to be able to play mahjong instead of the HOS. Design is beautiful and I can but recommend this game !
August 7, 2014
The Best Of The Three Even With A Helper - Completed Game And Bonus
This is the third in the Mayan Prophecies series. The first is Ship of Spirits. The second is Cursed Island. I did enjoy the first. The second I didn't care for that one. I didn't even purchase it. This latest release in this series is the best and even with an animal helper. If you haven't played the first two I don't think it's necessary. This game does give a nice recap and brings you up to date. VISUAL/SOUND QUALITY: I thought the graphics just excellent and beautifully done. I also really enjoyed the cut scenes. I also loved the characters. Voices were great for me.. I had no problem with them. LEVEL OF CHALLENGE: I played Custom Mode. I appreciated the quick hint/skip charge up though I didn't use them for this game. The game play I found to be pretty linear for the most part however more into the game a little back tracking. The only thing that keeps this from being excellent is while I didn't have any sparkles indicated where the HOS where however once in a HOS there were sparkles on some things when finding pieces to complete objects. There's also still some black bar tips. Overall though challenge was still good for me. I didn't use the map or strategy guide. HOS: I came across two types: Interactive word list and silhouette. I didn't find these to be any more Sanford & Son junkyard than any other game. I quite enjoyed these with the exception of the sparkles on some pieces needed to complete an object. If you don't feel like doing HOS you can play Mahjong. I did switch between the two. I like Mahjong PUZZLES: While I'm not a fan of these I did like the way these were put into the game as they fit the theme of the game. These varied in challenge for me. Most I found easy. I didn't skip any. STORY LINE: I was so engrossed in this game right from the get go. I must say I'm SHOCKED I enjoyed this game. I went into it not expecting a whole lot especially not being into animal helpers. However this one does fit the game and the story here. That's where I have a problem with animal helpers is when they don't fit the game. This one is nice looking as I do love jaguars/leopards it's not "cutesy" and it's far from intrusive. So see I don't HATE animals. There is no feeding it, naming it, dressing it up or buying things for it. I completed the demo in 56/90 minutes. Still had 34 minutes left. I bought this immediately especially since (a smile and wink to the Big Fish here) the sale coupon still worked. This story flowed quite well for me. Main game comes to conclusion. Bonus chapter not needed. Bonus chapter is new story. Some locations from main game however a few new ones. MY PLAY TIME: And please note I said MY PLAY TIME... NOT necessary yours. 4 hours for main game. 1 hour and 30 minutes for bonus chapter. FUN FACTOR: I just had a really great time with this game even with the animal helper. While I'm no longer a fan of the extras such as achievements, etc., as it still isn't a part of my buying decision even with this game but I thought the Elefun did a great job executing these into the game. I didn't find them intrusive. Overall 5 MOONS (stars) from me. Thanks EleFun and Big Fish for a great game. CE EXTRAS: Bonus Chapter Strategy Guide (shows 2 chapters during demo) 9 Wallpapers 9 Concept Art 3 Screen Savers 11 Music 15 Achievements 25 Hummingbirds 36 Morphing Objects 19 Horoscope Pieces (Mayan Horoscope) P.S. A smile and wink to the EleFun developer here: While I didn't mind your animal helper in this game since it fit what was going on in the game I still hope they won't be added to almost every game.
August 8, 2014
Fun, at last
Too many recent games have been long on puzzle and dialog and short on hidden object. If only there were an option to switch from puzzles to mahjong, I'd love it. IN any case, lovely graphics here, with an internal logic that keeps me intrigued despite the played out story line.
August 7, 2014
MY FIRST MAYAN PROPHCIES
FOUND THIS GAME TO BE INTERESTING AND ENJOYABLE! NOW I"LL CHECK OUT THE OTHERS.
August 7, 2014
Love this game!
Graphics great ! The storyline is engrossing and kept my attention! Buy this game and you will be glad!
August 8, 2014
The Apple logo is a trademark of Apple Computer, Inc.