Mayan Prophecies: Blood Moon Collector's Edition
Exclusive
From EleFun Games, creators of the Fear for Sale and Witches' Legacy series, comes a brand-new Mayan prophecy to uncover!

Wild jaguars are running loose down the streets of a coastal South American town, but this is no act of nature - a hooded man is transforming people into jaguars and controlling them! U.S. Coast Guard Officers Alexis and Gregory are on the case, but they're up against a mighty foe. A young Mayan priestess claims that the Jaguar God is behind the attacks, continuing a war with the Moon Goddess that has raged for centuries. You'll need all your skills to save the world from erupting into chaos in this thrilling Hidden Object Puzzle Adventure game.

This is a special Collector's Edition release full of exclusive extras you won't find in the standard version. As a bonus, Collector's Edition purchases count toward three stamps on your Monthly Game Club Punch Card!

The Collector's Edition includes:
Explore a world of forgotten gods in the bonus game!
Horoscopes from the ancient Mayans
Hidden birds and morphing objects to find
An available Strategy Guide
Game System Requirements:
OS:

Windows XP/Windows Vista/Windows 7/Windows 8

CPU:

1.6 GHz

RAM:

1024 MB

DirectX:

8.0

Hard Drive:

1414 MB
Game Manager System Requirements:
Browser:

Internet Explorer 7 or later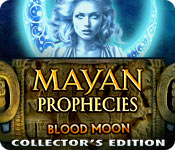 The Big Fish Guarantee:
Quality tested and virus free.
No ads, no adware, no spyware.

Reviews at a Glance

Mayan Prophecies: Blood Moon Collector's Edition
0
out of
5 (
0
Reviews
Review
)
Customer Reviews
Mayan Prophecies: Blood Moon Collector's Edition
46
46
Not bad
The graphics are fairly sharp for the most part although there was a little graininess in a few spots. The colors are vibrant without being overly saturated. I thought the game looked pretty. The music is unobtrusive and the few crescendos were appropriate to the action. The voice overs aren't going to win any awards but they weren't annoying either. Game play is smooth and I experienced no difficulty with the UI. The storyline is a typical one where an evil guy is doing evil magical things and only our character can save the day. It is presented complete with the usual hapless male sidekick who needs saving. A little less typically he actually proves to be useful as he has been turned into your animal helper. Scenes with him were fun to watch because the leopard animation is so well done. The HOS were fairly few in number and generally contained several interactive components. They were all pretty easy. The puzzles varied in type and, with the exception of one, were fairly easy to accomplish without being complete child's play. The adventure component was pretty straightforward although at times it felt a little contrived. For example, Gregory is locked in a cage that needs a leopard key to open and you happen to find that exact key while diving underwater. How did the key come to be there? The story doesn't explain. There are several instances like that in the trial. People who like really intricate adventure activity may be disappointed because there is rarely a moment where you really need to think much to progress. Everything you need is laid directly in your path and everything you find is used pretty much right away. Overall, this is a fairly well put together game that revisits a common HOPA plot but adds its own small twist. HOS and puzzles are present in average quantities and won't make you pull your hair out. It didn't grab my interest particularly so I can't recommend it but it was pleasant enough so I can't say it isn't worth trying the demo either.
August 7, 2014
Blood Moon
This was a rather linear game that I enjoyed playing. The HO were more interesting than the theme of the game itself. I finished the demo in half the time and I have no idea how many chapters are in the game. Probably not a buy for me right now.
August 7, 2014
A decent game but too linear
This game was too step 1, step 2 oriented. The morphing objects and the hummingbirds helped break things up making it more challenging which it needed. The scenes were so "similar" that I relied entirely on the fortunately interactive map to navigate. Having a jaguar friend help me reach things or "open" things was a little too contrived. Just make me find a ladder and a knife....more straightforward and realistic. Just not as enjoyable as the first in the serious though a little better than the second. All in all it's a game worth playing but don't expect to be blown away. It has all the requirements we put out there these days but falls short in the challenge department.
August 14, 2014
GOOD STORYLINE
this is a great concept ... but i really MISSED a more thorough and smooth interaction throughout the game ... the adventure aspect of the game ... too many HOs and they were at times tedious ... i can play mahjong but i get bored with that ... the QUIET while playing the HOs made it more un-fun ... could've done a LOT better with the music ... not that it was bad; on the contrary i liked it, but it just didn't bring the "locations" together ... and the GAMEPLAY just didn't keep moving ... the artwork is still wonderful, but technically the continuity was not a winner for me ... if you REALLY just want to play HOs with a great storyline, this is the game for you ... could've been better ...
August 8, 2014
Rerun
Once again we save the world, this time from the Jaguar God, who apparently has had this grudge on for hundreds of years. To further the meager storyline, we find children's drawings along with our clues that unfold to tell us another bit of the characters' history. The game includes the four levels of play including the custom setting, HOS that are interactive, as well as an interactive map, decent music, nice artwork, OK VOs, and mini-games. The mini-games had minimal directions - I finished one by clicking randomly. There are morphing objects as well as bird collectibles. I was astounded - not in a good way - by some of the "logic" in the game. I watered a plant to get car keys when the flower opened. I did a bit of fancy pruning when getting a figurine out of a small tree inside a house. I got a starfish off the side of a manatee. I finished the trial in half the time allowed - not that I'm that clever, but that it was that easy. I'm just not convinced I want to save the world again today!
August 9, 2014
Save your money!!!
Felt like an old game.Wish I hadn't bought wasted money. old ho's and too many. did not even play the bonus game.BORING which seems to be bf's games any more
August 8, 2014
daisychain
Liked the hidden object scenes. Overall the game was fun but quite simple. For anyone who wants a game to waste a bit of time this is the one. Where have all the challenging games gone??
August 8, 2014
mayan prophecies 3
problems not download for games and fix
August 8, 2014
Mayan do not like !!!!
Story fair. Time was cut off to play. Boring. HO'S best of the game. Not a Mayan fan at all so sorry to see after a long wait to see that wow game.
August 8, 2014
Ho Hum .... It's Off to Save the World AGAIN!
I don't even know where to begin with this review. I just want to say - awful - 'nuf said. But, I know there are people who do read these reviews and do make their decisions whether to try or buy it on what they read. So, to be fair to those individuals, I'll give it a go. Before I start to play the CE version of a game, I check out the extras, which can take about 10 minutes of so if I'm thorough. That being said, I finished this demo with 31 minutes to spare. Add the 10 minutes of poking around and you have it finished in actually 41 minutes to spare. So, how long can this game really be? Also, I take copious notes to be entered into my review. I am including this because of all the notes I took, I don't feel any are pertinent to the story. The story is too simple. Two boys find an artifact, a skull. One is jealous of the other so he hits him over the head with the skull. Skull "tells" the boy who has it to do something evil (like more evil than hitting your best friend over the head with it?). Boys grow up, one becomes the minion of an evil god, the other becomes your All-American Coast Guard good guy. Bad guy turns good guy into a jaguar. Not too hard to figure out the rest. Graphics. Sigh. I was so impressed ..... and then there it was .... the hated purples and blues and greens that are sooo pronounced they can hurt your eyes and do nothing for the scenery. Loved the jaguars, though, as I have a fondness for all wild animals (lions, cheetahs, etc.). Sound (what sound?). It occurred to me a little while into the game that there wasn't any music to speak of. A definite "hmmm" moment. Sound effects were few and far between. Mostly growling jaguars. Lip syncing vs. voice overs which is always a plus. HOGs weren't difficult to do. I did not find the items at all hard to find. They were somewhat interactive. Itemized and silhouette. Maybe it was me, but I found the mini games terribly difficult and I always play the demo on Casual to get a better feel for the game. There seemed to be little instruction given or the instructions made no sense. 4 levels of difficult - casual, hard, expert and custom. A diary which contains notes although any clues I needed ended up in my inventory so I found the diary redundant and useless. An interactive map that couldn't have been more of a hand-holder. Shows where you are and where something needs to be done. At MOST, there will be 2 open locations so it doesn't take a rocket scientist to figure out what to do and where to do it. CE Bling. Not even going to list it. Has the usual items you get in every CE game including strategy guide and bonus game, collect morphing objects and totems (which can be an actual totem or a mask, etc.) which you MUST click on and it turns into a hummingbird which flies around and you MUST click on IT (the hummingbird) to get credit for finding the totem. A Mayan Calendar but I'm not quite sure of it's value to the game. As I was playing the game, I was so disappointed because I wanted so desperately to like it, not even love it, just like it enough to want to purchase it. But, even the CE offerings aren't enough to tempt me. I could even tell you the exact moment when the demo was going to end. THAT'S pretty bad. And, I was neither surprised nor heartbroken when it did end. Obviously, this game is not a purchase for me. I would recommend it highly for beginners into the Hidden Object genre of games but for experts (I'm Intermediate), I think you should avoid it. I'm not even sure recommending it, really recommending it would allow me to sleep better at night knowing I may have led someone to waste a good hour or so of their time. Yeah, I'm just that weird. Decide on your own after what you've read. Just keep in mind that there are some reviewers who ALWAYS give top grades to EVERY game to see their name in lights, so to speak. I always skip right over their reviews because I don't think they are truly a fair assessment of the game. I mean, seriously, EVERY game a 5 star? Give me a break. Happy Gaming!
August 8, 2014
The Apple logo is a trademark of Apple Computer, Inc.