Ghosts of the Past: Bones of Meadows Town Collector's Edition
Exclusive
An exciting new series from ERS Game Studios, creators of PuppetShow, Grim Façade, and Spirits of Mystery!

The sheriff of Meadows Town has disappeared without a trace, and you've been hired as his replacement. But a recent storm has emptied the town of almost all inhabitants. The streets are boarded up and abandoned, and no one can explain the forces behind the weather... or the terrifying string of murders that has just begun. Only you and your deputy are left to piece together the mystery of mummified bodies and ghostly apparitions. Can an angry spirit really be the cause of the turmoil? Or is there something else afoot in this strangely empty town? Find out in this spooky Hidden Object Adventure game!

This is a special Collector's Edition release full of exclusive extras you won't find in the standard version. As a bonus, Collector's Edition purchases count toward three stamps on your Monthly Game Club Punch Card!

The Collector's Edition includes:
Explore the lands of the gods in the bonus chapter!
Locate and decode ancient Viking runes
Soundtrack, concept art, and wallpapers
A comprehensive Strategy Guide
Game System Requirements:
OS:

Windows XP/Windows Vista/Windows 7/Windows 8

CPU:

1.4 GHz

RAM:

1024 MB

DirectX:

9.0

Hard Drive:

914 MB
Game Manager System Requirements:
Browser:

Internet Explorer 7 or later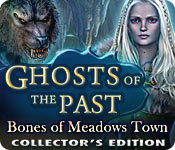 The Big Fish Guarantee:
Quality tested and virus free.
No ads, no adware, no spyware.

Reviews at a Glance

Ghosts of the Past: Bones of Meadows Town Collector's Edition
0
out of
5 (
0
Reviews
Review
)
Customer Reviews
Ghosts of the Past: Bones of Meadows Town Collector's Edition
48
48
Something old, something new, something borrowed, something blue.
Based on demo 73 minutes The bunnies have been busy again and you can tell straight away it is one of their games. A new sheriff arrives in town to solve the mystery of serial murder and disappearances. Helped by his (rather too helpful) deputy, he sets about compiling the evidence on an evidence board and pursuing his ghostly adversary. Reminded me a bit of a wedding; something old, something new, something borrowed, something blue. The old was the CE bling: * Wallpaper/Concept Art/Screen Saver/Movies/Music/Workshop * Mini games and hidden object replay * Collectibles in the shape of runes to collect (40) which are used to decode prophesies on 8 scrolls * 4 Levels of gameplay including custom I found no achievements :-(( The new was the map - a SatNav style jumpable map with 4 screens and showing location and objective/action. Also twice I received back story by listening to the radio. Borrowed... ...a mystic orb which identifies paranormal activity and collects energy which is then used to uncover a secret. Found myself quartering the screen to find glowing energy which can be tiresome. Blue: * Colours are blue/grey shades which are quite soothing Puzzles, of which there were several, were very straightforward but some new ideas which I liked. HOSs: I only came across 2. One was a find pairs and the other a replace items. The second one I found quite amusing! I had a peep at the SG for information and found: * no HOP solutions/screen shots * 3 chapters shown plus locations of runes Apart from the easiness of the puzzles and HOSs, I found it exercised my grey cells on the gameplay. It also had an almost 'tongue-in-cheek' humour which kept me smiling and added to the fun factor. The storyline is a new take, which I liked a lot. The gameplay was smooth and I downloaded and played with no issues at all. So, I will be buying this weekend. I thoroughly recommend you give it a try and hope you enjoy it as much as I did.
August 14, 2014
An Excellent New Game From My Favorite Developer
You play the game as the new sheriff of Meadows Town and you are on your way to investigate a murder and the disappearance of the former sheriff. You arrive in town just as a major storm is approaching and the area is being evacuated, so I wonder what else can go wrong. Well, the answer is quite a bit since there is the inevitable car crash and you must extricate yourself right off the bat. The storyline turns out to be a bit intriguing although very similar to others, and of course there is the angry female spirit that we need to deal with as the story unfolds. However, there are still a few twists and turns to be found along the way. I love ERS graphics and can always identify an ERS game simply because of the graphics style and artistry. The voiceovers are very good and, yes, lip-sync is back - thank you ERS! One of the enjoyable things about Bones of Meadows Town is the tongue-in-cheek dialogue and humor in the game, which is quite funny at times. Of course the rest of the sound package is quite good with the music and ambient effects that are quite spooky at times. Rather than having a journal or diary, we have an evidence board that will help us deduce what exactly is going on and who the culprit(s) might be. There is a folder located in the evidence area that contains our objectives or tasks. We find our GPS interactive/transporter type map very early in the game. There is another familiar tool that we acquire fairly early in the game ? a device called a ?Spirit Detector? that helps locate ghostly energy that can be used to help us get rid of certain obstacles that we might encounter. The game seems to play more like an adventure/puzzle game with only two HO scenes to be found during the demo. One HO scene was a match type, while the other scene was one where you replace items. I actually wasn?t sure if it was an HOS as it was very subtle. In any event if you choose not to locate items in the HOS then there is a Tetris style puzzle available to play. Of course the puzzles that I encountered were nothing too difficult as is the current trend, which is a bit sad. In the CE version of the game you will collect runes that will be used to interpret ancient scrolls. Although the beta of the game did indicate that there were achievements to be earned, those seem to be missing from the full release. The remainder of the CE content is standard fare with all of the expected content. I always purchase the CE since I happen to like the integrated strategy guide that is included, but that is a personal choice. Well, I must admit that it didn?t take too long before I was afraid to open doors for fear of what might be lurking behind and more than once I had a bit of a scare. I admit that I am an ERS super-fan and so the game was an instant purchase for me. IMHO, this developer always a presents games that are what I personally find to be the complete package and ultimately playable. Whether or not you buy the CE, the SE or decide not to purchase at all is a personal choice, but as always, I recommend that you at least try the demo to see if this is a game you will like.
August 14, 2014
Ghosts of the Past - ERS is finally back!
I've been very dissapointed with so many of ERS latest games, but with this new release, they're finally back. A good storyline, you're the new sheriff of a haunted town, where an angry spirit kills innocent people, but are they really that innocent. Discover the truth, behind an archological dig and a missing Sheriff, who's infact always present, without beeing noticed. Love it! As always the graphics and sounds are great, and in this game the characters finally have moving lips, while talking. It's so much better than in the other ERS games. Hopefully they'll do this in every of their new releases now, like they used to a year ago. The atmosphere of the game is creepy and spooky, just like I like it and this time there are just a few animals in the game, which aren't too cute. The gameplay is the best I've seen in quite a while. Many items in inventory items, many things to remember, becktracking sometimes. All of this makes the gameplay more challenging and fun. Also fun are the HO's. There are various types of HO's in the game. Same with the puzzles, one thing I love about them is that you can play them Casual or in Hard mode. Really good. The CE comes with collectable runes, and many extras you won't find in the Standart Version. Absolutly CE worthy. I'm now finished with the main game, it took me about 4 hours to complete. The Bonus Chapter seems to be quite long too. I've played 30 minutes now and I think, there's about an hour left to play. Great! ERS I really hope you're continuing your way back to the top game developers! From me 4,7/5 stars for this game!
August 14, 2014
The Vikings are here!
I can't remember another Hidden Object game involving Vikings, so it is pretty neat to have a Viking love story as the theme of this game. You arrive in town to find the Sheriff missing and a teacher dead. With your trusty sidekick Deputy Jones you investigate and pretty soon you have 3 murders and a Viking shield maiden's spirit who steals their bodies and turns them into skeletons. And you're next! It seems Valkiris just wants to be reunited with her love Torvald, who has gone to Valhalla -- but no women allowed! You have the Evidence board that holds all your findings, a pretty good jump map that sometimes shows you where to go next, and a cool "spirit device" that lets you collect paranormal activity to get rid of an unfriendly spirit in the room. Plus you collect runes that help you decipher scrolls -- not so helpful yet but only one gets translated in the demo. The HOPs are fun -- match pairs of objects, dress a man who lost some clothes running from the spirit. The mini-games are even better -- match fingerprints, use a phone without the numbers being visitble, complete Viking magnets on the fridge. Each game and HOP ties into the story. I played the demo for 81 minutes and truly had a great time! Enjoy.
August 14, 2014
Amazing game
I can't explain very much because my english is not so good, but I am very excited that I have purchased that game now and can play it to the end.
August 14, 2014
A Great Value Game ...
Good Graphics, Sounds, Animation, Voice & Video Bits ... A Well Put Together Game, Some Really Interesting HOG Concepts And A Good Story ... Some Of The Items Were A Little Bit Odd; Or At Least What They Were To Be Used For ... So If You Get Stuck Occasionally Be Prepared To Use The Least Expected Item From Your Inventory ... Superb Value On Special, And The Bonus Chapter Is A Nice Addition To The Game ...
August 23, 2014
ERS at its best! :)
It's strange that I've just finished reviewing another game from the same developer and that one only received 1 star from me, whereas this one gets 5 stars. Such contrasting reviews shouldn't be possible, but there you go. People have already covered every aspect of the the audio, voiceovers, visuals, game-play, etc. so I won't go into that again. However, I just felt like I needed to rate this game as I think it truly deserves 5 stars. It was in my opinion among ERS's top 10 games, and truly surprised me considering its mixed reviews. It was long, challenging, interesting, and definitely CE worthy. I only have one minor complaint, and that is the same as a few others have commented on: Why would you have the game based in America when it's a well known fact that there is no ancient Viking culture there? Why not base the game in England then, as that would be a lot more accurate and make more sense to the player? Just a thought :) Anyways, if ERS made all their games to the same standard as this game, they'd be almost faultless. So I truly hope they take the players' reviews to heart and keep this up. This game is in my opinion ERS at it's best, and this is the reason we love them as much as we do :)
August 28, 2014
Look Out For Them Bones!!!
Again another winner from ERS!! Imagination with these Developers is just amazing. Story line is great, lots of action, creativity in the characters etc. I was impressed with this game because as a collectors edition it did not have a lot of distractions. Sometimes we are required to find morphing objects, collect items etc., which to me takes away from the involvement of the story and that being said to me detracts from the total enjoyment one should be experiencing. A game's superiority comes from how it captures its audience versus finding all the funky things that CE are famous for. In this game you can focus on what is happening and not worry about the number of collectables you need to find. Visuals are great, puzzles solvable without extreme frustration and creative HOS. In my opinion based solely on the demo, this game rocks!!! My one and only criticism is the silly (to me) voices that say "Yes" every time you accomplish something. This seems to be a speciality of ERS and I am befuddled as to why?? Despite that they remain a fav for me!! Two Thumbs Up, I hope you as well enjoy!
August 15, 2014
Great game, and free!
Got this game free as part of an offer, and I enjoyed it immensely. Not all of the puzzles have a reset option, which is mildly irritating, and yes, finding Vikings in the US is a bit weird, but apart from that it was great fun. There was only one puzzle that I had to skip, and that was near the end of the bonus game. Yes, you know who the bad guy is almost from the start, he's the sinister looking chap....Lots to do, an interactive map (always a plus for me) Can't understand the bad reviews, but each to their own.
September 2, 2014
Vikings and ghosts...OH MY!
A couple months ago I got a beta sneak peek of this ERS title in my email, and it just blew my mind! (in a good way). The graphics were like in many ERS games that I bought were fantastic! I especially like the map to it, It's not only jumpable, but I love the legend on it. I usually tend to veer off the more scary creepy Hidden object games, but this game just spoke to me! I can't wait for this weekend sale. A definite Pick up for me!
August 14, 2014
The Apple logo is a trademark of Apple Computer, Inc.