Reflections of Life: Tree of Dreams
Exclusive
From GrandMA Studios, creators of Whispered Secrets: The Story of Tideville and Whispered Secrets: Into the Beyond, comes an exciting new adventure series!

For 25 years, you've thought you were an orphan. But one stormy night, a mysterious man steps out of a mirror in your home and claims to be your uncle. What's more, he says your parents are still alive! The city they live in is under attack from a force that could threaten the entire world… and you're the only one who can stop it. Do you have the courage to step into the mirror and face your destiny? Find out as you journey through a series of strange and beautiful worlds in this Hidden Object Puzzle Adventure game!
Game System Requirements:
OS:

10.9/10.8/10.7/10.6

CPU:

1.0 GHz (INTEL ONLY)

RAM:

1024 MB

Hard Drive:

1208 MB
Game Manager System Requirements:
Browser:

Safari 4.0 or later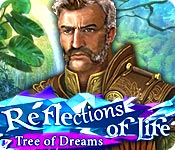 NEW299
The Big Fish Guarantee:
Quality tested and virus free.
No ads, no adware, no spyware.

Reviews at a Glance

Reflections of Life: Tree of Dreams
0
out of
5 (
0
Reviews
Review
)
Customer Reviews
Reflections of Life: Tree of Dreams
13
13
My Family's Alive????? What Alternate World?
Storyline: You are Grace, orphaned as a young child, and now that you've grown and it's time to move on from the orphanage some strange things have happened. You thought your parents were dead. You find an amulet with a note attached that says "please take care of our little girl". If that isn't shock enough, in the midst of a terrible storm, a man appears who says he's your Uncle and your entire family has been living in another dimension. Your amulet will allow you to travel through mirrors to different worlds. But, he says, the world where your family is, is dying. Evil darkness is spreading. He can say no more because ...... a monster comes out of the mirror and takes your Uncle back inside. Those monsters are being controlled by an even larger Evil. What can you do? You HAVE to find out if your parents are really alive. So, off you go through the portal that your mirror has become. In your desperation to help you find a prophecy. Are you the "forgotten child" who will save everyone? Is this YOUR destiny? Graphics: Pretty amazing. Not too dark and dreary but nothing bright and cheerful and cartoony either. The colors were a bit muted but I thing quite appropriate for the scenes. Sound: The voiceovers were great. As long as I can hear them and make out what's being said, that's a plus for me. Background music wasn't tedious and the sound effects were really good - from the windy rain storm to the owls. Game Play: There are 4 (or 5) mirrors (worlds) for you to go through. In the area where the mirrors were, I clicked on a large turtle and a dreamlike scene appeared with 5 mirrors - one had an angelic looking figure standing in front of it. They were named as follows: Lunos, Librios, Florus, Medios and Somnios. So 4 or 5? Guess we have to play the game to find out, huh? The object of the game is to go through all the mirrors and destroy the Evil that threatens to destroy the other worlds. It appears to be a long and arduous task. But, you have your Uncle's owl to help with things that are too high for you to reach - after you heal him. Don't worry - you don't have to name him or dress him or call him Cutey and he doesn't squawk, caw or speak. Silence is Golden - LOL. HOGs: Very nice to play for a change. Nothing dark and dreary. Nothing tiny and impossible to see. Yes, there were interactive items but for the most part straightforward itemized lists of items to locate. You can choose to play a match 3 game instead. Your reward, of course, is an inventory item. Mini Games: Some were very simple while others required some definite brain power. I had to skip one (for time's sake, when I own this game I'll definitely work on it until it's finished - HEY, did you get it? WHEN I buy it - HAH!). I'm sure those of you who played the demo know to which one I refer. You are armed with some usual things and some rather unusual things in this game. For instance, an "album" that holds important notes and story information. A map (looks like a compass) that is transportable and indicates where you are and where an active objective is. I love that you can zoom in or out of the map areas to get a better picture of where you are going. A briefcase that holds rare items that will help you throughout the game (but you never see them once they go in there - hm) and the customary tutorial you can choose to take or not. There are 3 modes of difficulty - casual, advanced and hard. There are also "plus items" in your inventory. So, in this not-s-little-nutshell, the game has been explained and reviewed. Anyhoo - (HAH, I said "hoo" - owl in the game - hoo hoo - I slay me - LOL). I encourage EVERYONE to try this game. The demo is free and you get a remarkable 90 minutes to play. I can almost bet most of you will really take to this game and want to hit that "BUY" button right away. Happy Gaming!
July 21, 2014
GRANDMA YOU BEAT THE BEST!!!!!
IM ALMOST DONE WITH MAIN CE GAME AND I AM A MAZ ED A MA ZED!!! TO ME ITS THE GAME OF THE YEAR!! LET OTHERS TELL THE STORY I JUST WANT GRANDMA TO KNOW I THINK YOUR BRAINS ARE TOTALLY GENIUS THE STORY THE MAGNIFICENT COLOR THE DETAIL THE PERFECT FLOW OF THIS GAME ASTOUNDS ME!!! ITS LONG AND I NEVER WANT IT TO END THANK YOU FOR HOURS OF PURE DELIGHT GRANDMA I HOPE YOU ARE NOT TOO OLD TO BE GETTING ANOTHER PEARL READY SOOOOON!!!
July 21, 2014
Beautiful Worlds to Explore - A Great Game
Yes, once again we have a game about the struggle between good and evil, darkness and light but, IMHO, in Reflections of Life Tree of Dreams the storyline is excellent and put together in a way that captured my interest and . I?m not going to give a recap of the story since I think it is up to you to discover but I will say we have a game with parallel worlds and some beautiful locations to visit as we challenge the dark forces that surround us. The graphics are very good and the artwork is excellent and creates the beautiful fantasy worlds that I love to see in games. We also have lip-synced voiceovers that are quite realistic. You have a journal but it is not the type I like since most of it is done with video clips that need to be replayed. I happen to like the interactive transporter map in Tree of Life. It is very interactive and not only does it show where you have tasks available, it also allows you to zoom into different areas. This is a great way to do a map because we have a lot of territory to cover. The HOPs in the demo are the standard list type with some easy extra steps to find incomplete or hidden items. The good thing is that if you don?t want to search for items on the list, you have the option of switching to a match 3 game. The puzzles are mostly the type we have seen before, but realistically how many different types of puzzles can a developer come up with that we haven?t already encountered in one game or another. Most of the puzzles are very easy but once in a while you will encounter one that takes a bit more thought to solve. It doesn?t bother me that some of the puzzles are quite easy because they are still entertaining and fit into the story. Although we have seen the storyline done before, I liked Reflections of Life Tree of Dreams since it was artistically beautiful and held my attention throughout the game. I purchased the CE and was not disappointed. The game was entertaining and had some challenge to it, which is something I always like. As always, I recommend that you at least try the demo to see if this is a game you will like.
July 20, 2014
Where Do The Nightmares Go?
When people of Earth fall asleep, the dreams they create come to life in the Dreamworld which feeds Vi Animo (roughly translated breathes life) the Tree of Dreams. Twenty five years ago, Grace was taken to an orphanage, with an amulet and a simple note, take care of our baby Grace she is in great danger! Grace assumed all these years that her parents were dead, but today she would find quite the opposite. A man claiming to be her Uncle Sominus stumbles into her living room through a full length mirror (a hand mirror would never work) telling her she must come with him if she wants to live! Well I'm not sure if this is a great idea because no sooner do those words spew out of his mouth, an ugly monstrous figure attacks him and drags him back into the mirror leaving behind a wise ole owl (yep he is indeed wise) and a crystal. Naturally Grace uses the crystal to transport herself and the owl into the world of dreams, which now seems to be the world of nightmares! This is a beautifully designed adventure game with bright vibrant colors and clever games, but you may want to consider upgrading to the Collectors Edition which has so much to offer. Achievements, Wallpapers, Concept Art, Music, Movies, a built in Strategy Guide, and a Bonus Chapter that can only be accessed after finding 176 Magic Leaves. Each scene has several leaves hidden (again only in the CE) and theres no need to worry if you've found them all because a tab will appear showing how many leaves are in that scene and how many are left to find. Many of the inventory items you find will have a plus sign indicator that means you either have to fix that item in the form of a mini game, or you need to combine that item with another item such as a filled tobacco pipe that you light with a flint. The Hidden Object Scenes are slightly interactive list finds where you may have to click on a purse or cabinet to open or place flowers onto a mask to create a mask with flowers. The scenes are repeated which is a feature I really don't like because it's too boring the second go round. The mini games range from super simple, such as swapping puzzle pieces to a variation of blocks where you have to drop keys from the top to the bottom keyhole by shifting several rows of blocks left and right to allow the keys to drop one row at a time, but you have to be careful that you don't permanently block in any keys. Your Uncle gives you that wise ole owl which turns out to be an attack owl who will vehemently attack those monsters on command. Whenever his services are needed you simply click on that area and guide him where to attack or what to retrieve! This is a fairly easy game to play, if you opt for the casual setting the map will show you areas that have something to do, or you can use the hint button which will show you the area you need to visit as well as ask if you want to teleport there quickly, enjoy!
July 30, 2014
Bouncy, bouncy...
I won't go into the storyline of this game as you can get that from the description of the game & playing it. This is a good HOG/puzzle adventure game. I would have liked it better if there wasn't so much bouncing back & forth from one scene to another for finding objects, to go to another scene, to go back to still another scene to progress in the story. Fortunately there is a transporter map & that helps, but again, it's bouncy, bouncy. The graphics are clear & I like the era portrayed. The HOGs are straight forward, clear & easy to find or make the objects. The puzzles are challenging enough without being too frustrating to solve. The hint button recharges a little slower on casual mode than I would have expected. You have an owl to help you reach objects that are too high. I like the story. Typical "you are the only one to save the world" theme but it was good. There are different portals you must enter that are within the one world in which you must complete before going thru another portal to advance in this game. The music kind of drones in the background for me & I finally muted it altogether. I will purchase this game. I haven't decided if it will be the CE or the SE. I recommend this game. It is not an intense game in my opinion. It is fun & enjoyable.
July 20, 2014
another great game
just finished playing the demo and this is one I will buy. the hint button works great which is always nice in my opinion. interesting story line. easyi finding and using things. just my kind of game so it will be a buy for me.
July 20, 2014
Nice long game, but...
It seems game makers have stopped even trying to justify the items you have to find. They all seem random and unrelated and you just have to keep walking around until you figure out what to do with all the stuff. The map and notebook are useless in this game. The map never showed a single mark of an objective and the notebook is simply replays of game videos. Having said that I did actually enjoy playing the game. Just be prepared to hit the hint button often to figure out what's next.
August 19, 2014
looks familiar hummmm...
i liked this game but it didn't wow me. as i was playing it i kept thinking okay why is this so familiar. then i remembered ..mind snares Alice journey same go in here then in here type..ugh it was fun but i got semi-bored with the running bit..very colorful ,good story just too much de ja vu..like they just twisted it a bit to make a different story. suggest try before buy..
August 7, 2014
Reflections of Pink: Tree of Purple
Ho hum, another in a series of what I call "pink and purple" games. Some of us fishes, *ahem* do not care for pink and purple games - and I don't just mean the colors. In this one, you are supposedly an orphan, but one day your uncle walks out of a mirror with an owl sitting on his shoulder. He invites you to follow him back through the mirror to find your parents, but just then a monster from the mirror attacks him. Naturally, you are the ONLY ONE who can defeat the evil so and so. The rest of the story gets sillier as somehow the mirror worlds have to do with human dreams, and Vi Animo - or something. *Sigh* Spare me this silliness. There is a lot of dialog needed to explain this convoluted story, so be prepared to listen carefully if you choose to follow this, um ... tale. This game also *reflects* other recent games in it's very easy and simplistic game play. Do not expect to be challenged unless you are a very beginning player. Hidden object scenes are very standard, puzzles as well. Very easy to complete. This does appeal to some. On the Hard setting, there are no sparkles. There is a jump *map* - if you can call it a map, It's really just a link to each scene as there is no geographical connection. In the CE version, there are collectible leaves which are semi-transparent to make them harder to see. They would be the most challenging feature, except you can click a "fly-out" on the left of the screen and it will tell you how many leaves are there. So...it makes it a little easier. The CE also has a Bonus Chapter and a Hidden Chapter. There are the usual other pseudo-extras that have no effect on my decision to purchase. This reviewer hopes Reflections of pink is not a *reflection* of where future games are going because, in his humble opinion, the mirror should be re-framed or just plain covered over. I'll pass even with the sale. That's my honest opinion - probably not too popular here though. Let me know what you think.
July 20, 2014
I Feel Dumb
While this is a challenging and well designed game, I found myself having to press the hint button too often. Some of the tasks are illogical and leave you feeling...ill equipped. Pretty game,though.
August 6, 2014
The Apple logo is a trademark of Apple Computer, Inc.
The Windows logo is a trademark of Microsoft, Inc.