12 Labours of Hercules II: The Cretan Bull
The evil goddess Hera has frightened the great Cretan bull! The bull is going wild and ruining the roads and many buildings. Help Hercules save the day by taming the great Cretan Bull.

Meet heroes, gods, fight beasts and build Wonders! Collect and solve incredible puzzles. Enjoy colorful comics and Hercules' surprising tricks.

Accompany Hercules in his quest for the Cretan Bull!
Stunning HD graphics
Amazing new Wonders!
Unlock extra bonus levels!
Game System Requirements:
OS:

10.9/10.8/10.7/10.6

CPU:

1.0 GHz (INTEL ONLY)

RAM:

512 MB

Hard Drive:

188 MB
Game Manager System Requirements:
Browser:

Safari 4.0 or later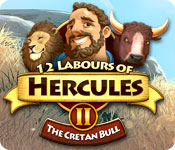 NEW299
The Big Fish Guarantee:
Quality tested and virus free.
No ads, no adware, no spyware.

Reviews at a Glance

12 Labours of Hercules II: The Cretan Bull
0
out of
5 (
0
Reviews
Review
)
Customer Reviews
12 Labours of Hercules II: The Cretan Bull
39
39
Love the Second One
I liked this except for the thieves and puzzle pieces. Those thieves take your resources before you can get to them. At times the puzzle pieces you have to find do not reveal them self's until a certain object is removed. I will say it keeps you running. If you like a challenge then this game is for you.
July 21, 2014
"Herc" is back with a twist.
I liked the first game, and was in fact replaying it when I saw this was TGT...I like that they have added extra twists to the formula, : finding the puzzle bits, being able to replay at different skill levels, etc. Yes, it is a click & go, but you really have to think about what you need & when you need it, to get 3 stars on all levels. I started playing on expert but found I had to go back multiple times at the casual level just to work out my strategy to complete it. Anyone who says it doesn't make you think, is just not trying. Fun game & it is keeping me amused. I do wish though that you could get rid of the annoying "try me" ad for the first game on the map page. I have tried/bought/played & liked the game. Enough already! ;-)
July 22, 2014
Solid TM Game
I liked the first game in the series, so I bought this one within a few minutes of playing. The thing I liked most is that I could queue up the actions; no annoying waiting around for the workers to finish a task before I can give them them a new one. It was a fun, fast-moving game. A few complaints that made this a four-star game instead of five (I would have given 3.5 if I could have): *Playing on my Mac, there were a few technical glitches. Nothing that prevented me from playing the game, but minor irritations. *There weren't as many variations between levels as there were in the first instalment. *There is a storehouse building introduced in the first few levels and then it wasn't seen again... weird. *Overall, it was too easy. When playing on expert mode, I don't want to play with a tutorial and have hints keep popping up, pointing to what needs to be done next during the whole game. There was only one level where I had to stop and think and really figure out a proper strategy in order to finish.
July 23, 2014
Mr Hercules returns
I played on casual and had no trouble. the only element I did not enjoy was the music. The music can enhance the game experience, but in this case I turned the sound off. I did think the muscle notification for Herc to do something was a nice touch The movie trailer with The Rock as Herc was playing this weekend ,so this game is a fun alternative to the movie.
July 21, 2014
Good fun
I liked the first one so it was a matter of minutes in the demo before I bought it to play it out! I've played it in the normal timed mode, which had a few challenging levels, and now in the second round in Expert mode I'm finding some of the levels rather hard, to find the right order to do everything to finish with 3 stars. Haven't been able to crack the developer's high score on a few levels but playing a level more than half a dozen times is my limit!! It's a fun TM game that revolves around clearing paths, retrieving resources, building buildings, freeing the occasional caged worker, smiting ghosts and the like. Hercules only does the big stuff and stands around most've the time, the workers run around doing everything. The graphics are cute and I like the extra task of finding hidden tiles (some which don't seem to appear until well into the level). The robbers you have to outrun from stealing your resources make it interesting (tho' I would love even more to be able to beat them senseless with a few clicks!!). There are a few mini-games between levels (tho' I found a couple of them a bit more annoying than fun). The 3 timed game modes makes it good value, I rarely play the casual/untimed modes, so 2 timed modes is great. The one thing that irritates me enormously - and I didn't notice it happening in the normal timed game - was that the workers sometimes ignore my pre-clicked & ticked resource to pick up, so while I think someone is running to get the food/wood/gold I need to do the next thing, they have in fact gone home and I have to re-click the resource to actually get it. The other thing that disappoints me about a lot of these games is the lost opportunity for an educational dimension that would fit so well with the game - is it too hard to weave some of the actual myth of Hercules through the storyline? Having said that, it really is a fun game to play! I'm up to level 3.4 in the timed mode so back I go... :) Enjoy!
August 20, 2014
Review of a finished game....
Lots of things to do in this well done TM game. The music was so sweet to listen to while you play. You can also play in relaxed mode as well. Little bells will ring when your resource is ready to pick up. (cute) Puzzle pieces in each level to find, to unlock a puzzle @ the end of the game. They are well hidden, They look like flat runes. game on gamers..
December 11, 2014
The Seventh Labor of Hercules - The Cretan Bull
It's strange the developers named the game after Heracles's 7th challenge when it was one of his easiest and also set the stage for Theseus a few years later. Hera hated Heracles (later known as Hercules) as she hated all demi-god children of Zeus, especially those who showed promise. She imposed a madness on Heracles, which made him kill his wife and children. In order to atone to Zeus for these killings, he had to perform 12 labors. Enough history. This game is much like the first. The devs made resources more plentiful, added robbers, added puzzle pieces and added game modes. However, where they really missed the boat was in the achievements and I'll tell you why. There are now 3 game modes - relaxed (untimed), casual and expert. They could have easily added tiered achievements (completed all levels in expert mode, etc.). HOWEVER-- the achievements dealing with beating the developer's times are completely misrepresented and skewed. First, you are misled by a bunch of times and scores you are allowed to see by clicking on the little 'placement' icon. Then, when you finish a level, you see the "score" you are supposed to beat in order to beat the developers - no time involved - only the score. And as you attempt to beat the score, you discover the skew - the only way to beat it is to follow the pre-determined 'correct' sequencing and queing to get to the final result. This is the biggest bunch of whatever in the world. Beating a record is beating a record and should not be determined by following a given path. And that brings me to another point. If I'm playing in expert mode, stop telling/showing me what path to take. For that matter, you should make hints entirely optional. Time management games shouldn't follow a pre-determined path!!! There may be bonuses and extra points for doing something a particular way, but there are always mega points for finishing way ahead of the time and accomplishing the goal.
July 24, 2014
OK but not more
This game was OK. It had good and bad features but overall it was worth buying. There are puzzle pieces scattered in the games, but they are invisible and therefore I found only 3 total, all quite by accident. Therefore I never played the bonus levels. It isn?t a long game, but it was OK and it allowed me to play without being timed.
July 27, 2014
FUN GAME WITH A HUGE "BUT..."
I just discovered this type of game, and I'm loving them. This has all of the right things to make this game a success, EXCEPT..for the constant pop-up boxes tellling us what is needed for each item to fix. For me it was an enormous distraction. Actually, it drove me crazy. If the boxes were gone, I would have loved the game. I just want you to be warned. Don't buy this game until you have played it. If you can play with the "Pop Up Boxes"..then it is for you. I can't! Can't buy. Just can't recommend the game.
July 23, 2014
Levels 1.0 thru 4.5 are Great Fun but LEVEL 4.6 SUX majorly!
I tried Level 4.6 several times: Near the end, I needed 18 units of food to progress with gameplay but I could not get past around ten units then the workers would eat them up!This was SO disappointing because I could not participate in the last five mini-games at that level AND consequently I was unable to qualify for the BONUS game! Also, I couldn't even finish building the awesome amusement park I was creating from having attained five golden stars at Level 4. BUMMER! SUX! I Feel sad now, not happy at all...cuz I was very satisfied with the original 12 Labours of Hercules game and I LOVED this one even more because the addition of mischievous thieves was ultra cool. But the developers made 4.6 too frantic, way long, overly hard. I would have rated just 1 star [cuz I'm TICKED] but I'm giving 3 because Levels 1.0 to 4.5 were great fun...and I will still buy the next Hercules game [hoping ALL levels in #3 will be fairly designed.]
November 22, 2014
The Apple logo is a trademark of Apple Computer, Inc.
The Windows logo is a trademark of Microsoft, Inc.