12 Labours of Hercules II: The Cretan Bull
The evil goddess Hera has frightened the great Cretan bull! The bull is going wild and ruining the roads and many buildings. Help Hercules save the day by taming the great Cretan Bull.

Meet heroes, gods, fight beasts and build Wonders! Collect and solve incredible puzzles. Enjoy colorful comics and Hercules' surprising tricks.

Accompany Hercules in his quest for the Cretan Bull!
Stunning HD graphics
Amazing new Wonders!
Unlock extra bonus levels!
Game System Requirements:
OS:

10.9/10.8/10.7/10.6

CPU:

1.0 GHz (INTEL ONLY)

RAM:

512 MB

Hard Drive:

188 MB
Game Manager System Requirements:
Browser:

Safari 4.0 or later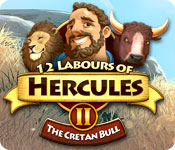 NEW299
The Big Fish Guarantee:
Quality tested and virus free.
No ads, no adware, no spyware.

Reviews at a Glance

12 Labours of Hercules II: The Cretan Bull
0
out of
5 (
0
Reviews
Review
)
Customer Reviews
12 Labours of Hercules II: The Cretan Bull
32
32
Mr Hercules returns
I played on casual and had no trouble. the only element I did not enjoy was the music. The music can enhance the game experience, but in this case I turned the sound off. I did think the muscle notification for Herc to do something was a nice touch The movie trailer with The Rock as Herc was playing this weekend ,so this game is a fun alternative to the movie.
July 21, 2014
Good fun
I liked the first one so it was a matter of minutes in the demo before I bought it to play it out! I've played it in the normal timed mode, which had a few challenging levels, and now in the second round in Expert mode I'm finding some of the levels rather hard, to find the right order to do everything to finish with 3 stars. Haven't been able to crack the developer's high score on a few levels but playing a level more than half a dozen times is my limit!! It's a fun TM game that revolves around clearing paths, retrieving resources, building buildings, freeing the occasional caged worker, smiting ghosts and the like. Hercules only does the big stuff and stands around most've the time, the workers run around doing everything. The graphics are cute and I like the extra task of finding hidden tiles (some which don't seem to appear until well into the level). The robbers you have to outrun from stealing your resources make it interesting (tho' I would love even more to be able to beat them senseless with a few clicks!!). There are a few mini-games between levels (tho' I found a couple of them a bit more annoying than fun). The 3 timed game modes makes it good value, I rarely play the casual/untimed modes, so 2 timed modes is great. The one thing that irritates me enormously - and I didn't notice it happening in the normal timed game - was that the workers sometimes ignore my pre-clicked & ticked resource to pick up, so while I think someone is running to get the food/wood/gold I need to do the next thing, they have in fact gone home and I have to re-click the resource to actually get it. The other thing that disappoints me about a lot of these games is the lost opportunity for an educational dimension that would fit so well with the game - is it too hard to weave some of the actual myth of Hercules through the storyline? Having said that, it really is a fun game to play! I'm up to level 3.4 in the timed mode so back I go... :) Enjoy!
August 20, 2014
The Seventh Labor of Hercules - The Cretan Bull
It's strange the developers named the game after Heracles's 7th challenge when it was one of his easiest and also set the stage for Theseus a few years later. Hera hated Heracles (later known as Hercules) as she hated all demi-god children of Zeus, especially those who showed promise. She imposed a madness on Heracles, which made him kill his wife and children. In order to atone to Zeus for these killings, he had to perform 12 labors. Enough history. This game is much like the first. The devs made resources more plentiful, added robbers, added puzzle pieces and added game modes. However, where they really missed the boat was in the achievements and I'll tell you why. There are now 3 game modes - relaxed (untimed), casual and expert. They could have easily added tiered achievements (completed all levels in expert mode, etc.). HOWEVER-- the achievements dealing with beating the developer's times are completely misrepresented and skewed. First, you are misled by a bunch of times and scores you are allowed to see by clicking on the little 'placement' icon. Then, when you finish a level, you see the "score" you are supposed to beat in order to beat the developers - no time involved - only the score. And as you attempt to beat the score, you discover the skew - the only way to beat it is to follow the pre-determined 'correct' sequencing and queing to get to the final result. This is the biggest bunch of whatever in the world. Beating a record is beating a record and should not be determined by following a given path. And that brings me to another point. If I'm playing in expert mode, stop telling/showing me what path to take. For that matter, you should make hints entirely optional. Time management games shouldn't follow a pre-determined path!!! There may be bonuses and extra points for doing something a particular way, but there are always mega points for finishing way ahead of the time and accomplishing the goal.
July 24, 2014
OK but not more
This game was OK. It had good and bad features but overall it was worth buying. There are puzzle pieces scattered in the games, but they are invisible and therefore I found only 3 total, all quite by accident. Therefore I never played the bonus levels. It isn?t a long game, but it was OK and it allowed me to play without being timed.
July 27, 2014
FUN GAME WITH A HUGE "BUT..."
I just discovered this type of game, and I'm loving them. This has all of the right things to make this game a success, EXCEPT..for the constant pop-up boxes tellling us what is needed for each item to fix. For me it was an enormous distraction. Actually, it drove me crazy. If the boxes were gone, I would have loved the game. I just want you to be warned. Don't buy this game until you have played it. If you can play with the "Pop Up Boxes"..then it is for you. I can't! Can't buy. Just can't recommend the game.
July 23, 2014
Much too easy
Great concept and ideas but as a follow up to the original Hercules it's a miss. The original was so hard it was almost impossible to finish in the given times, especially nearing the end. This was so easy I completed it in record time and almost at the first sitting! One level I even beat the developers! Great for kids learning to develop these skills but too easy for adults. The poetry was not marvelous either! Adelantado Trilogy is better levelled
September 19, 2014
Annoying and Joyless
I bought the first one out of desperation for a TM game, but did not like it very much. After seeing the positive reviews for part two, I tried the demo and hoped for the best. But nothing has changed. It is still the same annoying, click-click-click game, with no strategy or thinking required. The game does everything for you, from telling you where to click next, to pre-determining where all of your buildings should be. Really baffled by all of the positive reviews.
July 22, 2014
No Story line and in-game advertising!
This is a 'run of the mill' clear the obstacles on the road type of game. I can't really rate the game very highly as to me it feels very budgety and 'thrown' together, in the fact that there is no story-back drop, I know the stories to these games are cheesy and are usually largely ignored, but it did kinda give a 'purpose' to the game, with this game it just felt that it was a case of unconnected levels, with no rhyme nor reason for being. The graphics and sound were ok, as were the fact that you could line up actions, even to the point where if you had not got enough resources then once you had the correct resources it would then do that particular action automatically, so there were hints of good touches there but still not enough to make me purchase the game, even on a 2for1 deal. The thing that REALLY irrated me though was the almost 'crassness' of the advertising banner at the left-hand sign advertising to purchase the first game. I am unaware whether this would have been on if I had purchased the game a la tablet advertising, so again this just brought it downmarket in my eyes. People I would have thought are intelligent enough to decide for themselves whether they want to purchase the first game in the series, without it being a constant reminder in a game. No I can't recommend this game, based unfortunatly on that last paragraph alone, yest the game did have a few redeeming qualities but nothing could over-come that.
July 23, 2014
cute graphics, horrible cursor
There's nothing really different about this game to make it stand out from the rest of the time/resource management games. Except the cursor and menu designs. The cursor sort of "floats" as you move it, so it tends to overshoot where you want it to go, or it will snap to a resource next to the one you want. You CAN switch to a normal cursor, if you can find the menu. However, the normal cursor still lacks precision in this game. The menu on the main screen is integrated into the border design, so it may take a while to notice it's there. The menu button within each level is more traditional, and does include options to switch difficulty levels and the game settings without having to back out to the main screen. Which is very nice. The story is...random. Basically what I would expect if someone made a game from an Old Spice commercial. Things happen, just go with it. There are also trophies, but no trophy room. You have to scroll around the main board to find them all, just try to ignore the giant ad for the first game that follows you around. And unfortunately, the giant obnoxious advertisement for the 1st game does not disappear if you buy either game.
July 23, 2014
Should have passed on it
I bought this game because I'm hard up for new non-HO games. I passed on the first one and probably should have passed on this as well. My comments on why I don't think much of the game: The music is just annoying, although the sound effects are good. I hate the levels where you have to fight off the monsters. I'm not sure why I kept failing these levels so had to change the difficulty mode, whereas I had no difficulty with the more normal levels. I'm still missing access to bonus levels and I have no clue why or what I have to do to get it. I've found the puzzle pieces. The cut scenes feature some of the WORST. POETRY.EVER. The tasks don't seem well weighted - sometimes you find yourself with far too much of one resource but needing a ludicrously large amount of something else just to do one thing (eg 18 pieces of wood for a pothole, when you can only get 3 at a time from the workshop). So you just sit there collecting wood with nothing else going on. Boring. I hate the thieves too. I know a lot of fishies like them but to me they're just annoying and pointless. Speaking of annoying and pointless, Hera appears every so often and screeches. You can easily click on her to make her go away, so again - annoying and pointless. The ad for the first game is also annoying. Seriously, I am thinking of cancelling my membership if this is the best Big Fish can do for us non-HO fans.
August 5, 2014
The Apple logo is a trademark of Apple Computer, Inc.
The Windows logo is a trademark of Microsoft, Inc.