12 Labours of Hercules II: The Cretan Bull
The evil goddess Hera has frightened the great Cretan bull! The bull is going wild and ruining the roads and many buildings. Help Hercules save the day by taming the great Cretan Bull.

Meet heroes, gods, fight beasts and build Wonders! Collect and solve incredible puzzles. Enjoy colorful comics and Hercules' surprising tricks.

Accompany Hercules in his quest for the Cretan Bull!
Stunning HD graphics
Amazing new Wonders!
Unlock extra bonus levels!
Game System Requirements:
OS:

Windows XP/Windows Vista/Windows 7/Windows 8

CPU:

1.0 GHz

RAM:

512 MB

DirectX:

9.0

Hard Drive:

191 MB
Game Manager System Requirements:
Browser:

Internet Explorer 7 or later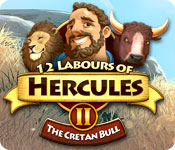 NEW299
The Big Fish Guarantee:
Quality tested and virus free.
No ads, no adware, no spyware.

Reviews at a Glance

12 Labours of Hercules II: The Cretan Bull
0
out of
5 (
0
Reviews
Review
)
Customer Reviews
12 Labours of Hercules II: The Cretan Bull
39
39
Much too easy
Great concept and ideas but as a follow up to the original Hercules it's a miss. The original was so hard it was almost impossible to finish in the given times, especially nearing the end. This was so easy I completed it in record time and almost at the first sitting! One level I even beat the developers! Great for kids learning to develop these skills but too easy for adults. The poetry was not marvelous either! Adelantado Trilogy is better levelled
September 19, 2014
Annoying and Joyless
I bought the first one out of desperation for a TM game, but did not like it very much. After seeing the positive reviews for part two, I tried the demo and hoped for the best. But nothing has changed. It is still the same annoying, click-click-click game, with no strategy or thinking required. The game does everything for you, from telling you where to click next, to pre-determining where all of your buildings should be. Really baffled by all of the positive reviews.
July 22, 2014
No Story line and in-game advertising!
This is a 'run of the mill' clear the obstacles on the road type of game. I can't really rate the game very highly as to me it feels very budgety and 'thrown' together, in the fact that there is no story-back drop, I know the stories to these games are cheesy and are usually largely ignored, but it did kinda give a 'purpose' to the game, with this game it just felt that it was a case of unconnected levels, with no rhyme nor reason for being. The graphics and sound were ok, as were the fact that you could line up actions, even to the point where if you had not got enough resources then once you had the correct resources it would then do that particular action automatically, so there were hints of good touches there but still not enough to make me purchase the game, even on a 2for1 deal. The thing that REALLY irrated me though was the almost 'crassness' of the advertising banner at the left-hand sign advertising to purchase the first game. I am unaware whether this would have been on if I had purchased the game a la tablet advertising, so again this just brought it downmarket in my eyes. People I would have thought are intelligent enough to decide for themselves whether they want to purchase the first game in the series, without it being a constant reminder in a game. No I can't recommend this game, based unfortunatly on that last paragraph alone, yest the game did have a few redeeming qualities but nothing could over-come that.
July 23, 2014
cute graphics, horrible cursor
There's nothing really different about this game to make it stand out from the rest of the time/resource management games. Except the cursor and menu designs. The cursor sort of "floats" as you move it, so it tends to overshoot where you want it to go, or it will snap to a resource next to the one you want. You CAN switch to a normal cursor, if you can find the menu. However, the normal cursor still lacks precision in this game. The menu on the main screen is integrated into the border design, so it may take a while to notice it's there. The menu button within each level is more traditional, and does include options to switch difficulty levels and the game settings without having to back out to the main screen. Which is very nice. The story is...random. Basically what I would expect if someone made a game from an Old Spice commercial. Things happen, just go with it. There are also trophies, but no trophy room. You have to scroll around the main board to find them all, just try to ignore the giant ad for the first game that follows you around. And unfortunately, the giant obnoxious advertisement for the 1st game does not disappear if you buy either game.
July 23, 2014
Should have passed on it
I bought this game because I'm hard up for new non-HO games. I passed on the first one and probably should have passed on this as well. My comments on why I don't think much of the game: The music is just annoying, although the sound effects are good. I hate the levels where you have to fight off the monsters. I'm not sure why I kept failing these levels so had to change the difficulty mode, whereas I had no difficulty with the more normal levels. I'm still missing access to bonus levels and I have no clue why or what I have to do to get it. I've found the puzzle pieces. The cut scenes feature some of the WORST. POETRY.EVER. The tasks don't seem well weighted - sometimes you find yourself with far too much of one resource but needing a ludicrously large amount of something else just to do one thing (eg 18 pieces of wood for a pothole, when you can only get 3 at a time from the workshop). So you just sit there collecting wood with nothing else going on. Boring. I hate the thieves too. I know a lot of fishies like them but to me they're just annoying and pointless. Speaking of annoying and pointless, Hera appears every so often and screeches. You can easily click on her to make her go away, so again - annoying and pointless. The ad for the first game is also annoying. Seriously, I am thinking of cancelling my membership if this is the best Big Fish can do for us non-HO fans.
August 5, 2014
Ugggh
I tried this game recently as it won some game of the year award. I have the first Herc. game and liked it. This was like a rat race... run for ONE piece of food or wood before it was stolen, no real point to what you were doing. I love TM games, however this one missed the mark by far. And the highlighting the food and logs and tasks you could do in green... that is part of the fun of figuring out the strategy of these games. i don't recommend.
December 29, 2014
No Options
I probably would have bought this, but there are not options to change the cursor, music off or even reduce the window size. I do not want my games to file the whole rather large monitor I use. So I deleted is all most as soon as I opened it.
July 23, 2014
Ding-a-Ling, Ding-a-Ling
I really liked the first 12 Labor game and so when I saw this I got it right away. Boy am I glad I used a free game coupon and did not pay money for this one. They changed the farm, and the wood shack to where you can only pick up one slice of food or one piece of wood unless you get to the point where you can upgrade. The problem is that it refills very quickly and you are running for that one piece all the time and if you don''t get 'there in time the thief takes it. Those who played this game before knows that you already have a LOT of tasks going on at one time , much less have to run for your supplies so many times each level. So you say upgrade the building and you'll be set....haha, some levels don't allow you to upgrade so you have a bunch of buildings doling out one item at a time and all you hear for the entire level is....ding-a-ling...ding-a-ling...ding-a-ling. It is maddening, so maddening I gladly deleted this one! And oh yes Hera comes down and screeches whenever and it is very easy to get rid of her, so it is pointless. one more irritating thing is the ad banner, for the first game, you have to see EVERY time you return to the map...REALLY??!! DEVS you made a great game very silly and annoying
August 11, 2014
This was awful.
The items to be picked up were highlighted in green so there was no challenge. No thinking required. Just click on items highlighted and the game played itself. Waste of a download.
December 19, 2014
The Apple logo is a trademark of Apple Computer, Inc.