Aztec Venture
Lace up your boots and grab your map - adventure awaits in Central America!

It all began as a simple research expedition. Then disaster strikes you and your crew off the coast of Central America leaving you shipwrecked! But help is near at hand - one of the natives, Ichtaca, agrees to accompany you on your quest to find the ancient temples of the Aztecs.

Discover mysterious Aztec treasures in this exciting Match-3 game! Will you measure up to the challenge or will you remain a prisoner of the primeval jungle forever?
100+ enthralling Match-3 levels
8 exciting story chapters
3 additional minigames!
Multiple difficulty levels
Game System Requirements:
OS:

Windows XP/Windows Vista/Windows 7/Windows 8

CPU:

1.0 GHz

RAM:

512 MB

DirectX:

9.0

Hard Drive:

67 MB
Game Manager System Requirements:
Browser:

Internet Explorer 7 or later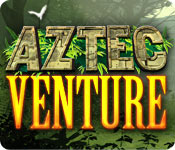 NEW299
The Big Fish Guarantee:
Quality tested and virus free.
No ads, no adware, no spyware.

Reviews at a Glance

Aztec Venture
0
out of
5 (
0
Reviews
Review
)
Customer Reviews
ASSORTED TIMERS for EACH LEVEL
Although I got tired of having to play this game with any kind of timer (I tend to THINK too much and take too long to take action), this game is GREAT in its provision of different levels of timers; if I remember correctly: FAST NORMAL SLOW TIMER NO TIMER This dialogue box appears at the beginning of EACH level which made this game MUCH MORE enjoyable to play.
July 24, 2014
Fun Little Game
Aztec Venture at first seems like a fairly easy match-3 type game but you soon realize it has a healthy dose of puzzle game thrown into the mix. I found the game functioned well and was a fun and entertaining game to play. The big challenge is to earn the full amount of stars that can be awarded for each level, which I only did one time. Every fifth row in the game was a puzzle to break up the monotony of a straight match-3. When we complete the puzzle round we earn a decorative mask to put into our tent. The graphics are very good and colorful. The sound became a bit annoying after a while but thankfully it could be turned down. There are several modes of play to choose from to make the game much more challenging. All in all, of you are looking for a fun little game to while away the hours, then I can wholeheartedly recommend Aztec Adventure. I enjoyed the game and decided that it was a buy for me. As always, I recommend that you at least try the demo to see if this is a game you will like.
July 22, 2014
Best Way to Waste Your Time
Wow! I love it! I have to say this game totally wastes my time, but in a good way. Unless you have chores that need doing...LOL. Word of advice: Do the chores first. I loved this game so much that when I finished it, I started it over again, and then again. Finally I deleted it, but that's when the withdrawals set in. So, I downloaded it again, and repeated all of the above. A definite win for me!
August 16, 2014
Match 3 - Brick Breaker Hybrid
An excellent game here which is a Match 3/Brick Breaker hybrid, though more Brick Breaker than Match 3. You drop Aztec bricks from above to create groups of 3 or more, which then break up. However, if you make a few 'bad' moves in a row, the whole 'brick wall' drops down a bit, hindering your play. Conversely, good moves will raise the wall, making play easier. The level is complete when you clear all the bricks. As you move through the levels, various obstacles are put in your way to slow your progress. e.g. chained bricks, which have to be smashed from above by matching bricks on top of them. Power ups do become available however, which aid game play. There are 4 difficulty levels which are actually in the form of 'Timers'. i.e. hardest level has a very fast timer, and easiest level has a slow timer. Basically, the faster you break bricks, the slower the timer counts down. There is also an option for No timer, which will suit players who do not want to be stressed. Interspersed throughout are three different mini games, none too difficult, which make the game flow nicely. Graphics are excellent and colours bright. Everything is easy to see and sound effects are great. You play to gain a 'star' rating from 1 to 5 stars, and levels can be replayed. A running score total is also kept, but beware, if you 'lose' a level, points are taken off you. Overall, I thought this was a different enough game from the norm, and I enjoyed playing the demo. I reached level 24 in the hour, but by no means got maximum stars in all the levels. Some were quite tricky, even in the early stages.
July 22, 2014
Brilliant!!!
I've already purchased this game, hardly wanted to stop playing long enough to do so! What a unique concept, aztec stones of various colors need to be dropped from the top of the screen to your desired location, to match at least 3 alike colored stones to destroy that group. Before the start of each level you get to choose a timer option, Fast, Normal, Slow or none, each time, every level, every mini game, every time, how cool is that? Every Match 5 creates a super stone that when matched will destroy several stones nearby. There are magical crystals that will drop to the bottom as you make matches below them, releasing a fireball explosion which also refills the timer. Some stones are wrapped in vines that will break off pieces of the vine each time that stone is matched. Granite stones can only be destroyed by dropping stones of your choice on top of them several times. There are mini games as well such as rotating puzzle pieces, standard match 3 swaps and my favorite, dropping balls between gaps of stones, until they reach the bottom and then you have to make sure it drops into the mouth of the moving idol at the bottom! You will receive an Aztec artifact after every mini game completed which will be displayed in your tent, and you earn between 1-5 stars for both the match 3 and mini games. This game is different, but really fun, enjoy!
July 22, 2014
Well thought out little match 3
Based on the hour demo: Clear tiles, fast smooth play with three timer levels or no timer at all - Hooray! Even with no timer you get a star rating for your time. Good bonus tiles - match 5 for a "bomb" or lower a crystal to the bottom to clear the bottom line. Some levels have gaps into which you can drop unwanted stones but mostly it was easy to place them. Every 5 levels is a minigame - rotate jigsaw pieces or create a path for a ball to drop into a "chomping" tile. With no timer it's a relaxing and fun time passer.
July 22, 2014
Enjoyable
I played the first 25 levels and I thought that this game was very enjoyable. I thought the game play was interesting and the levels that I played were a good challenge. The few things that I will say negatively about the game are that the music gets old after the first few rounds. Hearing the same thing over and over does nothing for me. The other thing is the stars. I played a few with no timer and if I play with no why would I care about the star rating for the round? The stars I really do not care about.
July 23, 2014
Good game; better than I expected
This is a breaker game where you drop colored blocks to clear blocks on the board, many of which are not visible initially, being hidden below the visible board. Every 5th game is one of a ball drop maze, a typical M3 or a puzzle. Each level is harder than the previous. I found the game entertaining but the uncolored granite blocks only break with a certain color and I rarely seemed to guess which one to drop on it. The game is either timed or not but you win stars based on your speed, even in untimed mode. I find that annoying. The game may be the intellectual property of the authors, but once I buy it I WILL play it my way. I wish they would learn that. So my times varied between 26 seconds and almost 9 minutes depending on whether that level had a ?system? or whether it was going to be a drop and drop one at a time smash fest. I like knowing that I deciphered the ?system? to win quickly, but I really hate being timed in any way. By the way, the recommended times always show up, even in untimed mode, but they are very strange. Near the end of the game, I beat the three star times several times, using under half what they suggested and then on the next level I would be several minutes over the one star time. Their suggested times made no sense. I think that would make the timed modes frustrating.
July 27, 2014
Good history lesson?
I normally love match 3 games. In fact I look forward to see what new stories they come up with. This one was not so good. The storyline was great in regards to Aztec history and about the artifacts, unfortunately, I just could not get into the game itself. I asked for no timer, but still was being timed to whether or not I got stars. Depending on difficulty (4 levels), depends on how many stars you got I guess. Dropping colored rocks on colored rocks reminded me too much of the marble popper type games, not so much a Match 3. Anyway, I got bored fairly quickly but played all of demo. Seriously need to try before you decide.
July 22, 2014
No Aztec Adventure here
Wish they would categorize games by recommended age as this is definitely a child's game. I do not understand why it is in our offerings as we pay our monthly fee and it's a waste to offer these to us and should have a special kid's dept for such things. There is nothing beautiful, entertaining, or challenging about this one. Your kid's will love it!
July 22, 2014
The Apple logo is a trademark of Apple Computer, Inc.