Dark Parables: Ballad of Rapunzel
Exclusive
From Blue Tea Games, creators of the acclaimed Dark Parables series, comes a brand-new parable for you to enjoy!

You've been called to the kingdom of Floralia to track down the source of a mysterious pollen spreading throughout the world. Rumor has it that Princess Rapunzel is somehow involved – the haunting melody she sings appears to summon the pollen… But how did the once-loved princess come to control such a deadly force? And who is the mysterious, shadowy figure always by her side? The secrets you uncover may be darker than you imagined in this exciting Hidden Object Puzzle Adventure!
Game System Requirements:
OS:

Windows XP/Windows Vista/Windows 7/Windows 8

CPU:

1.0 GHz

RAM:

512 MB

DirectX:

9.0

Hard Drive:

955 MB
Game Manager System Requirements:
Browser:

Internet Explorer 7 or later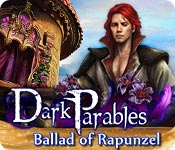 NEW299
The Big Fish Guarantee:
Quality tested and virus free.
No ads, no adware, no spyware.

Reviews at a Glance

Dark Parables: Ballad of Rapunzel
0
out of
5 (
0
Reviews
Review
)
Customer Reviews
Dark Parables: Ballad of Rapunzel
17
17
Beautiful but Predictable
When I was little I always looked forward to bedtime when my grandmother would read fairy tales to me as I was falling asleep. The story of Rapunzel, locked in a tower and letting her locks down so that she could meet with her prince, was always one of my favorite tales. As usual Blue Tea has given us their darker spin on a beloved story and now it is a great new game in the Dark Parables series. Because this is a Blue Tea game, the graphics are beautiful and of excellent quality. The music has the haunting quality that is found in all of the games in the series but that doesn?t matter since I happen to like it and find that it adds to the game. In the Dark Parables games we don?t really have a journal but you can locate your objectives or current tasks. The map does show where we have something to do and others have commented (in other games in the series) that the maps are transporter type but I have never found that to be true, so either they don?t work on my laptop or they really are not transporter type maps to begin with. At least the map does clearly show where something is to be found or done. The Dark Parables games are FROG type so the HOS are for locating portions of symbols, medallions or other objects. Although I am not a huge fan of FROGs in general, I do love the ones in games from this developer because the fragments or items to find are always hidden in beautiful scenes. There are puzzles to be found in the game and, IMHO, some of them took a bit of thought and were not overly easy to complete. There is much about this game in the beginning that is reminiscent of others in the series. I don?t know if it is because the music is the same but I definitely notice the slight remake of scenery to fit the current game. The one sad thing is that the Dark Parables games have become very predictable and each one is much the same as the others even though the characters and story may be a bit different. As much as I like the FROGs from this developer, I would like to see them branch out and use their skills to develop a different type of game. That being said, I will add this beautiful game to my collection. Because of the quality of the game and because people who are new to playing the Dark Parables series will most likely love the game, I am giving it the five-star rating it deserves. As always, I recommend that you at least try the demo to see if this is a game you will like.
July 25, 2014
fishies let down your hair
this was a glorious game..not a toughy one and though i'm not fond of hos that are find the pieces it did not get under my skin they were not that difficult. the story-line was soo interesting if you take the time to read all the history involved with the other princesses and the way they got the way they are,it was very well done .there is a lot of to and fro in the ending part but i think that adds to the quest. you get a bit heart-pounding knowing you're going to do away with the evil SOON. very long ,enjoyable, colorful not foo foo characters..sad ending i think...not what i expected...a plus.
August 3, 2014
Colorful and Fun
I'm really, really tired of games where the screens are all dark, the atmosphere dank, and you find yourself pawing through rotten ick searching for various needed items. So I enjoyed the bright flowers, colorful jewels, and occasional butterfly. There were some new takes on puzzles, which I always appreciate. The story line was in keeping with the rest of the Dark Parables and I enjoyed the way the game linked in stories and themes from prior games without making it mandatory that you'd played them. The game length was excellent.
August 11, 2014
Rapunzel Has Gotten Herself Into A Hairy Situation!
In true Dark Parables style, the Ballad of Rapunzel has come to life with just enough of a twist to turn a classic fairy tale into an epic game! Just who is the evil woman beside the once beloved Princess Rapunzel, is she somehow responsible for causing flowers in the kingdom of Floralia to emit a deadly poisonous pollen that disables it's victim. This stranger has been beside her the entire time urging her to sing a beautiful melodic song, "sing for me Rapunzel" Who is this wicked woman? It's time to let your hair down and roll up your sleeves, because there's a Dark Parables mystery to solve! I loved how they tied this game in with Snow Queen, as soon as I heard the name Kai, I knew the characters were the grown up children captured by the evil Snow Queen (and rescued by you, detective!) Everything is unique in this adventure. The graphics are beautiful, Dark Parables has a flair for enchanting designs and the entire game revolves around finding Emblems that unlock the magic within. I've yet to play any of these DP that wasn't superior entertainment. The Hidden Object Scenes are actually well blended FROGS. This is where you must find fragmented pieces in three sections and when you find all three sections, the sections will form together to make a single inventory item. Most of the mini games involve interacting with a stage scene, for example the first part of a mini game has you select tokens with different stages of a flowers growth in order, from seed to a dying flower. The second part will open and there are three separate puzzles, one with tokens that you rotate to complete a picture, another has you swap tiles to complete a picture and the final puzzle has you guiding tokens on a path until the correct token is in the correct spot with the clues shown. Personally, I would choose the CE because of the 20 morphing objects,(My favorite feature), morphing objects won't necessarily be activated when you first see them, some objects won't morph until a specific action or chapter has been accessed so you may have to backtrack several times before an object morphs. Each time you find a morphing object it will make your hint meter recharge faster as well. Once again you will collect Parables, there are several parable stories and each story requires you to find all parables in a category before you can hear that tale. The Collectors Edition has 20 collectible stone flowers, roses, magnolias, cosmos, tulips etc. There are also puzzles, wallpapers, movie gallery, music, concept art, parable notes, morphs, a built in strategy guide and a bonus chapter. Consider upgrading to the CE, but either edition will surely please, enjoy!
July 25, 2014
Dark parables: Ballad of Rapunzel
this is great love doing stories that my mom used to read to me. the item's where easy enough to find even a beginner could handle casual mode. But for me i must jump up a notch as seamed to easy ,I'm not a beginner.
September 13, 2014
Moving Right Along
Beautiful and brilliant entry in the Dark Parables Series. I love being the Fairy Tale Detective. This puts the spin on the story of Rapunzel and uses a lot of floral imagery that makes it deep and interesting. Pros: Beautiful graphics/sound, Smooth intuitive game play, interesting story and characters, Games Medium-Med-Hard. Cons: I don't like the "Put it together" HOS scenes (which really aren't HOS), The map tells you where you need to be, but doesn't take you there - the movement is a bit confusing (what looks like a left turn on the map is really a back button click). Minor flaws in a majorly fun game. A lot of the art in this was the same - so after a bit it started to bore. Variety of colors/artifacts would help.
January 13, 2015
Glad I didn't listen
I enjoyed this game just as much as the others in the series. I especially liked the three seperate endings to choose from. Played all three just to see!!!
September 23, 2014
Dark Parables - Always a good story!
Yes, I said it - this is a good story! I have been waiting for another enticing and and enthralling tale and here it is. I appreciate the Dark Parable series not only for their greatly twisted fairy tales, but also for the collectibles present in the SEs. I am not as fond of the fragmented HOS as I would like, but the mini-games are varied enough to compensate. The game has three levels of play, interesting orchestrated music, decent background sounds, and the beautiful detailed artwork we've come to expect from this series. The VOs were well done and the animation was good. The only thing I am disappointed in is the static map. If only it would save me all those steps back and forth, I'd be a really happy camper. And for those opposed to reading, be forewarned, there are a lot of notes for you to find. I enjoyed them, but do with that as you will. This is a definite buy for me .
July 26, 2014
Lovely but Predictable
I bought the SE and just finished it. As usual I was seduced by the beautiful artwork, which brings a welcome sensual environment to my dreary home office days. The problems for me are at least two-fold. First of all there are too many HOS - it seems the whole story-line is very little more than going from one HOS to the other. I prefer more things to do that are other than HOS (or frustrating mini-games). In this same regard, I do not really like the HOS where you have to find fragments - except maybe on an occasional basis; however the beautiful scenes and objects are delightful. I do like to see a little variation in the HOS which this also doesn't have - for example where you have little mini-tasks to put things together to create the object listed, and other variations, etc. I guess I am already spoiled by the interactive maps in some games - rather surprised there are not more though by this time as quite a few newer games still do not allow transporting which I feel largely negates the beauty of having a map in the first place. This game did not have a useful map at all - in fact not even to show objectives that I could catch. Plus I can't believe Rapunzel blew off her man for her weird sister. Forgive her, yes - as she was a beautiful person and that would be an appropriate skill - However I would have liked to see a much happier ending...
July 31, 2014
Did you know Rapunzel had an evil half-sister?
After playing both the CE and SE versions of this game, I'm still on the fence about how I feel about the latest in the Dark Parables series. This game was just TOO bright. Why, oh why, do Devs have to inundate us with GOLDS and ORANGES that hurt our eyes? Pretty much standard storyline for the Dark Parables series. You, the Detective, are back on the job. On your way to Mt. Snezk in Czechoslovakia, to find out what is causing flowers to dispel a pollen that makes people sick. You are to meet up with Rapunzel because it is believed she will be of help to you. But, are you aware that Rapunzel had a sister? Belladonna? Who is forcing her to sing an evil song and that's what's causing the deadly pollen. Wend your way through a myriad of fairy tales to help Rapunzel and stop the pollen from propagating throughout Floridia. As I mentioned, the graphics were so completely GOLD and ORANGE that it actually hurt my eyes. I even tried to "window" my options instead of full screen and that didn't help at all. The background music is very relaxing and soothing, once you get past the heavy breathing at the beginning of the game - very irritating. Voiceovers are mostly heard at the onset of the game but you do converse with several characters from previous Dark Parables' games. I got somewhat confused during the game play because I seemed to go everywhere at once, never quite completing an area before moving on to another and another and another. You pick up a LOT of inventory items and it seemed to me that some belonged way back at the beginning of the story. In any event, your goal is to get to the tower and rescue Rapunzel. But, Gerda, whom you've previously rescued from the Snow Queen, shows up and keeps getting into trouble that you also have to rescue her from. There are no HOGs per se. We do, however, have FRAGs - which I dislike but which are the usual for this series of games. Some of the mini games were relatively easy, others may seem easy at first, but they do take some thinking to get through and there are clues. There are no reset buttons so you have to exit out and re-enter the game to try again. You can choose to skip the game, however, you will be penalized by losing your hint button for several minutes. There are 3 levels of difficulty - casual, normal and hard. There is no journal/diary that I could see, however, there is a useless map - it is not transportable so I don't see much use for it. The hint button can direct you where to go next and it recharges fairly quickly. As I said, there seems to be a LOT going on and, now that I've played the SE version, a lot that I thought was part of the CE Bling is just standard fare. For instance: Collect 20 flower stones for a "surprise"; Parable Notes - collect pieces of various parables and once you have a completed one, a story unlocks; Even after playing both the CE AND the SE, I am still on the fence regarding this latest game in the series. The graphics are extremely golden and orange and way too bright - hurt my eyes after a while. I didn't really get the "wow" factor after the demo was over and that not only disappointed me but surprised me as well. I wonder if this is the last in the series because, so far in the demo, several Parables in the series are encountered in some way here. If so, their inclusion did not flow well. I do encourage everyone to try this latest in the series. You get an amazing 90 minutes to play and it goes by very quickly. Plus, it's free to try. Here's hoping you enjoy it. Happy Gaming!
July 30, 2014
The Apple logo is a trademark of Apple Computer, Inc.