Witchcraft: The Lotus Elixir
An uncanny adventure is near! Dear Witch Apprentice, are you ready to meet your fate? You possess the special ability to work magic through cooking and you're the only person who can manage this dangerous task… You must hurry to win the ingredients of the Lotus Elixir, and save your world!
Witchcraft: The Lotus Elixir invites you to visit beautiful and mysterious locations. Artfully crafted scenes and atmospheric soundtracks will pull you into a world set in an undefined past…
Earn valuable collections playing inventive puzzle games
Touching sound track set in a magical world
Hand painted objects and thrilling storyline!
Game System Requirements:
OS:

Windows XP/Windows Vista/Windows 7/Windows 8

CPU:

1.6 GHz

RAM:

1024 MB

DirectX:

9.0

Hard Drive:

259 MB
Game Manager System Requirements:
Browser:

Internet Explorer 7 or later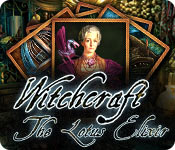 NEW299
The Big Fish Guarantee:
Quality tested and virus free.
No ads, no adware, no spyware.

Reviews at a Glance

Witchcraft: The Lotus Elixir
0
out of
5 (
0
Reviews
Review
)
Customer Reviews
Witchcraft: The Lotus Elixir
24
24
travelling to the different places
What I like in this game is that you're travelling to the different places. The games are pretty challenging. Good, purposeful HOGs, not just finding the list of abstract items. And very nice graphics. The music is lovely and fits the different scenes.
August 4, 2014
ABSOLUTELY NO HAND HOLDING!!
BASED ON DEMO Gave this a quick once over. It failed to entice me, at first - but I had only 6 minutes left when I bailed, so it kept my interest. And I know, given the most significant thing in this game is that it has little to no handholding, and is also creepy, that there will be at least a dozen people who will love it *wink*. The artwork is nice. Too dark and a bit gross, but a very good style. Just a hint of that dark outlined style that totally changes the look of a game, such as they do in Mortlake Mansion. Weird sound effects. The music is a nice change. A single guitar, at one point. The developer is just a couple of people, and they produced a great first (I think) effort. But it is a very low key introduction. Just a (well chosen) voice, a little too slow in delivery, telling us a little of the circumstances we find ourselves in. The story is that you are an apprentice witch, and today is your final exam. I think. The story was pretty much lost as you try to figure out what needs to be done. So I may well have forgotten things. This is the kind of HOP game where a ring springs out from (in this case) a golden ball, and the items pictured must be found lying around in a location. As well as this kind of gameplay, there is the finding of recipes, collecting ingredients and following the instructions. There appears to be little or no other gameplay, very few puzzles. But the puzzles are great. They take old ?favourites?, like the ?match the pairs? and add interesting, slightly more difficult components. In this case, the ?objects? are insects on the spines of very old books, where you must find the matching pairs to eliminate. The insects are not clearly apparent, and there can be more than one insect on a spine. In another, you complete a ?mirror? jigsaw, but don?t dally! The glue you must add for each piece will dry. Which brings up an important point. Don?t try this game if you?re squeamish. There are spiders, snakes, insects and other creepy stuff everywhere. Another point in favour, dark and eerie fans! *wink* There is a hint (on the left side, marked 'H') and a notebook with replayable video clips and copies of the recipes, marked 'D', on the right. And a small button top right of the inventory bar marked 'M', which takes you to the main menu - where 'Exit' is seriously hidden in the bottom left corner. The entire interface in this game felt wrong. Hint and Skip take forever, and there are no choices of difficulty levels. Also, no map. Hint is not much help either, most often you get that old fashioned ?There is nothing to do here?. Which is better than no hint at all, but only just. Eventually, if you go blindly clicking away forever, as I had to, on just the 2nd HOP (and I?m not usually THAT bad), a very faint hint of a sparkle will highlight the items you?re searching for. But it didn?t register on me, until I hit the last object left to find. The entire game felt old fashioned, with its low level of adventure play and virtually no help, and the style of HOP. Which will also appeal to those who like the classics. I think I?d have to call it a iHOG, rather than a HOPA. Personally, I felt a bit simple, playing this game, because everything, even the HOPs, makes you think. Not really my cup of tea for a stand alone. But if you like that style of play, the game certainly is of sufficient quality and a certain charm. And despite my preference for HOPA?s I will definitely be getting this game with a punch card credit.
July 29, 2014
Someone's been rootling in the BF attic again!
A real blast from the past; map-free zone with pop-up collection zones and some real stinkers of HOSs. Those (like me) who have been demanding more challenge recently have got it in Spades with this soft release. I was scratching my head, searching high and low for something to do, begging the cursor to change while waiting (it seemed forever) for the hint to recharge. I cannot say it was fun, at times it was frustrating and SOOOO slow! But, I played out the demo so it must have drawn me in with something. The music was enchanting and the graphics good. The storyline isn't 'in your face' and I am still not really sure whether I am training to be a witch or rescuing someone. I played with the tutorial for the demo and, although it was irritating, it did help me to work out the gameplay at times. This will be another 'Marmite', some will love it and others will hate it. If the pace had been better, I would have loved it. You MUST try it first! DO NOT buy without trying! I can feel a coupon moment coming on and then will play in short bursts.
July 29, 2014
Needs a little polish but is an okay game
I played the 1 hour demo and decided it wasn't worth buying for me, but was okay for your typical mysterious and moody HOG (at least this one isn't that dark as most seem to be on BFG). The artwork in this hidden object game is beautiful and probably it's best feature. The "music" is rather annoying and not so much music as a single played note in trying to be "moody" it just reverberates my speakers and I was forced to turn it off. The turn off for me was the gameplay itself. I kept forgetting to look for gold pearls, which represent everything from dragon horns and mirror pieces to chemistry sets - very odd. I found I had to click the mouse very precisely to pick up small objects. The graphics of moving objects was drawn out - when mixing a recipe up, it takes forever to sit through the individual graphics of each item next to the tool that breaks it down for the recipe. And lastly, it's hard to know where to click next. A good example is when you know you must click on a cauldron. But the cauldron doesn't click unless you have your cursor just over the one spot that makes your cursor show an eye. It's rather annoying. The game is playable and I'm sure if I stuck with it, I'd get used to the foibles, but it's not worth the money to me. I can neither recommend for or against this game.
July 29, 2014
Not for me
I found the graphics were fine, but lack of directions, especially on puzzles frustrating. Extremely slow game, did not hold my interest.
July 30, 2014
Unplayable
The graphics are dark and muddled. The areas you see are flat, unrecognizable jumbles of tree trunks, stairs that lead nowhere, and bright pink or yellow windows. None of what is on the screen made any sense and very little of it was interactive in any way. I couldn't tell, from what I was looking at, what the developers meant any given area to be at all. The confusing appearance was accompanied by innocuous guitar music that wasn't bad. Unfortunately the audio also included an annoying "aha" sound whenever I accidentally clicked something that, I'm assuming, is something necessary for the inventory or that will allow game progression. I say "I'm assuming" because there was no storyline at all. I say "accidentally" because there are no cues from a storyline or visuals that suggest what you should be doing. The game has a gigantic custom cursor that has a blunt point and laggy movement. There is no option to get rid of it. This, in my opinion, is unacceptably poor game design. A custom cursor should work properly and you should be able to dispense with it if you prefer the system cursor. It also should not be over an inch in size. I really wish developers weren't in competition to see who has the biggest cursor. After all that I started randomly clicking which caused me to get one meaningless screen after another. I had no idea what any of these screens meant. There was one HOS which required me to find 6 or so little pictures but I had no idea why I was looking for them and they were obviously placed so it wasn't really a HOS. Overall, this was a visually random and completely unengaging ten minutes for me. All I can say is don't waste your time.
July 28, 2014
Looks good, plays bad
I like adventure HOG type games and magical stories but this is a disappointment. The game starts with a VEEEEERY slow intro then you are on a walkway with a huge gap in it, but you have to get home. The problem I had was the cursor is so big it is slow and very difficult to get it to click on what you want. The hand holding is also constant and unwanted. By the time I was having to mend a mirror with the cursor covering the whole bits of glass so you couldn't marry the edges I was so annoyed I gave up.
August 1, 2014
I tried, I really tried
I tried the game before buying, thank you to those that made this suggestion. The challenge is ok but you have absolutely no idea what to do in each screen. You see pieces of items floating around but the little gold ball isn't always available. I clicked on the floating item, then the gold ball would show. The cursor is way too big for the items you are trying to find and I could not find a way to change it. Game is slow moving, not always intuitive on what you should be doing. Hint is very very slow to regenerate and very slow to point out what to do next. Another frustrating issue I found is some of the items you are trying to locate on hidden objects are off the side of your screen, very small and really close to and almost hidden by the Hint Dragon. This is not a buy for me. I really did try to like it.
July 30, 2014
Worst Game Ever.
Since I gave a rating of "awful" for everything, you're probably wondering why I gave it an overall 2 stars and not 1. I dislike, strongly, the word "hate", so I will never give a 1 star review until that word is changed for something less offensive. So, although it deserved 1 star (really 0 stars) it got 2. Now, on to the game. Awful. The graphics were dark and creepy (that was ok) but if you look closely it looks like there are trolls (or something) stuck in the trees. Why? They don't do anything. Maybe it's to add to the general creepiness. The music was a guitar playing and an occasional "ahm" sound. You click on a pearl, which opens a circular orb-type thing surrounded by several more orbs containing shadows of items. Find those items and when all are found you get an inventory item. I came across 2 during the time I played. There is a mirror that once you find all the broken shards you have to use glue and then put the piece in. This frustrated me in the beginning because the shards didn't "lock" into place. It wasn't until I started going counter-clockwise from the "6 o'clock" place that they started locking into place. Hmmm. The hint button is useless, takes forever to recharge and only told me there was nothing to do in an area. Didn't send me into another area. Didn't point to anything. Totally useless. Also, there was no skip button. I came across a stained glass window that needed several pieces put back in 5 places. No clue as to how the placement went and every combination I tried didn't work. But, no skip button. After 15 minutes of this nonsense I finally exited out. I thought I would truly enjoy this game because it reminded me of one of my favorites (Bluebeard's Castle) where you get absolutely no hand-holding and have to figure things out for yourself. WRONG! This game gave no instruction, the hint button was useless, couldn't find a skip button during the mini games and the humungous cursor was a joke. You had to look into this little orb at the bottom of it to see if there was an arrow (go in that direction), a hand (pick it up), etc., etc. All in all, I lasted 35 minutes and got nowhere. For all the above reasons, and many more, this will not be a purchase for me - not even with a free coupon or credit. I, also, will not recommend this game to anyone. It's a complete waste of our precious time. If you want a game that requires little hand-holding and is fun and mysterious and intriguing, go find it elsewhere, this is a DUD in my book.
July 29, 2014
oh please play the free hour
before you buy, like I didn't do. UGH. I thought the artwork looked beautiful, had a free credit and what the heck. This game is so frustrating, very slow and frankly antiquated. I can see now why I'm the first to review.
July 29, 2014