Hidden Expedition: The Crown of Solomon
Exclusive
The expedition continues... Track down the fragments of King Solomon's crown and foil a madman's plot in this exciting follow-up to the bestselling series!

You've stopped the Robideaux family from stealing the Hope Diamond and using its shards for their own twisted ends. But before Robideaux's cargo can make it safely back to the museum where it belongs, a criminal has stolen a valuable artifact. It's a piece of King Solomon's crown, long broken apart, its fragments scattered across the globe. Can you pick up the pieces in time?
Game System Requirements:
OS:

Windows XP/Windows Vista/Windows 7/Windows 8

CPU:

1.6 GHz

RAM:

1024 MB

DirectX:

9.0

Hard Drive:

797 MB
Game Manager System Requirements:
Browser:

Internet Explorer 7 or later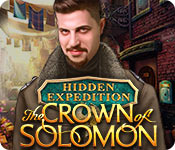 NEW299
The Big Fish Guarantee:
Quality tested and virus free.
No ads, no adware, no spyware.

Reviews at a Glance

Hidden Expedition: The Crown of Solomon
0
out of
5 (
0
Reviews
Review
)
Customer Reviews
Hidden Expedition: The Crown of Solomon
14
14
Put the broken crown back together and you could rule the world!
I had played this game when it came out in the CE version and it had me hooked completely. I haven't played it yet (my Game Manager groans every time I buy another game because there are waaaay too many purchased and not yet played). LOL. Storyline: A fragment of a powerful crown has been stolen from King Solomon's Tomb. It is said that whoever has possession of the crown, which King Solomon destroyed into pieces, will RULE THE WORLD! H.E.L.P. is called in to investigate the situation and YOU are the investigator. Find those crown pieces and keep them out of the hands of wrong people. FYI: You WILL be facing danger at every turn. There is an infiltrator at the H.E.L.P. Organization. Off you go. Good Luck. Graphics and Sound: Amazing. Strong colors, great atmosphere. A LOT of hard work obviously went into this game. Voiceovers are clear and easy to understand. Lip syncing perfect. Music - not annoying and the tempo rises and falls as appropriate to the situation. Even has the "edge of your seat" rising tempo that really did have me at the edge of my seat - lol. Game Play: Easy enough. You are a H.E.L.P. Investigator traveling the globe to find the pieces of the crown before the bad guys do. However, you were found out and followed - trapped in a sinking ship in the Arctic - end of demo. DRATS! HOGS and Mini Games: Not many HOGs in the demo - like not one in every scene - but those I played were interactive, fun and not difficult to find the items. The mini games were fun, some innovative, all relatively easy or once you give it some thought you should be able to manage them. There are 4 levels of difficulty - rookie, field agent, H.E.L.P. operative and custom. In "custom" you can change everything including the amount of time things sparkle, skip time and hint time. During the demo I like to move hint and skip to the fastest so I can get into gameplay quickly. I liked that there were still "fact cards" to find in the SE version because they were historical and fun to read. I encourage EVERYONE to try this free demo. It's an amazing 90 minutes long and if you've been following this series, this is by far the best one yet. Happy Gaming!
August 2, 2014
it's not over till it's over booo-ha ha
excellent game had a good time with this one and i mean a good loooong time with this one . very well put together and i don't know how many of you bother to watch the credits but there is a surprise at the end..will probably play this again when i'm not so interrupted with life. definitely worth the time and money,looking forward to the oops....never mind..lol....
August 11, 2014
Murder, Mayhem and Mystery - A Great New Hidden Expedition
The Story begins with finding a priceless artifact and then a murder. It looks like we are in for a great ride with this exciting new adventure in the Hidden Expedition series. Hidden Expedition The Crown of Solomon is a tale of treachery, loaded with mystery and secret agents. We will travel to exotic locations on our journey to solve the mystery of the missing Crown of Solomon ? are you up to the challenge and will you be able to finally restore this ancient artifact? With this being a game from EIPIX, one of the premier game developers today, the game has wonderful graphics. The artists have done an excellent job creating the characters in the game, although I wish they did have a bit more personality as they seem a bit dull. The game does have lip-synced voiceovers which are now standard with this developer. The sound package is awesome including the voiceovers, music and ambient effects, which combined create a feeling of excitement and realism in the game. Your H.E.L.P. box contains your video messages, fact cards, and a section that shows your achievements. You also have an interactive, transporter type map that can be quite helpful. The one thing that I dislike about the recent Hidden Expedition games is that with the H.E.L.P. box we no longer have a journal. It would be very helpful if the developer would add a section for notes that we could review when needed. I don?t want to replay the emails or videos when I need to look up some information in the diary. I am not going to go into all the HOPs but will note that you should keep your eyes open. Discovery is half the fun ? right. I happen to like the HOPs that EIPIX includes in their games since there is always a lot of variety. I like what EIPIX has done with their HOPs because they are different but, and here is the biggie, by the time I finished the game I was a bit tired of going through all the multi-levels of the scenes to find items and found them a bit tedious. I think there is some point, that when no matter how great something might seem at first, it becomes a bit too much. This is just my opinion and others may well disagree. The puzzles are good and my favorite part of all HOPA games. EIPIX does not disappoint with the variety and number of puzzles included. Most puzzles are what I consider easy but a few can be a bit tricky and require some thought to complete. The recent trend has been to include very easy puzzles in games and solving them is a bit like being on auto-pilot. My request to the developer is please add more difficult puzzles to your games, not all of us like very easy puzzles that require no thought. Overall, this new Hidden Expedition game is wonderful and is right at the top of my list of favorite games. I found the beginning of the game in the airplane and the sudden descent to be exciting and very well done. I purchased the CE version and found it to be an extremely enjoyable Hidden Expedition, one that held my attention throughout the game. However, as always, I recommend that you at least try the demo to see if this is a game you will like.
August 1, 2014
Immersive, exciting adventure
The latest in my favorite current series went beyond my expectations. The video and sample shots for some reason didn't entice me but I tried the game because it's my favorite series and bought it cause the trial was great. What did I like? First, everything worked perfectly, which of course it should, but I can't say that about all the games recently offered by BF. Then, I loved the story. I got so involved that I felt I was there, rather than the ho-hum, this is so done before feeling I get playing many new games. I loved the feeling of being on an adventure rather than in a horror movie. There was plenty of suspense but none of this dragged out I've got to hurry tedium. The story was never lost or bogged down in endless interactions with objects. I loved the real-world villain and cared about the good people. The visuals were clear, colorful and realistic without being overly pretty and the HOPs were different and fun. And to top it off, a satisfying ending. Doesn't get any better than this.
September 27, 2014
Very fun game
I loved this game! As I do all Eipix games I've played so far this one does not disappoint. Its an exciting detective adventure that is not a deep dark drab story line. I love the action, and the music kept me pumped like I had to play faster as if I was really there, Lol. It's not overly challenging but a great game to play if your not looking to really be stumped or get frustrated by not being able to figure out puzzles (trust me I like those games sometimes after coming home from work and having to think all day, sheesh!)
September 18, 2014
This is what an adventure game should be!
I have had so much fun with this and the hidden expedition the hope diamond, both these games have great story lines that allow you to truly immerse yourself in the game, that you are truly playing the game, great puzzles and very few HO mini games, and even those are fun. Thanks Epics for true Epics games please keep them coming MissMarple13
August 23, 2014
I Need H.E.L.P
Get ready for another heart pumping action packed Hidden Expedition folks, this rides gonna be bumpy! It's hard to believe that Smithsonian could ever be topped, but that's exactly what has happened, move over Smithsonian and make room for the new King, or at least King Solomons crown! King Solomon fashioned a crown to pass to his heirs, unfortunately this crown was stolen and broken into several pieces and scattered around the world. He who possesses the crown will rule the world, and a ruthless smuggler, Gordon Redgrave will stop at nothing to get his hands on this crown, there even seems to be a spy amongst the H.E.L.P agency. Once again agent, you are equipped with a communications box which allows you to receive messages from other agents and will come in handy as you find 20 fact cards spread throughout the game which gives you interesting information about people and places you visit. The Hidden Object Scenes are well done but a bit on the easy side. There are several types ranging from interactive list finds, finding multiples of an item, and finding items that match either a colored picture or a sketch. The mini games are simple puzzles such as picture fragments to reconstruct or pressing three different designs that when combined will match the pictures shown. The Collectors Edition has a bunch of extras that you may want to consider, Morphing Objects, 44 hidden crowns, Achievements, Puzzles, HOP, a Souvenir room, Making of, a built in Strategy Guide, a Bonus chapter, a Picture section that allows you to assemble a camera before accessing pictures of the actors, and a movie section where you get to play a mini game of throwing rotten tomatoes at the bad guys, enjoy!
August 1, 2014
Fantastic Game
This game is wonderful. The story line is fun and the graphics are great. I love the fact that i can play in the "turtle mode" and be able to use lots of hints. I have some memory problems so i sometimes use a lot of hints and then go back to play again with nearly no hints needed. This has been the best game that i have purchased in months and the best, by far as a total package of FUN !!! There was not one thing in this game that i disliked. Even the music and that is rare for me to enjoy music in a game. I normally just turn the sound off but this music fit the game perfectly.
January 24, 2015
Can't Wait to Play this One Again
This is posted after playing the entire game. This is an excellent game and I had a lot of fun with it. Just the right balance of story, games, and the effects that make for a good game. Can't wait to play it again in a few weeks. The graphics, as we have come to expect from this designer, were awesome; voice overs excellent; and the music pretty dern good. I still don't care for the box for the voice overs, but that's their style and as long as they keep turning out games like this, I can put up with it. The hidden objects were a combination like their last game. You have several games in one to get your object. If you have read any of my posts you know I do not care for the mini games, but I actually played a few. Some were easy and some I still haven't figured out what to do, but they were good and I did try each and every one. The challenge was just right for me especially the hidden objects. You have an interactive map that does a great job getting you around and showing where something can be done. Great story. The cards that you find along the way are interesting and add to the story. However, being a history buff, I don't remember this story of Solomon. There just might have been a couple liberties taken with it, but it kept my attention all the way through. I'm looking forward to the next one from these folks. I'm sure they are maturing and expect something really special next time around.
August 4, 2014
Not Quite Worthy of the Crown - updated review
The Hidden Expedition series has been a fairly strong one, with the last offering - Hope Diamond - one of the best in this reviewer's opinion. First off, let me say what this game is NOT. It is not a story about a princess, fairies, or talking animals (so far, so good). It is also not historical - yes, Solomon was a historical figure, but there is no legend about his crown. But okay, I'll play along. You are a member of H.E.L.P., an organization that recruited you in the last episode - but it's not necessary to have played it for this installment. As the title suggests, the goal is to retrieve all the pieces of Solomon's crown, which is supposed to have incredible power, i.e.,wisdom of Solomon. Of course, evil smugglers are also trying to get the pieces and you must not let that happen or - End Of The World. You have a communication device to keep in touch with the H.E.L.P. team. The drawing and artwork is colorful but grainy, not quite as good as Hope Diamond. Voices are fairly good. Puzzles and hidden objects (there are not too many) are very, very (did I say very?) easy. Objects in your inventory are used pretty much right after collecting them, so that's easy too. In th Collector's Edition (CE) there are collectible crowns, morphing objects, a slew of achievements, (including watching the entire credits) and a souvenir room. And the usual bonus play and strategy guide. I was frankly disappointed. Yes, there is a lot to do, but the locations are not compelling, the artwork is not distinctive, the play is far too easy and the story way too predictable. It's an ordinary game, playable but soon forgettable. It may please beginners, but not more experienced players. Wisdom of Solomon? Not required. Three stars Update: ok I bought the CE anyway (there was a sale) and I decided this is better than average so I will update my rating to 3-1/2 stars. I did have some problems with having to click the EXACT spot to complete a task which caused some confusion. It is still not as good as Hope Diamond but worth a good look.
August 1, 2014
The Apple logo is a trademark of Apple Computer, Inc.