Secrets of the Dark: The Flower of Shadow
Exclusive
From Orneon Limited, creators of the Secrets of the Dark and Echoes of the Past series, comes a thrilling new secret to uncover!

A father's frantic plea sends you in search of his daughter, Maria, who seems to have vanished into thin air. A mysterious and supernatural force has kidnapped her on her 16th birthday, sealing her room with a magical glow. Your investigation leads you from an odd, flower-shaped lamp through a portal - an ordinary room becomes a nightmarish forest! Can you find Maria in time? Or will she be trapped forever in a shadowy realm by a creature bent on revenge? Find out in this exciting Hidden Object Puzzle Adventure game!
Game System Requirements:
OS:

10.9/10.8/10.7/10.6

CPU:

1.0 GHz (INTEL ONLY)

RAM:

1024 MB

Hard Drive:

810 MB
Game Manager System Requirements:
Browser:

Safari 4.0 or later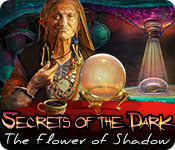 NEW299
The Big Fish Guarantee:
Quality tested and virus free.
No ads, no adware, no spyware.

Reviews at a Glance

Secrets of the Dark: The Flower of Shadow
0
out of
5 (
0
Reviews
Review
)
Customer Reviews
Secrets of the Dark: The Flower of Shadow
18
18
Loved It!!!
I'm a simple kind of girl......do not need all the technical explanations....just want the fun factor, which this game totally has. Kept me interested right from the beginning :). Loved it, loved it loved it.
August 4, 2014
More Secrets of the Dark, please
LOVE, LOVE this game! Bought the CE but... The gameplay was super and fun... much better, imho than more recent offerings. Especially loved the HOs which were not your standard lists. Skipped a lot of puzzles because I get too impatient but thank goodness for the custom mode where I could set for fast skip. I did NOT like the gadget (to zap the magic barriers) where you had to set it to certain numbers to activate it but once again the fast skip helped. But loved the lamp that took you into an alternate environment. For me the gameplay is the most important and I did spend hours trying to rescue the kidnapped daughter. There's a map that will show you where you have an active objective but I tried the hint button and it showed you the scene and was transportable. I didn't have to use either too often. This offering has made me want to go back and play again... which I'm doing so if you'll excuse me........
August 3, 2014
A Surprising Secrets of the Dark! Excellent from Beginning to End!
When Secrets of the Dark: Temple of Night was released, I was blown away by the innovation and creativity of the game. It was so different to find a game where the reality would change from real life (or perhaps perceived real life) to an alternate reality. The second game, Eclipse Mountain, was also very good. But by the time the third game came along, something changed and I found it boring and tedious to say the least. With Secrets of the Dark The Flower of Shadow we now have a game that is, IMHO, almost as good as the first game in the series. The storyline is interesting and since I think you should discover the story for yourself, I won?t give a recap here. The graphics are very good and even though some scenes take place in a dark cave they are still beautiful. I found the graphics to be sharp and clear rather than having that misty washed out appearance that we find in some games. The Overall sound package including music, ambient effects and voice overs is really quite good, although there is no lip-syncing ? always a disappointment to me now. For tools you have a special device (looks like a robotic bull?s head) that allows you to dispel magic spells. You have to fiddle with your device frequently in order to use it but that only adds to the gameplay. The journal is set up so that it contains tabs where you can access your objectives, your map and the strategy guide. The map is interactive, which is great since in the last game in this series the map was virtually useless and it was a mess navigating. Fortunately the developer improved that feature for this game. There are various types of interactive HOPs, which are quite different than the ones we normally see. I won?t go into what they are because I hate to give too much away. The puzzles in the game may seem familiar but they are really a bit difficult at times. Some of the puzzles I enjoyed but others not quite as much. I always have difficulty when it comes to those puzzles that require ?mousing? expertise ? lol. I was very impressed this installment of the Secrets of the Dark series and enjoyed playing the game. The gameplay and story held my attention right from the beginning and that continued on through the bonus game, which is something that often doesn?t happen. The Flower of Shadow will be on par with the first two games in the series. Although I thought the game was excellent and held a lot of entertainment value for me, I recommend that you try the demo to see if this is a game you will like.
August 3, 2014
Different
At first glance this game looked like I wasn't going to like it. The cursor is HUGE and takes up half the screen. Once I shrunk it to a regular size it was much better. What I really like about this game is how different it is than most. I'm a couple of hours in and it's been rather challenging and haven't seen your standard hos yet. This suits me well because I'm more into puzzles and logic. If you can get past the cursor this game is really wonderful. I will be looking up more of these games to add to my 200+ collection.
August 23, 2014
The Actions Of A Few......
Once Upon a time, a beautiful glowing flower bloomed, revealing it's creation for all to see. This would be the rise of an evil Goddess, throwing the world into total darkness, before being defeated. This Goddess left behind a loyal servant, who was desperate to revive his floral master. He began searching for three innocent souls to rejuvenate his beloved but wilting flower Goddess to restore her powers. Maria Kolak opened a present for her 16th birthday, and the lamp inside would forever seal her fate as the first innocent soul victim. Can this supernatural anomaly be stopped before another innocent soul is taken, can Maria be saved before it's too late? The story is a bit too vague, perhaps it's explained in more detail as you progress. How did this strange flower come to be? Where was this flower, here or another world? How did the Goddess leave behind a servant, in the form of seeds? How did she transform the world into darkness and who defeated her, how did they defeat her? The Collectors Edition extras include, concept art, replayable mini games, achievements, a bonus game and a built in strategy guide and there are 30 collectible hidden flowers to earn with an icon to view the collected flowers. There are also 16 morphing objects, but in my opinion, they are too obvious, such as a large blue monster, so I wasn't very impressed with the morphs even though I'm a huge fan of morphs. As with the other Secrets of the Dark games, you need to transform dark areas into normal lighted areas, in this case you will use the lamp in Maria's room. Some of the things you do in the transformed areas will affect what happens within the other realm and visa versa. You have some type of device that enables you to scan doorways that have been locked with a supernatural force field. Maybe I wasn't paying attention, but I don't think the device gadget has a name. To use the device you click on the icon located to the right of the screen and scan the desired area to receive the code. Each time you use the device, the code becomes larger, but the process is the same. The left knob has a negative number such as -3 and the right knob has a positive number such as +5. You adjust the knobs either three numbers down or five numbers up until your device numbers match the code, one digit at a time. I actually found this mini game kind of fun. Most of the other mini games are fairly easy such as using arrows to slide four different rows with various open slots so that two colored balls at the top of the board drop to the matching colored slots at the bottom. The Hidden Object Scenes were mostly progressive interactions where you find the first item that matches the picture shown such as a battery. You then pick up the battery and place that battery in the camera which will take a picture and reveal a ring which goes onto a ring holder to reveal the next item and so forth. Although I was slightly disappointed with this game because it didn't seem as exciting as the other games in this series, I do think it's a decent game, with some fun and entertaining aspects, and hopefully you'll like it as well, enjoy!
August 3, 2014
Not toooo many of that boring Hogs - enjoyed it
Loved that I could enjoy the Adventure part because not too many Hogs have thrown me out of it - I really wish there where none of those!
August 17, 2014
Will This Flower Bloom or Wilt?
In this installment of the Secrets series, of which I have only played Eclipse Mountain, sixteen year old Marie Kolak is captured via a portal generated from a flower she receives from an unknown source for her 16th birthday. In the portal world, an evil being was spawned from a certain flower. Some time later, the being was defeated but her servant is trying to revive her. He needs three pure souls to feed to the flower in order to regenerate the evil being. Marie's father, Joseph, is a former military pilot who has called you in to investigate and get his daughter back. An event occurred during his military service that made him and Marie a target of the the being. Village fortune-teller Stephanie is available to help guide you. Overlooking the explosion of pink and purple which opens the game, the artwork and cut scenes are fairly well done - except for a small plane which is quite out of scale and far too small. You'll transport between the two worlds several times as you progress. The world inside the portal is quite dark, and relies more on a palette of greens, grays and browns. Game play is not heavy on hidden objects The ones there are are not simple lists, but require interaction. Puzzles are fairly standard, a little more difficult than the easy ones we've seen recently, but not hard. You have a device to dispel the barriers the spirit puts in your way, it's very simple to use. Music, sound effects and voices are good, but the character's lips do not move. The CE has collectible flowers "HERE I AM." and morphing objects "HERE I AM.", but these are large and obvious, "HEY YOU!" In my opinion, while there is nothing wildly distinctive about the story or play, it seems to be well made and at least has some moderate degree of difficulty. Of the two editions, the flower I would pick is the standard.
August 3, 2014
A good sequel to the first game Secrets of the Dark.
This is the first review I have done and is based on the demo only. This is a game with the usual find my daughter quest who has been kidnapped by a servant of the shadow flower. I will not give anything away. The hint is good and gives a teleport scene to go to or shows you what is needed to do in the usual way. There is a bit of to-ing and fro-ing but not extreme. the graphics are good not fuzzy, I always play without sound so cannot comment on that. The puzzles were easy so far and I have not needed to skip. The HOPs were clear and were the type where you find one to interact with the next and so on. This is a good game for a SE and I will get it with my free game coupon. Whilst I play a lot of these games I am not an experienced hard gamer. If you are you would probably find this game too easy. Saying that I always play on casual mode.
August 3, 2014
Solid fun game
Not sure why the haters. If it were not for the cat character leading you around, I would have given it five stars. Cut idea, has a sense of humor. NOT a kids game-there are some mild curse words, and a scary evil doctor. I liked it well enough that i am gonna play it thru again on the harder mode and try the alternate ending, and I rarely do that. Don't expect incredible challenge-its just a fun little fantasy game for amusement!
August 6, 2014
i didn't like this as well as some of the devs games
it does have a "custom" level and i like this feature. an interactive map and also a journal. you are looking for your daughter that has been taken by a mysterious being after opening a gift with no tag. you need to go back and forth between light and dark places with the light. it gets broken quite a bit and you have to fix it. there is a lot of fixing. good length on the game and some of the scenes are crowded and it is also a puzzle game.
September 16, 2014
The Apple logo is a trademark of Apple Computer, Inc.
The Windows logo is a trademark of Microsoft, Inc.