Hoyle Illusions
In turn of the century New York City, two rival magicians will compete to decide once and for all, which of the two is the better illusionist - Johannes the Great or Merlin the Amazing!

But, before the performance, something goes terribly wrong. Johannes' assistant, Sophie, is kidnapped and ransomed to her sweetheart, Peter - for the price of Johannes' defeat and death onstage.

Play as Peter and Sophie in this epic hidden object adventure as you attempt to outsmart villains, magic spells, illusions, and other obstacles! Will you get to the theater on time and save the day?
40+ environments!
Gorgeous cut scenes for story and transitions
Thrilling Hidden Object Gameplay!
Challenging mini games and puzzles
Game System Requirements:
OS:

Windows XP/Windows Vista/Windows 7/Windows 8

CPU:

1.0 GHz

RAM:

512 MB

DirectX:

9.0

Hard Drive:

1681 MB
Game Manager System Requirements:
Browser:

Internet Explorer 7 or later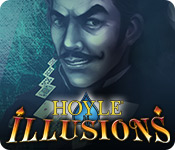 NEW299
The Big Fish Guarantee:
Quality tested and virus free.
No ads, no adware, no spyware.

Reviews at a Glance

Hoyle Illusions
0
out of
5 (
0
Reviews
Review
)
Customer Reviews
good story line
A little bit oldschool graphics , but good story line here
August 5, 2014
Fun older HOP(a) with a good story
This game appears to be an older game along the lines of those being made in 2011-2012. It's more of a HOP game with a less prominent adventure component than modern games have. It's sort of a HOP(a). The graphics are somewhat grainy and stretched on a wide screen computer, as I have encountered with older games, but it's easily playable. The soundtrack is pleasant classic music with no voice overs or atmospheric sounds. You play as both Sophie and Peter who are fiances that work for the magician Johannes. The magician's rival Merlin kidnaps Sophie in order to coerce Peter into helping him dispense with Johannes. The story was interesting and somewhat different from the usual pink fairies and murky mansions. Sophie is working to escape while Peter is dealing with trying to get her back...but at what cost? Much of the story is communicated with brief cut scenes and dialogue with other characters. Game play involves a clear objective which is met by searching through a small number of areas. In the search you will come upon a couple of HOS and a few puzzles. You may also find a magician's hat which you can click on with your wand to get a new inventory item you need. Once you've completed the objective there is a cut scene that advances the story and then you switch to playing the other fiance with a new objective. The story moves forward in a pretty linear fashion. The objectives fit with the story and the tasks make sense for the area where the character is. The hint button didn't work the one time I tried it during the adventure component so I'm not sure if it's meant to. There are a lot of HOS and they usually had at least one or two items that were difficult to find. They are classic list HOS with a pretty area to search in. The puzzles were occasionally challenging and there was one that was annoyingly unfair (the card game with Merlin). I enjoyed the HOS/puzzles for the most part though. There are collectible cards, sometimes multiple ones within an area. The game probably precedes the addition of achievements to expected HOPA fare and it doesn't have any. Overall, this game seems to be a classic HOP with the addition of some adventure component typical of the type produced around 2011-2012. I had fun playing it because I like games with lots of HOS and a minimal amount of the running around randomly clicking for inventory items that often passes for the "adventure" component in newer games. People who don't like HOS will not like this game. People with high expectations for graphic quality may be disappointed. For a fun game I'm willing to make allowances for the graphics because fun games are so uncommon. I wish though that someone would make a game like this with the high graphic quality that modern games have.
August 4, 2014
A fun, relaxing game
Not everyone wants action, adventure and craziness. Some of us have enough of those things in our lives. We want to relax with a game that is not overly crazy. The HO could be a little tougher, but overall, it is a game to escape to at the end of the day. Incidentally, the graininess is supposed to make it look more authentic. I think it is just right for winding down. Pat, The Avid Embroiderer
August 5, 2014
Battle Royale
The battle for the greatest magician is on, Merlin the Amazing vs. Johanne the Great but there's just one problem....Merlin has just kidnapped Johannas' assistant Sophie in hopes that her fiance Peter will work for Merlin as his engineer. If you can't win, cheat (sounds a little familiar here at the bakery) There are 52 Mysterious Hoyle cards to collect which will unlock mini card games such as Klondike solitaire, 3 card Monte, Spider, and golf solitaire and Capture the Ace. When you see a top hat you can use your magic wand to create a useful inventory item such as matches to light the stage lights. Each scene has a Hidden Object Scene and these are simple but not so easy to find listed items. There are no voiceovers, so you will have to read a lot of dialog boxes as you take on dual roles of both Sophie and Peter with different goals and objectives for each character. Personally, I didn't think this game was all that bad, it doesn't have the wow factor that we have grown so accustomed to in the BF Collectors Editions, but it's a simple game with simple tasks that was a refreshing change. I wasn't so thrilled with the music that seemed so loud even at the lowest settings, and turning off the sound was way too quiet, but other than that, you may want to try this game out for yourself especially if you like solitaire games, enjoy!
August 14, 2014
Hoyle Illusions is Just That
This is one of those games that I hate to be disappointed by. It's a rather nice magician themed game with hoyle playing cards to find and magic hats to use. But the fun ends there. Unfortunately this has all the marks of a game that is too easy when it could have been a keeper. First, there is no level choice to the game. There is no way to opt out of the tutorial that keeps annoyingly popping up for the first couple of minutes. And lastly, the dialogue keeps pretty much telling you what to do which ruins the game play, at least for me. I also found that some of the hidden objects are either not fully visible, too tiny or you have to click and click to get the cursor to react-- too touch sensitive. I lasted only for about ten minutes into this before I got bored silly. The game's graphics are nicely drawn old school which is fine. As i said, had they put more thought into this, it could have been a great game. Such as it is, i would only recommend this for someone who is a beginner. I definitely recommend you try the demo before you waste a game credit or buy this as well.
August 6, 2014
Very disappointing!
I was curious about the storyline, but I never really got into it. The graphics in this game is absolutely horrible and indistinct, that my eyes got tired after 10 minutes. And there are no setting options for graphics.
August 6, 2014
Fun hidden object games
I found the storyline and graphics were good, but no hints except for in the hod games. It was interesting on how it ended. Would not recommend game, very slow in moving to next scene.
August 18, 2014
A Big Flop ...
OK Graphics ... And Very Little Else ... This Game Play Is Very Poor ... I Managed To Last Until The End Of The Demo, But No Purchase For Me, I'd Sooner Watch Paint Dry ... Try It For Yourself ... Die Hard HOG Fans Might Enjoy It ... Another Developer Might Have Made This Into Something Really Special ...
August 10, 2014
definately don't buy at full price. i wouldn't even waste a coupon.
seldom do i write a review before i play the whole game. i have been forced to DL the free trials now due to finances to pick out the better ones. this is not one of them!!!!!!!!!!!!!!!!! i didn't like the graphics, it is hard on the eyes. i liked the cards to find and the top hat and wand, but it didn't make up for the game. some will like it.....i did not. i even like the silly ones for kids sometimes, but i did not like this one. giving it 2 stars was generous, but some may like it so i wouldn't totally give it a one star. did i mention i didn't like it!!!!!!!!!!!!
August 9, 2014
Only for HOS fanatics with 20/20 vision and infinite patience
The premise sounded intriguing: a Battle Royale between two great magicians. Made me think of a favourite film "The Prestige". Checked the main menu and found that there were collectibles (52 playing cards) to open up mini games. Hmmmm! Began to play. And that's when it started going downhill! There is no choice of gameplay and the uninvited tutorial holds your hand from the start. Unless you have NEVER played a HOG before, you do not need to be told to find objects from the list! You begin by playing one character and then, as the story unfolds, you switch between her and her fiance. This could have been a redeeming feature. Another is a magical way of finding inventory objects, but after the first few it just becomes boring. HOSs - all lists, all junk piles, all a bit dark, all with tiny objects. I played 10 during my 60 minute demo, one was repeated (I had to find some of the same objects which were in exactly the same place as before!) and the same objects cropped up in all of them. Puzzles? Well don't get me started! For the first I had to find 4 music sheets, I found 3, placed them dutifully onto the music stand, went to search for the 4th, clicked in error on the piano and there I am in the puzzle with no escape and no clue of what to play! Had to skip! 2 other puzzles were so frustrating, I skipped them too (and I usually love puzzles!) Music in the main game is OK, in the HOSs it is repetitive and irritating. Graphics are so old fashioned and dark. VOs are none existent - all reading and popping up too often to state the obvious. You have probably guessed by now that I will not be buying this game even with a coupon. I repeat: "Only for HOS fanatics with 20/20 vision and infinite patience"
August 5, 2014