Bomb the Monsters!
Once upon a time, there was a happy painter who lived with his beautiful wife. One day, a group of unknown and unidentified angry creatures known as The Monsters, invaded Earth. They have captured the painter's wife and exhausted all of Earth's resources!

The Monsters comes in various sizes and they are extremely sticky. Due to the physical structure of their bodies, these monsters can stick to almost anything! Everything in the game uses physics attributes, use this to your advantage!
Easy to learn, hard to master!
60 levels and 6 different worlds
Breath-taking animations and music
10+ unlockable items!
Game System Requirements:
OS:

Windows XP/Windows Vista/Windows 7/Windows 8

CPU:

2.0 GHz

RAM:

1024 MB

DirectX:

9.0

Hard Drive:

103 MB
Game Manager System Requirements:
Browser:

Internet Explorer 7 or later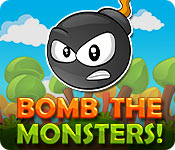 NEW299
The Big Fish Guarantee:
Quality tested and virus free.
No ads, no adware, no spyware.

Reviews at a Glance

Bomb the Monsters!
0
out of
5 (
0
Reviews
Review
)
Customer Reviews
Love the monsters
I love this game. It's physics with some sticky thrown in. Not angry birds, but along those lines. You put bombs around the monsters to try to knock them off the screen. Kind of like golf, you get more points if you are under par using the bombs. If you keep trying one way and you can't zero in to get the monsters, try it's opposite to see what happens. You also have brainless ones. These you have to leave on the screen while getting rid of the monsters. I'm about half way through. Some screens are DIFFICULT to get done. I have a couple that I go back to, but still can't quite get. I'll keep trying. The one thing I don't like is that the game doesn't save the sound OFF setting. It's turned on each time I go into the game. VERY tacky of the programmers.
August 7, 2014
the kids should love it
I did all but 28 minutes of the trial, saving some for my grandson. I occasionally buy games for him when he really enjoys one. I think Bomb the Monsters fits the bill. This is not a game that I would like over the long haul, then again I am not 7 years old. This is quite similar to Angry Birds. The how to play directions are poor, I took a few minutes just to figure out what to do so a youngster on his own might have a hard time doing so. Then again, a kid probably would step right in with no difficulty. There are 10 scenes in every level. The object is to be awarded a gold cup by blasting monsters off of their perches with one bomb. Placement of the bomb is crucial to doing so. A misplaced bomb either results in total failure or only blasts away some of the monsters. It took me half the trial to get gold cups in all 10 scenes of level one.Some levels have multiple bombs but I did not look into seeing if advancing to the next level is possible without all gold cups. That's when I stopped. I did check out level 2, and like other games of this ilk, the difficulty ramps up. I never checked to see how many levels the game has. The music is awful so I did cut the sound. Other than poor directions Bomb the Monsters appears to be a silly fun game. For me the only question is does it have appeal for adults? I might add that a knowledge of physics is a plus. Give it a whirl, the demo is free and even if this is not in your wheelhouse, it's a fun hour's diversion.
August 6, 2014
Bomb the Monsters
This game is so easy to play, anyone can learn how to play this game in a couple of seconds! The tutorial doesn't even have words, just a finger that illustrates to click on the bomb and drag the bomb to the desired location and then click to detonate. That's all you have to do! However, the hard part comes in when you have to strategically place the bomb so that you knock all of the monsters off of the logs, crates and towers with as few bombs as possible. Some of the levels have crates that hold the good guys captured by the monsters and you will need to knock off the monsters without knocking off the crates holding the good guys. You will earn a gold trophy if you complete the level within a specific amount of bombs, but you can replay the level or restart the level as often as you want until you figure out the best bomb placement for the best results, enjoy!
September 3, 2014
You'll love it or hate it!
Put me in the "love it" category. It is, simply, fun and addictive. Graphics are simple and cartoonish, which works for this type of game. The music is kiddish and repetitive - I turned the sound off. Need separate controls for music and sounds. If there is a storyline, I fail to find it, but story is not needed. Meh. There are no written directions. For the most part, this is okay - they are saving the hassle of localizing for different countries, as well as the cost. HOWEVER. I worked at it until I had all gold, thinking that was required to move forward in the game. Then, I couldn't move forward, anyhow. A nice fishie in the forum told me to drag the screen, and Voila! There is an arrow to move the screen to the right, or go back to the previous screen, but not to move to the next screen. Instead, there is a button to replay the "cut scenes", as if anyone would want to! I also didn't realize you could place multiple bombs until someone mentioned it in a review. If the Devs are listening, please make some updates and a tutorial that shows how to place multiple bombs and move the screen! People will not buy what they cannot figure out how to play... Now, having said all that, I think it's a smashing good game, as far as the gameplay itself is concerned! There are 129 levels, and it will take quite some time to finish them all, let alone get gold. Each group of levels gets trickier, and it's very addictive. The principle is simple - place bombs to dump all the monsters. The execution is not so simple, past the first couple of levels. And you will do a lot of experimenting. I do wish the replay was quicker, I hate waiting for the puzzle to reset once I know I've missed the mark. Definitely a buy come Monday! ;o)
August 7, 2014
Good game but...
It was a good game. Some levels were super easy where as others made you think and I had try them several times before I finally got it. So it made you think but I would have preferred more of the challenging levels. There are two things that are serious downfalls for me though. One: The game is entirely too short. Only 60 levels, hopefully the devs will come out with an update at some point or they should have the levels a bit more challenging. Two: There are no directions not even any hints. This wouldn't be too much of a problem since the game is easy to understand and learn but the issue comes in two places. After getting all gold on the first 10 levels it took me a while before I finally figured out that you had to click and drag to get to the next set of levels, kinda annoying, there really should be an arrow button or at least a line telling you for the first time how to advance. The other reason is because I have completed the game but have no idea how to get any of the achievements that I can apparently earn. On the home page the word Achievement is there in the top right but no hint on how to get them.
August 11, 2014
Could be good, but you cannot advance when everything is not gold
This could be an enjoyable game. You have several bombs to blow away sticky monsters in different settings. You get a medal if you can complete a level with a minimum amount of bombs. Levels are grouped in sets and, apparently, you cannot move onto a new set of levels if you don't get a medal for all levels in the previous set. Therefore the fun factor drastically disappears if you pass all levels but 2 out of 10 are not "gold". This is an ABSURD AND ANNOYING way to destroy what could be an enjoyable game!
August 6, 2014
Simplified Angry Birds
This is basically Angry Birds without the pesky trajectory calculations than can be somewhat frustrating for younger kids. The graphics, buttons and music are extremely similar to Angry Birds, but they don't have the polished look and feel of the Angry Birds titles. Worth a try, especially if you have young kids who like this kind of game, but for most people, you'll be deleting it from your computer after a few minutes' play.
August 6, 2014
It must be some kind of a joke...
Probably one of the worst game i've ever played. Bad graphics, annoying music, laughable gameplay. Don't waste your money nor your time!
August 10, 2014