Beyond the Unknown: A Matter of Time
Exclusive
Brought to you by ERS Game Studios, makers of the popular Shadow Wolf Mysteries and PuppetShow series, comes an exciting new adventure!

Your grandfather, a famous archaeologist, was lost at sea years ago. He was searching for the legendary Golden Sarcophagus, rumored to hold a great and mysterious power. Now you find yourself shipwrecked on the very island he was seeking out… Will you finally be able to solve the riddle of the Golden Sarcophagus and find out what happened to your grandfather? There's no time to waste in this time-bending Hidden Object Puzzle Adventure game!
Game System Requirements:
OS:

Windows XP/Windows Vista/Windows 7/Windows 8

CPU:

1.4 GHz

RAM:

1024 MB

DirectX:

9.0

Hard Drive:

635 MB
Game Manager System Requirements:
Browser:

Internet Explorer 7 or later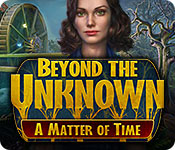 NEW299
The Big Fish Guarantee:
Quality tested and virus free.
No ads, no adware, no spyware.

Reviews at a Glance

Beyond the Unknown: A Matter of Time
0
out of
5 (
0
Reviews
Review
)
Customer Reviews
Beyond the Unknown: A Matter of Time
21
21
Unusually Good Concept
This review is based on the demo. I enjoyed the demo version immensely and will probably buy this game. The storyline is mysterious and supernatural. An evil man has found an artifact that can allow him to warp time. The world is at stake for time has become like a runaway train. The granddaughter is trying to save the world plus her grandparents who have been captured in the evil mans time frame. It seems he is in love with her grandmother and wants to prevent her grandparents from ever meeting. The graphics are fantastic as are the HOS, cluttered but clear and challenging. Music goes with the storyline, not too intrusive or constant. Puzzles are not too challenging for hints are given in a camera phone that records everything. I especially like the scene maps you pick up to compare with scenes and open a new puzzle or HOS. There are four levels of difficulty including custom which I like. I can change the time of hint and skip times. All in all ERS did a good job with this one.
August 8, 2014
The Golden Sarcophagus
This is certainly a difficult story to wrap your head around. Grandpa found an ancient sarcophagus adorned with 4 golden eagles belonging to the Lord of Time, unfortunately their ship ran into a giant rock formation that unleashed a massive time warp when the eagles became dislodged! Now you must go back to your childhood home on this very island where time of past has clashed with time of present, and search for the missing eagles to stop this tragedy or you will never exist! Your faithful Jack Russell Terrier is at your side and you get to name him as well. Any inventory item that has pawprints above them indicate that you can click and drag that item to him for his expertise in sniffing out the related items, and you can click on him and drag him onto different places in the scene. Some of the scenes will have a camera icon indicating that you can use your camera to take a picture of that scene for your gallery. You will come across sketches occasionally and you will need to match that sketch to the original item to reveal a clue. There aren't a whole lot of Hidden Object Scenes, they are interactive list finds and you have the option to switch to a Match 3 game instead. My favorite mini game was selecting different fuses to rotate until the correctly colored fuse was in direct contact with its matching colored slot and it would automatically engage once in the correct slot. There is also a mini game that requires your dog to travel a labyrinth (with your guidence of course) until he reaches the end, but there is just a wee bit of light so you can't see the entire maze. This is a really entertaining game with a fantastic story and great graphics, you don't want to pass this one up folks, enjoy!
August 8, 2014
Review Based on Completing Game
Just finished and really enjoyed this. This game is the most customizable I've ever played; you can choose not only difficulty level, but how quickly hints recharge and whether individual areas/HOG scenes sparkle. You can even choose, on the options menu, whether there will be a tutorial. I appreciated this very much! The HOG scenes have a couple of interactive items in each, and you have the option to switch to a match-3 type game at any time if you prefer...or switch back if you prefer. The match-3 game sounds and elements always coordinated with the HOG scene you were playing, so that was a nice touch. Interaction with characters was mercifully brief and they spoke with lip movement, which was a nice touch. The story is pretty straight-forward; you are to find four golden birds in order to open a sarcophagus that will prevent an evil man from controlling time. One aspect of the story I did not understand was the ghostly vision of haunted flying women, who appeared at odd times and in watery places, sometimes actively hindering you; other times just being a bit scary. It wasn't adequately explained who or what those were and that aspect of the story did not get resolved. Having said that, I enjoyed the game immensely; it was super long (three sessions of at least a couple hours each to finish) and kept my interest piqued throughout. I did have to skip some of the puzzles as the directions did not adequately explain the goal/movements thoroughly enough, but it didn't detract from the enjoyment of the overall quest. There were no "morphing" objects to find, no trophies to win, no rooms to furnish for an animal companion. You do have a little dog that accompanies you (whom you get to name), but he is used a surprisingly small number of times, so the annoyance factor is kept to a minimum, should you be one of those who hates "helper" characters. Recommended!
August 26, 2014
Time twisting Fun
I do love a game with a time travel plot and this was no exception. The plot was entertaining and visually interesting and provided adequate challenge, but could also be suitable for someone looking for an easier game as the options for play can be changed throughout. All in all a great game :)
September 6, 2014
4 Eagles of the Sarcaphagus - Can you save the world?
An old sailor tells someone while at sea that they have aboard the 8th wonder of the world - The Golden Sarcophagus that belongs to the Time Lord (not Dr. Who gang - sorry). A storm, ship runs aground before leaving the island waters - OH NO! The sarcophagus has disappeared. 10 years later and YOU are destined to find the 4 Eagles, place them on the Sarcophagus and save time - and the world! As usual for this developer, the graphics are amazing. Lip-syncing characters throughout the game, beautiful background music that touches on crescendos when appropriate and perfect sound effects. New buildings show up out of nowhere, Lenin is resurrected, havoc is being reaped all over the world! You go to the island, another storm erupts, there are phantom hands on your windshield, of course you get shipwrecked as well. And then, you meet your grandparents -- yep, your very own, very young, grandparents. Wow, that would totally freak me out. In all the shock, joy, wonder, don't forget about finding those 4 Eagles. HOGs are pretty standard. You can play a match 3 game instead as an alternative. Mini Games that I played were relatively easy. There are 4 levels of difficulty, including "custom". The hint and skip button can be manipulated in "custom" mode. You are equipped with a cell phone that contains Tasks, Notes (and clues, very important to read this constantly), a GPS map that you have to get working before you can use it, and videos/pictures of cutscenes. This game seems pretty straightforward. The storyline flowed well, there was consistency in the game play. I'm still a bit on the fence but I DO encourage everyone to enjoy the amazing 90 minutes of game time and it's free to try. Happy Gaming!
August 8, 2014
Puzzled, but not by the puzzles
I'd already trialled the CE so today trialled the SE to make sure I was still interested. Just finished it and bought the game - today's sale was a deciding factor. It's an enjoyable fantasy with an interesting story line. I do keep feeling that I've missed something though. Why am I supposed to know where I'm going and who I'll meet from the start? Why do I keep taking seemingly random photos? Why when it's a seemingly modern civilised place with electric light, shops,etc, are there murdered skeletons left lying about unburied? It's not as though they have anything to do with the story. So a lot to screen out. If you can do that, it's a pretty good game.
August 9, 2014
intrigue?
the game was okay for something to do but it really lacked any ooo what's next to get you going. when i finished i said [ to myself] oh okay that's done. the graphics were good the puzzles too but it just didn't grab me.i did turn up the music and that helped add SOMETHING.. suggest try the demo on this one .
August 11, 2014
ERS, You Were SO Close!
I liked this game, except for one very annoying thing with the hidden object scenes (HOS's): if you didn't click just exactly right on certain items, nothing happened. So you'd leave that item, but you always ended up coming back to it because you knew it was the right one. Get what I'm saying? And FINALLY it recognized your click. This makes us pull our hair out and our blood pressure skyrockets! On the plus side, some very innovative HOS's and puzzles. Some quite easy and some not. I was really impressed with what the developer did to change up the HOS's. I was never bored, and sometimes I was even challenged, which is what I need for it to be a good game for me. ERS, you were so close to 5 stars!
November 7, 2014
Curious about length of game
The graphics are great, the music is a little repetitious, and the progression of the game is medium in challenge. There is a map but you can't use it to move directly to a desired location. Something new here is the option to play the mini-games in average difficulty or hard. That's nice. The reason I am curious about the length of the game is that I played the demo to the stopping point and still had half an hour left. The phone (in the game) tells me that I am 40% finished with the game. That far in only an hour??? I would use one of my coupons for this game but don't want to waste it if there is only an hour left to play. If the rest of the game moves slower and is a little more challenging, I would consider getting it. Otherwise I think I will pass for now.
August 9, 2014
No Pink and Purple Fairies
The storyline is full of plot holes, but it's fun, and a nice change from the uber sweetness of rescuing lost children from evil witches who turn out to be simply misunderstood.
August 8, 2014
The Apple logo is a trademark of Apple Computer, Inc.