Dead Reckoning: Silvermoon Isle
Exclusive
From Eipix, the makers of the Final Cut, Off the Record, and Myths of the World series, comes a classic whodunit with a unique interactive feature!

Silver-screen star Veronica West plummeted to her death from the top of a lighthouse on Silvermoon Isle. Was it an accident? A suicide? Or did someone at the party that night kill Veronica?

Solve the case using an innovative "deduction" feature that turns questioning suspects into a fun, interactive game!
Game System Requirements:
OS:

Windows XP/Windows Vista/Windows 7/Windows 8

CPU:

1.6 GHz

RAM:

1024 MB

DirectX:

9.0

Hard Drive:

666 MB
Game Manager System Requirements:
Browser:

Internet Explorer 7 or later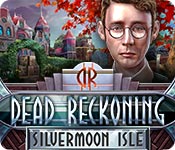 NEW299
The Big Fish Guarantee:
Quality tested and virus free.
No ads, no adware, no spyware.

Reviews at a Glance

Dead Reckoning: Silvermoon Isle
0
out of
5 (
0
Reviews
Review
)
Customer Reviews
Dead Reckoning: Silvermoon Isle
26
26
Been a long time!!
With all the games out there about fantasy and witches and what not...its about time that a reality based game is back!! Story line is great, graphics are excellent and beautiful...So much to do, and just challenging enough to be fun and not frustrating! I would highly recommend this game. Loads of fun!!
August 11, 2014
enjoyable to play and I want to see how it ends
played the demo and just had to purchase especially with the discount going on now. basically a fun enjoyable game and a great hint button which charges quickly which I always like. with out the hint would not know where to go or what to do next but hint works great so all was enjoyable. I do recommend this game. I don't use sound so cant rate that but otherwise great.
August 10, 2014
great story
oh my i really liked this one. true to the classic whodunit type story and really excellently done. love the fact it keeps you going with who you think it is right down to the end. very long game i think or i'm slow.. graphic were great and the color vivid. a few squints in some of the hos but i need new order of contacts so that might be me.lol. no cutesy pet helper, just you and a partner doing the work. try; i think you'll like this if you like murder mysteries.
August 12, 2014
Love this game !!!!!
I love this game..Art style is great. Strong story ! Thanks BFG and Eipix...
August 12, 2014
Best game in a long time!
It was a pleasant change to play this game with a theme somewhat current instead of in the dark ages. I am very tired of witches and dark spirits etc. This game had surprising mini games that I have not seen even in collector's edition games. Just wish the end of the game was more detailed re: the tunnels--too easy.
August 17, 2014
A *Must Have* For Fans of HOA/Adventure/Puzzle Games
My review is based on playing the demo. I will definitely be buying the full version of this game, in fact I knew I would within the first 5 min of game play. I'm an avid player or HOA/Adventure/Puzzle games, I own dozens of them and have sampled dozens more from the BF website, and I have to say, this one is one of the best representations of the genre I have seen. The graphics are fantastic, not the typical pink/purple/blue you see all the time. The story line is fun and compelling and the animations are surprising (in a good way). There seems to be quite a few features that really appeal to me as someone who has played this genre of games so many times: 1) the player has an opportunity to "deduce" whether the characters are telling the truth or lying 2) you can customize the ease/difficulty of the options - now I now this is a fairly standard feature these days *but* in this game you can choose to turn on/off the "helpful suggestions" - which is not an option that is always available in other games. I like having the HOAs sparkle and other "easy" options, but I find it annoying when the game constantly tells you how to get past an obstacle or use something in your inventory (ie: "this hinge is rusty I must need some oil"). I would rather figure that stuff out for myself, so I love the fact that I can turn off that chatter here 3) the in-game puzzles are not all your standard fair 4) I'm not sure if it's because I just played the demo, but there doesn't seem to be any "trophies" or "morphing objects" in this game, which is just fine with me as I feel that those features are sort of played out and tired now 5) it feels like the authors of this game really "get it" as to what gamers are looking for in this genre
August 14, 2014
The Final Performance of Veronica West
A birthday celebration turns deadly when Veronica's body washes ashore. This troubled young actress had apparently jumped to her death from Silvermoon Isle's beautiful lighthouse, ending her career and her life, but something's just not right here, did someone push Veronica? Epix has gifted us with another wonderful Who-dun-it mystery which allows the player to take on the role of a detective (better than the victim right?) interrogating the suspects in the form of Dialog Deduction . As you question family members, maids and attorneys that attended the birthday gala, you must scrutinize their account of the events leading up to Veronica's death. If they state that they are distraught and have been crying all night, you look for clues that they are truthful, do they appear as if they were crying, click on signs that they were such as mascara smeared, was money a motive, by the looks of the expensive jewelry, probably not. There is an icon to access your evidence board where important information and observations are kept. Images of the suspects you interrogate is in this folder which allows you to click and drag the picture to the correct location of relationship to the victim such as Veronica's sister, fiance, attorney etc. and when you click on the photo, a brief summary and bio will be available. Just an example of how small changes in a game can make a huge difference! The Hidden Object Scenes are are very well done, each HOS has a mixture of different styles to search for items such as the typical and slightly interactive list finds which is followed by silhouetted shape finds and then the final item which you need for inventory, is a brief description of the item. There is an option to play a Bubble Shooting game instead, which I thought was extremely fun. The goal is to shoot bubbles of different colors out of a cannon at the bottom of the screen to make matches with the bubbles at the top of the screen of at least 3 alike colors, each golden symbol that drops, represents an item on the Hidden Object list. In my opinion, it didn't seem that there was much thought put into the mini games, most were very short, simple and not very challenging, not bad, just not complex enough for my taste. There are picture pieces to drag into places already outlined for matching the shape, locks to pick by turning the outside disc until the pick drops into the middle disc opening, then into the inside disc, some of the mini games were a tad bit longer but most were easy. Some of the inventory items will have a plus sign indicator, unless you opted out of the + indicator in either the custom difficulty setting or the hardcore setting, and if you try to use the map to find out which scene has an area of interest, it will not be indicated until you complete the tasks required on the plus sign items. The Collectors Edition has 44 Hidden Collectible Stars, Achievements, Pictures, a Souvenir Room, Music Tracks, re-playable Movies, the Making Of, re-playable HOP, more Bubble Shoot games, a built in Strategy Guide and of course a Bonus Chapter. I'm usually a real fan of the CE because I love all the bells and whistles, but in this case I think this SE is an excellent choice unless you want achievements and star collections. The graphics are beautiful, the game is easy enough to figure out without a SG and you still get the benefit of the dialog detection, enjoy!
August 10, 2014
brilliant
i found this game fun to play the puzzles where really good. there is not to much going back and forth (which is very annoying) really enjoyable game
August 16, 2014
"Completed Game"
I very much enjoyed playing this game. It's a great detective story where you meet and question all who were at the crime scene, gathering clues, and trying to solve the mystery. Was it suicide or murder? You have a journal, consisting of one page for suspects (which helps to keep each person fresh in your mind so you remember who is who), and a second page for evidence clues you find. You witness a shooting of your partner. Is he dead?? I really enjoyed the variety of HOGS and most of the puzzles. I've enjoyed this new twist Eipix has put in their games. The basic SE game was well tied up in the ending and you were not cut short or left hanging. Another plus for me. All in all, a most enjoyable game that I definitely recommend. Thank you BFG and EIPIX.
August 21, 2014
Nothing bad to say about this game
Best game I have played in awhile, fun game. Keeps you busy solving the case.
August 19, 2014
The Apple logo is a trademark of Apple Computer, Inc.