Dead Reckoning: Silvermoon Isle
Exclusive
From Eipix, the makers of the Final Cut, Off the Record, and Myths of the World series, comes a classic whodunit with a unique interactive feature!

Silver-screen star Veronica West plummeted to her death from the top of a lighthouse on Silvermoon Isle. Was it an accident? A suicide? Or did someone at the party that night kill Veronica?

Solve the case using an innovative "deduction" feature that turns questioning suspects into a fun, interactive game!
Game System Requirements:
OS:

Windows XP/Windows Vista/Windows 7/Windows 8

CPU:

1.6 GHz

RAM:

1024 MB

DirectX:

9.0

Hard Drive:

666 MB
Game Manager System Requirements:
Browser:

Internet Explorer 7 or later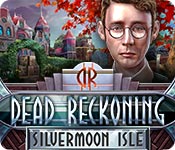 NEW299
The Big Fish Guarantee:
Quality tested and virus free.
No ads, no adware, no spyware.

Reviews at a Glance

Dead Reckoning: Silvermoon Isle
0
out of
5 (
0
Reviews
Review
)
Customer Reviews
Dead Reckoning: Silvermoon Isle
25
25
THINGS TO DO !!
I JUST FINISHED THE WHOLE GAME & I WAS SO MUCH EXCITED THAT I WANTED TO SHARE IT WITH YOU THOUGH MANY DAYS HAVE PASSED SINCE IT IS WAS RELEASED ! EXCELLENT GRAPHICS,STORY,MUSIC , ALL SUPER ! SO MANY THINGS TO DO IN THIS GAME! EACH STEP OFFERS DIFFERENT GAMES SUCH AS PUZZLES, MINI GAMES,ORIGINAL GAMES THAT I HAVEN'T SEEN BEFORE ! I RECOMMEND THIS GAME !!
August 26, 2014
Really Good Game - Loved it!
I've been playing on BF since it's began. this is my first review ever. There's been quite a few exceptional games over the years that stand out from others. AND THIS WAS ONE OF THEM! This game had all the stuff I enjoy. And didn't have all the stuff that bores me to death. Endless scenes and places to go, like a maze (loved it!). Not too much going back and forth. Fresh takes on HOGs (each one had a different twist). Mini games were different (each one) fun but not difficult. Loved the story, the characters. Jeesh! I even sat through all the cut scenes (which I never do). Another thing I never do? Is stay up until the wee hours of the night JUST TO FINISH A GAME! Kinda like a book you can't put down.
August 24, 2014
Finally, A 5 Star Game!
Eipix is quickly becoming my favorite developer. This one was top-notch! Graphics were great, voiceovers were the best, the mysterious music fit the game, and there was a ton of variety in the HOS's. These had to be real actors doing the voices; I've never heard better. The puzzles could have been a little more challenging, but I give Eipix credit for coming up with some new ones. They were all fun, and there were quite a few of them. Hats off to you, Eipix! An excellent game!
November 23, 2014
has the "custom level" that i like
has an interactive map and journal. the hint system is great and will show where you need to go. you are a detective that has been called in on a case of a murder of a famous person. "supposedly" she committed suicide, but there is a question of that and so you are called in. you have a journal that catalogs suspects and evidence as you go. some of the scenes are a little dark.
September 15, 2014
excellent!
Great game. I had a solid six hours of play time, would've like more. Not much back and forth. There is an elevator but you're not going up and down all the time. Not that many HOS but the ones that are there are different. Well done! Thank you!!!! 2014
September 4, 2014
well done
(Based on the demo.) This is a well made if fairly easy game that checks all the boxes, from a developer with a winning track record. Story involves starlet Veronica West's death after falling from a lighthouse at her island home, and the opening cinematic assures you that you're in good hands here. Graphics are sharp and clear (if not the most up to date), the music moves the narrative along, gameplay is responsive with all the latest innovation, and a unique detection device is introduced to assist with your investigation. Longtime casual adventure players will find themselves moving briskly and pleasantly through this game.
August 10, 2014
Fun Hidden Object Game
Overall, excellent play. I enjoyed trying to piece everything together. Graphics were excellent.
August 11, 2014
A Murder Mystery At Its Finest
BASED ON COMPLETED COLLECTOR'S EDITION GAME- BONUS CONTENT REVIEW AT THE BOTTOM The latest addition to the Eipix collection combines two things that I love: murder mysteries and Eipix! After playing the demo, I decided I would buy the SE, but I won the CE in a contest, so I played that one. This is not the best Eipix game in the world, but I still enjoyed my gameplay very much. (Bonus Content review at the bottom) The story was fantastic. It was everything a murder mystery should be: different suspects with every one of them connected to the victim, multiple suspects, people trying to sabotage us, and best of all... multiple twists! From a technical point of view, the story is done perfectly. Eipix have done their homework here. Everything about this screamed murder mystery. Content wise, the story is really great. It had a great beginning, which coasted along nicely and had a couple of great twists. The demo ended wonderfully, so of course, I had to play on. Now, after the demo, stories tend to wind down a bit, and build us up to the end, but this one did anything BUT that! The twists kept coming, all throughout the game. But the best part was, they weren't just one after the other, they were spaced out, and perfectly spaced out too. Just when my interest would waver ever so slightly, a new twist would come and shock me! This made the story so much more exciting. So, after all that, I was hoping for a fantastic end, and I wasn't disappointed! In the last 10 minutes or so, we were certain it was one person, then a huge twist at the end revealed it was an entirely different person altogether! This ending was brilliant, to go well with a brilliant story. Overall, the story was amazing. I could not find a single fault in it. It was probably the best story we've had all year. I have mixed feelings about the gameplay, with my main gripe being the HOS. Don't get me wrong, for the most part, I really enjoyed them, but I just felt that some were way too long. I thought Eipix really should have focused on quality and not quantity, and shortened them a bit. That isn't saying that I didn't like the HOS, because I did. I appreciated their variety (a mix of junkpile and silhouette) and the different lengths of challenge. I also liked how Eipix didn't go so over the top with their HOS, and they were just stripped back and made a little easier. There is a great number of HOS too. They are well spaced out, which made them more enjoyable. I also quite liked the puzzles. Most of them were very good, and were fun to attempt. A few were new, a few were not. Similar to the HOS, the puzzles were a bit stripped back, varied in difficulty and appeared frequently throughout the game. I really enjoyed the puzzles, because they were not overly challenging, but weren't a cinch either. Eipix have done a good job here. As far as extra features go, there aren't many compared to previous Eipix games, but the ones that are there are good ones. One of them was + objects, which are sort of becoming standard these days. The + objects are pretty similar to others, in the fact that they work in the same way. They require additional objects to complete, some more than one, and there is an indication of when you can use them. I liked this feature because it was fun and wasn't overused. The second feature is one of my most favourite gameplay additions of all time... the interrogation scenes! I loved this feature so much because it made me feel like an actual detective, and made me feel a lot more involved. In the interrogation scenes, you confront certain characters and make observations based on what they've told you, and you decipher whether it is the truth or a lie. It's not just a massive cutscene though, sometimes you have to piece the item together before you can ask them about it. This is definitely one of the best features to ever be put in to a HOPA game. The best part is, there are a lot of them. It made the game so much more fun than if it were just a cutscene. Brilliant job, Eipix. I hope to see this feature return very soon. Other than that, this is your normal HOPA. The basic features are done well. There are 4 modes of difficulty, as well as a map. The map works quite well. To fit with the investigation theme, we have an evidence board, which is a replacement for the diary. There are separate tabs for notes and evidence. I liked this evidence board and felt it was set out well. However, I would have liked to still see a diary, as I found it hard to remember early scenes of the story when writing this review. Overall, some pretty good gameplay to support the story. As usual, the graphics are great. They are drawn well, with a lot of detail. The scenes are clear and look realistic. The colours match the scenes well. The character designs are quite good due to their realism. Voice-overs are standard. I have no comment. FEATURES 4 modes of difficulty: Casual, Advanced, Haed and Custom. Custom lets you set the game the way you like; differences in others are standard. I played Casual. Hint/Skip- both recharged a bit fast, even for Casual. Fast recharge allows for hand holding. Would have preferred if it had charged a bit slower. Map- The map is interactive and works well. It lets you know where there are active tasks to perform. Evidence Board- The evidence board is done nicely. There is a separate tab for suspects and evidence. + Objects- Requires some interaction to complete. A blue + appears when the item can be used. WHICH IS THE BETTER BUY? I bought the CE, and despite some good bonus content , I wish I had bought the SE, even though I got the SE for free. I didn't like the bonus chapter at all, and after the collectibles were collected, there was really nothing worthwhile. BONUS CONTENT REVIEW BONUS CHAPTER Really bad. This was an epilogue of the main story, so it wasn't needed. I was really confused as to what was going on when the chapter began, and overall, it was a poor production. STRATEGY GUIDE This was produced terribly. It does not show screenshots of HOS. It shows locations of collectibles, but the scenes aren't named, so sometimes it was hard to tell where I was up to when I used the strategy guide. ACHIEVEMENTS Mostly gameplay based, but a couple story based. COLLECTIBLE STARS This was the best bonus feature. There are 44 stars, which means one in every scene. Better yet, Eipix seems to have taken my criticism on board, because there are collectibles in the bonus chapter! There is an indicator of whether or not you have found the star yet, too. If you do not find all 44 stars, you can go back through and find them all in the bonus content. SOUVENIR ROOM This is basically one giant HOS. You go through each scene and have to find one souvenir. They are hidden well and require some interaction to find. This was a very good bonus feature. MORPHING OBJECTS There is one in every HOS, even in the bonus chapter. I found 14 of 15, but found all by accident. You can go back to the HOS in the bonus content and try to find them all if you wish. MAKING OF This is a fun little video, which gives some insight in to the developers' experience of developing the game. Gives some fun facts about the game development. BUBBLESHOOTER Didn't enjoy this. Totally un-necessary. REPLAY HOS, PUZZLES & MOVIES Can replay every HOS, and also find the morphing objects if you haven't already done so. Every movie can be replayed, as can MOST puzzles. I was devastated to find that the interrogation scenes could not be replayed! THE USUAL... There were 12 wallpapers in the game, none of which looked very nice. There were also 14 music tracks, but no concept art. Overall, this was quite a good game. It earns a solid four from me. The only reason this isn't getting a 5 is due to the HOS being too long, thus, driving down the fun factor.
September 13, 2014
Glad I bought it!
Plenty of long gameplay and interactivity, fantastic visuals, and lots of complicated, unusual puzzles that I haven't seen in any hidden object game before. A good buy!
September 8, 2014
worth the time
lots of fun figuring out the clues
August 12, 2014
The Apple logo is a trademark of Apple Computer, Inc.