Hometown Poker Hero
Jimmy's old neighborhood has fallen on hard times after the Grimaldi Syndicate took control of the town. Help Angela and Jimmy save the town of Shipsburgh! Practice your poker face and beat the Grimaldi Syndicate to save your hometown!

Are you up for an incredible adventure? Play Hometown Poker Hero and enjoy an amazing poker game!
Breathtaking poker adventure
Exciting Challenges!
Earn money and buy back buildings
Take back control of all 11 neighborhoods!
Game System Requirements:
OS:

Windows XP/Windows Vista/Windows 7/Windows 8

CPU:

1.0 GHz

RAM:

1024 MB

DirectX:

9.0

Hard Drive:

236 MB
Game Manager System Requirements:
Browser:

Internet Explorer 7 or later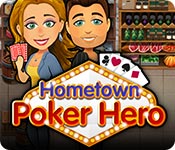 NEW299
The Big Fish Guarantee:
Quality tested and virus free.
No ads, no adware, no spyware.

Reviews at a Glance

Hometown Poker Hero
0
out of
5 (
0
Reviews
Review
)
Customer Reviews
Hometown Poker Hero
13
13
The Players Aren't Poker Faced - They Are Fun!!!
If you've never played Poker, the tutorial, whilst basic, does explain quite well (and in simple to understand English) the very basics of how to play, so you are off the mark straightaway. If you forget the 10 winning Poker hands, they are set out (highest to lowest) in the middle (?) button at the top left of your in play screen and you can refer to them at any time. To the left of this is a button showing the basic instructions once again. You can speed the game up at any time during a hand by pressing the fast forward buttons on the bottom right. The idea is simple: join virtual players around the tables to try to win 1st, 2nd and 3rd place each time. If you are busted before then, you don't earn any prize money but joining a new game will cost you a heavy buy-in each time so you really do need to try to win those places or you'll soon find yourself out of cash. With your winnings you buy back various buildings to restore that particular district of Shipsburgh, USA. Each bought building will give you a rental per gaming day. There are 10 districts to unlock and I expect the buy-ins and prize money will go up with each one, plus the difficulty level. It is a delicate balance juggling your prize money, spending money on buildings and still having money for buy-ins. Don't expect this to be a game you play in a day or so for that reason. It took me many weeks of playing on and off to finally beat the Governor in Governor of Poker 1. This game is made by the same devs as GOP (though it features characters from the Delicious Emily games). I'm liking this a lot, because you can put it down and pick it back up again any time. Like all things Poker, though, it's going to take a while to get to the end so you should get plenty of value for money out of it.
August 12, 2014
Nice to see some well loved characters...
....in a wholesome, fun game! Anyone familiar with the DELICIOUS EMILY TM series (not on this site) will probably enjoy this game immensely.... the same characters yet entirely different gameplay given that it is 'poker' and not a true TM. Actually, even those NOT familiar with the characters are bound to enjoy it as it is not necessary to know the prior games to do so. Personally I was [and I know many others were] thrilled to see the friendly, 'familiar' faces on BFG, ones I have never seen HERE before and I bought it despite not having an initial great interest to learn poker and VERY GLAD I did; the characters have true personality and it is an integral part of the game to determine just what 'tells' each character possesses in order to beat their hand.... as mentioned, it was delightful to be among friendly faces of the Delicious series as well as a fun, easy way to learn, or for some.... to brush up or simply play poker when 'real' friends aren't available. So, you GO devs!! I hope to see you expand out with more and more variations on the theme and particularly chuckled at the intro alluding to having to make money in the 'underground/back alleys' so to speak... an analogy if I ever saw one. OH.... and please don't be put off by the low ratings... give it a shot; I know 'some' fishies will enjoy this as much as I, and I'm loving it. Happy gaming; have fun! : )
August 19, 2014
light poker fun
Have not played this game for long but found it light hearted and loads of fun being a poker fan I found it fair to all players and look forward to the other levels with anticipation
August 12, 2014
Personality Plus!
When I first downloaded the trial I wasn't expecting to have so much fun; it looked pretty cartoony. No voiceovers, just background chatter.. But, Wait! These characters you play against have faces! Instead of an overhead view of the table you are looking across it from behind the dealer. It didn't take long for me to stop, go back and buy this game. Instead of hearing "Cheeeeeeck" (in a rather annoying female voice) you can observe the facial expressions of the other players along with their other tells. Really is a lot of fun! I like the East Coast Mafia flavor, something different and enjoyable. I also like that you can buy buildings which add income and further the story line of reclaiming the town. I actually am having better "luck" playing poker in this game than either of the others I bought, which I do like, but don't have as much success at. If you like Poker, give this one a try. If you've played other Poker games with minimal success, this one may surprise you. It's definitely worth the download !
August 19, 2014
Playing Poker for the Home Town
This game is pretty fun and rather challenging - the individual poker tournaments can last quite a long time. You're playing poker to raise money to buy up and revitalize your hometown. Kind of a sketchy gangster premise, but the game play is good over a basic card game. I like that as you defeat characters, you unlock knowledge of what body cues they use if they have good cards or bad cards. The characters resemble the people in the Delicious Emily series and have about as much personality. I'm not a huge video card player, but I'll buy this one.
August 12, 2014
Am I Bluffing?
It's time to play poker, pull up a computer chair and ante up! If you are a poker fan you are going to love this game AND walk away with your shirt on as well! You can play the tutorial or skip it, but the tutorial will give you the basics such as when to Call, Fold or Check, the mechanics of the game and how to raise your bet, it also shows you the suits you are striving for and which hands are worth more in the rankings such as a Royal Flush is the highest or a Full House beats a Pair. If the game is moving too slow, you can speed the game up with the fast forward button, you will use your winnings to help rebuild your hometown which has fallen apart since you grew up there. You get to choose your name as well as a male or female character and there are 9 different languages to choose from. Trophies are awarded in the tournaments for 1st through 5th place and there are 28 other achievements or trophies to earn, enjoy!
September 3, 2014
Governor of Hometown?
This is very much like the Governor of Poker (GOP) games which I enjoyed, especially the first one. Here, instead of the old west, you are in a modern small town setting. The town, Shipsburgh, is controlled by the Grimraldi family. Your mission is to buy back the town buildings using your poker winnings, as well as any rent you collect on buildings owned. Unlike the GOP games, there is a little less campy humor, player reaction, and overall atmosphere. A couple other things this lacks is progressive blinds, and the option to reveal your cards to upset your opponents. Otherwise the game play is smooth and fairly realistic, in my opinion a little more so than GOP. Like GOP, there are also awards for good play, like bluffing. The town is drawn in a 3D style, however the poker games and characters are somewhat flat looking, giving the game an older look. A great thing about this type of game is you can pick it up at any time without having to remember where you are in the story. In fact there really isn't much of a story, but the wide variety of the town's characters keep it interesting. There are detailed tutorials so anyone not familiar with poker can pick it up within a few minutes. Casual poker players should enjoy this, but serious players will probably be looking for something more. Hometown Poker Hero draws three of a kind.
August 12, 2014
Beginners poker
May be somewhat fun for an beginner. Needs to re-done.Its not technically accurate. Blinds should be posted before cards are dealt. What should have been a "split pot" was awarded to highest card holder..wrong. never-the-less, its entertaining.
September 8, 2014
Maybe OK for Beginner Poker Players
I played this for 35 minutes and it was so boring I got sleepy. It is too slow and too many steps to play each hand. The graphics seem amateurish. After being a big fan of both Governor of Poker games, Hometown Hero Poker is a real dud.
August 13, 2014
Sooooooo Boring
I love Delicious Emily games so thought this might be fun since it's based on some of the Emily characters - boy was I wrong! This game is so slow and so boring I couldn't play the full demo. There is not one positive thing I can say about it. You are playing poker against other people at the table but their movements and actions are very drawn out so you are just sitting and waiting until your turn. It's just a really awful game.
August 17, 2014