Nevertales: Shattered Image
Exclusive
From the innovative minds at Mad Head Games, creators of Nevertales: The Beauty Within and the Rite of Passage series.

Your daughter, Alice, has grown up to be a talented young girl – unlike other Travelers, she has a rare gift that allows her to open portals using reflective surfaces, not just books. But when a mysterious mirror-hopping monster suddenly appears through one of the portals and kidnaps Alice, the entire world starts splitting apart at the seams. Strange quakes rock the earth, and huge chasms appear out of nowhere. Now you must use your own powers to travel into Book-worlds and find the source of the trouble. Can you rescue Alice and save Taleworld before it falls apart? Find out in this thrilling Hidden Object Puzzle Adventure game!
Game System Requirements:
OS:

Windows XP/Windows Vista/Windows 7/Windows 8

CPU:

2.0 GHz

RAM:

1024 MB

DirectX:

9.0

Hard Drive:

739 MB
Game Manager System Requirements:
Browser:

Internet Explorer 7 or later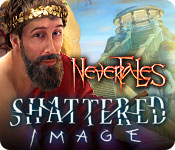 NEW299
The Big Fish Guarantee:
Quality tested and virus free.
No ads, no adware, no spyware.

Reviews at a Glance

Nevertales: Shattered Image
0
out of
5 (
0
Reviews
Review
)
Customer Reviews
Nevertales: Shattered Image
10
10
I loved it!
I am glad it wasn't just like the first game, that would have bored me to tears. Pros: Difficulty is customizable. The jump map is excellent. The graphics are lovely and the plot surprised me, and that's hard to do. Cons: It seems like it was shorter than the first one but not by a lot. The map can only be found by going to the phone diary and yes, I'm that lazy. I hope they make more in this series.
September 6, 2014
really liked the suspense
Wish could buy a longer version
September 4, 2014
somewhat new found respect
When the CE version was issued, I gave the game 3 stars and called the game itself shattered. I even ventured the SE version would not be enough of an enticement to consider a buy. After having completed the demo of this SE, I have upgraded my rating. Perhaps I was having a bad day when I originally reviewed this Nevertales. I know it does not measure up to the first game in the series, that's for sure. Shattered is an easy game to play, none of the tasks are difficult at all. Be it an HO segment or a puzzle, they are all very easily completed, at least in the demo. I still don't know if I will ever add the game to my repertoire. It's funny sometimes how a game at one time seemed either really good or really bad or mediocre and later on the same game either improves or goes south. For those who have not demoed the game, give it a try. At any rate, Maria the Shaman is one of the better characters to come along in quite a while. She is not easily forgettable..
August 17, 2014
I Have A Shattered Image Of Nevertales
I didn't hesitate to purchase the Collector's Edition of the Original Nevertales, however after playing the demo of Shattered Image in both the Collector's and this Standard Edition, I haven't been convinced enough to want to purchase this game. The graphics in the first Nevertales was phenomenal, this game however has what I call cartoonish graphics as if no effort was put into detail, and then someone decided to douse each scene with an extra dose of pink! With that being said, the cute little baby, Alice that was left on your doorstep in the last game (who rested quietly amongst the inventory items between the car keys and the wrench) has just turned 12! Alice has shown great potential as a "traveler" her power to travel to other worlds, much greater than that of her parents, Belle and Pierre. Alice uses mirrors instead of books as portals and when earthquakes begin to rock the house, you know something terrible has happened to Alice, can you save her in time? Alice is able to communicate with you through the mirrors in her dollhouse, so everytime you find furnishings for a room in the dollhouse, Alice will write a message upon the mirror from beyond! There are still features in this game that are the same such as mini HOS where you find 7 mirror fragments hidden throughout the room as well as finding 2 sets of symbols hidden in a storybook each time a paragraph is narrated which pertains to the background story. You will be able to travel to Maria's bookworld Island in Neverworld for some insight and help in your search for Alice which is a great way to tie the two games together IMO. There are inventory items that will need other inventory items combined or the item itself needs repaired and you can opt to either show which items require this extra step with a + sign indicator (in custom setting) I have to give kudos to the Hidden Object Scenes, they are just as unique as the last game. Some are silhouetted shape finds requiring you to find 2 of each shape pictured such as 2 angels or 2 bugs, finding the parts to a mechanical gnome as shown on a blueprint and then assembling the gnome, and even one HOS in a well, where each item you find on the list is automatically placed on a board that is attached to a pulley system with a bucket at the bottom of the well. As the items on the board start to accumulate and become heavier, the board lowers and the bucket comes to the surface of the well which has the final listed item, shears! The mini games range from replicating symbols by connecting the dots, to a memory game that allows Pierre to climb out of a ravine. At first there are only 4 tokens to memorize, you will see the images briefly and the tokens are then flipped over and you need to match pairs of images such as 2 boots and 2 ropes, eventually there are 8 tokens to remember. The Collector's Edition has morphing objects in the HOS, collectible puzzle pieces, music, art, wallpapers, bonus HOS and mini games, a Treasure Hunt game that unlocks a Tower defense game, a strategy guild built in and a Bonus game about Pierre's past. This isn't a bad game, there are a lot of entertaining features, but in my opinion it didn't live up to my expectations of the original Nevertales, enjoy!
September 10, 2014
Lost the plot!
I enjoyed the demo enough to use a coupon on the game, so I've played it through to the end. By then, I don't know whether the devs had lost the plot, but I certainly had. I have no idea where the later parts of the story left me and our characters. I'll not say more because I don't want to put in any spoilers. You play as Belle, the heroine from the previous game. For some reason every male character in the game, including your beloved husband, is a useless, effete wimp. Only Midas has any excuse for that! A good thing you're around then: courageous, resourceful and powered by infinite love for your family. The game play itself is quite entertaining, so that's a plus. Try the demo for yourself. I will say the game is rather longer than it appears.
August 21, 2014
Pretty Good
Felt like a throw back of last years games, but it is different still. I can't put my finger on it but I did like the different kind of puzzles. More for the intermediate player in my opinion.
August 18, 2014
Is There an Award for Most Boring Game of the Year?
After a year of waiting since the first Nevertales the Beauty Within hit the market we now have this disappointing sequel with Shattered Image. In the sequel Belle and Pierre have returned along with their daughter, Alice, who is now a young girl of twelve. With her parents having a special gift that allows them to travel through portals to different worlds, it would make sense that their daughter has been blessed with this gift as well. However, as often happens to the young, they sometimes experiment with things they shouldn?t, and Alice is now in serious trouble. Without a moment to spare, Belle and Pierre are off to save their child from a dire fate. The graphics are very good, although they are at times shrouded in a bit of mistiness. Fortunately the graphics have improved since the beta release but we are still overwhelmed with shades of blue, pink and purple that this developer seems very fond of using in its graphics. The voiceovers in the game are very good, and they are lip-synced ? something I always enjoy in a game. The rest of the sound package is extremely good with excellent and sometimes haunting music and wonderful ambient sounds that set the stage in each scene of the game. We have the standard tools with a diary or journal that is found on the lower right of the screen. We also have an interactive map that is a transporter type so that we can move quickly from one location to another. The HOS in this game have a lot of variety and are very similar to those found in the first Nevertales game; however, in Shattered Image we need to build more of the items from very well-hidden, vague pieces. I tended to find the HOS and, quite frankly, most of the puzzles in the game very tedious which made the gameplay overall less than appealing. I loved the first Nevertales game but Shattered Image turned out to be a huge disappointment. What I thought of as fun in the first game turned out to be a boring chore in this game. The games from this developer are always challenging and a bit different from those that we can drift through without having to use our brains but for some reason Shattered Image was a nothing more than a huge bore without a lot of challenge or creativity. Even though I purchased the CE and in the end didn?t care for the game, I recommend that you at least try the demo to see if you may have a different opinion from mine.
August 17, 2014
Don't bother
I bought the CE version and was disappointed. Story line was just like all the others, nothing special. Games were way to easy, no challenge at all. Come on BF, challenge us.
August 17, 2014
based on the demo
Based on the demo, it seems like it would be a short game to play. So, I'm going to skip this one. 2014
August 17, 2014
Hate it!
I loved the Nevertales games until this one Apparently it's not possible to finish When I got to the battle against Malle,it was a dead end because none of the pieces will stay put, It's not enjoyable to play when you realized you won't ever be able to finish!
November 27, 2014
The Apple logo is a trademark of Apple Computer, Inc.