Alice: Behind the Mirror
One evening, while sleeping peacefully in her bedroom, a noise awakens Alice. She then finds herself suddenly falling, and lands in a familiar place – Wonderland. A place that is still full of surprises!

Over Wonderland glides the shadow of the Jabberwocky, a terrifying fantasy creature! Restore order... or rather disorder, back to Wonderland.

Plunge back into the heart of a legendary tale in a brand new adventure starring Alice, the carefree girl with her head in the clouds! Can Alice save this crazy, madcap world from the ordered and rational reign of the Jabberwocky?
Experience a spectacular adventure!
Explore places from the classic tale
Solve various enigmas that block your way
Rediscover the legendary characters!
Game System Requirements:
OS:

Windows XP/Windows Vista/Windows 7/Windows 8

CPU:

1.0 GHz

RAM:

2048 MB

DirectX:

9.0

Hard Drive:

616 MB
Game Manager System Requirements:
Browser:

Internet Explorer 7 or later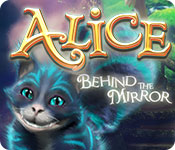 NEW299
The Big Fish Guarantee:
Quality tested and virus free.
No ads, no adware, no spyware.

Reviews at a Glance

Alice: Behind the Mirror
0
out of
5 (
0
Reviews
Review
)
Customer Reviews
Alice: Behind the Mirror
50
50
Don't Believe the Bad Reviews
If you are good at HOS you will love this game..The graphics and characters were charming. My seven year old twin grandsons did not appreciate the Jabberwocky. The HOS were challenging,, some items were small but not impossible to find. Simple story line and moderate puzzles. Worth the price, Everyone here loved it..
August 19, 2014
My kind of game
What a refreshing change , bright airy , nice characters , good story line . Hidden object puzzles challenging enough , puzzles good . Loved it so nice to not have eerie backgrounds , horror type stories and dark backgrounds , too many of those on the market, need more light games that are enjoyable to play like this one . A buy for me .
September 9, 2014
I Love This Game!
I'm so sorry to see that many of the fishies don't like the game. What's not to like?? It's a challenging game. I find the HOS somewhat difficult and that's good! The mini games are fairly easy. The colors and graphics are outstanding. The only thing I didn't like is that you can't lock the inventory in open position. Give this game a try. If you like something a little different, this might be for you. :)
September 2, 2014
Bright and Great Graphics. Love it.
Instead of the popular doom and gloom, hard to see in the shadows HOG this one is bright and sunny so far. I love the cool graphics and they're pretty. I am a fair to medium HOG player not an Uber player, I always play the easiest mode and no timer, and I found this just right, there were a few items I couldn't find but they were few and the hint was refilled quickly enough. Some things I would change - give better directions to the mini puzzles. Or at least REAL directions. Not "put them in order". In order of what and how?? I could not figure out the colored ribbons on the filing cabinets, finally got that the box ribbons had to match the ribbons on the cabinet. Also you can zoom in/out with the mouse wheel, and move the scene by holding the left click. This would help since such of the objects are miniaturized and faint. No directions for this either. I also got stuck in the teapot and egg in the white rabbit's room. Otherwise this is a very enjoyable game . I can see the hate this poor game incurred, probably from uber players. If you're not one of those this should keep you happily occupied.
January 25, 2015
Charming, amusing, and fun
The graphics are sharp, clear, and pretty. The palette is rich in color and the art is very appealing. The music is a little repetitive but it's pleasant enough to not be annoying. There are no voice overs or atmospheric sounds. The story is based on Lewis Carroll's Alice books. You play Alice and you are up against the Jabberwocky who is trying to take the magic out of Wonderland. It's very well done and really cute. I loved the story line which is sheer fantasy, humorous, and fun. Throughout the game and the HOS you will find Cheshire cat smiles that present a fact card with interesting information about the original story, its author, and more current adaptations of it. Game play is logical and fairly linear. The story tells you what you need and where you need to find it. Once you know what you need HOS and puzzles appear in areas they weren't in before and they reward you with things you need to progress forward in the game. I pretty much always knew what my objective was and what I would need to do to achieve it. The HOS were excellent. They are list finds with minimal interaction and there is a decent number of them. Everything you need to find is very clear, the interactions are logical, and nothing is really tiny. Difficulty ranges from somewhat easy to somewhat challenging. Someone who is very good at making HOS made these. The puzzles were present in a good amount and were fun to do. The drawbacks include a custom cursor that you cannot get rid of and which, while responsive, is a little slow. Some might complain that they have to read too much because there are no voice overs. Others won't like that they cannot choose a level of difficulty. Also, to use an item in your inventory you need to drag it...it isn't point and click. I don't care about choice of difficulty level myself but I know others will. I also don't mind the drag and drop thing especially when the game functions smoothly as it does here. If the developer would fix the cursor I would give this game a 5. Overall, I enjoyed this game and found it charming. It's a super cute game that made my inner child laugh and say "must have".
August 19, 2014
Simply Delightful. And Curiouser, Of Course.****
BASED ON DEMO IN BRIEF Let me be the first to acknowledge it. This game would be very appealing to kids. We?ve got talking animals, superb surreal graphics, (full of life and colour, despite the lack of animation), and really, really hard HOPs! A few fairly simple puzzles, and that?s all she wrote. The original book is considered one of the best examples of literary nonsense ? I just know how much you are gonna love that, detractors ? playing with logic, and appealing to an adult audience. (according to Wikipedia) Like the book, though, there is more than its superficial appeal to kids in this game. IF you have the imagination and appreciation for poetry that the developers obviously have. Either way, it is a bright and happy Wonderland environment that could have been put together by a team of artists from a Walt Disney movie ? oh! That?s right, they did that! *chuckles obnoxiously to self* Everything is simple in this game. Except, as I mentioned, the HOP scenes. There, you will need to work hard. I, who usually plays entire games without resort to a hint in the HOPs, struggled to escape without at least one hint per scene. Yes, some of the items are very small, and others disappear into the woodwork, some are hiding behind others. HARD. And I didn?t encounter it in the time I played, but it looked to me that the HOP scenes will be revisited. It would also help if you know the story. I don?t know it really well (yes, I know I?m a philistine!), and already I am coming across references that I don?t remember from what I do know of the story. But when I do catch the reference, there is that definite sense of the humour and nonsense of the book. Technical points. No choice of difficulty. No voiceovers. Simplistic dialogue/story. Little animation. Directional refilling hint. Simple but fun puzzles. Based in part on the kind of logical clues Lewis Carroll sprinkled throughout his book, many of which are still unsolved today. None of which was a problem for me. No notebook or map What I didn?t like was the need to click and drag it to use an inventory item. One unique feature of the game is the Cheshire cat?s grin found sprinkled throughout. Clicked on, they provide interesting facts about the story and its fascination for film makers, especially Walt Disney. So. If you dislike simple games, or can?t stand the thought of another talking rabbit, skip this game. And leave those of us who are focussed on the game?s fun value, its uniqueness and its humour, can do so without objections from the peanut gallery.
August 19, 2014
I liked this quirky little game!
Well, I have to say that I enjoyed the few minutes I spent on this cute little game, mainly because it was a change from all the gloomy, dark, monster type games that have been on hand recently, but I liked it. Mind you, the story itself really had very little to do with the actual book, so don't think that it might be following anything like Alice Through the Looking Glass. It only very loosely has any resemblance to with that. Yes, the HOSs were difficult mainly due to the tiny size of some of the objects but the hints filled up quite quickly. And the puzzles were very easy, but overall, not bad and I enjoyed them. I didn't click on the smiling Cheshire cat after the first click so can't really comment on that either. All in all I found it a very entertaining little game, nice bright graphics which I enjoyed very much but with some very tiny objects in the HOS for which I just used the hint button. I'll buy it. :) I didn't have the sound on so can't comment on that.
August 19, 2014
For serious Alice fans only!
If you love Alice in Wonderland, you will be enchanted by this game! Pros: The graphics are colorful, charming and the characters are well drawn. If you are an Alice trivia nut, there are a ton of "Interesting Facts" about Alice in all of her variations. The HO's are straight list types and some of the objects are very small and/or blend into the background. The Hint is helpful in the HO's, mildly so in the game and recharges quickly. Cons: No map, but you will not need it. No voice overs, so there is a ton of reading. There is no serious challenge to this game and there is much hand holding. There is no volume control. You can only turn the music and sounds off. The music is charming, but repetitive. Overall, very charming and relaxing! The hour trial flew by!
August 19, 2014
Clever, fun take on Wonderland
I really enjoyed this game. Cute graphics, upbeat music, challenging HO puzzles, and some fun mini-games. Everything you could want in a non-collector version. Not the game for you if you like to complete an HO in 10 seconds ... this one makes you work a little. Nice to have something light and fun for a change.
August 19, 2014
Better than the first reviews indicated
I think the reason most of the first reviewers disliked this game is because the search things were too small. I found out quickly that you could ZOOM in and find the things pretty well. I did mute the music and sound after about 5 minutes because they were too annoying. Please offer sound.music levels and custom curser on/off. I have not decided if I want it, but I played a lot in the first trial run and liked it. I just don't really need a new game as I have a lot of real world stuff to do right now.
August 20, 2014