Mystery Trackers: Blackrow's Secret Collector's Edition
Exclusive
From Elephant Games, creators of the Grim Tales series and makers of Mystery Case Files: Fate's Carnival, comes another exciting Mystery Trackers adventure!

It's been two hundred years since the plague swept through here… Authorities quarantined the area around Blackrow Mansion, and it hasn't been opened since. But now, an up-and-coming starlet is receiving strange threats that have drawn her straight to the quarantine zone. What is hiding behind the rusted gates of the Forbidden District? Play innovative new mini-games and explore gorgeous hidden-object puzzles as you track down the truth behind Blackrow's secret!

This is a special Collector's Edition release full of exclusive extras you won't find in the standard version. As a bonus, Collector's Edition purchases count toward three stamps on your Monthly Game Club Punch Card!

The Collector's Edition includes:
Uncover a new secret in the bonus game!
Wallpapers and concept art
Music tracks
An available Strategy Guide
Game System Requirements:
OS:

Windows XP/Windows Vista/Windows 7/Windows 8

CPU:

2.5 GHz

RAM:

1024 MB

DirectX:

9.0

Hard Drive:

1027 MB
Game Manager System Requirements:
Browser:

Internet Explorer 7 or later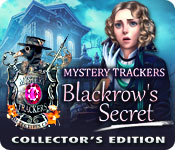 The Big Fish Guarantee:
Quality tested and virus free.
No ads, no adware, no spyware.

Reviews at a Glance

Mystery Trackers: Blackrow's Secret Collector's Edition
0
out of
5 (
0
Reviews
Review
)
Customer Reviews
Mystery Trackers: Blackrow's Secret Collector's Edition
59
59
Finally, an interesting game in some time now!
Norma Shine is a movie star that is at the height of her career. Upon arriving home she found mysterious death threats that left her shaking. Together with the Mystery Trackers detective, she arrived at the abandoned and plague stricken town of Blackrow to investigate the source of the threats. No sooner had they arrived, Norma was chloroformed and snatched by a mysterious figure. Along your journey you find mysterious alchemical symbols which you can examine with a new age device. Who or what is behind these threats? Your trusty dog Elf is there to keep you company on your journey, just as in the previous Mystery Trackers Games. This is the 7th game in the Mystery Trackers series, and most of them are wonderful games play. This game is brimming with collectibles and extras. Collectibles include items you spot with your device, and glass pieces that will form a beautiful mosaic when joined together. I am not sure is something special will occur when it is finished, but I bet that is a great possibility. I did not come across any morphing objects to my chagrin since I really love those. Maybe my eyes are not very keen right now (in the middle of the night lol). Also the "Secret Room" is back by popular demand, which includes bonus game-play on top of the bonus chapter. A number of recent Elephant 'games' have stopped including it like they used to. I am very pleased by that change. Although the whole 'movie star' and 'starlet' games have been done too many times recently, I was very impressed with the game so far and decided to purchase the Collector's Edition. This game seems to be light on the HOS and have more interesting puzzles (which pleases me much). I have come across some totally new and innovative puzzles that I have not seen before. If you are not into HOS heavy games like myself, you will enjoy this game a lot. The games released lately were disappointing and this one seems very promising, spooky, and mysterious. I recommend this game.
August 28, 2014
An Excellent New Mystery Trackers Game For Those Who Love the Series
Well detective it looks like you and your trusty companion Elf, are off on a new adventure, this time protecting an actress who is receiving death threats. Since she is a prominent new star, the agency has been hired to provide her with the best detective possible, and you guessed it, that is you! There are four cleverly named levels of difficulty, with Black Tie being the most difficult having no sparkles, hints or skips. The graphics are excellent but because of the nature and setting of the game they are a bit dark. The voiceovers are excellent, although there is no lip-sync. The rest of the sound package is very good and replicates the MT theme. There is a new tool that you will find early in the game and it is something that will help you detect energy fields in certain areas. Be careful since it has never been used before. If you click on the spinning map icon it will open your map, diary, achievements and collectibles for view. The map is the interactive transporter type. The hint system in the game will allow you to transport to a scene where there is an active task available. Of course we have our trusty companion, Elf, to help us when needed. The HOS in Elephant games are generally not as varied as they are in HOPS from other developers and are mostly the slightly interactive list type. I must say that for me at least, it is a refreshing change to see good list type HOS because I have tired of the HOS where I have to always figure out what to do to find something, or what item to open to begin the scene. It is okay once in a while but too many developers are making the HOPS too interactive and too heavy on silhouettes for my liking. I wish more devs would go back to including more list type HOS in their games instead of relying on one type of HOS as in a recent game. The puzzles start out fairly easy and even though I have only encountered a few in the demo, I know that the puzzles from this developer increase in difficulty as we progress through the game. Most of the puzzles from the Elephant team can be a bit tricky but they are not overly difficult. Unfortunately, and I say this again and again, most developers have moved to including fairly basic and easy puzzles in their HOPA games. This is a bit disappointing to us who love the brain challenge but I know that many gamers don?t care for puzzles, thus the move towards simplicity. There are achievements to be earned and collectibles to find but I have no idea what they are since there is an object we need to find in the game that will allow us to see the collectibles. Aside from the hidden collectibles, we will find 26 stained glass pieces that will go into a puzzle box. There are no morphing objects that I?ve found in the demo but I might have missed them. Of course, we have a secret room that will open once you have completed the bonus game. I love this game. The MT series has always been a favorite of mine and this one proves to be excellent. One of the great things about this developer is that their games always have a great storyline that keeps me entertained. For me this latest Mystery Trackers CE game is very appealing, and I guess I am one of the few who has not yet tired of having my little friend Elf, accompany me on my adventure. Now I am off to hit the buy button and add Blackrow?s Secret to my collection. As always, I recommend that you at least try the demo to see if this is a game you will like.
August 28, 2014
Mystery Trackers-Blackrow Secrets---YEAH Another Great Game
Another great Mystery Tracker game. I have all the games except one older one. I really enjoy playing these games they keep you interested and you don't want to stop playing. Elephant did it again for me. I played it for only 15 minutes and knew I just had to purchase it. Here is a brief intro into the game. A woman has finally made it big as an actress and on top of the world, then, she enters her dressing room and sees all these weird images painted on the walls and right then she knew someone was out to kill her. The police hasn't been able to find out anything or why someone wants her dead. Thus a detective has been hired to protect her (same one as in the prev. games# and as the detective is driving her home they have to go through Blackrow. This area has been condemned years ago because of a plaque. As they are driving all of a sudden a ghost of a woman appears in front of the car and they wreck. As the woman and detective are coming a man #I think# is kidnapping the actress and taking her away. The detective has to search for her through Blackrow area which I said has been condemned. You have to play the game yourself and see if this game is as good as the previous ones. I do!! Hos scenes are not too cluttered that you cant find the items you need. Graphics are great. Puzzles are fun and not frustrating. #the ones I played# There are collectable too...Stain glass pieces #22# Vases #16# Chapters #8) plus bonus. Oops almost forgot, you get a special gadget to detect ghostly things. Also same helper ELF! Try it ....You wont be disappointed.
August 28, 2014
Can you rescue Norma Shine?
What a treat for the nice long holiday weekend coming up! This is episode 7 of Mystery Trackers, and if you haven't played the others, you will enjoy them also. Each story stands alone, except your buddy Elf the dog is your helper throughout. Anyway, you are supposed to be guarding actress Norma Shine who has received threats, when you take a detour, have a wreck - of course! - and Norma is taken by a large man and dragged into Blackrow Manor. Except Blackrow Manor and the surrounding streets have been quarantined since the 1800s and everyone around should be dead! To help you rescue Norma, you have a new device that reacts to "disturbances" and finds memories of people who lived back when. With your device, you meet the Blackrow Manor family of Abigal Blackrow and her dead alchemist husband Samuel. Abigal decides to use Samuel's notes to find the secret to immortality -- a good way to survive the plague, I guess. You also have a very nice teleporting map with activities marked and a hint button that will also teleport. Your CE bling includes the Secret Room, 26 pieces of stained glass to find and assemble, collectibles which didn't appear in the demo that I could find, 19 categories of achievements, and of course the strategy guide and bonus chapter. No developer video, however. The HOS were all lists, and the mini-games were not unique and not hard. But the game is easy to follow and fun. I hope you enjoy it as much as I did!
August 28, 2014
It's a 4.5 star rating for me...
It doesn't matter who you are, finding bloody threats and arcane symbols scrawled on the wall like Lovecraft had a fingerpainting class is a little unnerving. You're escorting actress Norma Shine home late one night after the police have been unable to track down who's been leaving her these red missives when an apparition makes you crash, and you awaken just in time to see her being hauled off by a mysterious figure into the Blackrow District. Which, by the way, has been quarantined for almost two hundred years after the plague ripped through it. You know, just to complete your round of Bad Omens Bingo with a win. In Elephant Games' Mystery Trackers: Blackrow's Secret, the latest installment of the popular hidden-object horror thriller adventure series, you'll need to discover what grim truth is behind the darkness of Blackrow, a place that hasn't seen the light of day in centuries but is by no means "empty". Together with your faithful yap-yap dog Elf, who can be used to reach things you can't, and an unstable device that can allow you to see the memories of those long dead, you'll find items, solve puzzles, and maybe think of changing careers to something that involves a bit less mortal peril, corpses, and possession. Mystery Trackers series is one you can always count on to deliver the goods in story, presentation, and gameplay. Like its predecessors, Blackrow's Secret suffers from an egregious amount of backtracking, but offers up a genuinely interesting, if melodramatic, story that unfolds over some gorgeous and deliciously creepy areas. The artwork here is beautiful in every regard, enlivening some familiar puzzle types with rich design and detail, and the cutscenes are both well voiced and frequent as you use your magical memory MacGuffin machine to learn more about the past. It's not something you'd call scary, and it's considerably more restrained from some of the more flamboyant stories other games in the series have served up, but its still creative and full of twists and turns. ... and, admittedly, bad decisions. I don't know how you're supposed to feel sorry for someone who decides to go to the "forbidden district" alone, at night, after receiving a letter from a hulking hooded man. I know we don't all have Spidey Sense, but come on. Things get serious around the second half, and it's actually a pleasant surprise to have a villain who's somewhat sympathetic... you may not agree with their actions, but it's hard to deny their motives. Blackrow's Secret does feel like it could have used a bit more of the wild flair of Mystery Trackers: Raincliff or Mystery Trackers: The Void, because as well made as it is, its quality of design is the only thing really making it stand out from the pack. Which admittedly is a strange complaint, but the Mystery Trackers series has always been at its best when it really let loose with its plot, and there's just something about Blackrow's Secret that seems, well, tamer. It also feels as if it's a little on the easy side regardless of the difficulty you choose, so players will likely find themselves zipping through it in a few hours, not counting the bonus chapter. This is a game you'll want to finish all in one sitting, and you'll want more of it when it's over, and some seriously cool scenes and events will keep you hooked for the duration. Crazy zombie demon cats? Psychotic ghost twins? Bodies stuffed into every possible crack and crevice? Mystery Trackers: Blackrow's Secret isn't just gorgeous... it's a good time to boot.
August 30, 2014
Elephant Games Provides
Thank you, EG and BFG, for a non-fairy based story! The graphics are great (how do they manage to make pouring metal look so real!), and except for an occasional cranky puzzle (press the center of the round lock to get it to close) it's smooth game play. Not a super hard game, but enjoyable. Now I don't have to interface with my relatives over Labor Day weekend!
August 28, 2014
Mystery Trackers: Blackrows Secret
OMG I was so happy when I saw this was todays release ! I love the Mystery Trackers games and this one is shaping up to be as good as the rest (I only played the Demo but it is a definate buy for me) I found the puzzles slightly easier than the other MT games I've played, but maybe they were luring me in and they get more difficult as the game progresses. Good visuals, good story line and of course our dear old friend Elf is back. Enjoy people !
August 28, 2014
Another Great Mystery Trackers Game!
Mystery trackers delivers once again! Love this series, they're always interesting, different, and very challenging. Blackrow is just as good as the previous titles in the series. Great graphics, voice overs are good, HO scenes are challenging, and puzzles are, well puzzling! Great game, check it out. ;)
August 31, 2014
Mystery Trackers continues
I love the mystery trackers games and this one really keeps you interested. I love the fact that each game in the series is different and that they all even this one keeps your interest. I love that ELF is back to help you get into tiny spaces, you try out a new gadget and that you save the actress. All in all this game is not for those that lose interest easily.
August 29, 2014
A New Sequel of Mystery Trakcer!
The 7th game of this series is great andElephant doesn't disappoint me this time as before!
August 30, 2014
The Apple logo is a trademark of Apple Computer, Inc.