Imperial Island 2: The Search for New Land
In this latest installment of Imperial Island, accompany Emperor Omadan on an exciting journey through uncharted lands in search of his son - Prince Caleb. Be careful! The journey by sea is dangerous and the jungles are dense and wild. You will need to keep your wits about you to overcome the pirates, dragons and sea creatures you encounter along the way. Overcome all obstacles to find Prince Caleb in this Match-3 Adventure!
100 exciting levels to master!
Timed and relaxed game modes available
Earn achievements
Brilliant artwork and relaxing soundtrack
Game System Requirements:
OS:

Windows XP/Windows Vista/Windows 7/Windows 8

CPU:

1.0 GHz

RAM:

256 MB

DirectX:

9.0

Hard Drive:

196 MB
Game Manager System Requirements:
Browser:

Internet Explorer 7 or later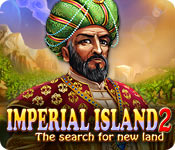 NEW299
The Big Fish Guarantee:
Quality tested and virus free.
No ads, no adware, no spyware.

Reviews at a Glance

Imperial Island 2: The Search for New Land
0
out of
5 (
0
Reviews
Review
)
Customer Reviews
Imperial Island 2: The Search for New Land
31
31
Fine Sequel To 'Imperial Island: Birth Of An Empire'
When 'Imperial Island: Birth of an Empire' came out, it set a new standard in Match 3 games. This second edition is of an equally high standard. There is no empire to build this time, thankfully. Instead, you go on an exciting journey through uncharted islands in search of the Emperor's son, Prince Caleb. Gameplay is along similar lines to the first edition, but with some new pleasing innovations, especially in the bonuses and power ups. I can't fault any facet of this game. The graphics equal the sharpest I have seen in any Match 3, with bright colours and the innovative designs easily distinguishable from one another. Tiles are also of a reasonably large size. Music and sound effects are very nice on the ear. In fact both are probably the best I have come across in this type of game. Two modes: Casual and Timed. That will please all players I expect. Option for custom cursor and full screen. There is a tutorial, which is very helpful and keeps you on the right track. I did not find it intrusive. Boards expand as you solve them, but they were not 'floating', at least in the demo hour. [I know some are averse to that type of Match 3]. As in 'Birth of an Empire', each level has certain tasks to complete, and if you achieve them, you win the level. As well, you are awarded stars [1-3] depending on your time taken and game play. During play, there is a gauge on the left of the screen which indicates how you are doing in this respect. As you play, you unlock new trophies. Once you have a trophy, you can improve it to bronze, silver and gold by completing additional goals. Matches can be made whilst other tiles are falling, and there is auto-shuffle when no moves available. With excellent play, you will trigger 'Combo' mode, whereby for 10 seconds matches made will score much higher [I call this 'mad' mode!]. So this is a Match 3 that comes with my highest recommendation and is a definite buy.
August 20, 2014
Great sequel imo
After reading first three reviews this morning, i was a bit skeptical about downloading, then decided to see for myself if this is a good sequel or not. Have now played most of my hour trial, and just prior to sitting here writing this review, i used my credit to purchase the game... it is a good one to have in the repertoire! Yes, there are no buildings to build, and yes i loved the lovely graphics of the first one... however, as with any empire, one must expand, explore... and this sequel gives the challenge by requesting amounts of particular items be gathered before the level can be passed. This requires a bit more thought than simply moving a ship or treasure chest to the bottom of the chart. i'm finding myself challenged by having to plan the moves, yet be quick about it. Some levels i've had to repeat, simply because the challenge i've set for myself requires THREE stars before moving to the next. YES-- i recommend this game to all M3 gamers... it is not boring one bit.
August 20, 2014
Good sequel
Played the demo and bought it. I too prefer the original only because you can build things. Not a big deal. The second is fun too. I do wish someone had told me about the Spaghetti Monsters! One level, I had to restart because I had nothing I could move and the monsters took over so much of the board I only had a few blocks left. So I restarted that level and finished it that way. Seemed a little unfair to me. Every click I made resulted in 6 monsters! That was not in the first one. But it's fun, it's challenging enough to hold my interest and has an untimed option (yay) but with the monsters, you have to work fast, with or without a timer!!
August 21, 2014
A Great Game but Doesn't Measure Up!
Imperial Island the Search for New Land is a sequel to what I think is an excellent game ? Birth of an Empire. However as so often happens with sequels, IMHO, this one pales in comparison to the first game. The graphics in The Search for New Land are very good but they are a departure from those in Birth of an Empire in that they have added cut scenes that do nothing to enhance the game. I far prefer the animated graphics in the original game to these, which seem at times flat. Another thing that I definitely don?t like is when I am at the home screen I see the whale in the lagoon that seems like it is in distress as it undulates up and down. Unfortunately, the whale put me off so much that I hated it when I would complete a match 3 level of the game and had to return to the main screen. We also have voiceovers in this game and I did not care for the narration. Again, and this is just my opinion, the developer would have done themselves a favor by skipping the narration at the beginning of the game. Once I get away from my feeling about the graphics, I find the gameplay is fun and seems to be a bit more challenging than in the first game. Of course, any time I am presented with the challenge of achieving gold stars in a game, it is game on for me since I always want the three gold stars. We do have the option of playing the game in casual or timed mode, a wonderful option as I hate time-management or playing ?beat the clock.? Overall, I think Imperial Island the Search for New Land Is an excellent match 3 game but somehow it just isn?t as appealing to me as the first game in the series. If another sequel comes along, I hope the developer returns to the format of the first game. There are things about this game that are very appealing but for me with the change in graphics style I will most likely give it a pass. I am sure that there are many gamers who will absolutely love this game, and I recommend that you try the demo and decide whether this is a game you will like.
August 20, 2014
Could This be Match 3 Heaven?
I've played lots of match 3's in recent years andmany are outstanding. This one, however, is exceptional. The colors are clear, bright and the objects clearly visible on the background tiles. The cursor moves smoothly and reacts well. Bonuses are partly familiar and many are new variations. The overall graphics while cartoonish perfectly suit the tone of the game. The music is acceptable but can be turned off if desired. The challenges aren't so much the actual matching but the strategy needed to finish each level with the best rankings. Trophies are appropriate and take some time to reachtheir gold level. The story is, well, about what can be expected for a m3 game but with brief bubbled conversation between levels, the plot moves along. Having played the first installment isn't necessary to enjoying this one. While there isn't building as such, there are challenges aplenty. In sum, this is a super m3 and I recommend it to both novices and experts as there's something for everyone. A clear tutorial, good "learning curve" and finding a missing prince. Could one ask for more? Looking forward to episode 3, devs! A great job and a large "thank you" to BF for offering this game!
August 20, 2014
Finally a new version
I loved the original game,but I suggest you try the original then play this as you will understand the game version now available regards playing it. This is an over due release for a brilliant game.
August 21, 2014
Not As Good As The First But Still Top Notch
Match 3 fans you can play this game in Casual for a relaxing game or choose Timed mode to get the blood pumping! There are many of the same features as in Empire, such as making matches below Airplanes, Ships and Carts, and then filling them by making matches of a specific item. The object of this game is to complete tasks given for each level, by swapping tiles to make a match 3 or more. There are Chests filled with gold that will give you a reward once they drop to the bottom of the board, Jellyfish that need to be freed by destroying tiles next to them, tiles that are Icy, Sandy and made of stone that can be destroyed by making matches next to them, Chained tiles with single and double chains requiring a match next to them either once for single twice for double chains, and Keyholes that need a match next to them to unlock a hidden playing field. As you progress through the levels you will earn different bonuses that will appear on the board each time you make a match of 4 or larger. There are Bombs that blast an area within 1 cell from the center, Silver Lightning that will burn a cross formation of 3 cells, Directional Arrows that shoot 3 cells in the direction of the arrows, White Sparks that will allow you to use your bonuses, and several variations such as Combo mode that will allow you to quickly match 3 or more of the same type of tiles for 10 seconds which will give you a box of dynamite. Other bonuses or tools that you can access and choose where and when to use are Hammers to remove any one specific tile, Magic Balls which add random bonuses onto the board, Shuffles which mix up all the tiles and relocates them, and a Collector that collects all the chips from the board of the same kind. This game comes with a book of Secrets as well: Try to destroy tiles at the bottom first which will cause chain reactions and destroy tiles at the top as well: Move the Carts, Airplanes and Ships to the bottom quickly, then clear chained and blocked tiles: Construct new buildings which will give you new, more valuable tiles for resources: Charge the bonus meter before completing a level if possible: The faster you complete a level, the more bonus resources you will earn for the remaining time. I think I've covered all the basics so get your Match 3 game on and enjoy!
September 11, 2014
love it
I like this game, like the options for making 3 Stars in all the Lanes :-))
August 29, 2014
I Like It, But.....
I was really looking forward to this sequel coming out, but have to say I'm a bit disappointed. The game is NOT improved by not building a town - this was such an enjoyable part of the first game, with its beautiful graphics and imaginative buildings. The sequel has become just another fairly ordinary match 3 game. If you didn't play the first one, play this, then download the other and play it and see the difference.
August 20, 2014
Challenging and Enigmatic
I don't agree with those reviewers who say this game is nothing like the first one. In my opinion, it is exactly like the first one, minus the building aspect (which is actually extraneous to an M3 game, although fun# and plus some extra challenges and bonuses in the game play. I think if you liked the M3 part of the first game, as did I, you will like this one. Maybe the level of challenge is a bit higher but many of us welcome that and, if you don't, there is the option to play untimed. My only problem is that there are some aspects of this game that seem to make no sense. For example, what is with the triangles with the exclamation points on the map? And what determines how many stars you get? And why are the time goals so unrealistic? I can get three stars on a given level but miss the time goal by several minutes or more. I hope I can figure these mysteries out in time, or someone else will post the answers. But in the meantime, I will enjoy playing this game because of the fact that it is technically smooth #on my machine), very fast-paced, challenging and beautiful.
August 21, 2014