Sable Maze: Forbidden Garden
Exclusive
From Daily Magic, creators of the acclaimed Dark Dimensions and Sable Maze series!

Your parents always told you to stay away from the mysterious hedge maze behind their house… and you're about to find out why. On the eve of your wedding, your fiancé, Ryan, is kidnapped by a mysterious force and dragged straight to the heart of the maze - or so it seems. As you follow his trail, you discover that the labyrinth contains a door to another world... and whoever is on the other side has a vendetta against your entire family. Can you uncover the roots of their hatred and bring Ryan back before all is lost? Find out in this gorgeous Hidden Object Adventure game!
Game System Requirements:
OS:

Windows XP/Windows Vista/Windows 7/Windows 8

CPU:

2.5 GHz

RAM:

1024 MB

DirectX:

9.0

Hard Drive:

1206 MB
Game Manager System Requirements:
Browser:

Internet Explorer 7 or later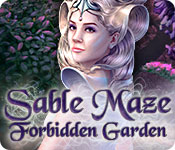 NEW299
The Big Fish Guarantee:
Quality tested and virus free.
No ads, no adware, no spyware.

Reviews at a Glance

Sable Maze: Forbidden Garden
0
out of
5 (
0
Reviews
Review
)
Customer Reviews
Sable Maze: Forbidden Garden
25
25
Not As Bad As It Seems!
My first though when I saw Forbidden garden was good grief, what has happened to Sable Maze? The Forbidden Garden appears to have taken a 360 degree turn from the first two games in the series and is now presented as a fairy tale, fantasy type game. Unfortunately the early part of the game seems more like ?Dream Day Wedding? than an intriguing Sable Maze game. Oh well ? on with the story. You will play the game as Wisteria who has returned to the family estate for your marriage to your sweetheart Ryan but, alas, poor Ryan manages to get himself captured and dragged through a mysterious portal in the family garden and, yes, you must save him. You soon learn that there is more to the mystery in the garden than the mere kidnapping of Ryan, for it seems that someone has a vendetta against your dad who has been hiding a family secret for years. Yes again in another game from this developer, we have all those pink and purple tones that normally appeal to eight-year old girls. The graphics are excellent but just a bit over the top for my liking ? at least in the early part of the game. That being said, the graphics are excellent and really beautiful, which will appeal to those of us who like ?pretty? games. The voiceovers are okay but the dialog seems a bit corny. That being said the sound package is overall very good and even has lip-synced voiceovers. We have the standard tools including a little ?spinner? on the lower left that contains our notes, trophies, collections and other bits of information. We can also gain separate access to the map by clicking on the map icon below the spinner. Fortunately the map is the interactive transporter type that will show us areas where we have tasks to complete, which I always find helpful when I am at a loss for what to do next. Okay, early in the game we do acquire a pet helper who is really mom, who has been changed into an ermine. At least we can use ?mom? to help us in certain situations. There are the various types of interactive HOPs that we have come to expect in games from this developer, and most of the HOPs involve completing one or more puzzles to finish the scene. There are quite a few puzzles in the game with some being more difficult than others. If you like fairytale, fantasy type games then you will most likely find Sable Maze Forbidden Garden to be an interesting and entertaining game. The game is a gorgeous game with excellent graphics that many of you will immediately love but for others, if you can get past the pink and purple flowery, over the top, early part of the game, the story develops and becomes far more interesting. Because I love some of the other excellent games from this developer, I purchased and played the CE, which in the end I thoroughly enjoyed. As always, I recommend that you at least try the demo to see if this is a game you will.
August 22, 2014
Enchanting escape!
Loved this game. Good story line with stunning graphics that make you stop and take in the scenery. Very fairytale-ish with easy mini games and HOs but still captivating for the adult players. The ending seemed too abrupt as if the game developer ran out of time but the overall length was just long enough. I was pleasantly surprised that it kept my attention all the way through.
September 23, 2014
Interesting Hidden Object Game
Liked the different puzzles rather than simple hidden objects. Also a chance to play "match three" instead if you find a puzzle too challenging.
August 27, 2014
pure enchanting magic!!!!!
MY MISTEAK OF THE WEEK!! DID NOT GET CE!! I WILL BUY EVERY CE FROM DAILY MAGIC FROM NOW ON I LOVED EVERY SECOND OF THIS GAME OLGA OLGA WHAT A GENIUS MIND YOU HAVE!!!! GREAT STORY MAGNIFICENT COLOR GREAT VOICES PERFECTION IN EVERY CATAGORY!!! LONG SE GAME FLOWED PERFECT JUST WANTED TO PLAY ON AND ON AND ON THANK YOU A MILLON TIMES OVER
August 24, 2014
Very Enjoyable
I have played dozens and dozens of this type of game and this was an almost perfect example of what I usually look for. Apart from being on the pink and purple end of the color spectrum, which I gather some people - not me - hate, the graphics were beautiful and detailed. The sound was exceptional, not too much music, and the sound effects really added to the game. The plot was more or less what you would expect, but even though the game was quite long it was not boring. Two things they did really well, in my opinion - the helper creature was adorable, and used quite frequently. It wasn't just a throw-in. Usually those helpers don't do it at all for me but this one I liked. And second, the HOS were MUCH more interesting than usual. Usually I just tolerate them but I enjoyed these. You didn't just find items on a list, most of the time you had to find items in a particular order, using the first to get the second, the second to get the third, and so on. Some people complained that the game wasn't logical but I have to disagree - I only needed a hint about three times because it was usually very clear what you needed to do next, and the tasks made sense most of the time. And surprise! You never needed a crowbar! The puzzles were on the easy side, some of them childishly so, but a couple were pretty tough and there were a few I had never seen before. They really packed a LOT into this game and unless you hate purple I suggest you give it a try. Don't be put off by the opening 5 or 10 minutes, which is pretty treacley - it gets better, I promise.
November 13, 2014
Best game!
There isn't anything I could say about this game that wasn't positive. I really enjoyed it.
September 1, 2014
An Enchanting Fairy Tale!
I don't know why people haven't loved this game, it was soo totally perfect in my opinion! Once I started playing, I continued till it was over(which was in about 5 hours) This is my first Sable Maze game. The graphics are breathtakingly gorgeous, almost everything is in shades of pink so its simply beautiful.The Ho's were fun too, they were the sequential ones which I've always preferred because I don't like looking for 10 unrelated random objects. But in any case, if you don't like HO's they have a match 3 option which you can play instead. The story line was enchanting, there are good fairies and there are bad fairies. The queen is bitter cause she got dumped by a guy who ran away with another girl and sealed off their fairy world, leaving them with very little magic- so she decides to take revenge. So if you like Fairy Tailish games, you'll definitely love this one! I recommend the CE because the SE ending is quite abrupt.
January 17, 2015
Enjoyable hidden object / puzzle game
I found this game stunningly pretty. great art work. The story line was good although the very last couple of minutes was a little flat and I think they could have rounded things off a bit better, but that did not take away from an enjoyable game that I did not want to stop until the end. The first little bit was average but it improved a lot as we got into the story. The sound was ok, - I am not much into the back ground music and sound effects. Do however like to hear if a character is talking. I would recommend it for visual affect and enjoyable game play. :)
December 28, 2014
Enjoyed it
I liked this game. From the start it's colorful and bright with smooth, detailed movement. The ermine, for example, was well animated with path and expression varied to each situation. (Yes, I felt guilty when I'd throw her into a huge Fail.) The story, okay. Inventive, a decent villainess, clear tasks, not too much talking. One thing important to me is the visual clarity. I'm 60 so if a game hides arrows in narrow tree trunks I get grumpy. This game scores high. Throughout the game, it was bright and easy to see. Many dark games I turn up the screen all the way and still can't make things out. I play casual and found the visual cues to be useful but not overly directive. Also the HOs mix it up, some are hunt to find, some to collect (eg, fragments), some to find and combine. I enjoyed this game a lot. I rarely review games but this one deserves a strong review. Very good work.
September 1, 2014
Added to my collection!
Hi all. Well, I gave the CE a go and didn't feel it was CE worthy. Not to mention the fact that all the blues and pinks really make my eyes tired very quickly. I always give the SE a shot, since I have often changed my mind about a game after playing it again, but very seldom go back and purchase the CE version. My thoughts on this one didn't change much. The graphics and game play were nice and clear, even with the blue and pink colors. Some day, hopefully, the devs will pay attention to the reviews. Music is nice. Voice overs and animation were very good. Jump map was well done and areas identified by name and picture, in case you forget what something looks like. There are some very nice sound FX in this game. HOPs were a little different and fun and each was played a little differently than the last, so you don't get bored with the same thing all the time. Items were not too difficult to find, but took some thought to complete. The puzzles were quite simple and nothing new. Disappointed in how slowly the skip and hint button filled. Hint system is quite helpful, but didn't use it all that much. Mostly I used the jump map, since it told me where there was something to do and I didn't have to do any back-tracking. I still did not find that this game was CE worthy and even for an SE, it was not all that challenging. However, since I have all the others in this series, and a punch that is about to expire, I am going to get it and add it to my collection of games. Besides that, I really liked how the HOPs are set up and I find the need to see where this story is going, other than saving the fiance. As always, try it for yourself and see what you think. We all have different tastes in games and you may not care for this one at all. Thanks for the reviews.
August 22, 2014
The Apple logo is a trademark of Apple Computer, Inc.