Lost Legends: The Weeping Woman
From Gunnar Games, creators of the Small Town Terrors series, comes a new mystery from south of the border!

As an investigative reporter, you travel around the globe to uncover the truth behind local legends. Next stop: Mexico!

Every year, the town of San Cristobal holds a huge festival to soften the heart of the Weeping Woman – a bitter spirit who kidnapped children long ago. For many years, the children of San Cristobal slept peacefully. However, three years ago, a child went missing during the festival for real, with another child vanishing each year since! Now another child has been taken – right before your eyes! Has the Weeping Woman truly returned to take revenge? Find out in this thrilling mystery adventure!
Game System Requirements:
OS:

Windows XP/Windows Vista/Windows 7/Windows 8

CPU:

1.2 GHz

RAM:

256 MB

DirectX:

9.0

Hard Drive:

519 MB
Game Manager System Requirements:
Browser:

Internet Explorer 7 or later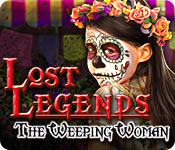 NEW299
The Big Fish Guarantee:
Quality tested and virus free.
No ads, no adware, no spyware.

Reviews at a Glance

Lost Legends: The Weeping Woman
0
out of
5 (
0
Reviews
Review
)
Customer Reviews
Lost Legends: The Weeping Woman
17
17
Weeping Tears Of Joy - Finally - A Great Solid Game - Completed Game
I purchased the CE when that came out so my review here is based on that. The game has 6 chapters and I have listed the CE extras at the very end of my review. GAME FEATURES: Game opened in widescreen for me Inventory locks Choice of cursors Transporter map that you get a little into the game. Journal: Has your tasks and notes to help you along. 4 modes of play including Custom which I found to be a little different here though. You get .the choice of how your Hint works. You can have it tell you exactly what to do or just give you a nudge along. No sparkles. Modes of play can be changed during play as well as Custom choices. HOS; Interactive word list with some puzzles thrown in. Graphics nicely done here. I enjoyed these. I had no difficulty finding/doing anything. PUZZLES/MINI GAMES: I'm not a fan. Less the better. Has nothing to do with being too hard or too easy I'm just not a puzzle/mini game person for the most part. Having said this: These varied in challenge for me. I did skip a few of these. Some the usual run of the mill with a different twist on them to fit the theme of the game (Mexican festival) and a few I haven't seen before. There's also an info button and some have a reset button on them. The skip is very quick on charge up in custom mode. VISUAL/SOUND QUALITY: I really LOVED the graphics. Vibrant, colorful. The Mexican festival theme. These displayed just stunning, crisp and clear on my computer screen. They fit the game here right along with the characters/voices that are very well done - Latino accents. LEVEL OF CHALLENGE: I played the custom mode and loved it. Game play for me was pretty easy for the most part right along with the "adventure" side though not always linear. The skulls while I located them all I didn't think they were always easy to locate. The morphing flowers I didn't have any trouble locating these STORY LINE: I was so engrossed in this game. I was hooked to this from the get go and held my interest to the end. Some twist and turns to the story. This was also well integrated into the game play. The main game also came to a conclusion for me. I didn't feel the bonus chapter was needed. Bonus chapter is a new story that stands on its own and has different characters to the main game. All new locations. None are from the main game. I enjoyed this as well though and was surprised by the ending though it does come to conclusion. MY PLAY TIME: Main game 3 hours. Bonus Chapter 1 hour and 15 minutes. May be more or less for you of course. I didn't use any hints, map or strategy guide but I did skip some of the puzzles as I said. Game length was just fine and right for me. I don't need for a game to go on for many hours. FUN FACTOR: While this game was pretty easy for the most part this was a breath of fresh air for me and fun compared to what Big Fish has been releasing lately. A HUGE KUDOS to you here Gunnar Games: While I encountered a few animals very briefly but NONE of them became my helpers for the game along with NO fairies, NO purple and pink hazy/foggy graphics. I also had no tech issues.Overall 5 stars from me. Thanks Gunnar Games and Big Fish for a great game.. CE EXTRAS: Bonus Chapter Strategy Guide 16 Achievements 25 Skulls 25 Morphing Flowers 6 Wall Papers 9 Concept Art
August 24, 2014
Sit back and enjoy
Review is based on playing SE addition Really loved this game! It is colorful with an wonderful storyline of an Mexican legend about a women married to a cheating husband who runs off with another woman taking his children with him. She in total desolation walks into the river. Then returns to take the village children. A yearly festival takes place each year to please the ghost from taking the children but still they disappear. You are a reporter trying to prove or disprove the legend. Graphics are vibrant and voice overs very good on cut scenes. A nice change from the dark and gloomy games. You do get a map that lets you teleport from one scene to another. Hint button when you are stuck is helpful. Three options for play mode. HOS scenes are fairly easy and interactive with some having mini puzzles within them. Other mini puzzles range from fairly easy to difficult and I did skip on a few. Good game for a beginner at casual level or a more experienced player in the harder modes.
August 26, 2014
A new Twist on a Legend
I grew up hearing stories about the "Crying Woman". What a delight to see the color and brightness that I have long sought in games right here on Big Fish! Loved the artwork, authentic designs and familiar legends in the story. The games were challenging and the HOPs were unique! A challenging, enjoyable, one of a kind game. Thanks!
August 30, 2014
Easy for beginners
I play in casual mode. This is a great game for anyone including beginners. If a hint is needed, it is very precise.Great storyline and graphics!
August 30, 2014
Excellent
Excellent game as a SE it,s worth for the price or a credit COUPON well done BIG FISH
August 27, 2014
prretty good
I got about 6 hours of play time from this game. Nothing wrong with the game but nothing special either. I killed a rainy afternoon playing it so I'm satisfied. 2014
October 24, 2014
Nothing Worse Than A Woman Scorned!
Every October the town of San Cristobal holds a festival, Flores de sol Muertos to appease the Weeping Woman. Everyone knows the legend of Domingo the handsome young man who stole Maria's heart (and soul as well) They fell in love, got married and Maria bore Domingo two beautiful children. Eventually Domingo's eyes began to wander and he left Maria for another woman, taking with him the children she loved so dearly! As you can imagine, Maria's pain was more than she could bear and she took her own life! For years the festival seemed to appease Maria, but a child has been taken by the Weeping Woman for the past three years. You have been sent to Mexico to investigate this tragic legend when you witness the Weeping Woman abducting Catalina, the Hotel owners only daughter, before your very eyes! Now this legend has become personal, has Maria returned from beyond to seek vengeance? The Hidden Object Scenes are interactive list finds, some of the scenes contain a mini game within such as finding and using 5 different colored keys in a cabinet, and then turning those keys in a specific order. The mini games are a little too easy in my opinion but still not bad, such as arranging dancing skeletons so that each skeleton is touching the skeleton to the right and to the left with the exception of the first and last of course. Another mini game requires you to read a paragraph from a short story and place the characters in the correct setting according to the story and after they have been placed you click on the check mark button to read the next paragraph. The Collectors Edition was more appealing to me because there are 25 morphing flowers and 25 golden skulls to collect, Achievements, Wallpapers, Concept Art, a built in Strategy Guide and a bonus chapter, The tale of El Sombreron, enjoy!
October 3, 2014
Good Little Game! Glad I Got It
This is posted after playing the entire game. I have to admit I was a bit skeptical of purchasing this game after playing the demo, but I am sure glad I didn't go with my first instincts. I really enjoyed this game. Had a good time with it. The graphics were very good and the sound was excellent. The voice overs were well done and the music was very tolerable. Hidden objects were pretty easy. I don't think I used the hint button at all on them. They are well done. Laid out and not just a pile of junk. Some things I had to look hard for, but mostly they were there just screaming to be found. The mini games... what can I say, they are mini games. I do not like mini games and usually skip them with little effort. However, these were different. While I did skip some, I was able to play and get the majority of the games. That's my kind of mini. You have a task book which kind of serves as a journal also. Along with that is an interactive map that is quite helpful. It tells you where you have tasks to perform and you can jump from place to place. The hint, which you can use if you just can't figure out where to go next and takes you there, recharges quickly as does the skip. The story was interesting. I won't go into the story. Big Fish does a good job describing it. The story flows and makes sense. Kept my interest all the way through. I didn't get lost in the story not one time and that's saying something for me. This is not a game for those who want a huge challenge. It is for a few hours of mindless enjoyment and it was very enjoyable.
September 6, 2014
Nice and Relaxing
The game is very pretty and the sound is great. It's mostly HO's but has other puzzles scattered through the game. The fact that I found it relaxing to play means that it is not difficult enough for many people.
September 4, 2014
One of the Most Fun Games to Come Out This Year!
BASED ON COMPLETED STANDARD EDITION GAME This game is certainly different from all the others we've been seeing lately. It's got none of those over-the-top tricks; it's just a plain, old-fashioned HOPA the way they used to be. It's that simplicity that attracted me to it. I'm glad I bought this game, because it turned out to be one of the most fun games I've played in a while. What attracted me to this game at first, however, was its story. It centred around the legend of the Weeping Woman. This intrigued me, as I had never heard of this legend before. So this game was kind of like venturing into the unknown, as well as being a learning experience. I did some research while playing and discovered this story does differ from the legend slightly, but it is a good difference and one that did not have much of an impact on the game's events. The story started off relatively well. A major event happened within the first few minutes, so I was hooked from the beginning, which is what a story needs to do. All the beginning events led up to the demo ending on a brilliant twist, so of course, I had to continue. The story continued on quite well for about half an hour after the demo period ended, but afterwards, became quite uneventful for a period of time. During this period of about half an hour, there was no major twist or discovery of any kind to keep me going, so at this point I was relying in gameplay alone. This should never ever happen in a story; if I had purchased this game simply for the story, I would have stopped playing at this point. I am lucky that I kept playing on, because there was a great plot twist that sucked me right back in. I was not expecting this at all, so good job to the developers for misleading me. This plot twist was the major thing that carried me to the end of the game. With all the build-up the story gave me, I was expecting a great ending. Having never completed a game by this developer, at this stage, I was a tad nervous: Would it be conclusive or inconclusive? Fortunately, the ending did not disappoint! It really did the story justice, with no stone left unturned. I discovered who the true criminal wa. The criminal's backstory was fantastic, as it made me sympathise with them and their actions. This is what developers should be doing. From a technical point of view, the story did just fine, save for a couple of things: Firstly, that random lady from the beginning just popped up halfway through and suddenly decided to leave town forever. Secondly, we seemed surprised when we found out halfway through that Catalina was adopted, even though we had been told 10 minutes in. Overall, though, the story was a good one; it just needed a few tweaks here and there. The gameplay, for a reason I cannot figure out, was quite fun. I really enjoyed the HOS: they were a nice break from the usual overly-interactive and excessively long stuff. Every single one of them was the standard extra-step object junkpile scene. I liked how there were quite a lot of extra-step objects. It made them more fun. But the best thing about them is, the lists change with every game! When I trialed the CE, I forgot to create a profile (the game didn't prompt me), so every time I quit I would have to start over. When I got to the first HOS again, the list was different! It is the same here; every list I came across in the demo was changed slightly when I started playing again! I love it when developers do this as it really makes me think. Even though the HOS were incredibly fun, they were also very easy. Some HOS had a minigame in them, but that did nothing to the difficulty level. There are a total of 15 HOS in the entire game, which I thought was a very good number. To begin with, they seemed to be few and far between, but the more I played, the more frequent they became. This can be a bad move for developers, but I think this one managed it quite well. The HOS weren't piled on near the end, but they were definitely a lot more frequent than before. The puzzles were okay; they were fun to attempt, but really not difficult at all. Even though they were incredibly easy, I had fun playing them. The puzzles are nothing I haven't seen before, so I have a feeling experienced players will be annoyed by them. Like the HOS, the puzzles were in good quantity; there were 20 all up in the main game. But my main issue with the puzzles is their spacing. I thought that, especially towards the end, the puzzles were very close together. My pet peeve in a game is solving one puzzle to go straight in to antoehr, and I found this to be present quite frequently in this game, much to my annoyance. The ?solve one puzzle, go straight to another? trick happened a grand total of SIX times in the game. In fact, the puzzles towards the end were so close together that I played four of them in about five minutes. For puzzle lovers, this would be joyous, but for me (who is not a fan of puzzles), this drove me insane. I think the developers seriously need to work on the spacing of their puzzles. Remember: less is more! I would rather play 14 or so puzzles in this game and have them all spaced out well than play 20 and have four in five minutes. Unfortunately, what this game lacks is originality and challenge in the adventure component. For starters, there are ZERO additional gameplay features here. There aren't even any + objects, which I thought were a HOPA game staple. In the game I noticed that some items formed together by themselves. I thought it would have been much better to let the player do it themselves; it would have been much more fun. Aside from that, this game is incredibly easy. I breezed through the game and did not run in to any difficulty at all. It is incredibly easy to figure out what to do next. Every task was pretty much the same I see in every other HOPA. With this level of challenge, I think it would be great for beginners, but expert players will get very annoyed. I think this developer seriously needs to work on their challenge factor. While I enjoyed this game a lot, it was far too easy for my liking. The basic features have been done quite well. There is a diary, but it only lists your tasks and not any entries. There is a map, which works quite well. It tells you where you have tasks to perform but does not list exact locations (for instance, it listed ?Town Square? but not the three or four locations within it). This was as challenging as the game got. There are also four modes of difficulty, including custom. Unfortunately, I had to utilise the custom difficulty to change how the hint worked. I started on Casual, but I tell you: it is the EASIEST Casual I have ever come across! In Casual mode, the hint directs you to EXACTLY where you need to go, instead of just telling you to go back a location. I had to enter the custom difficulty to change the hint settings to only nudge me along (in other words, if I did not have anything to do in the location, it would point an arrow upwards or donwards and that was it). I play easy mode to enjoy, but that much hand holding was ridiculous. The graphics were fantastic. It felt very nice to play a darker themed game with graphics as bright and colourful as these. The scenes were also drawn with some great detail and were very clear. I really liked the character designs, too. They were very realistic and looked great. I was pleased with the decision to use Mexican accents in this game. I thought it tied in very well with the Mexican theme. The voice-overs themselves were just standard; not over-acted or under-acted. I think they were just right. FEATURES 4 modes of difficulty: Casual, Advanced, Hard and Custom- I played Casual, but found it was way too easy, so switched to Custom. I kept all the casual settings and changed the hint to only nudge me along. In Casual, it tells you exactly where to go. The differences in the three preset difficulty are standard. Hint/Skip- both recharge at a decent speed for Casual. However, on Casual, the hint is a bit too helpful outside HOS. In Advanced mode, it works the way it should. Hence, why I switched to Custom. Diary- Lists tasks with only a couple of lines below them. I would have preferred the journal entries. Map- The map is very helpful, but structured differently to most. It will list locations such as Town Square, but not the locations within it, so it makes it a bit harder. The map indicates where you have actions to perform. WHAT DO I MISS OUT ON IF I BUY THE SE? Bonus Chapter- absolutely not needed. The main game wraps up 100% conclusively, and the Bonus Chapter is a different story entirely (although still based around a legend). Built-in Strategy Guide- does not show HOS solutions and, with the lack of challenge, not really needed for anything else. Achievements Collectible golden skulls- hidden quite well; you actually have to interact with the scene to find them. This was a nice touch and almost made me consider the CE. Concept Art Wallpaper Collectible morphing flowers- ties in well with the theme. WHICH IS THE BETTER BUY? I bought the SE and was extremely happy with it. Truth be told, with this level of challenge, I think I would have been bored had I gotten the CE. . The CE does not offer much in the ways of extras and the bonus chapter is not needed. Definitely get the SE. ON THE GAME LENGTH The game was pretty much the standard length.. I played for 3 hours on Casual settings, so that is my perfect game length. There are 6 chapters all up in the game, which is just enough for me. Had this game been released in 2012, I probably would have awarded it five stars and maybe considered it for game of the year. However, this game was released in 2014: the year of innovation.All the same, this was a welcome break for me. I cannot remember the last time I had this much fun playing a HOPA game. .
November 21, 2014
The Apple logo is a trademark of Apple Computer, Inc.