Statue of Liberty: The Lost Symbol
The iconic flame of the Statue of Liberty has disappeared! Play as FBI special agent Susan Pierce and travel to Liberty Island to clear up the disappearance of one of the most important symbols of the United States!

With Ranger Cooper's help, you'll have to resolve this mysterious affair and uncover its perpetrators. As your search progresses, you'll unveil old secrets that the island is concealing. Explore the island, discover secret rooms and piece together the course of events to bring the truth to light!
Animated backdrops and screenplay
50 fun facts hidden throughout the game!
Original characters and intuitive gameplay
Game System Requirements:
OS:

Windows XP/Windows Vista/Windows 7/Windows 8

CPU:

1.0 GHz

RAM:

2048 MB

DirectX:

9.0

Hard Drive:

609 MB
Game Manager System Requirements:
Browser:

Internet Explorer 7 or later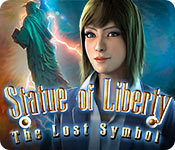 NEW299
The Big Fish Guarantee:
Quality tested and virus free.
No ads, no adware, no spyware.

Reviews at a Glance

Statue of Liberty: The Lost Symbol
0
out of
5 (
0
Reviews
Review
)
Customer Reviews
Statue of Liberty: The Lost Symbol
20
20
Fun HOP with light adventure
The graphics are sharp and clear. The art style is crisp and realistic which fits the theme of the game. The music is somewhat repetitive but so unobtrusive that it didn't become annoying. There are few atmospheric sounds and they were well done. There are no voice overs. Your character is an FBI agent who arrives on Liberty Island to investigate the mysterious disappearance of the Statue of Liberty's flame. She meets a few other characters on the island but it is largely uninhabited having been recently evacuated. Game play involves investigating various locations around the island. At each location, which you return to multiple times, there is almost always a HOS and, usually, a puzzle. Completion of a HOS/puzzle rewards you with an item needed to progress in the game or perform a puzzle. The story unfolds through dialogue with other characters and brief monologues from your character, the FBI agent. Throughout the game and in HOS there are Statue of Liberty symbols which reveal interesting facts about this monument when you click on them. Objectives are clear as are the tasks you must perform to achieve them. You rarely have more than a few items in your inventory at once and the things you have make sense in the context of the story. The HOS are very well done with excellent graphic quality and good sized items to find. They range in difficulty from moderately tough to pretty challenging. You return to each HOS at least once. The puzzles range from easy to difficult and were fun to do. I ran into four during the demo but I did not get to the end of the allotted game during the hour trial period so others may run into more. When performing puzzles that require assembling an object a gear on your cursor indicates a potential placement spot although it gives no hint as to what should be placed there. There is only one difficulty level which is fine with me. Arrows indicate where you can move from scene to scene, eye symbols replace sparkles to indicate a HOS, puzzle pieces indicate where you can do a puzzle, and a magnifying glass shows where there is something to be done. The various popup boxes must be closed by hitting an X. The custom cursor cannot be turned off and the UI is drag and drop. The drag and drop component works very smoothly but I found the cursor to be just a bit laggy. Overall this is a fun HOP game with lots of HOS/puzzles and a minimal inventory collection, aka "adventure", component. The story is interesting and the game plays smoothly. I enjoyed it and recommend it for people who prefer a game that is HOS/puzzle-heavy and adventure-lite.
August 25, 2014
No 3 of a job lot?
Do you remember a couple of games recently where you had: * Arrows, eyes and magnifying glasses telling you what to do? * A single level of gameplay with no choice of difficulty level? * No sound on VOs but lips moving incessantly? * Inventory items that you have to drag-and-drop? * Windows and HOS inventory achievements where you have to click the X to close/claim? * HOSs where the items were 'well hidden', which you came across 8x in the 60 minute demo, which you revisited, where some of the items were 3x this or 3x that? * Where you could click a 'hidden' symbol in HOSs or scenes to reveal interesting facts? If you enjoyed those games then here is No3. This time you are an FBI investigator trying to discover who has 'stolen' the Statue of Liberty's flame. I found the storyline a little more interesting this time, the graphics were OK, the music was OK but repetitive. HOS heavy, this is definitely one for lovers of the 'classic' HOS style; a simple word list and much searching to be done. The hint recharges in about 30 seconds if you are struggling. Puzzles were quite good (I encountered 3). There is little help and the hint just says, for example, "put the metal bits together" with no real clue as to where to start so they could challenge the old grey cells. So, I would say it is a little better than Jean Valjean and Alice, and this time I might possibly use an expiring coupon without kicking and screaming, but it does not thrill me. As I said, if you like classic HOGs with much handholding from the ever-present arrows, eyes, etc then go on and give it a try. This is what will put me off. I want to search that scene and find things for myself and then conclude, for myself, that there is nothing more to be done. I recommend you try it, not that you buy it!
August 25, 2014
Her Flame's Been Doused!!
Another game from the makers of Alice: Beyond The Mirror and Les Miserables with the exact same features and game mechanics. Although I thought the graphics on Statue of Liberty were a little better, they are still pretty basic with few details and even fewer activities available in each scene. This story is about the mysterious disappearance of Lady Liberty's eternal flame. As with the other two games, this game has 50 fun facts available whenever you click on the opaque replica of the Statue of Liberty that you will find throughout the game, such as her true name, Liberty Enlightening the World. As I said before, there is very little to do in each scene, either a HOS consisting of non-interactive list finds, a simple mini game, and if you're lucky an inventory item to pick up or use. I will say that I loved the mini game where you have to push crates out of the way by using directional arrows but you have to be careful not to block yourself in or you will have to reset and start over at the beginning. You will get an automatic tutorial due to the lack of options available at the start, but you can click the X to exit the tutorial window which will ask if you agree or if you don't agree with leaving the tutorial. These games also have an older feature that will allow you to use your mouse to click on an area on the scene, and zoom into that area which is really nice for the Hidden Object Scenes because some of the items are really difficult to locate. I'm not a big fan of this style of game, I need more interactions in the game to keep me interested, however the story seems okay if you don't get easily bored. Some of the characters look like plastic dolls and their lips move about a hundred miles an hour which is really stupid because there are NO voiceovers in the entire game! This would make a good choice for a coupon you may have lingering but I'm not sure it's worth cold hard cash, but you never know!
September 14, 2014
Sorry But The "Lost" Symbol Will Have To Remain "Lost"
BASED ON 60 MINUTE DEMO I've played a couple of this developer's games pretty recently. I'm getting the impression they must do this as a hobby. They could have some really great games but seem to choose to ruin them by having the same recipe for all of their games. Well at least the ones I've played. What's the recipe? I'll start with game features. What game features? Well OK there is one and that being the game here did open in widescreen for me. Other than this there are no game features. This here meaning: The sound/music is either on/off. No choice to have custom cursor or not. No choice in play modes: There are arrows showing direction(s) you can go, magnify glass shows area of interest, an eye for the HOS, and puzzle piece for the puzzles. There is also black bar tip overload telling you what to do in the game. No map: I no longer use in games so no big deal for me. Plus it's not needed for this game. No journal; Yet another not a deal breaker for me. No lock for the inventory. Have to click and drag to use it. Downright ANNOYING! No auto close when a box comes up. Must click on the X to get rid of the HUGE box. Yet another downright ANNOYING! HOS: This will definitely be "too many HOS" for some people. All found by standard word list. I did 8 scenes during the demo. I'm sure some will even find them "Sanford & Son "junkyard however they weren't for me. Graphics nice and clear. I had no problem locating anything. Hint takes about 30 seconds for charge up. PUZZLES; I only came across 3 during demo. They do have an info button that being the ? mark. There is also a reset button which is the red button. To skip puzzle have to wait for the green bar up at the top to fill up and then click on it. A snail or turtle moves faster. Very slow. VISUAL/SOUND QUALITY: Will definitely be "too old school' or "too dated" for some people however for me graphics a well done. The characters mouths move however no voice. Their mouths also keep moving until you click on the screen to "continue" as there is text dialogue to read/click through. Sorry but his annoys me as it makes me think there is something wrong with the game. Please don't have the characters mouths move if they aren't going to say anything. The music is the same throughout the demo and grated on my last nerve. LEVEL OF CHALLENGE: WHAT challenge? Way too much hand holding here. STORY LINE: I did find this story much more interesting than the last game I played from this developer a little over a week ago now. However once again, the game play absolutely ruined this and the game for me. FUN FACTOR: Sorry Big Fish but I didn't find this game "fun" at all. 2 stars is the best I can do for this. With all due respect this developer has been around for a LONG time. They need to step it up quite a bit here and offer more playing options for their games. If they choose not to well that is fine but I will continue to rate their games low until I see an improvement. This could of been a great game.
August 25, 2014
Really very bad!
This could have been interesting as New York, and especially the Statue of Liberty, are great topics with lots of potential story telling, but the makers of this game need to learn how to make a computer game first! The cursor lags and cannot be changed to system cursor. There is no option on difficulty settings, and even though I cancelled the tutorial I was still led around by the hand. The HO scenes are really badly done and things are not translated correctly (I hate that). I only tried one puzzle which was very frustrating and it took me a while to discover that the unlabelled green bar at the top was the skip button. No map that I found, but then I could only stand to play for about 15 minutes, so who knows. Sorry, but this is just not up to today's standards!
August 25, 2014
Not even 4 years ago
This one must of been developed by a procrastinist who started it over 4 years ago. No voiceover, no map, no sparkles, no journal, no volume controls, no level choices, no nothing but arrows that show where you can go, an eye for a HO, puzzle piece for puzzle, and a magnifying glass for a zoom.. I'm sorry, but this was totally boring, just had the droll music pounding in my ear. I think this would have bored me way back when and that is sad. Don't know if the story would have been interesting as didn't get that far. About the only good thing I can say is that items in the HOs are well hidden, other than that, nothing. Graphics are even horrible but the moving mouths while you read the conversation was a real bummer. Don't waste your time downloading this one as it's the worst I've seen in years. Deserves a 0 rating, but there isn't one and I gave a 2 as I didn't want to be too harsh..
August 25, 2014
This Flame Fizzled Out
There are arrows and eyes that appear on the screen telling you what to look at and where to go. You might think this would only be on the easy level, but no. There is no choice of difficulty level. The puzzles are truly inexplicable. In the first one, you are to "move the forklift to clear a path," but there was no forklift, only a circle showing the face of your character, and there was no indication of where the path was to lead to, i.e., no clear exit from the maze. Everything looked the same. It took about two minutes for the skip to fill. There are mistranslations in the HOS, but these are some of the clearest, cleanest graphics I've seen in any game and the coloring is realistic. I thought the story might turn out to be interesting, but that level of hand holding means no challenge at all. If had been an old game mouldering on a shelf in the BFG warehouse released as a DD or CTW, I could understand, but as a new release. Seriously? What were they thinking?
August 25, 2014
Not Again!
Based on partial play of the demo. I can't believe there is another "new" game that has nothing of the modern conveniences like being able to decrease the music and sounds in the Options menu, but again for the 3rd time in as many weeks the only option is on or off. The storyline is that of a young female FBI agent who has been called in to investigate the disappearance of the flame of the Statue of Liberty off the coast of New York City. The first unbelievable quest was the evacuation of the city! Sorry that's too far fetched even in story land. There are good HOS where the objects are in plain sight but well hidden and small. I did have to use the hint often. In game play there are arrows pointing where to go always. Since there is only one mode of game play it is impossible to disable this if you wanted to. There are also images of the Statue of Liberty in both game play and in the HOS, which when pressed give you factual information about said statue. Personally I'd rather go to the internet and read everything I ever wanted to know about it. There were a couple of puzzles. I didn't see a skip button on the first one where you had to play a recording of the actual disappearance and I can't remember if there was one on the 2nd puzzle I played. I finished both puzzles without incident however the first one was a bit confusing. I did have to try several places to stop before I hit upon the correct stopping point. There is no map or walkthrough for this game. I urge you to play the demo to make an informed decision. For me this is a skip.
August 25, 2014
Cheap Game!!!!
I would not pay a dollar for this game. The HO'S so small it's so bad. Some are big that is alright not the rest. I gave the other game from this developer and still you give us another one are you serious Big Fish, Members this is a loser.
August 25, 2014
The Missing flame or how I fudged a game and released it early
Another in the Valjean/Alice genre - however this one wasn't quite so bad.... maybe I'm getting used to the handholding and lack of options. Arrows replace bubbles this time as directional indicators - more interesting plot but no voiceover so loads of dialogue ensues with characters leaping forward but somehow remaining in the background too - strange! Then lots of words, word and words.... And you have to read them too! Handholding ...mmm! This is problematic as although it is very linear and you seem to get pointed in the direction during scene changes, when you encounter a puzzle the handholding ceases completely or is very vague. Try assembling the metal thing and see ... took me a while to work out which piece to attach to whatever just to get started on the puzzle. Music options on/off - rather repetitive - although it does change for time to time - all the HO scenes I encountered in the demo had X-files-like music. Sound on/off only Challenge - seems ok - not especially hard allowing for the vague instructions on some puzzles. Somehow less annoying than the other two games but still undecided as to whether this is worth paying for..... Other contributors have covered the plot more than adequately. Unlikely to spend money on it... maybe use a coupon... maybe not!
August 26, 2014
The Apple logo is a trademark of Apple Computer, Inc.