Green City: Go South
Build a green paradise in the middle of the ocean! Feel summer blossom as you develop the infrastructure of lush coastal lands.

Create a beautiful archipelago made of recycled garbage and establish a flourishing Green City in the open sea! Arrange green spaces and construct promenades, cinemas and waterparks while building generators and power plants to flood your city with eco-friendly light. Select from 4 types of buildings: residential, commercial, eco and energy-providing. Select upgrades from ecological to energy-efficient. Prove that oil derricks aren't the only things that can be built on the open sea!

Bring out the engineer in yourself and do your best to turn polluted offshore islands into a tourist paradise in this amazing time management game!
45+ unique and challenging missions!
Explore 6 thrilling quests
20+ smartly-designed buildings
Earn numerous achievements!
Try Green City 2
Game System Requirements:
OS:

10.9/10.8/10.7/10.6

CPU:

1.0 GHz (INTEL ONLY)

RAM:

1024 MB

Hard Drive:

76 MB
Game Manager System Requirements:
Browser:

Safari 4.0 or later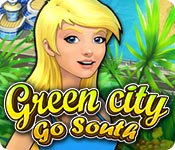 NEW299
The Big Fish Guarantee:
Quality tested and virus free.
No ads, no adware, no spyware.

Reviews at a Glance

Green City: Go South
0
out of
5 (
0
Reviews
Review
)
Customer Reviews
Green City: Go South
15
15
Nice addition to the Green City series
I've got the other Green City games and this one follows the same format. But with new building types and an oceanside setting to keep it interesting. I played through the demo and really enjoyed it. You dont have to have played the other games to understand. The game provides instructions on the first few levels. And its a building game, so if you play this type of game at all you should not have any problems. What's nice about the Green City games is the graphics, very 3D and colorful. And when you upgrade something it actually changes. :) The music is relaxing, sort of light jazz. So you can concentrate on the challenge of the game. And it is challenging. There are always multiple tasks: build so many buildings, have a specific income, own certain types of buildings and/or have a level of prestige (was eco in the earlier games). Each level has different requirements so its always interesting. You can get 1 to 3 starts for each level depending on how long it takes you. Usually easy on the early levels and much harder later. These Green City games really take planning and strategy to get through all the levels. There are awards also to add to the fun. Like one for using all the spaces available (which isnt really that easy). This will be a definite buy for me!
August 27, 2014
Great TM Game
It's funny because I just finished re-playing Kingdom's Heyday (one of my fav's) which is very similar to this one. You build houses, cottages, multi-story buildings to achieve your goals. It is more of figuring out the strategy of where to put everything rather than a clickfest to get your gold stars. It is very fun and I recommend you give it a shot!!
August 27, 2014
A fine strategy game
This is the third in a series of Green City games which appears to be billed as a Time Management Game but is also a fine strategy game. It is not possible to play the game as untimed, but the only consequence of taking too long is the awarding of less than three stars. Since I intensely dislike timed games, I have made it my goal to achieve one star on all levels. I have occasionally slipped up and gotten more stars, but I don?t beat myself up for allowing it to happen. All finishers are awarded at least one star. I will admit that on level 37 I took over two hours and finally had to read the forum for a hint so that I could finish. The strategy for me is not speed, but trying to place the houses to conserve space and achieve the goals for that level. If that is pleasing to you, then this game is for you. By the way, the first two Green City games were similar. My one quibble with the play is that the instructions during the game on the first several levels cannot be turned off. When the lady says to do this, you have to, even if you know what you are doing and don?t want to do that right now. This is annoying, but hardly more than an annoyance. I bought the game and I want to play it as a strategy game and not as a Time Management Game, and it does let me. So if you, too, hate timed games, this one will work for you.
August 29, 2014
One of the Most Frustrating and Satisfying TM Games You'll Ever Play
This third in the series is the best one yet. But beware...the Green City games are not easy. You have to lay things out in a particular order to even complete some levels, much less get gold. But if you keep at it, you will get better as you go and you'll really start to feel the satisfaction that comes from solving the level and beating the clock. The Tips Forum is extremely helpful for the tough ones. And you can find videos that show how to get gold on every level. Personally, I enjoy trying to solve it myself, with as little help as possible. But sometimes you really need a tip on getting started or on what buildings should go where. When I finally achieved gold on every level, I felt great! And since it's not easy, this game will provide many, many hours of challenging play. So it's a great value for the money, compared to a lot of other games, which are too easy or only take a few hours to finish. I hope this series will continue for at least a couple more installments.
October 1, 2014
great game!!!
I rarely write reviews but I am totally addicted to this game!! I am all about time management games and this one took me about a week to finish all gold without ever once being bored. I am playing them all again and have d/l the 1st two in this series! I love the fact that it's not just clicking, you have to really think about what steps you will take to meet all of the goals :)
September 18, 2014
Love this game!
I loved this game so much I went back and purchased the two previous versions. The only suggestion I would like to make is to be able to admire your work when the level is completed. As soon as you meet all the required tasks, the score pops up and goes on to the next level. Even though it's nice to finish the level, I throw buildings and upgrades all over the place but would like to be able to go back and "pretty it up" after it's done. Also it would be nice to have something that takes up one square, like a bush or tree to fill up empty spaces. Otherwise it was so much fun!
September 23, 2014
Green Or Just Greedy?
Green City is a really fun and entertaining game that requires you to meet certain goals such as building 3 cottages, earning 500 dollars profit and building up the prestige of the neighborhood. There are several different houses that are available and eventually you will unlock Power Plants and Commercial Buildings, there are also Gardens and Parks available that will perk up the neighborhoods as well make those locations more desirable which will bring in more money from the surrounding houses. Some of the plots for houses are on lakes which means that you will have to build platforms first, each building and gardens will require a specific amount of plot so you need to plan for that when required to build more than one specific building because a house takes a 3x3 plot but a cottage requires a 4x4 plot. You will have to tear down abandoned buildings, repair aging houses and pick up trash in the surrounding areas, and there will be a treasure chest that appears periodically and if you click on it before it disappears you will earn more money, enjoy!
October 2, 2014
Finally a building game!
Plan how to build your little area to meet the profit, population and ecology goals. Not as good as the first two Green City games which I absolutely loved, but still an enjoyable game. Not a ghost, goblin, wizard or vampire in sight which is a big plus factor for me. I would recommend this game and bought it after using up the trial hour (I took that long because I didn't want to stop playing)
August 29, 2014
Just a Tad Too Difficult, but Good Value
At last, a non HOG that's a bit different from the usual building games on offer. There is a lot of actual strategy in this, and no time limit for those who hate timed games. I didn't have any issues with the tutorial levels. It's pretty clear what your goals are, and I haven't previously played or trialled any Green City games. Now achieving those goals is a different matter. Judging from my own experience so far (level 26), and the number of "help for level X" threads in the forums, the difficulty level is set just a bit too high. However, the good part is that you can quit in the middle of the level if you're suffering from brain-fade, and it'll still all be there when you log in again, Graphics are generally good, but often a building can almost obscure the one behind it and it's sometimes hard to bring up the building or function that you want because of this. It looks like a long game, so you get your money's worth. I may go back and try the earlier ones.
September 1, 2014
Build houses, mansions, apartment bldgs and parks.
I think if you had played the previous games in this series you would probably love this game. As I had not, I had a few problems. There should be a more detailed tutorial than a woman informing you what makes you more money. Something that, as long as this game appears to be, went on for a few levels at least. I got through the first level wonderfully and from there it was all downhill. Everything I did to earn an income from the properties and up my prestige points backfired. I know in other build-it type games you use what you've learned and add to what you need to do, rather successfully. Here, I tried to do that and it ended rather drastically. One level taking me 15 minutes to get my prestige points high enough to pass the level. If I'm playing a relaxed mode (untimed), I also shouldn't have to have stars thrown in my face. If I wanted to earn stars or trophies, I'd have played the challenge or timed or whatever mode. Definitely not a game for first timers of THIS series unless you've played the other 2 games. I think with the direction and things you learned from them you can be successful at this one. Not a standalone game at all.
August 27, 2014
The Apple logo is a trademark of Apple Computer, Inc.
The Windows logo is a trademark of Microsoft, Inc.