Amaranthine Voyage: The Shadow of Torment
Exclusive
From Eipix, the studio who brought you Hidden Expedition: Smithsonian Hope Diamond, presents another Amaranthine Voyage!

Long ago, Anther was a realm of beauty and magic, but the appearance of a being named Torment drained their magic and forced the survivors to flee to a world called Earth. Years later, one of their artifacts has been uncovered, reopening the way between both worlds. You must enter the portal and stop Torment before it turns its sights toward Earth. An ancient prophecy declares that you will be the one to save both worlds, but will it come true? Find out in this breathtaking Hidden Object Puzzle Adventure game!
Game System Requirements:
OS:

Windows XP/Windows Vista/Windows 7/Windows 8

CPU:

1.6 GHz

RAM:

1024 MB

DirectX:

9.0

Hard Drive:

810 MB
Game Manager System Requirements:
Browser:

Internet Explorer 7 or later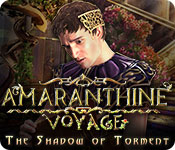 NEW299
The Big Fish Guarantee:
Quality tested and virus free.
No ads, no adware, no spyware.

Reviews at a Glance

Amaranthine Voyage: The Shadow of Torment
0
out of
5 (
0
Reviews
Review
)
Customer Reviews
Amaranthine Voyage: The Shadow of Torment
14
14
Another excellant game
I enjoyed this story very much. The hints were very helpful. The games were medium hard and the HO were a different mix of silluette and regular HOs . I enjoyed the riddles as well. Overall, I feel this game had a lot of interesting elements and was long enough to warrant a purchase. The story ending room open for a sequel. The story had two choices for the heroine and that was unusual.
August 29, 2014
DON'T PASS THIS ONE BY.
I JUST FINISHED PLAYING THE DEMO AND I HAVE FOUND THIS GAME TO BE A PURE DELIGHT. THE HOS WERE DIFFERENT THAN THE NORM. AND THERE WAS NOT A WHOLE LOT OF HANDHOLDING. THE DIFFICULTY CAN BE CUSTOMIZED. THE MAP IS HELPFUL AND TRANSPORTABLE. THE GRAPHICS ARE BEAUTIFUL AND THE STORY WAS FUN AND ENTICING. I CAN'T BELIEVE I MISSED PURCHASING THIS ONE AS A CE. NOW I AM GOING TO PURCHASE THIS ONE AS A SE. I DON'T UNDERSTAND WHY ANYONE WOULD GIVE THE NEGATIVE RATINGS.
September 4, 2014
this is my stuff...you want to riddle for stuff?
beyond 5 stars i have never stopped playing a game to do a review ..till now. absolutely wonderful..bright,no cutesy helper almost thought that scraggly cat thing would jump in lol.. when i checked the reviews wow..i said only 3 stars.. noooo i don,t think so. everything about this game is amazing.. i admit i was bored for awhile with the few past hurry up and get out there games ..this one is a thinker to a point. no hand holding and i,m playing casual. enjoyable music..voices. even the puzzles are great.hos..a bit different too.. BEAUTIFUL scenery.. oh my.. i,m going back..bye.. oh play before you play..as i always say.. ENJOY thank you big fish for a game worth my time...
September 7, 2014
What a Blast of a Game!
I was a little disappointed with the second Amaranthine Voyage, so I was a bit hesitant about getting this one. I'm glad I did! This game is full of everything you could want in an HO & Adventure game. There are various ways to find the HO's, & a huge variety of mini-games. Most of this was not a challenge, but there were a few things that threw me off. But that just made me want to keep playing to see what was next. The game has a custom setting so that the re-charge time & skip mini-game can be as long [or short] as you want. The graphics are just amazing. The voice overs are excellent; however the characters were a little stiff. Trust me, it's not that big of a deal. The game is very long, so don't think you can just sit down & breeze right through this in a couple of hours. There is a very good map [that can also be changed in the Custom mode], & that's good because there is some jumping around. It's refreshing to have so many HOS in this game. Some are in places that you wouldn't expect. As for re-play value, I'd put it at the top of the list. Since the story line is quite deep, one would be able to play this several times before knowing it inside out. There is also an alternative ending! Definitely.Get.This.Game!!
December 3, 2014
Enjoyable hidden object game.
I played 2 other games by this creator. They were great. I like this game. It is different from most of the hidden object games I have played. I like the colors. I like the music. I like the graphics. This is a lively game. It is uplifting. Many of the games are gloomy. So many of the hidden object games are based on sad events. I suffer from depression. While I want to play challenging games, I don't want to play games that make me feel hopeless. This game doesn't cause me to feel hopeless. And it is not 'dark'.
August 30, 2014
The Chosen Ones
Professor Burns is on another archeological expedition when an Energy barrier is accidentally activated. Her knowledge and expertise of ancient ruins has the situation under control in moments, but something is different about this site, it doesn't appear to be ancient at all! Once inside the site Professor Burns learns that she has entered a portal to another realm, and this world has been waiting for her a very long time! There is a prophecy in this world that one day a kind savior will use the Wayfarer's Pearl to enter the portal and save the people of Anther from the darkness that has consumed their world. The brave-hearted one will bring the pure-hearted one to save the people of Anther. Turns out that one of your assistants has been looking for this pearl as well, the brave-hearted has led you to Anther, could you be the chosen one, the pure-hearted? I'm a bit disappointed in this Amaranthine Voyage, the graphics are blurry at times and the beginning of this game moves so slow that I had a hard time getting into the plot, but the game does pick up once you are in Anther. Some of the inventory items have a + sign indicator that requires you to either fix that item or combine it with another inventory item before it can be used. The Hidden Object Scenes are mostly silhouetted shape matches with the final item being a brief description of that particular item. There is a Bubble Shoot game alternative that is similar to Tumblebugs, where you have a cannon that shoots bubbles of different colors (right click to swap to a different color) and you shoot the bubble at a moving line of bubbles in order to make a match of at least 3 of the same colored bubbles. As with all of the Amaranthine Voyage's, the puzzles and mini games are in abundance, such as repeating the sequences of tiles shown in a demo, or my personal favorite, using directional arrows to guide a centerpiece of a jigsaw puzzle toward surrounding outer pieces that will automatically attach to the center piece. As you add pieces to the puzzle you must make sure that there is enough room for the main puzzle to maneuver to the outer pieces or you will have to start all over. The Collector's Edition has 41 Flowers of Remembrance to collect and they have done a very nice job concealing them. You will also find lost paintings that will allow you access to a HOP from another game, Myths of the World: Chinese Healer, Amaranthine Voyage: The Living Mountain, and Sea of Lies: Mutiny of the Heart! This Collector's Edition also has a Bonus Game, Flower Collection, Pictures, Achievements, Lore Book, Making of, Puzzles, Music, Movies, Bubble Poppers, Finding Objects and of course, a built in Strategy Guide, enjoy!
September 29, 2014
Great adventure game
I prefer adventure games to HOG and this one was not bad. There are a fair few hidden object scenes but they vary in style and you have the option of bubble shooting instead. Cons: none to really speak of, though the adventure part wasn't particularly challenging, it was all very linear. Pros: Custom difficultly level, storyline (its about an evil spirit but it's not dark and depressing), combinable inventory items and cut scenes/movies. An easy purchase.
September 14, 2014
good game
Overall a very good game. The objectives/obj completed were annoying and I tried to turn them off couldn't. I played in super hardcore and found it was just the right amount of challenge. 2014
October 29, 2014
Fun Game
Was it a perfect game? Not at all. But the graphics, the voice overs and the challenge were about right. Puzzles were a little too easy in most spots but there were a couple that were challenging. I didn't skip any and I never used a hint, which is why this gets 4 stars from me. I prefer a more difficult game. This one does have good length, so it was worth the money, especially when I got two for one.
October 4, 2014
Boring but not awful - 2.5 stars
The graphics are sharp and clear. The artwork is somewhat ornate and has a fantasy-like appearance. The colors are vivid, lush, and predominantly gold, pink, and various shades of lavender. The voice overs aren't going to win any awards but they're decent. The music is pleasant and fits the theme of the game. The storyline is the "swept through a portal to save another world from evil" story that is familiar from so many HOPA games. There are no new details added to it to set it apart from the vast number of games that have already used it. It unfolds through dialogue with other characters and through cut scenes. The cut scenes are very well done and serve to move the story along without becoming intrusive. The HOS are crisp and not cluttered. They were all of the same list type with a couple interactive items on each list. Each ended with a riddle as the clue for the last object you need to find. They were very easy and there were not very many of them. There were more puzzles and they were very easy. In some cases they were so easy I have a hard time calling them puzzles as much as a test of whether I know how to use a mouse to point and click. The adventure component is very straightforward and generally linear without an excessive amount of backtracking or running in circles. When you use an inventory item it often needs to be placed very precisely or else it will come hurtling back into your inventory. At times I wasn't sure what I was supposed to do because none of my inventory items would work on the obstacle at hand. Then the hint button would tell me to do something I had already tried. Each time it was because of this fussy point and click problem. Other than that nothing is difficult to figure out. Objectives are clear and tasks needed to complete them make sense within the context of the story. Overall, this is a very competently made game with the exception of some clunkiness with the point and click interface. The developer obviously has a lot of talent and a good sized budget. It's unfortunate that they chose to waste all of that remaking a game that has been made over and over to the point where yet another is just not that interesting. Had the storyline been interesting it might make up for the fact that there is absolutely no challenge in the HOS, puzzles, or adventure component of this game. It might even have been able to rescue it from the pastel overflow going on in the art. As it is though there is just nothing to recommend this game for. It isn't awful but it's boring. This is another one of those 2.5 star games for me.
August 29, 2014
The Apple logo is a trademark of Apple Computer, Inc.