Witch Hunters: Full Moon Ceremony
Exclusive
An old mirror reveals a terrible secret when a strange creature suddenly emerges and begins terrorizing your home. But you soon learn he's just a lackey for an even bigger threat - a group of evil witches who want to take over the world! Stopping them won't be easy, though. Your whole house has been enchanted with a series of deadly tricks and traps. A trip down the hallway is now a dangerous battle of will and wits. Can you overcome the obstacles and send the witches packing before the night is over? Find out in this thrilling Hidden Object Adventure game!
Game System Requirements:
OS:

Windows XP/Windows Vista/Windows 7/Windows 8

CPU:

1.4 GHz

RAM:

1024 MB

DirectX:

8.1

Hard Drive:

1096 MB
Game Manager System Requirements:
Browser:

Internet Explorer 7 or later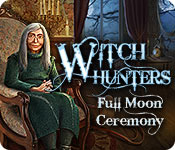 NEW299
The Big Fish Guarantee:
Quality tested and virus free.
No ads, no adware, no spyware.

Reviews at a Glance

Witch Hunters: Full Moon Ceremony
0
out of
5 (
0
Reviews
Review
)
Customer Reviews
Witch Hunters: Full Moon Ceremony
11
11
New Moon Rising
Every century a Witch's Ceremony is held during the full moon in order to choose a new Moon Queen. (the quarter moon witch ceremony is a different game entirely!) The Moon Queen brings hope and light to the world, but that wouldn't be a very interesting story, so if the ceremony doesn't take place, despair and darkness will rule the world, now that's more like it! A group of evil witches will do anything to stop this ceremony and are wreaking havoc in your new abode. The evil witches have sent an annoying little goblin to your house to destroy your Aunt Isabella's antique mirror, he seems to be having a goblin of a time breaking things, freezing entire rooms, turning sticks into giant snakes and has used the power of the moon to cause thorny roots to bust through your house, he's just kinda grouchy! The graphics are very nicely done, in fact, I loved the way the devs were able to manipulate a droplet of water that puddled on the ceiling and gushed downward to transform into that mischievous little gremlin and even the way that simple objects morphed into a living breathing creature. The Hidden Object Scenes are interactive list finds and I found some of the items a wee bit too small, but the items are well defined. There are mini games that are on the simple side such as rotating circular shaped discs to complete a picture, and more complex puzzles where you need to choose the correct triangle piece so that it will match 3 separate shapes as shown as the example. The Collectors Edition has one of my favorite features, 35 morphing objects as well as wallpapers, concept art, music, puzzles, a built in strategy guide, and a bonus chapter from your sisters perspective. Either edition is entertaining, but I prefer the Collectors Edition because of the morphing objects, enjoy!
August 31, 2014
Recommended
Puzzles: challenging, but not impossible. Many twists to the plot which was well received. Took me a couple hours to play, instead of finishing with the trial. Loved this game and will play again now that I purchased it.
August 31, 2014
AWESOME !!!
Beautiful Graphics! Cryptic Puzzles! Smooth Animations and a Haunting Score! This is Top Evidence of an AWESOME game!
September 7, 2014
Great game play...
I found this game very much fun and challenging. I admit the storyline was a bit confusing, but if you're looking for great game play, this is for you. The hidden-object scenes were only lists with minimal interaction which was a negative, and there were only 3 livels of play (no custom). Thank goodness there was a transporting map because there was a great deal of back and forth. If you get past all that, the game was entertaining with lots to do. Give it a shot.
September 3, 2014
fun!!
Except that there is a lot of back and forth, thank goodness for the map.... the game was top notch! 2014
September 13, 2014
Witch Hunters: Full Moon Ceremony
I just finished the game. It is a good long game. I played it using the hint button. There seems to be a new variety of games that make no logical sense. Meaning that you need to rely on the hint button. I could set the hint and the skip buttons to charge fast. The H.O. scenes were clear and fun to do. It was an okay game.
September 11, 2014
An enjoyable game
I really liked this game. Not too many HOs which I prefer and altho puzzles were not that different from the norm, they were fun. I love the magical genre so the storyline was right up my street. No it didn't have the bells and whistles of a lot of games but it was entertaining and kept my interest all the way through which is key! Give it a try.
September 9, 2014
Just not for me.
I played both the CE and the SE versions of this game and my opinion hasn't changed. I lost interest in this game pretty quickly. I don't know why, really. But, I just couldn't get into it. Nothing really made sense or flowed. There was no continuity to the story and too much going on - a troll that always shows up, a gypsy telling you how brave and pure of heart you are, all sorts of witches threatening world peace, even Medusa shows up but why????? Some ceremony going on but what does it have to do with you? And where did the mirror come from? And what does that stupid troll have to do with anything. These are all things that get a story started, at least with a teaser of info. Here you get nothing. For all the great dark and creepy graphics and music, this game just didn't do anything for me and I became bored very quickly. It concerned me that I finished the demo with 25 minutes to spare - and that's including stopping (not pausing the game) to play with my puppy for a while. So, don't think the length of the game holds much promise. Feel free to try it before you buy it but it's definitely not a purchase for this gal.
August 31, 2014
SE Review - Too Stupid for Words! The CE only got a 3.
First I will cover the positives. I really enjoyed the graphics! The storyline was imaginative. I enjoyed the gnome and his antics. Now, the negatives. The map transported but was otherwise NOT helpful. Auntie was nauseating. There was no rhyme nor reason to what should be done. You just hop around willy-nilly. Developers, please try to make sense should you chose to create another game. Fellow Fishies, I recommend you try this game to see just how bad it is. I actually laughed a few times - just before I threw up.
August 31, 2014
DUH!
This game is so dumb that my IQ is lower as a result of playing. There is no logic or even storyline you can grasp to get through this game. I know that playing games that feature fairies and witches is not logical either, but there is usually some type of reason to progress through the game. You know to go to point A, then point B, and so on. But this game starts with a furniture delivery at night. You apparently sleep through the crash as a gremlin breaks the mirror of the newly delivered dressing table. He shows up at the end of your bed to wake you up. He conjures up vines to twine around your room and disappears through your door. This is when you find you are locked in and the key is on the outside of the lock. Did the gremlin waste his efforts on those vines and decide to go with a prosaic lock? Or did your family feel safer locking you in? There is an appearance by you aunt's ghost but her message leaves much to be desired in furthering the story. Then you get out to the hall and there is a rope, thick enough to tie up the Titanic. It's coiled around posts, vases, and across the top of the stairs. The gremlin pops in to turn it into a snake of nightmare proportions. (Frankly, if you left the rope there, I'm thinking the family theory might be correct.) I won't bore you further. Play the trial for laughs and see for yourself.
August 31, 2014
The Apple logo is a trademark of Apple Computer, Inc.