Fantasy Mosaics 4: Art of Color
Experience a world of multi-color mosaics puzzles in the latest installment of Fantasy Mosaics! This exciting innovation opens up a whole new dimension of fun and challenge. Discover beautiful and vivid images cleverly hidden in the pattern of numbers and colors.

Embrace our latest mosaics challenge and take a journey across the new fantasy landscape to help our penguin find his soul mate.
Challenge yourself to multi-color mosaics puzzles
Two difficulty game modes
100 custom built colorful puzzles
Help the penguin find his soul mate!
Game System Requirements:
OS:

Windows XP/Windows Vista/Windows 7/Windows 8

CPU:

1.6 GHz

RAM:

1024 MB

DirectX:

8.0

Hard Drive:

81 MB
Game Manager System Requirements:
Browser:

Internet Explorer 7 or later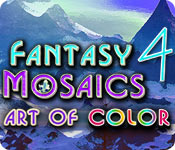 NEW299
The Big Fish Guarantee:
Quality tested and virus free.
No ads, no adware, no spyware.

Reviews at a Glance

Fantasy Mosaics 4: Art of Color
0
out of
5 (
0
Reviews
Review
)
Customer Reviews
Fantasy Mosaics 4: Art of Color
28
28
Fantasy Soul Mate Search
Yet another fantastic Fantasy mosaic, more colorful than ever before. There are two modes of difficulty available, Casual where the numbers are crossed off one by one, and Advanced where the numbers are crossed off when a row is complete. Once you complete the first grid shown in a single color, cells that were eliminated on the first grid will open up and a new color will be used to complete that portion of the grid and so forth until the puzzle has been completed to show a very colorful image which actually makes the image pop with a 3D vibe! There are several puzzles available and every step you take in the game will help renovate the landscape and guide the penguin to find his soul mate. Some of the tiles contain bonuses such as extra hints or a pick axe to reveal the state of a single cell. The object of the game is to left click on the tiles to fill the cell in or right click to highlight empty cells by process of elimination, enjoy!
September 2, 2014
Keeps Getting Unbelievably Better!
I have reviewed all the games in this series as they came out, with superlatives getting better with each one. This fourth edition carries on the tradition with a brilliant new innovation! Those who have played FTP 'World Mosaic's Chrome' will know what I am talking about, as it introduces different colours into the gameplay, albeit in a slightly different way than 'Chrome'. So, without reiterating, the comments I made in my review of the last Fantasy Mosaics, apply here also. In short, everything is superb. As before, there are twenty locations each with five boards. You make an addition to your fantasy location, which this time is a winter snow scene, after each set of five boards. In addition, you are awarded one of three 'Stars' depending on your time and 'cleverness' of your play. There are two modes of play: Casual and Advanced. In Advance mode, the numbers at the sides of the grid are 'crossed off' only when a row is fully complete. As in previous games, auto-fill of empty squares is a feature. I have to say that the resultant images that you make when a board is completed, are excellent, and unlike many others in this genre, are depicted very well. So, if you liked the previous 'Fantasy Mosaics' games, you will definitely love this fourth version. Highly recommended.
September 2, 2014
best mosaic game
This Fantasy Mosaic game is much better than the previous ones. The working with different colors is fun. I bought Mosaics Chroma and discovered you have to buy all power-ups- it can get spendy really fast. Unless you are prepared to spend $50+ to play don't get it. But Fantasy Mosaics has the same idea of using different colors and the power-ups ( hints and hammer ) come with the game.
September 2, 2014
Oh My! What stunning COLORS!
First of all, I rarely, and I mean RARELY give any game 5 stars. If I do, it's a purchase for me. In fact, all my reviews will tell you whether I am purchasing the game or not and, if not, why it's not a purchase for me. Keeps my reviews honest IMO. This game had me at all the colors! The first 5 levels in the first chapter are basically tutorials. You may be an expert at these types of games but this is a new and fun twist so yes, even you experts may need a bit of hand-holding to begin with. LOL. You start with your first color and use your skills as you normally would. But then ..... the board changes and there are MORE numbers! Where did they come from and why? THAT is your second group of colors - so go ahead, mark away. If you're lucky and haven't died out by now, guess what? That's it, more numbers because there's a 3rd group of colors. And, what do all those colors represent besides a dizzy head? A beautiful picture done in stunning graphics - completed by your little bitty hands. Sigh. Isn't it marvelous what a sense of accomplishment can do for a person? That's it. The game in a nutshell. After the first 5 levels, the game gets substantially more difficult. If I had to do that level over with the 20 blocks filled in across the bottom one more time .... ARGH! But, demo over, I freaked (WHAT THE HECK?), game purchase for me. From what I could gather - yeah, yeah, 2 game modes, blah, blah, you can check all that out when you play the demo. Because you will play the demo. You're intrigued and, dare I say, interested in now. What is this crazy lady talking about? Colors? Pictures? Graphics? My little bitty hands? A definite hmmm moment. Anyway, it appears that there are 20 chapters (?) with 5 levels per chapter. Apparently, we are trying to get the penguin home. Nice for the holidays, as Santa and snow abound in every level so far. Well, as far as I made it anyway. This is NOT a game for beginners of this game. Try the first in this series and work your way up in the demos before choosing if you can handle this. I had a weekend marathon of mosaic/griddler games and found 2 series' that I cared for. This one, obviously, being one of them. I am not a "newbie" but not good enough for "intermediate" either. However, going into this game as a first-timer - I would be totally out of my element. Just sayin'. So, you others' with experience, get going ..... the penguin is waiting for you. GO! Happy Gaming!
September 3, 2014
Fantastic ...
As the other games of Fantasy Mosaics serie this one is very good too. There is a lot of work to do. The colors give us another puzzle inside the original puzzle. I liked it very much as the simple Fantasy Mosaics. Interesting. I recommend for those who like to "break the head".
September 2, 2014
Fantastic Mosaic
Absolutely love the Fantasy Mosaics. Getting better and better. This is the best so far. Please keep them coming.
September 6, 2014
ONE WORD!
Fantastic! If you like World Mosaics Chroma, you'll love Fantasy Mosaics 4: Art of Color! I was hoping for this game, and now it is here :)
September 5, 2014
great
I love these games fun challenging can play all night need to make more of these!!!!they are the best THANK YOU
September 3, 2014
best yet good fun
very good I like mosaics and this is the best yet. please more of the same
September 3, 2014
BEAUTIFUL AND CHALLENGING!
I have all the Fantasy Mosaics games. This one is over the top! Challenging, yet Beautiful!! Give us more of these!!!!!!!
September 3, 2014