Entwined: The Perfect Murder
Adam Turner was an unfortunate man who was surrounded by people who could all benefit from his death, but who actually murdered him? Play the detective in this classic whodunit mystery to find out! Interview the suspects including his wife, sister, friend, the housemaid, the paperboy and a shadowy mafia figure. The plot gets thicker and thicker as you find evidences against all suspects. It is up to you to figure out who murdered Adam Turner!
A classic whodunit murder mystery
Interview suspects and find the killer!
Case file stores all evidences you collect
A detailed plot that gets thicker as you investigate
Game System Requirements:
OS:

Windows XP/Windows Vista/Windows 7/Windows 8

CPU:

1.6 GHz

RAM:

512 MB

DirectX:

9.0

Hard Drive:

495 MB
Game Manager System Requirements:
Browser:

Internet Explorer 7 or later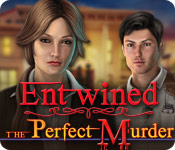 NEW299
The Big Fish Guarantee:
Quality tested and virus free.
No ads, no adware, no spyware.

Reviews at a Glance

Entwined: The Perfect Murder
0
out of
5 (
0
Reviews
Review
)
Customer Reviews
Entwined: The Perfect Murder
27
27
The Perfect Murder is a Great Gem
Detective Karla Robbins is back with a new mystery to solve, one that is certainly not lacking in suspects. This great little gem of a whodunit is sure to please many gamers who prefer an old school HO game that still includes many of the newer features included in the genre. The game opened automatically in widescreen. We can choose from three modes of gameplay ? normal, hard and detective. While I am noting some of the technical aspects I will comment that I had something very strange happen in this game that has never happened before. I am left-handed and I have the buttons on my mouse switched to accommodate left hand use. When I entered the game I found my mouse didn?t work because for some reason the game's programming switched my mouse buttons back to right hand use. When I exited the game, my mouse reverted to the way I use it. I find this very unusual and as I mentioned above, this has never happened before. The graphics are very good, being nice and crisp, with very good artwork. The voice overs are excellent even though they are not lip-synced, and the sound package suits the theme of the game. Very early in the game we acquire a case file that contains three tabs ? summary, observations and tasks. Another thing I like about the case file is that there is a list of our suspects off to the right and when we click on each one it opens their page in the file. The HOS seem to be the traditional list type without any interaction required. After a recent game where almost every item in the HOS required interaction, this old-school, straight-forward list type is very refreshing. The hint button does not work in the HOS but after a certain amount to time the scene can be skipped. Not too far into my investigation I did encounter a separate HOS where I used a special magnifier to look for a certain number of fingerprints. The puzzles early in the game seem easy but I still found them entertaining. Entwined: The Perfect Murder is just the game I have been waiting for ? an old-school, HOPA with a great storyline and the perfect little gem to use one of those many free game coupons I have collected. I thoroughly enjoyed the demo and it is a buy for me. As always, I recommend that you try the demo to see if this is a game you will like.
September 2, 2014
Who dun it?
What an interesting game! You are detective Karla Robbins who is investigating the murder of lawyer Adam Turner, assisted by detective John Scott. There are six suspects to investigate - the paper boy, the maid, the sister, the wife, the neighbor, plus the mafia! While the lips don't move, the voice-overs are excellent. The graphics are clean and clear. You have a fingerprint scanner and the hint button, that also teleports. There is no map, but it doesn't seem necessary. The HOPs are either a list or silhouettes, and not interactive. The mini-games are interesting -- match up about 40 circles or so to make a correct picture is fun. I haven't figured out "who dun it", and the fingerprint analysis hasn't returned yet from forensics. So I guess I'll have to get this game to solve the murder! Very nice for an SE game!
September 2, 2014
Really nice Detective game
I enjoyed it nothing really special. But good riddles, fun to play, good grapgics. So thumbs up.
September 4, 2014
Really Good!!!
Nothing negative just one thing. The hidden objects are so good some are really small. Sometime that's alright but not in this game. I'm loving it just the same. I hope they can make it better in the hidden object.
September 7, 2014
i like a perfect murder
this games is a good game to play because I like finding all time of thing in the game I hope big fish make more game like this one I will play all of them my over all game is five star
September 4, 2014
Who Murdered Adam Turner?
Whodunit? Adam Turner was found dead this morning in his garden from a single bullet wound to his back. This won't be an easy case to crack, Mr. Turner was a prominent attorney with plenty of enemies, his latest case involved the mafia and even his own sister was bitter over property inheritance. It is up to you, Detective Karla Robbins to assist Detective John Scott in interviewing a very long list of suspects and begin scouring the estate for valuable evidence, whodunit? I'm a huge fan of murder mystery games and this game has an excellent plot that thickens after every interrogation, however, the graphics are iffy, (excellent detail on characters, very little detail on scenery, and horrible rendition of the cat) and at times the game flowed at a snail's pace. I'm not hard to entertain, I can usually overlook flaws and find entertainment value in just about every game, and because I found this murder mystery story interesting, I was willing to overlook the simplistic graphics. The Hidden Object Scenes are plentiful, with one in just about every location. The HOS are a mixture of listed items, and silhouetted shapes, some of the locations are repeated but not all of them. Because you are a Detective collecting evidence, some of the scenes require you to "collect" fingerprints in a scene that is covered with a greenish film with a small target type lense as the only clear opening as you search and click on the fingerprints. The mini games are mostly puzzles that require you to rotate rings and when you rotate one ring, others move as well, there are also puzzles that require you to slide round tokens, one at a time until the tokens are in the correct spot to complete a picture. You will have a case file journal that serves as your objective list, task list and evidence summary. Each piece of evidence you come across will automatically be added to the observation journal as you hear the sound of a camera being clicked. You can read a summary about each character in the suspects section of the journal as well. There is an optional tutorial and the hint system will tell you specifically what needs to be done and allows you to jump to that location, enjoy!
September 2, 2014
A Good Addition To The Series - Completed Game
Just in case you're not familiar: This is the 2nd in the "Entwined" series. The first is Strings of Deception. If you haven't played this one it's not necessary before playing this game here. This game here definitely stands alone. GAME OPTIONS/FEATURES: Opened in widescreen for me. I didn't have to adjust anything. Graphics for me weren't stretched either. You can control the music, effects, voice volumes There is also a full screen option, widescreen correction, and choice of having system cursor not not. 3 play modes: Can't be changed during game play. I played the hardest mode which is Detective. I had no sparkles however black bar tips, objectives pop up on the screen. The hint and especially skip a snail or turtle moves way faster. Hint also tells you what to do and is transporter. It will allow you to "jump" to the location you need to be. There is no map. Shortly into the game you get a Case File folder which holds Summary, Observations, and Tasks. Off to the side is a picture of the suspects along with a description about them. You also have to take a magnifier and locate fingerprints. HOS: There are 2 types. Standard word list and silhouette. No interaction. This may be "too many HOS" for some people however not me. I'm a fan. I enjoyed these. PUZZLES; I am not a fan. Less the better. I prefer HOS and adventure. Most of these in this game absolutely annoyed me. I LOATHE these kind. Just to name a couple: Rotate rings and pressing one piece will effect the others. Some I did find easy and did those. ADVENTURE SIDE: There is quite a bit of back/forth and sometimes going back near the beginning of the game. There's also a few objects that need to be picked up along the way that aren't always obvious. I really enjoyed this part of the game. VISUAL/SOUND QUALITY: May be "too old school/dated" for some people which is right up my alley. I really liked the graphics in this game. I also really liked the characters. The voices well done. The music fitting to the game. LEVEL OF CHALLENGE: Developer here needs to learn CUSTOM MODE. Please let the game player decide what options they want and have it actually apply to the game. I prefer no sparkles, no black bar tips, no objectives popping up on the screen (I thought this is what the case file was for?), hint/skip quick charge up. The skip in this game was way too slow for me. When I want to skip a puzzle well that is what I want to do. Not everyone tunes into Big Fish to do puzzles. I KNOW I don't. I tune in for HOS and adventure. STORY LINE: This is just a typical old fashioned whodunit type of game and the reason I enjoyed this story along with some twist and turns. MY PLAY TIME: This was about 4 hours for me which is usually fine for me. However didn't seem this long. This seemed a bit short. It seemed I was spending a bit too much time awaiting the skip the puzzles i LOATHE. Also while coming to conclusion I thought the ending was a bit abrupt. FUN FACTOR: Overall I give this 4 stars. A pretty good game and time passer. I felt like a detective as I enjoyed finding the fingerprints as well. The few criticisms I've mentioned kept this from being a 5 star game for me. Thanks Big Fish and Developer. I do look forward to hopefully seeing another "whodunit" type of game from this developer and as a stand alone SE game. It's really nice to see SE games released that aren't a SE of a CE game.
September 2, 2014
NOT SO PERFECT MURDER
I played the whole game in the easy mode. This game was pretty short; it did hold my attention, though. There are lots of HOP, some using lists and some silhouettes. There was a lot of back and forth; too much for me to give it a 5 rating. I had to use the hint button constantly to figure out where to go next, but this worked better than a map. The hint button's response even allowed you to jump from it to the location specified in the hint. The voiceovers were excellent, although the characters' mouths didn't move. There is a lot of dialog. The graphics are clear, crisp, and bright. I really hadn't settled on a perpetrator, so the ending was surprising. All the questions where tied up; no cliffhanger for a followup CE.
September 2, 2014
A Great Who Dun It!
This is the second in this Series. I'm a fan of simpler type of games. I really enjoy the storyline of being a Detective. These types of games are one of my favorites to play. I love a good Who Dun It! It's definitely different from the usual games. Be sure to try this this game. It's worth your time. Yes: Voice Over's Yes: Widescreen/Full Screen Yes: Casual/Hard/Advanced Yes: Diary Yes: Skip Able Option Yes: HOS Music/Voice/Effects Sounds Theme: Suspense Detective Crime I rate this game: ?PIGLET? Good game. I like these little gems! This game is for true lovers of these types of games. ? ? (o) ?These are my terms & ratings" for hogs, I hogs, frogs & adventure games. ?DEVINE FINE SWINE? The absolute best of the best! It has everything you want in a game and things you didn?t know you wanted in a game. It is a rare beauty and a must have! Beyond expectations! I really love it! ?FINE SWINE? Great game! Best graphics and storyline. All the bells and whistles! The best and greatest of games! I love it! ?PIGLET? Good game. I like these little gems! This game is for true lovers of these types of games. ?PORK BELLY? May be a likable game for some, but not for everyone. It?s just mediocre. ?TROTTERS? Don't run away with this pig?s foot. LOL ?PIG DOWN? Rolling in the mud! Don?t go near it or you'll get soiled. ? ? (o)
September 2, 2014
Too Short
Good game to pass the time however, it was very short.
September 2, 2014