Magic Seeds
Jane leased a lot of land and started her business of growing plants and vegetables. She has little money, few magic seeds but a big desire to grow plants. Help her make some money. Grow plants, take care of them, and protect them from mice and crows. Cross plants in order to get new varieties. By selling plants you can make money to cultivate your land, buy the lot and build your own house.
Cultivate magic plants.
Build up your home.
Cross breed plants.
Game System Requirements:
OS:

Windows 2000/XP/Vista/7

CPU:

600 Mhz

RAM:

128 MB

DirectX:

7.0

Hard Drive:

17 MB
Game Manager System Requirements:
Browser:

Internet Explorer 7 or later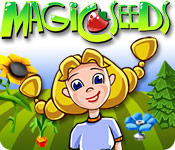 NEW299
The Big Fish Guarantee:
Quality tested and virus free.
No ads, no adware, no spyware.

Reviews at a Glance

Magic Seeds
0
out of
5 (
0
Reviews
Review
)
Customer Reviews
Fun Hidden Object Game
Focus on the game and the game play.
April 14, 2014
Can I get my 99 cents back and buy chicken nuggets instead?
I originally bought this game when I was a BF newbie and it was a 99 cent deal. That was 99 cents wasted unfortunately. I've learned that not every deal is a good deal. You'll notice right off the bat that this game was developed by non-native English speakers. Which would be fine, except that the directions can be somewhat convoluted. I'm also easily annoyed by grammatical errors such as "there's no any seeds." The graphics are about the only thing I enjoyed in this game. The premise of the game is you're a farmer who's trying to save money to build a house while simultaneously growing new breeds of plants. There's a cross breeding chart that you earn a trophy for when you find all the plant combinations. There's no rhyme or reason to the end result. If you cross a tomato with a sunflower plant, voila, you get a pumpkin? Or how about the sausage plant or bread plant? I guess soy or wheat plants seemed too normal. Cross breeding wouldn't be so bad if your plants didn't start from scratch every time you did it. That's right, after you wait and wait and wait for the two plants to mature, you plant one into the other, and then you will wait and wait and wait for the new plant to grow. There's a daily featured plant that you can grow to earn more money, but the seeds are not available that day and you have to cross breed plants to get them. In most cases, by the time you've grown the plants to cross breed and mixed them, the day is over before you have the matured plant you need. Annoying to say the least. As if the time it takes to do things isn't bad enough, there's no daily timer. That's right. You have no idea when the day will come to an end and a new plant will be the featured item of the day. Fun right? Try to beat the imaginary clock before it runs out! While you're tediously watching and caring for plants, you'll have to shoot at crows and shoo rats away or they'll eat your crop. This apparently helps break up the boredom that is this game. But it's not really working for me. Summary: Very slow, tedious game. It's time management without any indication of how much time you have. If you enjoy watching grass grow, this game is for you, because that's what you'll literally be doing. Please save your money and go buy ANY of the other farming games on this site. Grade: D- (Graphics saved it from an F)
January 1, 2012
Wow, Amazingly bad
The other reviews definitely portray this game accurately, just had to add another two cents. Along with the other complaints, one of which, the use of grammatical english is terrible, I found it very frustrating not to be able to move items around the screen once they had been placed. I've been searching for more games like plant tycoon, and while this one has a remote idea that is the same this game is definitely not worth the time of even getting the free trial.
November 6, 2012
THE WORST GAME EVER. SLOW, BORING, STUPID AND WASTE OF TIME
I downloaded the 1hr trial game and wished I didn't bother (A waste of 1hr of my playing time). The idea of the game is to grow vegetables and fruit and sell them and also you cross different vegetable to grow different vegetable and fruit but PLEASE EXPLAIN how by crossing 2 sunflower plants do you get TOMATOES! AND even more so how by crossing different vegetables and fruit do you grow BREAD or SAUSAGES! Sorry but this is a very stupid game. I'm glad I didn't waste my money buying it.
July 6, 2012
Illogical and Poorly Made
Another of the plethora of Farm games, this is your run of the mill grow, harvest and sell game. One feature that I find ...weird... is the cross breeding. You combine plants to get new plants, but the outcomes are so ridiculous that I just can't get into the game. To get tomatoes, you cross sunflowers with sunflowers, and so on and so forth. I don't remember any of the actual combinations, but the idea is, tomato + carrot = watermelon, watermelon + sunflower = corn, etc. This may not bother some, but the cross breeding is the basis of the game, and given how random and illogical it is, I have to constantly check the chart to see how to get the right plant. The game progresses slowly, and the payoff is small. Even not considering the cross breeding problem (which is a huge problem), this game is just bad. I'd recommend finding a different farming game, this one is just too poorly made.
July 4, 2013